About RomeWise, and me
This page is about me, and about RomeWise. Hi, I'm Elyssa Bernard, the creator and publisher of the RomeWise web site. 
I thought you might like to know how this web guide came about, and why I think I know what I'm talking about!
---
About Romewise - A little history about me
I come from Gainesville, Florida, where my dad taught cultural anthropology at the University of Florida until his recent retirement. My parents still live there and it's where I call home. When I go back to the states that is.
Rome is also home. I've lived here since October 2001, when my Roman husband and I moved here from Boston, where we were living at the time.
How did I wind up marrying a Roman? It happens to a lot of us, you'd be surprised...
While living in Boston, a friend and I took a fateful trip to Europe one summer, to "visit France and Italy." We thought we'd fly out of Rome, as our last stop. Just to, you know, see the Coliseum and the Vatican at the end of the trip (now, I am sad when I hear people refer to coming to Rome this way, i.e. in a hurry!)
By chance we stayed in a hotel near the Termini station, because it was relatively inexpensive, they took credit cards, and they had a vacancy in September, which we had not realized back then was very peak season.
The man who would become my husband, Alessandro, was not supposed to work that night, but they called him in by chance, and that is who checked us in. Love at first sight for us both.
Super fabulous Florentine blogger Georgette Jupe of the popular blog Girl in Florence wrote a series about Getting Married in Italy. She featured my story there, so if you'd like to read more, check it out!
There was a lot of back and forth travel before we married. Then we lived together in Boston for a while. But eventually, we decided to move back to Rome for family reasons...and "open a B&B." Alessandro said, "it's easy, you just rent an apartment, then rent out the rooms." He'd seen it done where he'd worked before.
Well it was not easy and it is still not easy. And we moved here weeks after 9/11, which was dismal and felt like a hopeless time. But we searched and searched and finally found an apartment to turn into our first little 3-room B&B. Today we have 20 rooms, and we call ourselves a "boutique hotel in Rome."
About our hotel and why we love what we do
From the very beginning, when we only had 3 rooms, I used to sit with all our guests, and talk to them about what they were going to do that day. I'd say, wait a minute, you shouldn't do that, or you should try this restaurant, or you should consider going there ...and on and on. I just did it because I cared, and because, my first time visiting Rome, I did not enjoy it very much at all. And by the time we opened our B&B, I had fallen in love with the city, its hidden streets, its wonderful food, history and art, and its beauty. So I wanted to make sure nobody made the mistakes I made, in disliking the city too soon, not getting to know it and not getting to love it.
As we grew, we always kept this philosophy, hiring staff who were passionate about Rome, and about people and talking to them.
Over the years, we created hundreds of email templates in answer to the myriad questions we'd get from our upcoming guests about their stay in Rome.
In all the time we've been running our very hand-holding, customer-service oriented Rome boutique hotel, I've collected and memorized hundreds of questions (and answers) that I know visitors have when they are coming to Rome, especially for the first time.
| | |
| --- | --- |
| Here, I am having a delicious plate of spaghetti with mussels and pecorino at il Falchetto.  | I love taking cooking classes (in Italian and with Italian chefs.) It's very hands on, so I not only know how to love eating Italian food, but making it too! |
I love to use our guests' needs as an excuse to eat and drink my way around Rome (for "research for the hotel.") But between all my actual eating in Rome, taking cooking classes in Rome, and knowing several chefs and foodies in Rome, I have become very well-versed in Rome cuisine and am happy to tell anyone (and everyone) about it if they are willing to listen to me!
About RomeWise and why I wrote this guide
I soon realized the FAQ page on our web site would not be enough, but did not want to weigh down the hotel's website with so much tourist information. And, I also knew we could not answer all the people who wanted our help but did not stay at the hotel.
So I created this web site as a guide for all of them; all of you. This guide is for everyone coming to Rome who wants to know not just the basic stuff but all the interesting and even esoteric things in between. 
It's taken me, and is taking me, years to write it and construct it. This is because I spend a lot of time running our hotel business with my husband! But it is a labor of love and I hope it shows. I hope you will find that this web site is helpful in planning your trip to Rome.
About Romewise - Why I know what I'm talking about
I am passionate about living in Rome. I also get the most out of it: I walk around a lot, I eat (and drink), A LOT, and I do as much cultural stuff as I can. I have visited and toured several times over most of the important, and many lesser-known, sites in Rome. I take tours (in Italian or English) of these sites as often as I can.  
Since moving here, I've also taken some online courses including Roman Architecture (Yale University, through Coursera), and the History of Rome.
My husband and I have even developed private walking tours for our hotel guests, which we now offer to everyone. These are not your typical Ancient Rome and Vatican tours (great in themselves of course), but are for the visitor who wants a personalised private guide, to take them around, and show them the best that our city has to offer, from an insiders' point of view. This is the topic for another page, but I wanted to mention it so you know that I really know and love my city, and hope you will too.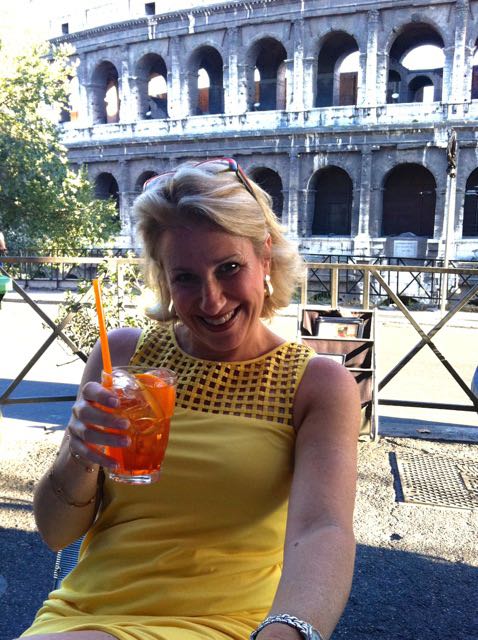 Want to know more about our B&B in Rome? It's called Daphne, named after Bernini's amazing sculpture in the Galleria Borghese. Here's our website.
---
Return to the top of About RomeWise.
Rome Guide
› About Me
---