Staying at a Bed and Breakfast Rome Italy
Get the real low-down on what to expect
We opened a 3-room Bed and Breakfast Rome Italy in 2002, and ran it for 18 years.
So please trust me when I say I can tell you everything you need to know about staying at a B&B in Rome.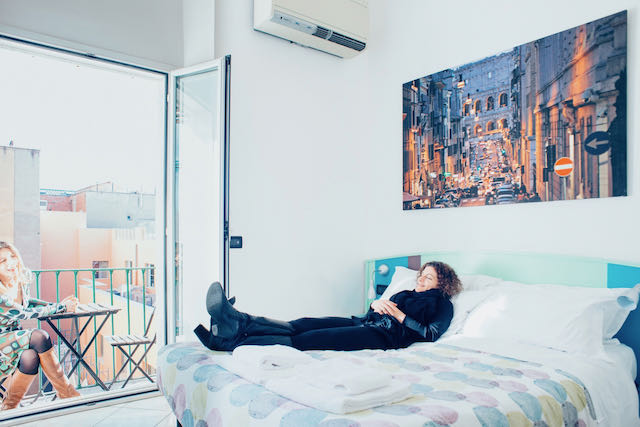 When you stay in a B&B in Rome, you will find every level of style and comfort. This photo is of a simple double room at The Beehive, which is part B&B, part hostel.
How to select a bed and breakfast Rome Italy - 
Take it from someone who's been there!
Arrivederci means, literally, until will meet again.
Did you know that if you toss a coin over your shoulder into the Trevi Fountain, you will one day return to Rome?

Rome is a destination that often fulfils the dream journey of a lifetime.
Visitors flock here year-round, with good reason. Monuments, piazzas, fountains, cuisine, Michelangelo. What more could you want?

Over the years I had the privilege to hug my customers at the end of their stay before saying "arrivederci". 
When I asked how they felt about their visit, the most common answer was "restored".

Thanks to a sometimes extensive interaction between the city's unique historical-cultural heritage and a generous sense of hospitality, a stay in Rome often becomes a memory to write on one's "life's diary".
Bed and Breakfast Rome Italy - everything you need to know
With more than 10,000 B&Bs citywide, Rome offers a competitive and varied choice in this category of accommodation.
On this page, we want to help you understand the differences you'll find among B&Bs in Rome. Once you know the variations you can expect, it will be easier to choose one according to your needs.

Bed and Breakfast Rome Italy - what to expect
Rooms
The size of a B&B affects the number of rooms. Some B&Bs have 3 rooms, and some have more. This depends in part on the size of the apartment(s) where the B&B is but also in how the owner/manager decides to divvy up the space at hand. So room size can vary widely across B&Bs.
B&B owners who prefer to offer quality want to make sure they offer rooms with enough space and amenities that they exceed customer expectations. If you want a spacious room, and/or high quality service, you will want to look for these features when choosing your Bed and Breakfast in Rome.

Lately, B&Bs have more rooms than they used to, and the room sizes have increased, as B&B owners compete to offer you a better experience.
B&B properties are generally converted apartments. The rooms may or may not feature:

Brightness - This depends on what floor you are on.
View - Most buildings in Rome are close together and apartments/B&Bs with decent or breathtaking views are fairly rare. It's most likely you will have a view of the building across from you, or of an inner condominium courtyard.
Soundproofing - Since most Rome B&Bs are in apartments, if the owner did not soundproof the walls and doors, you may have to contend with noise from neighboring apartments.
Amenities
There are a not a lot of rules as to what minimum amenities a B&B has to provide. These are some of the basics you will find at just about any B&B:
A bed of variable size depending on the room booked (twin, queen, or king).
Closet, nightstand, and lights.
Here are some optional amenities to look for if they are important to you:
Free Wi-Fi
Cable TV (don't always expect to find a Cable-Satellite TV set.) Taxes and subscriptions for this service still represent a killer factor for small businesses)
Refrigerator
Comfortable chairs
A desk
Disclosure: If you make a purchase through a link on this page, I may receive a small commission - at no extra cost to you. Thank you for supporting my site!

---
Apartment rentals
An alternative to B&Bs in Rome can be staying in an exquisite private home in Rome.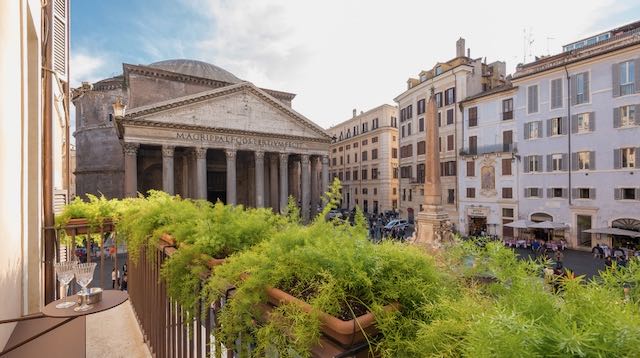 Pensieri Stupendi private apartment overlooking the Pantheon. Photo credit - The Plum Guide
Bathroom
First, let's clear up what the words "private bathroom" really mean when it comes to B&Bs in Rome.
A B&B can offer a "private bathroom", which means it's for your use only, but it may be in the hall.
Many B&B properties cannot adapt their space to have rooms with en-suite (internal) bathrooms.
It could be because of the shape of the apartment, whose security depends on the load-bearing walls and therefore do not allow any type of structural modification. Or, it could be due to lack of funds (especially in the historic center of Rome, where renovations cost 5 times more than normal).
So make sure when decide where to stay that your room has a private ENSUITE bathroom if that is important to you.
Second, it's not very common to find B&Bs in Rome with bathtubs. If this is important to you, you should check in advance if it's available.
Find out more about what to expect from bathrooms when you visit Rome!
---
The perfect 3-day itinerary in Rome
Trying to figure out how to organize your visit to Rome? I've got the perfect 3-day itinerary for first-time visitors (or those who have not been here in a while.) It works for a 2.5 day visit as well.
In my 3-day itinerary, you'll see all the major must-see Rome attractions like the Vatican, Colosseum, Trevi Fountain, Pantheon, Piazza Navona, Spanish Steps, Castel Sant'Angelo, and much more.
And if you have more time, or want suggestions for extra/other things to do, you'll find that there too.
Visit my page with the best 3-day itinerary in Rome for first-timers.
---
Bed and Breakfast Rome Italy - what NOT to expect
Staying at a Bed and Breakfast Rome Italy can be a lovely experience. I should know. We had one and that is what we tried to offer!
At a minimum, you should have a comfortable place to sleep, something to eat and drink in the morning, and some level of customer service, at least during check in.
Here is what NOT to expect:
24-hour concierge, or even a concierge at all
A big lobby or large gathering space
A fresh breakfast (You need a license to serve fresh food, and it's not that easy for a B&B owner to get.)
Wi-fi or good wi-fi
Typical hotel amenities such as an elevator, terraces, restaurant, vending machines, ice machines, bar, cafeterias, pool, etc.
Lots of special amenities - this will always be up to the whim of the proprietor, and you may find there is just the bare minimum.
An easy-going cancellation policy. As most B&Bs are small, they cannot afford last-minute cancellations.
Some Bed and Breakfasts in Rome may indeed offer some or all of the above. Bottom line is, you usually get what you pay for.
The best way to book a B&B in Rome
If you choose to stay in a bed and breakfast Rome Italy, you will have a huge variety of options, mostly because there is a bare minimum of requirements to open one.
You will find listings for places using the words Inn, Townhouse, Relais, Boutique Inn, Guest House, and many other words/phrases that don't include the word "hotel."
These all indicate a property that is NOT a hotel. So it's either a B&B or it's an "affittacamere" which is a lodging category slightly above a B&B, with just a few more requirements.
Many people run 1-3 room B&Bs out of their homes, and you may meet the owner of that home.
Many other "B&Bs" in Rome are larger than this, and may have many more amenities than what is required. The owners may want to surpass your expectations so that you will have a great experience. That is what we did, when we ran ours. 
Check the list above for what to expect/what not to expect when in a Bed and Breakfast Rome Italy. Figure out what amenities are important to you, and gauge them along with location and price.
SERIOUS ALERT!
Many many B and B's in Rome are not legally registered.
What does this mean?
It means that many people simply open rooms for rent and start advertising online, via their own websites and/or social media.
Does this matter to you?
The ramifications are: they are not registering guests with the authorities, which is a felony. They are not paying taxes. And, there is no control whatsoever of their facilities and safety and security. In December 2014, a tourist died due to carbon monoxide poisoning from a faulty water heater in a Rome bed and breakfast.
Do you want to make sure a Bed and Breakfast in Rome is legally registered? Visit the Comune di Roma website, and look for it there.
When looking to book a B and B in Rome, think about what you want out of your stay.
If price is an issue, you will do best when sticking to actual B&B's run in someone's home. If, however, you want more amenities, look for "B&B"s that are more of a mini-guest house, townhouse, inn etc (with the descriptions as described above).
B&B's in Rome we recommend
One of the best B&Bs in Rome is near Termini station, run by good friends Steve and Linda: The Beehive. They have lots of different room types, including dorm-type hostel rooms, and more upscale rooms with en-suite bathroom. The rates are excellent, and their level of customer care is tops.

---
---
Get your free Rome trip planner!
We are committed to respecting your data. Click for our Privacy Policy .
---
Comments? Questions? Suggestions?
Please come over to the private Romewise Facebook group and join in the conversation.

You will often find me there, happy to answer your questions / comments!
You will also meet other Rome lovers and experts, too.
What are you waiting for?