Rome events in July 2023 - Holidays, exhibits, concerts, and other things to do
Rome events in July include plenty of outdoor activities.
While it's not a month with any specific holiday dates, there is a lot to do in Rome in July, like concerts, night visits, and the Summerfest along the Tiber.
Find out all the things to see and do in Rome in July.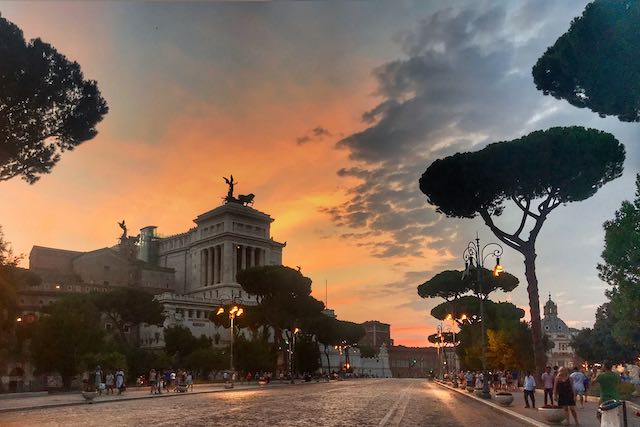 One of my favorite things to do in Rome in July is enjoy all the evening events like the light show on the via dei Fori Imperiali. Or just take in the stunning summer sunsets!
Rome events in July 2023 - What's happening
July is a great month to visit Rome.
Yes, it can get hot and muggy but the days are long and sunny, and you will enjoy pleasant evenings outside dining, drinking, sight-seeing, or just strolling through this beautiful city.
Keep reading for more info about the best Rome events in July 2023:
Holidays in Rome in July
July is one of those funny months when there are no specific holiday dates.
But it's a classic vacation month for Italians and visitors alike, so you will find lots to do in Rome this month.
There is one thing that happens every July in Rome, and that is the beginning of summer sales (usually the first Saturday of July).
So if you are a shopper, this is yet another great reason to visit Rome in July.
---
Current exhibits at Rome's museums in July
There are several Rome events in July at various museums around the city. These are confirmed for 2023:
---
---
Capitoline Museums
The Rome of the Republic
This exhibition tells the story, through a series of themes and archaeological contexts, of the transformation of Roman society over the course of five centuries, from the birth of the Republic to the formation of the Empire. 
13 January 2023 - 24 September 2023
Entrance is included with your general Capitoline Museums entrance ticket - see all details here.
---
---
Chiostro del Bramante
INFINITY - Michelangelo Pistoletto
Made up of fifty works and four large site specific installations, contemporary art exhibition INFINITY covers more than 60 years of art and almost 90 years of life for Michelangelo Pistoletto.
18 March 2023 - 15 October 2023
For tickets and further details, visit the website of the Chiostro del Bramante here.
National Roman Museum - Baths of Diocletian
The Instant and Eternity. Between us and the ancients 
300 exceptional pieces including Greek, Roman, Etruscan and Italic, medieval, modern and contemporary works investigating the complex relationship that contemporaries have with the ancients.
For tickets and further details, visit the website of the Baths of Diocletian. 
4 May 2023 - 30 July 2023
---
---
The perfect 3-day itinerary in Rome
Trying to figure out how to organize your visit to Rome? I've got the perfect 3-day itinerary for first-time visitors (or those who have not been here in a while.) It works for a 2.5 day visit as well.
In my 3-day itinerary, you'll see all the major must-see Rome attractions like the Vatican, Colosseum, Trevi Fountain, Pantheon, Piazza Navona, Spanish Steps, Castel Sant'Angelo, and much more.
And if you have more time, or want suggestions for extra/other things to do, you'll find that there too.
Visit my page with the best 3-day itinerary in Rome for first-timers.
---
---
Visit my dedicated pages for all the summer months in Rome
Visit Rome's Parks and gardens
July is a beautiful time to visit a park or garden in Rome (and cool down!)
---
Free Rome events in July 2023
In recent years, we've enjoyed the "Free Sunday," in which state sites and museums were free the first Sunday of the month, and the Vatican Museums were free the last Sunday of the month.
This is now back for all participating venues, including the Colosseum, Roman Forum, Capitoline Museums, Galleria Borghese and many more!
---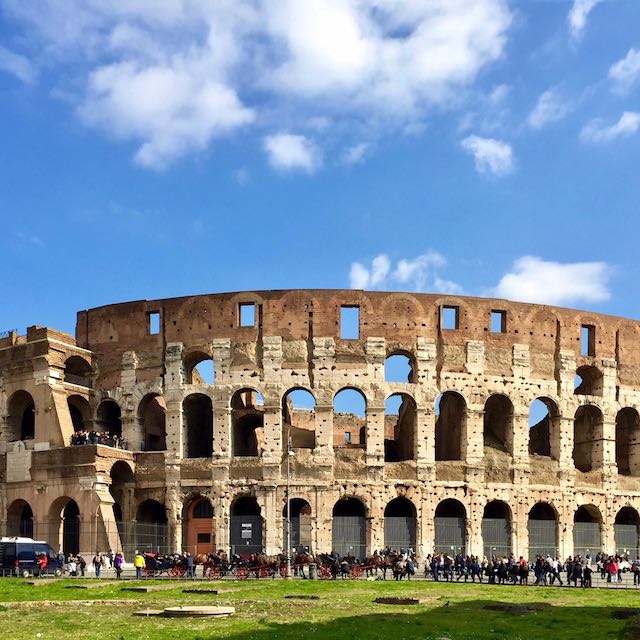 ---
In July 2023 the Free Sunday date for Rome's civic and state sites is Sunday July 2.

You can expect the Colosseum to be pretty much a mob scene. I'd highly recommend visiting one of the other sites that is also free on this day, like the Roman Forum/Palatine Hill, or Ostia Antica.
---
---
One of the best Rome events in July is the Romaestate Lungotevere.

From early June through the end of August, enjoy the annual outdoor festival, Roma Estate Lungotevere, along the banks of the Tiber River.
Entry is free, but you can also eat, drink, listen to music, watch movies and shop. Prices vary.
On both sides of the Tiber, between Ponte Garibaldi and Ponte Sublicio (entries near Jewish Ghetto and Trastevere.) 
Awaiting confirmation of the dates for 2023
---
Nighttime things to do in Rome in July

The below nighttime Rome events in July are mostly outdoor things to do in Rome (except for visiting the Vatican Museums on Fridays.)
They are not free and should be booked in advance.

---
---
When in Rome . . . why not attend a gladiator battle? This fantastic show is produced by the Gruppo Storico Romano, with professional re-enactors, and real weapons and armor.
Take your seat in the re-constructed arena, not far from the Colosseum, and enjoy realistic gladiator fights, and other shows including ancient dances, rites of the Vesta, and more.
At the end of the show, you'll be treated to a small aperitif consisting of food and drink made with recipes from Ancient Rome.
Fridays and Sundays. 25€.

---
---
In July 2023, you can visit the Colosseum at night on Thursdays, Fridays, and Saturdays.
Entry for night visits to the Colosseum is NOT part of the Roma Pass.
NB - Sometimes there is availability for this only a few days in advance, so if you don't see availability for when you want to go, check back!
For more things to do at night in Rome in July, try these:
---
Ready to plan your trip?
Rome events in July - Concerts, operas, shows

---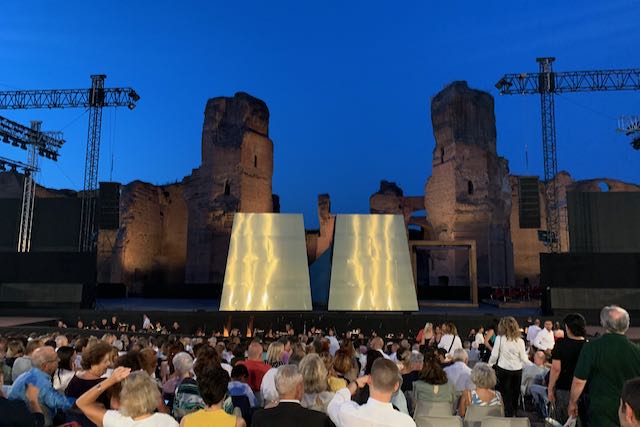 ---
---
The Rome Opera House is OPEN. 
---
---
The Rome Auditorium is OPEN.
This year's lineup for Roma Summer Fest include Bob Dylan, Paolo Conte, Pet Shop Boys, Ludovico Einaudi, Beth Hart, Porcupine Tree, The Lumineers, Interpol, James Bay, Aurora, Sigur Rós, Sting, OneRepublic, Jacob Collier, Daniele Silvestri
---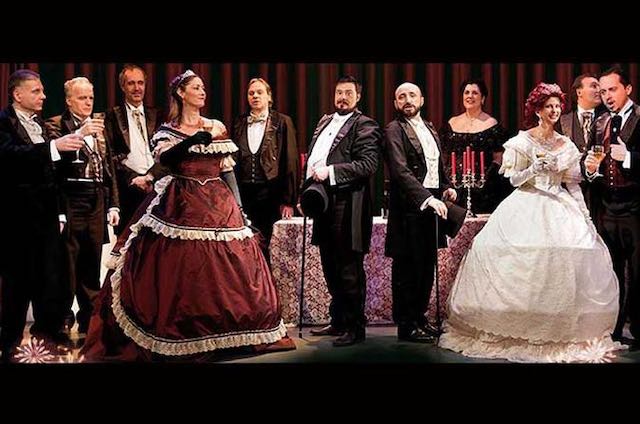 ---
Get your Rome Opera Pass to choose from a number of shows inside a scenic and suggestive setting in central Rome (locations vary).
These wonderful opera singers put on a mini-production of various operas, often in full costume.

Celimontana Jazz
Dates pending for 2023
100 free jazz concerts. Open nightly and Sundays for brunch (a first!)

Plenty of food and drink to purchase.
For more concerts in Rome in July, click here to visit Get Your Guide.
Tours to take in Rome in July
July is such a hot month that taking a tour can be a great way to maximize your time and limit your exhaustion. Most tours are 2-3 hours at most, and go either early morning or late afternoon. A good guide will keep you focused so you enjoy the sites and get back out of the heat.
For tours to take in July, start here:
Day trips to take in Rome in July
July is a wonderful time to take a day trip, especially if you are looking to beat the heat in Rome.
We have lots of options for places to visit which you can easily reach within 1-2 hours of Rome. For organized day trips, visit Get Your Guide.
Activities with kids in Rome in July
July is when many families travel to Rome thanks to school breaks. There are plenty of tours and activities in Rome geared to children of all ages.
If you're looking for some fun activities with kids, start here:
I've listed some of what I think are the most fun and interesting Rome events in July, and most central. For a complete list of Rome events in July, visit the website of the Rome Tourist Board.

---
Get your free Rome trip planner!
We are committed to respecting your data. Click for our Privacy Policy.
---
Comments? Questions? Suggestions?
Please come over to the private Romewise Facebook group and join in the conversation.

You will often find me there, happy to answer your questions / comments!
You will also meet other Rome lovers and experts, too.
What are you waiting for?