Ultimate Guide to the Galleria Borghese in Rome

Are you wondering if you should visit the Galleria Borghese when you come to Rome?
Find out why this is one of Rome's must-see museums, and all the tips you need to know about visiting it, including how to avoid the crowds, whether you can take photos, and more!
Gian Lorenzo Bernini's sculpture of David is one of the must-see masterpieces in Rome's Borghese Gallery.
Visiting the Galleria Borghese - everything you need to know
I've visited the Galleria Borghese countless times over the years and I see something new every time I go. Suffice to say I can never get enough!
This is one of the easiest museums in Rome to visit, thanks to a well-organized entry system, a beautiful location inside Rome's third-largest park, and a concentrated collection of paintings and sculpture by some of the most renowned artists in the world.
On this page, I'll share with you:
What is the Galleria Borghese museum?
The Borghese Gallery is a relatively small museum in the Villa Borghese park at Piazzale del Museo Borghese, 5.
While it houses a spectacular collection of some of the world's most renowned artists from the Renaissance and Baroque periods, you will also find mosaics and sculptures from Ancient Rome, all in a stunning space surrounded by lush gardens.
For a more detailed history of the Galleria Borghese, jump down here.
Is it worth it to visit the Galleria Borghese?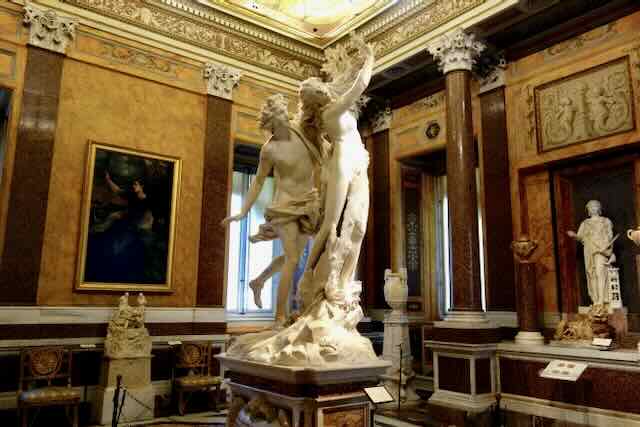 For me, seeing the sculpture of Apollo and Daphne by Gian Lorenzo Bernini makes visiting the Borghese Gallery worth it.
I live in Rome and still have not visited every single museum.
And yet, every museum I have visited has been "worth it." But that is, of course, subjective.
If I had to pick only one museum to visit on my trip to Rome, it would be this one. 
Sacrilege you say? 
Not the Vatican Museums? (If you follow me, you know I am mad about the Vatican Museums!)
Well, really, you should see them both (and the Capitoline Museums!) 
But if I had limited time, and I had to pick one museum, the Borghese Gallery would win hands down. Here's why:
You may notice I wrote "no stress" 3 times above.
That is because it's one of the draws to visiting this museum.
A visit to the Galleria Borghese is wonderful, in part, because it's so doable.
You can see a LOT of amazing art in a relatively small space in a short window of time without the crushing crowds you find in some other museums in Rome (ahem.)
In short, yes, the Galleria Borghese is very much worth visiting. And in my opinion, it's worth spending the whole 2 hours and soaking up the beauty all around you.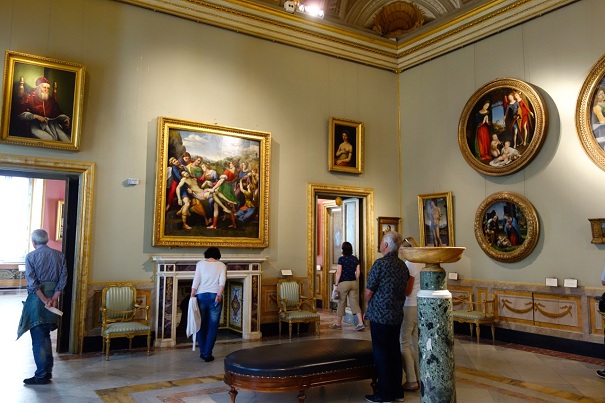 Enjoying a long gaze at Raphael's "Deposition"; a bench to sit on; and no crowds.
The main room of the Borghese Gallery is filled floor to ceiling with art, mosaics, and sculptures from Ancient Rome.
Masterpieces to see in the Galleria Borghese
Thanks in part to art-lover Cardinal Scipione Borghese, the Borghese Gallery is so full of amazing works of art by many world-class renowned artists, that it's impossible to list them here.
But to give you an idea of some of the wonderful sculpture and paintings you can see in the Galleria Borghese, here is a short preview:
Canova
A sculpture of Paolina Borghese by Antonio Canova that is worth the price of admission alone: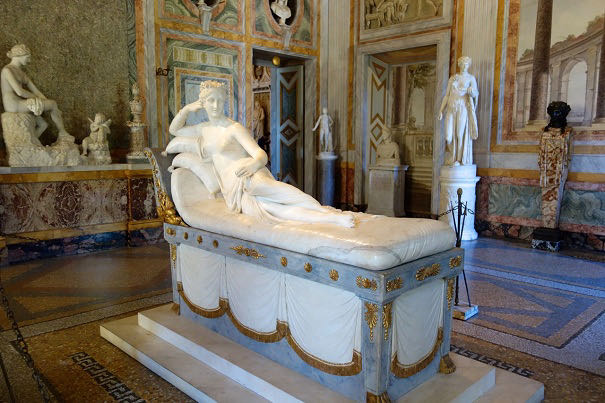 This sculpture of Paolina Borghese by Antonio Canova is one of the most breathtaking pieces of art in the Borghese Gallery. Don't you feel you could lay down on that marble mattress?
GianLorenzo Bernini
I am a sucker for pretty much anything Gianlorenzo Bernini has ever done.
Lucky for us, three of his most important sculptures are in this museum.

These include Apollo and Daphne, David, and The Rape of Proserpina.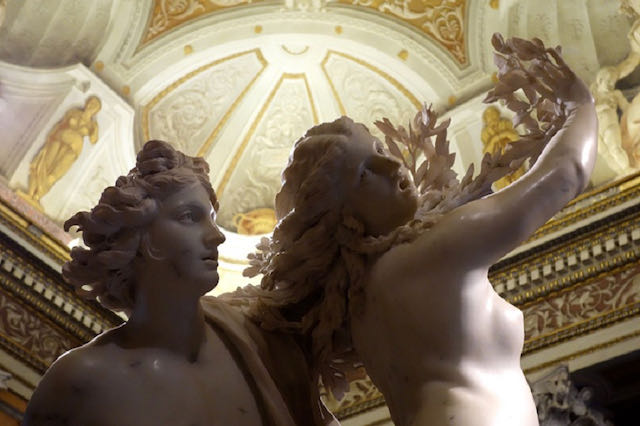 It's impossible not to be mesmerized by this extraordinary statue of Apollo and Daphne by Gian Lorenzo Bernini.
There are many more works by him, including a self-portrait (painting), a fascinating sculpture of Aeneas fleeing Troy (this is the beginning of the Rome foundation story!), and even a sculpture he didn't finish.
In the Borghese Gallery, you can see two busts of Cardinal Scipione Borghese, both by Gian Lorenzo Bernini.
Cardinal Scipione Borghese, founder of the museum, was a huge fan and patron of Bernini, so we can thank him for giving us this marvelous collection.
Caravaggio
Michelangelo Merisi, otherwise known as Caravaggio, one of the most renowned artists of the Italian Baroque period, was a master of chiaroscuro, which means using very light colors against a dark background, for maximum effect and contrast.
He perfected this style and is considered one of the best and most well-known artists in using it to create a strong atmosphere in his paintings.
John the Baptist by Caravaggio in the Borghese Villa - so special and unusual to see him as a young man!
Masterpieces by Titian, Raphael, Rubens, and more
I really cannot do these works of art justice with my photographs, taken at angles, and the sun glaring on them.
(Photos are allowed, just no tripods and no flash. Get my photo tips here.)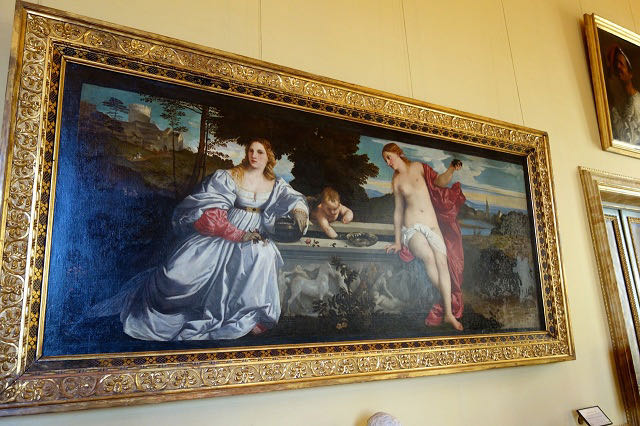 Sacred and Profane by Venetian artist Tiziano, also known as Titian, in the Galleria Borghese in Rome.
But to give you an idea of the art you can find in this fabulous museum, you will find paintings by Rubens, Raphael, Guido Reni, Domenicchino, Parmigianino, Botticelli, Correggio and so many more.
Many of these are on the top floor so don't skip that part!
---
---
Borghese Gallery practical info - location, hours, tickets
Borghese Gallery hours
The Borghese Gallery is open Tuesday - Sunday.
The museum is closed Mondays and December 25 and January 1, but otherwise open during every other holiday including May 1 and Easter Sunday.
Entry times are hourly for a 2-hour visit, starting at 9 AM and ending at 7 PM (last entry is at 5:45 PM for a shorter visit.)
On Fridays and Saturdays the Borghese Gallery is open until 10 PM (last entrance at 8:45 PM.)
Galleria Borghese location
The Galleria Borghese is inside of the Villa Borghese park in the heart of Rome.
The precise address is Piazzale del Museo Borghese, 5.

The villa Borghese is Rome's third-largest park and one of it's most beautiful. It's a pleasure to stroll here whether or not you are visiting the Galleria Borghese.
So, where is the Villa Borghese located?
The Villa Borghese park is on the Pincian Hill above the Spanish Steps and Via Veneto.
The Villa Borghese is the third largest park in Rome, and you can visit all the rest of it without visiting the Galleria Borghese.
QUICK HISTORY OF THE VILLA BORGHESE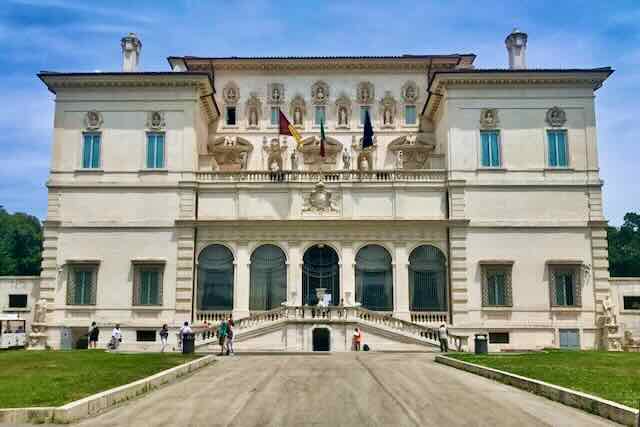 The Galleria Borghese was once the summer residence of the prominent Borghese Family. Thanks to Cardinal Scipione Borghese, today it houses an extraordinary collection of art from Ancient Rome, and from the Renaissance and Baroque eras.
The Villa Borghese was the summer and party residence of the noble Borghese family, built in the early 1600's. 
In 1605, Camillo Borghese became Pope Paul V, and his nephew, Scipione Borghese, soon was made a cardinal.
In 1606, Cardinal Scipione Borghese ordered a palazzo built. 
The "Villa Borghese Pinciana", named for its proximity to the Porta Pinciana, was designed mostly by Flaminio Ponzio. The villa was completed in 1633.

Cardinal Scipione Borghese was a real art buff and at a very young age became one of Gian Lorenzo Bernini's biggest fans and patrons. 
The Galleria Borghese was decorated and furnished mostly due to Cardinal Scipione Borghese's tastes and very strong will (some works were purchased and other donated, but some works were "confiscated." You can figure out what that means.)
In the 1800's, while Rome was under French rule, another Camillo Borghese, who was actually a prince, married into the Bonaparte family (his wife Paolina is the one seen reclining in Antonio Canova's spectacular sculpture, seen in the photo on this page.) 
In 1807, Prince Borghese had to give about 500 pieces of art from this museum to Napolean Bonaparte, so if you want to see more of the original Borghese collection, you will have to visit the Louvre in Paris. (This is not a very happy subject for Romans today, as you can imagine!)

In 1902, the Borghese family sold the Villa Borghese and its contents to the Italian government.
What is the difference between the Galleria Borghese and the Villa Borghese?
In Italy, a "Villa" also refers to an estate, meaning a lot of land, so the Villa Borghese park refers to all the land, whereas the former Villa Borghese Pinciana refers to the building where the Galleria Borghese collection is housed today.
Booking Tickets to the Galleria Borghese in Rome
In this section about how to book tickets and tours to the Borghese Gallery in Rome, we'll go over:
Costs of Borghese Gallery tickets
Regular ticket prices for the Galleria Borghese
Borghese Gallery tickets cost
13€ for adults

8€ for the last time slot of the day

2€ for anyone 18-25 years old

Free for anyone under 18
There may be additional costs if there is a special exhibit going on.
To book your Galleria Borghese tickets, there is a 2€ fee. So even if you book for an under-18 year old, or for a free Sunday, or you are using a Roma Pass for free entry, you will pay 2€ for the reservation.
Anyone disabled and their accompanying caregiver do not get free entry but are exempt from paying a reservation fee.

Free Entry to the Galleria Borghese
There are some ways to visit the Galleria Borghese villa for free. 
If you are on a budget, this can be a great way to save.
For most of the free visits, there is still a 2€ charge to reserve, and most of the time, you need to reserve.
Visiting the Borghese Gallery on the Free Sunday
On the first Sunday of every month, it is free to visit the museum (you still have to book!)
Who is eligible for Free Entry to the Galleria Borghese in Rome?
The Galleria Borghese is free for everyone under 18, European tour guides, some journalists, some teachers.
For more specific details about who is eligible for free entry, and more info, visit the official website of the Galleria Borghese.

Using your Roma Pass or other City Pass for free entry to the Borghese museum
You may use your Roma Pass or other Rome City Pass to get into the Borghese Gallery for free or at a discounted rate. 
You must still book your entry date and time. And you must pay the 2€ reservation fee.
How to reserve Galleria Borghese tickets
There are now 3 ways to book Borghese Gallery tickets: phone, online, or by e-mail.
Booking the Borghese Gallery on the Phone
The number to call is +39 06 32810. 
If you are using a cell phone, the "+" indicates an international call. The +39 means country code Italy.
If you are using a regular telephone and dialing from the US or Canada, you dial 011 39 06 32810.
If you are dialing from another country, use whatever code you need to get an international line, then 39, then 06 32810. (You could also ask your hotel to do this for you in advance, as it's a free phone call from here!)

You will have the choice to speak to an operator in Italian or English.
The phone ticket office is open Monday - Friday from 9am until 6pm, and Saturday from 9am until 1pm. It is closed on Sundays and holidays.
Be ready to book with credit card, and have something to write with.
Once you book, they will give you a booking code.
They will ask for your email address so they can send you confirmation via email.
You still need to pick up your Galleria Borghese tickets on the day and time of your visit.
Booking the Borghese Museum via e-mail
You can also book the Galleria Borghese in Rome via e-mail. 
Send an email to info@tosc.it.
Don't forget to include the number of people, their ages, dates you want to book, and your preferred time.
Also make sure to give them an easy way to reach you if the email you send from cannot be used.

When booking via e-mail, you'll receive confirmation within 48 hours.
If you have trouble with email, or don't get a response, then revert to the other ways of booking.

Booking your Galleria Borghese tickets online
If you go to the Borghese website (Italian only) and click to book tickets, it will take you to their official ticket vendor affiliate in Italy, which is TicketOne. 
Here is the booking page for the Galleria Borghese in Rome on TicketOne in English. (In case the page comes up in Italian, click the globe at the top.)

Browse to find available dates and then, once you select the date you want, you can choose from available time slots. 
Once you are ready to pay, you will see there is a fee to use that vendor, which is an additional 2€ per person (on top of the 2€ booking fee that the museum itself charges.)
You will need to create a login name and password, but it's fairly straightforward.
Book online with an agency
I have heard more than one person tell me they find the Galleria Borghese ticketing website frustrating and/or difficult to use.

Do you just want to book your tickets via an English-language website and be done with it?
Here's an easy online booking calendar.
The tickets cost just a bit more than using TicketOne, but it's an agency and that includes the ease of use and your peace of mind.
---
DO YOU NEED TO BOOK galleria borghese TICKETS IN ADVANCE?
Consider that they only allow 360 people at once in the Borghese Gallery, with entry for up to 180 people every hour, on the hour, for a maximum 2-hour visit.

In high season, if you don't book in advance, you risk being turned away due to no availability.
You can try to visit the Borghese Gallery in low season without booking in advance, but as entry is limited to just 180 people at once, you risk not getting in or having to wait until there is an available time slot.
The Galleria Borghese is one of the things I most recommend booking in advance when planning your visit to Rome.
---
The perfect 3-day itinerary in Rome
Trying to figure out how to organize your visit to Rome? I've got the perfect 3-day itinerary for first-time visitors (or those who have not been here in a while.) It works for a 2.5 day visit as well.
In my 3-day itinerary, you'll see all the major must-see Rome attractions like the Vatican, Colosseum, Trevi Fountain, Pantheon, Piazza Navona, Spanish Steps, Castel Sant'Angelo, and much more.
And if you have more time, or want suggestions for extra/other things to do, you'll find that there too.
Visit my page with the best 3-day itinerary in Rome for first-timers.
---
How to Get the Most Out of Your Visit to the Galleria Borghese
How long will a visit take?
You are only allowed a 2-hour window for your visit.
But you need to be there at least a half-hour before your entry time. The address is Piazzale del Museo Borghese, 5.
You may also spend a little time afterward visiting the small gift-shop, having a coffee or even a meal in the café there, or walking around the gardens.
Figure in time to get to the museum (this of course depends on where you are coming from, and how you will get there).
So all together, I'd say count on a good 3-4 hours out of your day. 
Tours of the Borghese Gallery
Borghese Gallery audio guides
My top recommendation for a guide to this museum is to do their audio tour. You cannot book this in advance. You just get it on the day you visit.
The audio tour is 6€, and is self-guided. It's really well-done and has good narrators telling interesting history about specific important (numbered) pieces throughout the Borghese Gallery.
There is no order, so you just go at your own pace and start where you want.
Docent tours of the Borghese Gallery
You may book a guided tour of the Galleria Borghese villa with one of their docents, for 8€ per person, in addition to the ticket price and booking fee.
You must reserve and pay for this when you book your tickets, either by phone or online.
You have the choice of a docent who speaks English or Italian, and sometimes, several other languages may also be available, including French, Spanish and German.

Taking a guided tour of the Galleria Borgese
There are several options for guided tours, including a having an art historian, a family-friendly tour, and a tour that also covers more of the Villa Borghese park and the top of the Spanish Steps. 

Click here to view a selection of guided tours of the Galleria Borghese.
Top tips for maximizing your visit to the Borghese Gallery
They say to arrive 30 minutes prior to your entry time. But actually, you should get there 45 minutes beforehand. Consider that everyone is told they need to arrive half hour prior to their entry time. So it will be crowded right then. And you have things to do before you enter: pick up your tickets, check any items you are carrying, possibly arrange an audio or docent tour, have a coffee, use the restroom etc. So give yourself that extra time. Because at the end of your 2-hour visiting time slot, you will be OUT of the Borghese Gallery.
You will need to check anything you are carrying (purses, cameras, backpacks, camera cases, umbrellas but NOT coats or jackets.) This is free but there is always a line, although it moves pretty fast. Even really small bags need to be checked. A large camera case needs to be checked, but it's ok to go in with a camera around your neck. Don't worry, they will give you a little plastic baggy to put some change and your phone in. The ticket office and bag check is located outside of the main building, just to the left as you face it.

Speaking of cameras - you are allowed to take photos as long as you don't use flash or a tripod. And the photos must be for personal, not commercial use. Click here to read my top photo tips for Rome.
If you go at 17:00, you will finish at 19:00, and this is also the exact time they close the gift shop. So if you go at the end of the day, and think you might want to purchase anything in the gift shop, take time to visit the shop before your appointment, or try to leave some time at the end of your appointment, say 18:50, to get to the shop.
They only allow 90 people at once into the paintings galleries on the top floor, and in theory only for 30 minutes max. I recommend that when you arrive at the Borghese Gallery and are downstairs getting your tickets, checking your bags etc, that you STAY there, and go to the entrance in the way back, and go up on the top floor to begin your visit. In this way, you will start first in the paintings galleries, ensuring you will be able to visit them at a leisurely pace. Then, you can go down to the main floor when the other crowds are moving up to the paintings galleries.
Make sure to dress comfortably with sturdy walking shoes!
How to avoid the crowds (even if 360 people is not big a crowd?) Go at the first entrance or the last and there will only be 180 people inside. Or, visit Rome in low season!
No matter what season you visit Rome, here are 4 things never to leave at home:
Disclosure: If you make a purchase through a link on this page, I may receive a small commission - at no extra cost to you. Thank you for supporting my site!

Where to eat near the Galleria Borghese
Wondering where to have breakfast, lunch or dinner before or after your Borghese Gallery visit?
Besides the cafe inside the Galleria Borghese, here are two of my favorite spots to eat nearby.
One is inside the Villa Borghese park and the other is just outside it by a few blocks:

Outdoor dining at Pic Nic - That's Amir
Pic-Nic That's Amir, a lovely place to eat or drink in the Villa Borghese located near the Borghese Gallery.
This cute outdoor cafe is on Piazzale delle Canestre inside the Villa Borghese park.
It's about a 10-minute walk from the Borghese Gallery.
It's actually really good food, including the pasta and pizza! 

Spinach and ricotta filled ravioli at Pic Nic That's Amir near the Borghese Gallery in the Villa Borghese park.
It's also nice to sit outside and have little birds come join us.

Pizzeria San Marco
Not far from the Borghese Gallery (maybe a 10-15 minute walk off the grounds of the Villa Borghese park) you will find one of our favorite pizzerias, Pizzeria San Marco.
You can eat inside or out, and have just about anything from pizza to salads to pasta to fish.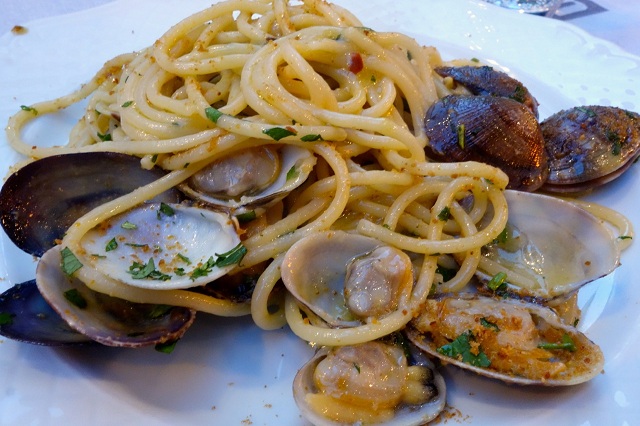 Spaghetti and clams with bottarga at Pizzeria San Marco, my go-to place to eat near the Galleria Borghese
Via Sardegna, 38/g. Open daily from 10am - 1am. Phone: 06 4282 4893. Reservations suggested.

---
Want to share this page on Pinterest? Pin it here!
---
Get your free Rome trip planner!
We are committed to respecting your data. Click for our Privacy Policy.
---
Comments? Questions? Suggestions?
Please come over to the private Romewise Facebook group and join in the conversation.

You will often find me there, happy to answer your questions / comments!
You will also meet other Rome lovers and experts, too.
What are you waiting for?