Traveling to Rome - How to get here by plane, train, bus, cruise, or car
Best way of traveling to Rome? 
Whether you're flying, driving, taking the train or a cruise, find out all your options for getting all the way into the city.

Traveling to Rome - everything you need to know
Can you travel to Rome right now?
Wondering the best way to get to Rome? Find out what you need to know about:
And along with all these, I'll tell you the best way to get to your final destination in the city center once you arrive in Rome.
Travel Documents
Before traveling to Rome, Italy or anywhere in the EU, you should double check your passport validity.
In order to enter an EU country from a non-EU location, your passport need to be valid for at least 3 months AFTER the date you plan to leave the EU, as well as being issued less than 10 years before the the date you ENTER the EU.
In practice, your passport needs to be valid for at least 6 months before traveling, in order to give yourself enough of a buffer. Consider renewing your passport early if you're getting close to your expiry date!
Traveling to Rome by plane
If you're traveling to Rome by plane, the main things to know are which airport to fly into and how to get into Rome from the airport.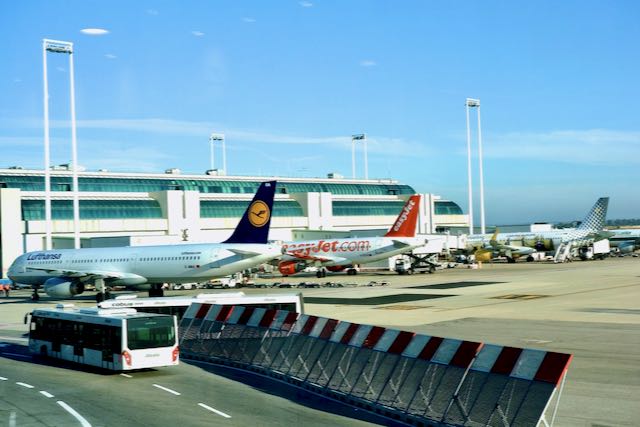 If you're traveling to Rome by plane, you should know we have two airports in Rome, Fiumicino and Ciampino.
Airports in Rome
There are two airports in Rome: Fiumicino (Leonardo da Vinci) and Ciampino.
Fiumicino airport is the main Rome international airport.
Ciampino used to be a military airport, and in recent years it has become a hub for many of the low-cost airlines that fly to Rome. 
Most flights, especially those from overseas, fly into Fiumicino airport.
Both airports are about 30-40 minutes away from the city center, and around an hour's drive from the port city of Civitavecchia if you are taking a cruise.
Check fares for Flights to Rome Italy

Kayak is one of the best aggregator sites to find flight solutions for wherever you want to go. You can easily adjust your flight criteria to see real-time updates to routes and fares. You can also set alerts so you get notified if rates change.

To check and compare schedules and fares, try them right here:

Cheap Flights to Rome Italy

Are you looking for cheap flights to Rome?
With the advent of low-cost carriers in Europe, such as EasyJet, RyanAir, Vueling and many others, it's become much easier to get a cheap flight to Rome, especially if you will be traveling to Rome from another European city.
But there are some things you should know when you book a cheap flight to Rome. Find out more on my dedicated page about cheap flights to Rome.
Best tip for getting into Rome center from the airport
The best tip I can give you if you are flying into Rome, regardless of the airport, is to be prepared and know in advance how you plan to get into Rome's center to your final destination.

Yes there are some ATMs scattered throughout the airports but they charge high fees and you run the risk of them not working.

So if possible, change some money before you leave home.
Around 100€ should be enough and once you are in Rome, you can get more money from the bank ATMs in town.
The biggest question is if you will hire a private limo/taxi to take you into Rome or use some form of public transportation, including city taxis.
And the biggest difference between these options is that with public transportation, you will arrive at a train station (usually Termini), and have to then get to your final destination (hotel or apartment).
And with a private car service, it's door to door. More expensive but definitely more comfortable and convenient, especially after a long flight!
If you plan to use a private limo service, you should absolutely book this in advance.
You will have peace of mind of knowing the price and also will not have to worry in the unlikely event that you cannot find a taxi (this happens on occasions, for example when there is a public transportation strike in Rome.)
DON'T MAKE THIS MISTAKE!
Don't make the mistake I did in thinking that my credit card covered me for a cancelled trip and related costs.
Check the fine print on your credit card's travel insurance policy.

You are better off purchasing trip insurance.
Now, I never leave home without it!
How to get from Fiumicino Airport to Rome Center
Click here to visit my page about how to get to Rome from Fiumicino airport, and read in more details about your options from taking a bus or train, city taxi, or a private limo.
Prices range from around 6 Euros one-way with a bus into Termini station up to around 60€ for a private limo for up to 3 people.
I suggest booking in advance for peace of mind and knowing your transportation is sorted and pre-paid. No surprises!
---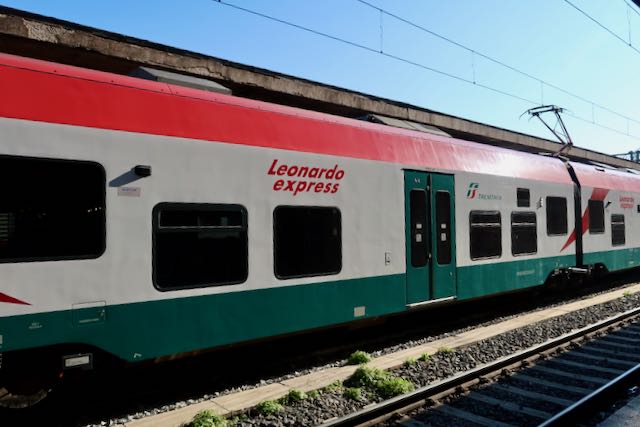 How to Get from Ciampino Airport to Rome Center

If you fly into Rome's smaller airport, Ciampino, you have plenty of options for getting into Rome, from the  bus shuttle to public transportation to private limo service.
Visit my page all about Ciampino airport for more details.

Coming to Rome by train
Train travel in Italy is easy and comfortable and is one of the most common ways of traveling to Rome.
Book your train to Rome
When traveling to Rome by train, you will likely arrive at Rome's main train station, Termini.
We also have a second "main" train station, Tiburtina. Both are in the city, and you can easily get on the metro or take a taxi to get where you need to go.

Rome's Stazione Termini has until recently been the largest train station in Rome, with trains coming from Fiumicino airport, other parts of Italy and from other countries in Europe. The Rome Metro lines A and B both run to/from here.

Rome's Stazione Tiburtina was inaugurated in 2011, and it's meant to become the main point of arrival and departure for many Eurostar trains in and out of Rome.
You can catch Rome Metro line B here.

There are two main train companies: Trenitalia (run by the state of Italy) and Italo (a private company).
Termini is and will remain the station for the Leonardo Express to/from Fiumicino airport. 
Once you arrive at either train station, you can take a city bus, metro, or taxi to your final destination.
Planning to travel between Rome and Florence?
Getting to Rome by cruise

If you are traveling to Rome on a cruise, you will be arriving at the port town of Civitavecchia, which is about 80 km (50 miles), or just over an hour outside of Rome.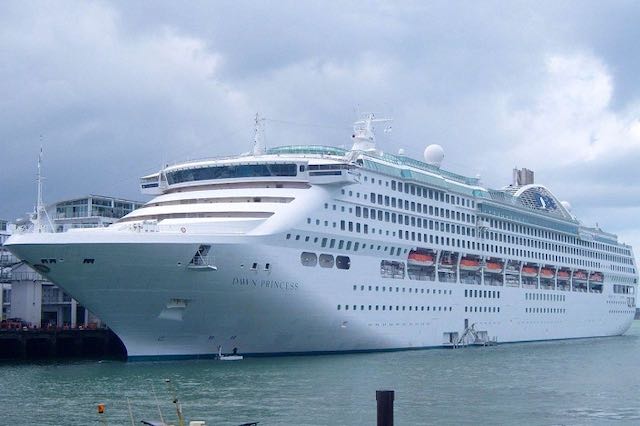 Coming to Rome on a cruise? Your port of call is Civitavecchia
Even if you are simply stopping at Civitavecchia for a night, you might want to come in to see Rome for a day.
Or you could consider booking a visit to nearby Etruscan tomb archeological sites.
Getting into Rome from Civitavecchia is quite easy.
You can take the train right into Termini station, or hire a private limo service to take you.
The trains cost around 4-15 Euros one way, while a car service will cost about 140 Euros and up, depending on the number of people and amount of luggage. 
Traveling to Rome by bus

Bus travel in Italy is also very easy, and sometimes it's more direct to travel to Rome by bus than by train.
For example, there is a direct bus between Siena and Rome, but if you take the train, you will need to change trains at least once.
If you are traveling to Rome by bus, you will usually arrive at Tiburtina station.
There is not a bus depot at Termini (except for local city buses.)
Once you arrive at the Rome bus station, you can take a city bus, metro or taxi to your final destination.
If you want to take the hop-on hop-off bus to tour Rome, you can do this once you are in the city, but they are not a way to get INTO Rome, even from the airport.
Driving into Rome - try to avoid this if possible!

If you're traveling to Rome by car, which I don't recommend, then be aware that much of the city center is off limits during the day during the week and on Saturday afternoons.

Also, driving in Rome can be hectic, stressful and confusing. So if you can avoid bringing a car into Rome, you should try to do so.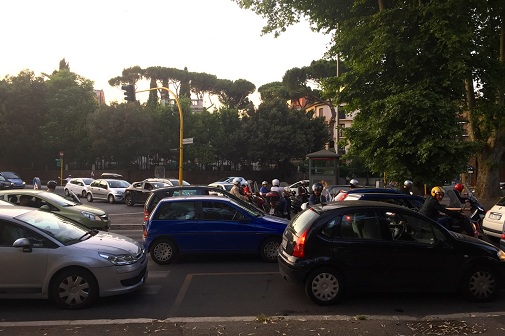 This is what typical traffic in Rome looks like
If you are planning to drop off a rental car in Rome, then you might consider doing this at the airport first, and then taking the Leonardo Express into Rome.
You might also consider dropping the car off at the last city you visit before coming to Rome, and then taking the train into Rome.
If you need to park your car, you may want to check with your hotel or apartment rental contact to find out the best location relative to where you will be staying. Street parking is not advised as it's usually pay by the hour, and sometimes unsafe.
No matter what season you visit Rome, here are 4 things never to leave at home:
Disclosure: If you make a purchase through a link on this page, I may receive a small commission - at no extra cost to you. Thank you for supporting my site!

---
Get your free Rome trip planner!
We are committed to respecting your data. Click for our Privacy Policy.
---
Comments? Questions? Suggestions?
Please come over to the private Romewise Facebook group and join in the conversation.

You will often find me there, happy to answer your questions / comments!
You will also meet other Rome lovers and experts, too.
What are you waiting for?