How to Take a Taxi in Rome
Wondering how to take a taxi in Rome? 
Find out how to get one, what they cost, whether you should take it to/from the airport and ... how not to get ripped off! 

Planning to take a taxi in Rome?
Since 2001 when I moved here and Alessandro and I started our B&B, I've helped thousands of people (friends, family and especially hotel guests) get taxis to get around Rome and to get to/from the airports and train stations.
And obviously I take them myself.
Believe me when I tell you there is not much I don't know about taking taxis in Rome! 
On this page you'll find everything you need to know about:
How to hail/get/find a taxi in Rome
Taxi stands/ranks
The most typical way to get a taxi in Rome is to go to a taxi stand (rank.)
There is usually an orange sign with the word "TAXI" on it, and there you should see white city taxis lined up.
You just go to the one at the front of the line. If there is a jumble of them, or it's not clear who is first, trust me, they will let you know. They have a code of honor about this.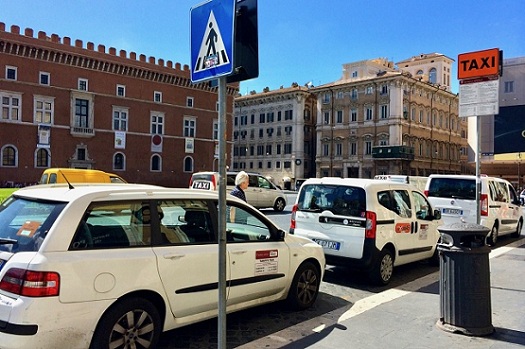 A typical taxi stand in Rome - see the orange taxi sign?
If you arrive at a taxi stand, and there are no taxis, you can wait there, as they are usually bound to turn up soon.
You may have a hard time finding a taxi at a taxi stand on major holiday dates like New Years' Eve, during a bad rainy day, and if there is a transportation or taxi strike (obviously.)
There are taxi stands all over Rome: at the airports, train stations, and almost at least one in front of every major tourist site or monument.
IMPORTANT TIP!
How to Find a Taxi at the Vatican
There are NO TAXIS at the taxi stand in front of St. Peter's Basilica.
Not one. Anywhere in sight. I presume this is a security measure.
If you exit the Vatican Museums through the same door where you entered, you will see a taxi stand there to your left.
If you are exiting St. Peter's Basilica, to find the closest taxi stand, walk out of St. Peter's Square. Walk around the iron barriers, hugging the colonnade.
When you've almost come to the Swiss Guard, take a left on via delle Fornaci.
Walk along that street, taking the little pedestrian underpass, and once you exit the underpass, you will see the taxi stand on your left.
It's less than a five minute walk from St. Peter's Square.
Click here to open my Vatican map and see where the taxi stands are located. It opens in a new window.
Hailing a taxi
This is not a common way to get a taxi in Rome.
You are unlikely to find cabs in Rome driving around, empty and available.
If they are driving, they are likely with a fare. If they are empty, they are likely done for the day and heading home, or answering a radio booking, or getting to the nearest taxi rank.
You can try to hail a taxi, especially if you are feeling a bit exhausted and just don't want to search for a taxi stand. However, you are likely to be passed over, and, if one stops, they may ask first where you are going, to see if it's convenient for them. I can't tell you the times I have asked a passing taxi driver to take me someplace only to be told it was not on his way. 
So let's just say this is the least reliable way to get a taxi in Rome.
Calling for a taxi in roma
If you have a way to make a phone call, you can call for a taxi in Rome.
The most common numbers are 060609 (Rome city) and 063570 (largest radio-taxi operator in Rome.)
Other numbers include 066645, 065551, 064994, 064157.
If you are using a cell phone from another country, make sure to dial +39 first (country code for Italy.)
I find, however, most of the time, visitors to Rome rely on their hotel concierge to call for them.
The same goes for restaurants, shops and bars. Just ask them to call a taxi for you and most are happy to oblige.
A couple of important things to note:
The taxis usually come within 3-5 minutes of the phone call, so don't ask for someone to call you a taxi until you are really ready to go.
When you call (or someone calls) for a taxi in Rome, you will be given the ID of the taxi coming for you. It's what's written on the door of the car, and is usually a city name followed by a number. Something like Rimini 15. So make sure to look for that when the taxi pulls up, and only take the car coming for you and not some random taxi who happens to pull up first.
The driver turns on the meter once (s)he answers the call, so your taxi will arrive with more than the base fare already on the meter.
How much it costs to take a taxi in Rome
cost of Taking a taxi around Rome
This is from the website of the Rome Tourist Board. I suggest you check there for the most up-to-date fares for taking a taxi in Rome. 
Starting fare Mon - Fri, 6am – 10pm €3
Starting fare Sat - Sun and holidays, 6am – 10pm. - €5
Starting fare anytime from 10pm – 6am €7
The rates go up the farther you go in a Rome taxi:

There SHOULD be a 10% discount for single women at night. I've asked some drivers about this when it applies to me, and almost none of them have heard of this rule! But they will apply it if asked.

There is an hourly rate if you have your driver wait for you, of 28€/hr.
Looking for luggage storage in Rome?
Get 2 hours FREE LUGGAGE STORAGE with Luggage Hero (the discount code is built into the link!)
cost of Taking a taxi to or From one of the airports in Rome
If you take a white, metered city taxi between one of Rome's airports and anyplace INSIDE the Aurelian Walls, the rate is fixed:
TO/FROM Fiumicino into Rome, the fixed rate is 50€.
TO/FROM Ciampino into Rome, the fixed rate is 31€.
TO/FROM Civitavecchia Port, the fixed rate is 125€
HOWEVER, when you take a white, metered taxi between Rome and one of Rome's airports, but you begin your journey OUTSIDE the Aurelian Walls, the rule changes.
A taxi ride that begins outside the Aurelian Walls but inside the Grande Raccordo Anulare  (the ring road that goes around Rome) and with destination to either Rome airport may not exceed 73€.
The driver will turn on the meter and you'll pay what is on the meter as per the above rates. There may be add-ons to this fee for excess luggage and/or for more than 4 passengers.
These rates are set by the city of Rome. You can visit the official site romamobilita here to see the rates. They are for a one-way trip, for up to 4 passengers, with luggage included.

Do taxis in Rome take credit cards?

All Rome city taxis are required by law to have POS machines.
This means you SHOULD be able to pay with a credit card.
I say "should" because sometimes you will find these POS machines to mysteriously be "out of order."
On the other hand, since Covid, many drivers are happy to use a contact-less pay system.
If you don't have cash, make sure to ask the driver before you get in if you can pay with credit card.
If you use an app to order a taxi, then you can pay with credit card through your app. I use ITTaxi. Another popular app is FreeNow.
If you use an app, you should also be able to pay with American Express, but if you just hop into a Rome taxi, even with you can pay with a credit card, you probably won't be able to pay with American Express, which is somewhat unpopular among merchants in Italy due to the high fees they have to pay to accept it.
How much should you tip a taxi driver in Rome?
If you take a white metered taxi in Rome, you do not need to tip.
Not one penny.
It is just not the custom or the culture here.
That said, nobody minds if you want to tip. But seriously, the most you should tip is to just round up to the nearest Euro. (Some Rome taxi drivers have even come to expect this now, because of so many tourists tipping them.)
Anything above that is overly generous. (Of course, the exception is if the driver goes out of his/her way for you, helping load/unload heavy luggage, for example.)
And, don't worry, if you over-tip, you are not offending anyone.
If you take a private car service to the airport, you can tip 5-10 Euros max. To Civitavecchia, depending on how many you are, you can tip 10-30 Euros. But none of that is actually necessary. It's only if the driver has been very helpful and/or you feel compelled. Italy is just not a tipping-oriented country.
Will the taxi in Rome be air-conditioned?
I can't tell you the number of times I have gotten into a taxi in sweltering sticky hot summer in Rome, and found the a/c turned off and the windows all rolled down. You know, for that hot breeze to flow through.
I know this may come as a surprise but, in Italy, there is a kind of fear of air-conditioning. Many people truly believe it's bad for you and can cause any number of ailments. According to some, one big bad way to get sick is to get into a very cold room or car after sweating. So for them, it's best to keep the a/c off and live another day. 
Ummmm OK.
You can ask the driver to turn on the a/c, and usually they will.
If you take a private car service to the airport or your cruise, the driver will definitely use a/c (most of their clients are foreigners and they have realized by now that almost all visitors to Rome insist on a/c in hot, even warm weather.)
One way to be sure you get a taxi in Rome with a/c and functioning POS machine is to call 06 3570 and ask for (or tell whoever is calling for you to ask for) "servizio gold", which means a higher level of service.
No matter what season you visit Rome, here are 4 things never to leave at home:
Disclosure: If you make a purchase through a link on this page, I may receive a small commission - at no extra cost to you. Thank you for supporting my site!

How to get a taxi to/from the Rome airports
Getting a taxi to the airport from Rome
To get to either airport by city taxi, you can catch one at the train station (in which case the 2€ Termini surcharge is no longer applied), or, you can call one or have someone call for you.
Getting a taxi to Rome from the airport
When you arrive at either of Rome's airports, you can walk outside and simply grab one of the white city taxis lined up there.
You can also book (and pay in advance) for a private car service, which will give you peace of mind and taking the guessing out of it for you.

The last option, and one I don't recommend, is to take a private taxi from the airport, from someone who approaches you.
You just cannot be sure of the rate or that he/she will honor what rate they give you, without adding last minute "tolls" or other fees.
See below to find out how to avoid being scammed by unscrupulous taxi drivers in Rome.
Fixed cost of getting a taxi between Rome and the airport
Either way, as long as you take a ROME city taxi, to/from WITHIN the Aurelian Walls, the rates will be guaranteed at 50€ one way for Fiumicino/Rome and 31€ one way for Ciampino/Rome.
What to do when you need a taxi in Rome at 4am to get to the airport
If you have an early flight, and need a taxi at 4am, you can ask your hotel concierge to call for you when you are ready to go.
Taxis usually come within 5 minutes of the phone call.
If you are staying at an apartment, or otherwise have no way to call, you can make sure you know in advance where the nearest taxi rank is, and simply go there when you are ready.
Depending on how far away the taxi stand is, this may not be a great idea at that hour, just because you are unlikely to want to have to drag your luggage around with you in the middle of the night, getting to a taxi stand.
And, you are not guaranteed to find cabs at a given taxi stand, although they usually are there and if not, one will come soon enough.
For early taxis, if you cannot call for one, I suggest booking a car service in advance.
These private services are reliable, and again, you have peace of mind knowing someone will pick you up, and of the price being set.
Is it better to take a taxi or the metro to the train station in Rome
Our B&B was right by a metro stop, so I got this question all the time.
If you take the Metro to the train station, you will spend 1.50€ per person. So it's pretty cheap. But you should know:

There are not escalators or elevators at all metro stops around Rome, so if you have walking issues or are carrying/wheeling heavy luggage, just be prepared that you might have to deal with stairs.
Once you arrive by Metro at Termini (or Tiburtina), you will have to come up several levels into the main train terminal. There are escalators.
If you take a taxi to the train station, you should know:
There is a 2€ surcharge for taxi pickups/drop-offs at Termini.
If you are going to catch the Leonardo Express to Fiumicino, ask your driver to drop you at via Giolitti, closer to where that train leaves from, so you have less walking inside the station.
Typically it costs anywhere from 8-15 Euros for a trip between the train station and most places around central Rome. It should not cost more than 20€.
So taking the Metro is probably less expensive than even a cheap taxi cab ride, but you also have to consider the convenience, especially if you're traveling on somewhere with luggage such as Florence or Venice.

Is there Uber in Rome?
UBER COMING TO ROME?
In July 2022, taxi drivers across Italy striked for days to protest what is presumably the legalization of Uber in Italy.
This is still not finalized but it seems Uber (and similar companies) may be available soon.
STAY TUNED!
There was for a while. Sort of.
In summer 2017, Uber was banned in Italy.
There is, however, a limited version of it, called UberBlack.
This service only allows for private limo drivers to be Uber drivers. The same ones you would hire to get to/from the airport.
Friends and family who love and normally use Uber back home have told me they don't find this service to be that useful or much of a savings, at least not in Rome.
Stay tuned but in the meantime, you'll probably do best to stick with taxis as described above - UNTIL WE HAVE NEWS!
How not to get ripped off taking a taxi in Rome
I am going to start by saying I have had nothing but positive experiences with taxis in Rome.
Granted, I live here and speak Italian, but my impression is that most drivers are honest and not trying to scam tourists. I also have to say I have never heard of a Rome city taxi driver trying to cheat a tourist when going within points in the city.
They just turn on the meter and you pay what it says and that's the end of it.
When unscrupulous drivers do decide to try to swindle tourists, the scams seem to be focused on people arriving at Fiumicino (and sometimes Ciampino) and Termini station, i.e. people who may be tired, distracted and otherwise just want to get where they are going and who are not thinking too much about the actual fare.
I've actually had many visitors who have been ripped off tell me, "yes I knew he was scamming me, but I was tired and just wanted to get into my room and have a shower."
So please, be kind to yourself and don't allow yourself to get scammed when you take a taxi in Rome:
If you take a white metered taxi from Fiumicino airport, make sure it is registered in Rome and not the town of Fiumicino. The Rome city taxis are obliged to charge the set fare of 48 Euros into Rome, while a Fiumicino registered taxi is legally able to simply turn on the meter, which can result in a much higher fare. 
There is also the matter of going INSIDE the Aurelian Walls. More about that here.
At Termini station and especially at Fiumicino airport, you will find a lot of people coming up to you and ASKING you if you need a taxi. I suggest you ignore these hawkers and take either a white metered taxi or, have booked a private service in advance.
When you do get into a white, metered taxi, and are not going to pay the guaranteed airport rate, make sure the driver turns on the meter right away. I have had drivers forget, in good faith, and we usually agree on what part of the fare could be missing, and it's always fair (to me.) But, some drivers leave the meter off and then tell you oops, it's not working or I forgot, we'll just say 20€ ok? And no, it's not ok. If they don't turn on the meter right when you get in, tell them you want to get out. Get the next taxi.
If you do get into a non-metered taxi, which are called "NCC" (noleggio con conducente

, meaning hired with driver), set the rate before you get in. Make sure it is the final rate including tolls (there are none), and baggage. The rate in town from Termini should be less than 20€ (but they will all try to charge much more), and the rate from Fiumicino should be in the area of 50-60 Euros for a standard car service for 3-4 people with luggage. The rate from Ciampino should be 30-40€.



If you agree to take a private car service with a driver who approaches you in the airport, make sure you are the only ones who will be in the car. I have heard stories of people being taken to a private minivan, asked to sit there, and then even locked in while the driver went back inside the airport to look for more fares to collect on the same ride.
This is a big one. This warning applies to private and public taxis: When you arrive at your hotel in Rome, do not pay the driver until after you have gotten your luggage out of the back of the car. When you pay the driver, take the money out and hold it, asking him or her to get change while you hold the bill(s). I have heard many stories of drivers insisting that the passenger "only" gave a 5 instead of a 50, or a 10 instead of 100, and insisting on the rest of the money.

Read more about staying safe in Rome here.

How to know how much a taxi in Rome should cost
For the most part, you should not spend more than 15-20€ one way for a taxi in Rome.
That includes a night, weekend or holiday trip too (the rates start higher.) For example, from Termini to the Vatican (across the river), during a normal weekday, should cost around 10€.
I found this interesting site that lets you plug in two addresses, and tells you what the fare should be.
You can try that if you want to estimate the fare in advance.
What to do if you think you've been ripped off by a taxi in Rome
First, tell the driver you want all his information.
Write it all down, and get (even take a picture of) the information on the side of the car.
Make sure you note the taxi company. GET A RECEIPT.

Tell the driver you are planning to report him to the finance police, not the regular police.
If the driver does not change his tune by this point, then you can report him to the taxi company first, and then report him to the finance police.
Or, if you are getting dropped at a hotel, make sure the driver takes you right to the hotel entrance (not some street farther away, far from the helpfulness of a hotel porter who can argue for you. )
And if need be, call and/or go inside your hotel and make them come out and argue with the driver on your behalf.
---
Want to save this to Pinterest? Pin it here!
---
Get your free Rome trip planner!
We are committed to respecting your data. Click for our Privacy Policy.
---
Comments? Questions? Suggestions?
Please come over to the private Romewise Facebook group and join in the conversation.

You will often find me there, happy to answer your questions / comments!
You will also meet other Rome lovers and experts, too.
What are you waiting for?