Rome Highlights in One Day
A Walking Tour
Only have 24 hours in Rome? Want to see the Rome highlights in one day?
Everyone (including me) will tell you you need more time in Rome, but if you only have a day, and want to see the top sights, here's how!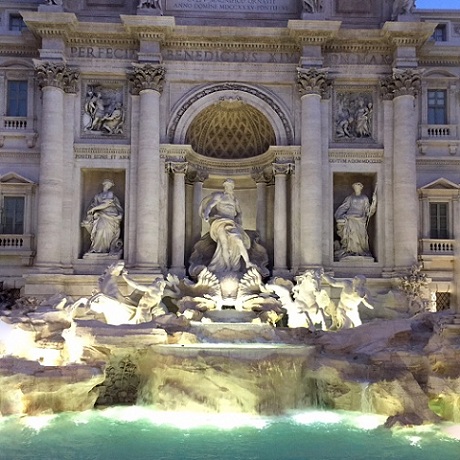 Rome Highlights in One Day - you can see it all on foot
This page is about walking through Rome on your own, and seeing as many highlights and famous monuments, plazas and fountains in Rome as you can absorb, in a one-day visit.
My suggestions come from doing this walk hundreds of times over, with friends and family, and with our hotel guests. I promise you it's very feasible, and it's enjoyable.
If you follow my suggested route, you will include all the must-see attractions in Rome in one day. In a nutshell, these are: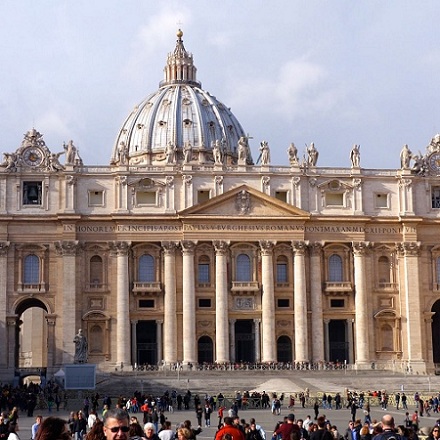 St Peters Basilica
Rome Colosseum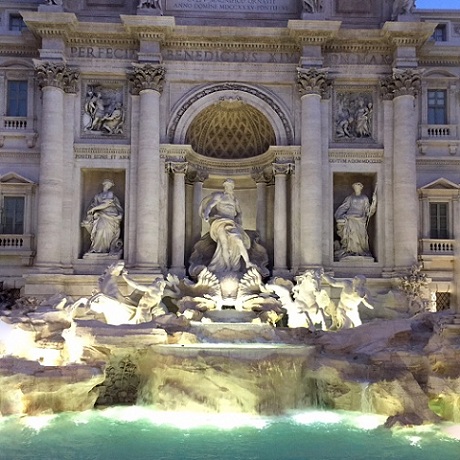 Trevi Fountain
Click here to visit my Google map where you can see the route (it opens in a new window).
On this page you will find step-by-step instructions, with lots of photos, for a full-day walking tour of Rome Highlights in One Day.
I've included some stops for fabulous gelato, coffee and lunch along the way. Oh and a wine bar or two.
On this page, my suggestions don't include visits to the Vatican Museums or inside the Colosseum/Roman Forum. If you want to see those two sites in one day, here's how.
The actual walk takes about 2-3 hours if you don't stop at all. But you should account for food and rest stops, picture taking, getting a little lost, and spending time enjoying some of the views, plazas, monuments and fountains. 
So plan for 8-10 hours total, including a 1.5-hour lunch stop. I'd start around 8 or 9am at the latest.
Rome Highlights in One Day - why I recommend walking
I am partial to seeing Rome on foot, although I realize that's not feasible for everyone.
But if you only have one day in Rome, and can manage several hours of walking, you will actually see a lot more if you walk.
And, you can stop when you want to for a coffee, lunch, gelato or just to absorb it all.
Stopping to enjoy a coffee at Piazza Farnese, easily accessed on foot, but not by tourist bus!
Rome Highlights in One Day - Start your walk at Piazza Barberini
To begin seeing Rome highlights in one day, begin at Piazza Barberini. It's a 2-stop, 5-minute metro ride from Termini station and the perfect starting point for you.
First of all, you start your day with one of Rome's most iconic fountains by one of Rome's most prolific and famous Baroque artists, Gianlorenzo Bernini. 
Second of all, you are a five-minute walk to the top of the Spanish Steps, one of the highest points in Rome, where you can take in a breathtaking panoramic view of Rome.
Bernini's Tritone fountain in Piazza Barberini
One of the streets leading up and away from Piazza Barberini is the elegant via Veneto, made famous in Fellini's 1960's film, "La Dolce Vita." It's a beautiful, wide, street and lovely for strolling if you have extra time, but it's mostly lined with upscale hotels and restaurants, so I don't recommend visiting this street as part of a one-day itinerary in Rome.
Rome Highlights in One Day - Spanish Steps
From here, take via Sistina to the right, and in about 5 minutes you will come to the top of the Spanish Steps.
Read more about the Spanish Steps.
Via Sistina towards the top of Spanish Steps
The obelisk at the top of Spanish Steps
Enjoy the view from here, although you will likely find yourself a bit crowded out by artists, rose-sellers and other tourists.
The view from the top of the Spanish Steps. See St Peters way in the back there?
TIP! If you keep walking about 200 meters/yards past the crowd, you come to the Villa Medici on your right. And on your left, you will have all the gorgeous views (mostly) to yourself.
Head down the Spanish Steps....
Walking down the Spanish Steps from the Trinità dei Monti church
.... and you will be smack in Rome's most famous shopping zone, Piazza di Spagna.
You can decide to walk straight down via Condotti (one of the most exclusive shopping streets in Rome.)
Or, walk a little to the left until you come to Piazza Mignanelli, then turn right to go down via Frattina, which I find to be a bit more intimate and charming.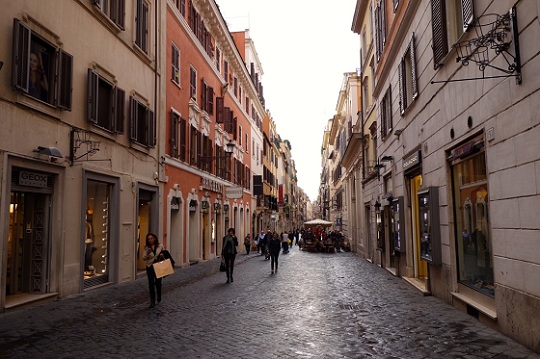 Strolling down the via Frattina, a charming little shopping street in Rome
At the bottom of via Frattina, cross via del Corso to come to Piazza San Lorenzo in Lucina. 
Time for a gelato break! Pop into the back entrance of Ciampini and get a scrumptious cone of some of Rome's best gelato.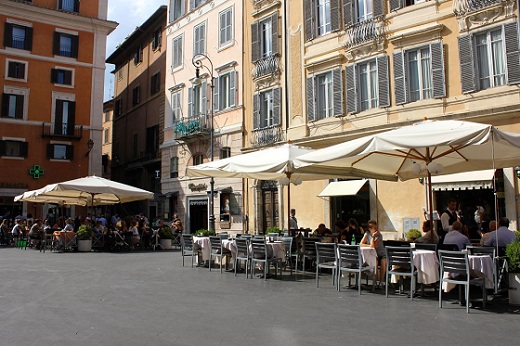 Piazza San Lorenzo in Lucina, a great place for a coffee or gelato stop
If you feel like sitting in this lovely plaza, and having a coffee, gelato or anything else, you need to know that it costs considerably more to sit down and consume anything than it does to go inside and consume it at the counter. That's why I suggested the gelato in a cone, to go.
But sitting here is lovely and peaceful, and I do it a lot. Just so you know the prices go up. Check the menu, or ask before you order.
Rome Highlights in One Day - The Pantheon
From here, walk along via di Campo Marzio (a great shopping street.) This is one of the oldest parts of Ancient Rome. Keep walking pretty much straight, and you will come to the Pantheon.
Read more about the Pantheon.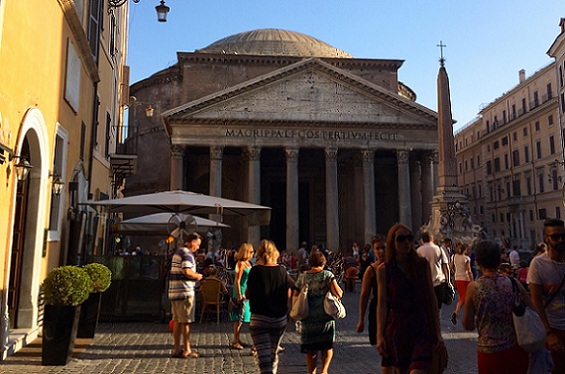 Approaching the Pantheon from Piazza della Maddalena
The Pantheon is free, and open all day, so go ahead inside. It won't take long, and it's truly amazing to see it inside and out.
Rome Highlights in One Day - Piazza Navona
From the Pantheon, make your way (about 3 minutes' walk) to piazza Navona. Don't miss this! It will be one of the highlights of your one day in Rome. (I say this because I often hear our hotels guests they somehow missed it, and I find many people have never heard of it. I think it's one of Rome's most beautiful piazzas and a must-see!)
Piazza Navona, an absolute must-see in Rome
From Piazza Navona, go behind the Brazilian Embassy towards via del Governo Vecchio. This is a fun and cute cobblestoned street, full of boutiques, vintage shops and cafés.
via del Governo Vecchio, full of boutiques, wine bars and lovely doorways
At the very beginning of this street, is a plaza, Piazza di Pasquino. There is a great wine bar there, Cul de Sac, which can be a good lunch stop if you haven't eaten yet.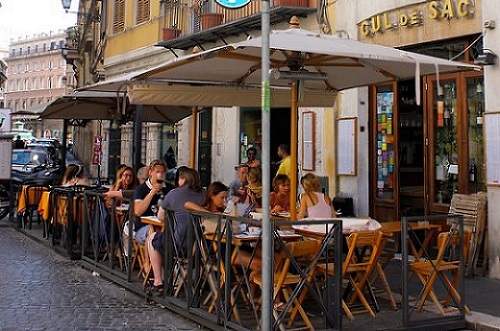 Try a nice wine-bar lunch at Cul de Sac
Rome Highlights in One Day - Castel Sant'Angelo
Via del Governo Vecchio turns into via dei Banchi Nuovi. Take this street and follow it all the way across the bridge to Castel Sant'Angelo. 
Crossing the Angel bridge to reach Castel Sant'Angelo
Rome Highlights in One Day - Vatican Square
From here, you can see Vatican Square.
Visit Vatican Square from the outside (unless you want to make time to go inside Saint Peter's Basilica. It's free but there is a queue to go through security, and even in low season/winter, it can take an hour just to get through the line.)
Even just visiting Saint Peter's Square from the outside can be beautiful
If you are a little off schedule, or tired, and need to cut things short, you could get on the metro near the Vatican, at the Ottaviano stop, and take it back to Piazza Barberini, or to Termini train station.
After visiting Vatican Square, come back towards Castel Sant'Angelo, and this time, make your way towards the via Giulia. 
Come all the way up the via Giulia until you come to the archway with hanging vines. This is the back of the French Embassy.
Via Giulia - the arch behind the Palazzo Farnese
Turn left and follow the walls of the French Embassy, which is called Palazzo Farnese. You'll be on Piazza Farnese, one of the prettiest squares in Rome. 
Palazzo Farnese (facade by Michelangelo) - Home to the French Embassy in Rome
Those two giant bathtub fountains you see on Piazza Farnese were originally from the Caracalla Baths. Yep, the ancient Romans bathed in them!
One of the giant bathtub fountain on Piazza Farnese - an original Roman bath!
Rome Highlights in One Day - Campo dei Fiori
From Piazza Farnese, head towards Campo di Fiori. This is an historic piazza in Rome (it was once the main site for public executions), and used to be the real city center market (until it became the tourists' market). But now it's best known for its pubs and nightlife. 
One of the few fruit and vegetable vendors left in Campo dei Fiori
From Campo di Fiori, walk up via dei Giubbonari towards Largo Argentina. These are the ruins where you can see where Julius Caesar was assassinated. 
Largo di Torre Argentina - the site of Julius Caesar's assassination in 44 BC!
From here, make your way along the via delle Botteghe Oscure towards Piazza Venezia.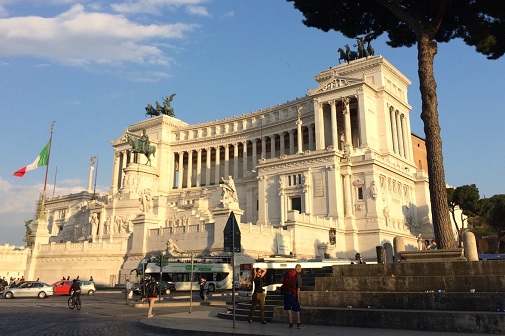 The Complesso Vittoriano, also known as the Wedding Cake. A very impressive monument in Rome, but it's modern and many Romans can't stand it.
Walk to the top of the ramp behind that big white monument (above), and you'll be on Capitoline Hill (Campidoglio.)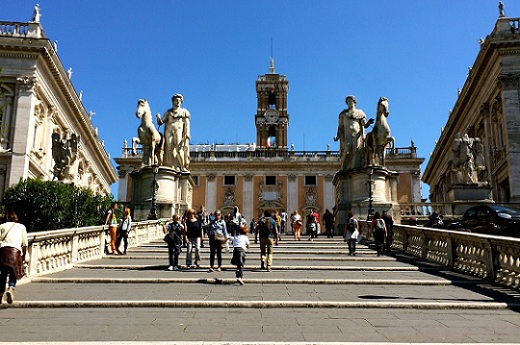 Ramp to Campidoglio, or Capitoline Hill
This is where City Hall is, and also the Capitoline Museums. You won't have time to visit the museums, but right in the square (designed by Michelangelo), you can see a bronze statue of Marcus Aurelius (one of the emperors of Rome.) The statue is a replica; the original is inside the Capitoline Museums.
Copy of the bronze statue of Marcus Aurelius, on Capitoline Hill
Roman Forum
From the back of this plaza, you have a wonderful view of the Roman Forum from above. You can also see a bit of the Colosseum peeking up in the way back.
View of the Roman Forum from behind Campidoglio
Colosseum
Walk down the back side of this hill to the left, and you'll be on the via Fori Imperliali. From here you can see the Coliseum.
As I said, on this page, I don't include a visit inside, but you can go walk up close and around it. It's still amazing to see, even from the outside. I walk around the Colosseum all the time and never get tired of looking at it!
Approaching the Colosseum on the via dei Fori Imperiali
By now you've seen most of the Must-See Rome highlights in one day. You've accomplished a lot! One more fountain to go. But you still have time. It doesn't close, and can be even prettier at night, so maybe now is a good time for a little aperitivo?
Hiding in plain sight right next to Trajan's column, is a wonderful little enoteca, Enoteca Provincia di Roma, with huge windows that look right out onto Trajan's forum and the ruins there. With local specialties, an affordable happy hour, and free wifi, it's the perfect place to take a break from your whirlwind tour.
Trevi Fountain
Walk around Piazza Venezia, and take a right on via IV Novembre. Make a left onto via della Pilotta and you will end up at the Trevi Fountain.
Trevi Fountain in the sunshine
From here you can walk five minutes up to Piazza Barberini, back where you started. And now, you have seen the Rome highlights in one day!
Rome Highlights in One Day - the end of the walk
It's the end of a long and very full day. You may decide it's time for a nice dinner. Well, don't be surprised to learn, there are actually a lot of excellent places to eat right near the Trevi Fountain!
Rome Highlights in One Day - other options
Hop-off/Hop-on Open Bus
An easy option for seeing the highlights of Rome in one day is to take one of the many hop-on/hop-off Open buses.
These buses have 24-hour (even 48-hr) tickets, and you can take them all around Rome. You'll need to get off at times, especially if you want to see some of the most important sights in Rome, like the Pantheon, Trevi Fountain or Piazza Navona, as those are not accessible by bus. To see the route almost all the companies take, and to book in advance, go here.
Taking the Hop-off/Hop-on Open bus can be a great way to get an overview of the Rome highlights
Private car and driver
If you can splurge, hiring a private driver with car, and even a guide, can be an excellent way to get around Rome easily, without having to think about any of it. These guys do this a lot, and know how and where to take visitors so they really get a lot out of a full day in Rome.
I can help you with booking this as I work with some excellent drivers and guides. Please contact me with your dates and number of people in your party, and I'll get back to you with a quote.
Private walking tour with me
Would you like a private One Day in Rome walking tour? I will personally take you around to show you the above highlights, but with lots of insider info, tips and some very special churches to show you along the way. Please contact me with dates and the number of people in your party and I'll be glad to get back to you with a quote.
Rome Highlights in One Day - on a cruise stop
If you are visiting Rome in one day because your cruise stops here, you actually have less than 24 hours to see the Rome highlights. Visit my Civitavecchia to Rome page, to find out how to see the Rome Highlights in One day when you are here on a cruise.
---
Get your  free Rome trip planner!
We are committed to respecting your data. Click for our Privacy Policy .
---
Looking for Facebook comments?
I removed them to make this page load faster and thereby improve your page experience.
I am happy to answer your questions / comments!
Please come over to the Romewise Facebook page , or, if you want to send me a message, visit my Contact Me page .