Best Rome Wine Bars
Rome wine bars, or enotecas, have begun to spring up only in the past 15-20 years or so.
For a long time, wine for Italians was simply something you had with the meal, out of a jug on the table. In the late 1970's the Italian wine industry started improving, making wines better for export to the US.
Soon, restaurants in Italy began taking more care about the wines they served. Now, many of these restaurants with good wine lists call themselves enoteche (the Italian plural of enoteca), possibly because their wine list is even better than their food. 
Very often, you will find a Rome bar/café that advertises "tasting wine" (yes I know it's 'wine tasting' but I see it written this way a lot.) But they don't really have a good selection of wines by the glass. I think they are just jumping on the "Rome Wine Bar" bandwagon.
---
Best Rome Wine Bars
My favorite kind of enoteca is where it really is all about the wine. The kind of place with a great selection of wines even by the glass, and where you can pop in, just for a glass or two, with some nice appetizers to go along with it. 
This is one of those things I do make it a point to know about, so here is my list of my favorite wine bars in Rome.
Rimessa roscioli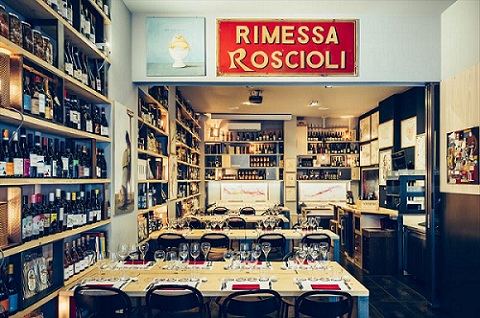 Rimessa Roscioli is the newest establishment in the Roscioli group - if you have been to Rome before, there is a strong chance you have eaten or drank at a Roscioli bar, restaurant or cafe!
While technically a restaurant, Rimessa's true passion is wine; it is run by an expert team of sommeliers with one of its co-founders being a Michigan native. Their team are fluent in English and will put you at ease from the moment you arrive! 
You can visit and have a single glass (or bottle) with light bites, or a full lunch/dinner.
However, I would recommend booking on to one of their Food & Wine Tasting Dinners where you'll get to try an array of organic and artisan Italian wines, paired perfectly with food - all of the highest standard Roscioli is renowned for!
Details: 
Looking for real, authentic Italian wine back home?
Look no further!
The Roscioli Italian Wine Club delivers worldwide only the best organic Italian wines in collections curated by the experts at Roscioli in Rome. 
Find out more from Lindsay Gabbard, co-founder of the Roscioli Italian Wine Club here: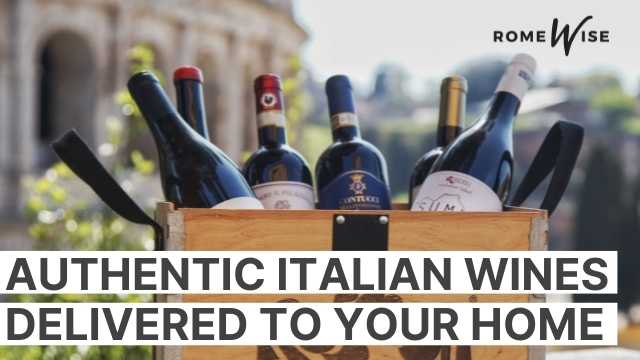 Subscribe today and save 25€ on your first payment with code ROMEWISE - click here:
---
I Colori del Vino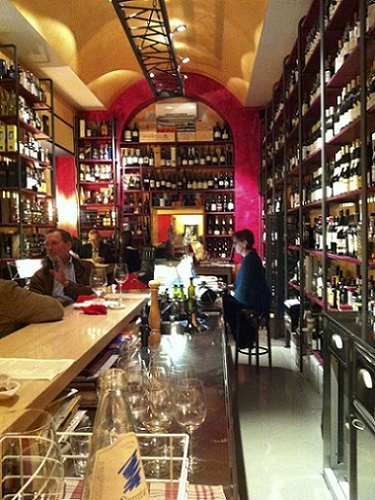 Hands down one of my favorite Rome wine bars.  
Their wine cellar is superb and the atmosphere relaxing and warm.
I Colori del Vino has that rare combination of a fantastic wine selection, friendly, knowledgeable staff, a cozy ambiance with soft colors and good jazzy background music, and delicious snacks to accompany the wine.
The owner is the father of the owner of a well-known restaurant (that I used to love love) called Al Bric, which was known for its wine selection (sadly, it's not closed.)
The wine-by-the-glass list, printed daily on one sheet of paper, has a perfectly varied selection across wine types, geographic regions (including outside of Italy), and price ranges.
Each glass of wine comes with a little snack, usually some olives and small bruschetta. 
But they also have wonderful appetizer dishes you can order, such as crostino with camembert slightly melted. (Crostino is a small thick toasty bread, topped with something.)
Below is a crostino I recently ate with mozzarella, zucchini flower and anchovy (heaven!)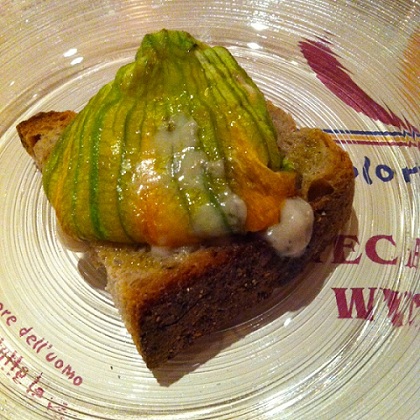 And if you want, you can have a wonderful dinner here too.
Details: 

Via Aureliana, 17 Near via Veneto and XX Settembre.
Monday-Friday: 10:30–14:30, 17:30–20:00 | Saturday-Sunday CLOSED
---
Spiriti
Spiriti enoteca is one of my favorite Rome wine bars, with a fantastic central location on Piazza di Pietra overlooking Hadrian's temple. The ambiance is perfect: just elegant enough but also really warm and welcoming.
There are some tables inside and more outside on the piazza. The wine list is quite good and they are friendly and easy-going, letting you try a wine first (before you order it) if you ask.
Spiriti has some tasty snacks you can order to go with your wine, such as selections of different meats and cheeses, and if you like, you can order a full meal, including pasta, meat, fish, and more.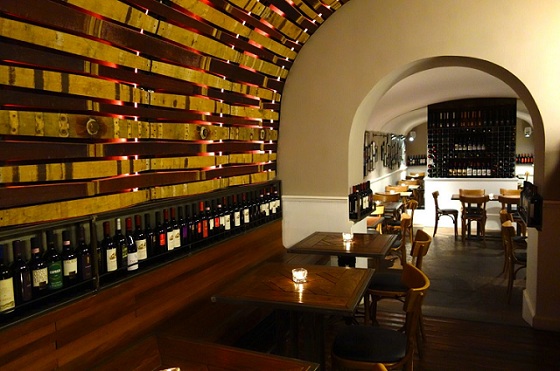 How to get there: Piazza di Pietra is between via del Corso and the Pantheon, with a view of the columns of Hadrian's temple.
Details: 

Opening hours: Monday-Wednesday: 11:00-16:00, 17:00-01:00 | Thursday-Saturday: 11:00-16:00, 17:00-02:00 | Sunday CLOSED
Closed most of August

Reservations recommended during peak times
---
Disclosure: If you make a purchase through a link on this page, I may receive a small commission - at no extra cost to you. Thank you for supporting my site!

Cul de Sac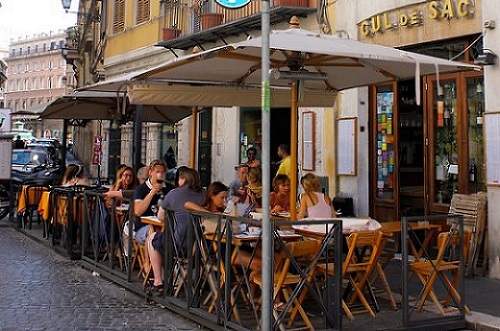 Cul de Sac is a wine bar but it's also a restaurant. It does not have that wine-bar feel. In fact there is not a bar, only simple wooden tables, inside and outside. So why am I listing them under my 3 favorite wine bars in Rome? They were the first (or one of the first) of the Rome wine bars to open, in the late 1970's. 
Their main wine list is encyclopedic and even their menu of wines by the glass offers an excellent variety. But part of what makes this wine bar so special is the food.
So, you can come and sit and have a glass of wine. With superb choices of wines by the glass, as it should be in a real Rome wine bar. And, if you want, you can get some fabulous appetizers. Or, turn your visit into a gourmet meal. I've also mentioned Cul de Sac, in my list of places I'd eat if I had five nights in Rome. 
How to get there: Just behind Piazza Navona on piazza di Pasquino.
Details: 

---
---
The perfect 3-day itinerary in Rome
Trying to figure out how to organize your visit to Rome? I've got the perfect 3-day itinerary for first-time visitors (or those who have not been here in a while.) It works for a 2.5 day visit as well.
In my 3-day itinerary, you'll see all the major must-see Rome attractions like the Vatican, Colosseum, Trevi Fountain, Pantheon, Piazza Navona, Spanish Steps, Castel Sant'Angelo, and much more.
And if you have more time, or want suggestions for extra/other things to do, you'll find that there too.
Visit my page with the best 3-day itinerary in Rome for first-timers.
---
Other Really Good Rome Wine Bars
The above are really my top 3 Rome wine bars, even though I do try new ones all the time. But there are plenty of other excellent enoteche in Rome, so if you are in the neighbourhood, try these:
Il Goccetto
Il Goccetto is a great, low-key neighborhood wine bar, with a cozy feel and un-pretentious staff. This is a true wine bar: You will find a fantastic selection of wines by the glass (as well as by the bottle), wine bottles lining the walls as decor, and good appetisers to go with.
Il Goccetto is located in a historic (1500's) palazzo in Rome, built by Antonio Sangallo, one of the main architects of Saint Peter's. They've been there since the early 80's, so are definitely another fixture on the original wine bar scene in Rome.
Details: 

Monday-Saturday: 12:00-00:00 | Sunday CLOSED
---
Trimani
One of the oldest and largest of the Rome wine bars, Trimani has an amazing assortment of wines. Their wine shop (a different entrance) has a mind-boggling selection of Tuscan reds alone. They also have an enoteca where they do wine tastings and serve lovely food. The ambiance is nice but it can get pretty crowded at times, and then the service will be slow. 
Details: 

Via Cernaia 37/b, sort of near Termini and piazza Repubblica
Monday-Saturday: 11:30-15:00, 17:30-24:00 | Sunday CLOSED
---
Uve e Forme
Uve e Forme is a well-stocked wine bar in the residential/student area of Rome and not as centrally located as the others I list here. But Piazza Bologna area has a lot to offer in terms of ambiance and restaurants so if you find yourself in this area, this is a great little enoteca to enjoy a happy hour or even evening meal. Their wine selection is superb, their happy hour snacks are varied and abundant, and they have a fantastic cheese menu. 
Details: 

Via Padova, 6/8, close to piazza Bologna
Monday-Friday: 12:00-16:00, 18:30-23:30 | Saturday: 18:30-23:30 | Sunday CLOSED
---
Palatium
A relatively new fixture on the Rome wine bar scene, Palatium is an enoteca serving exclusively wines from the Lazio region (hence the play on words: Lazio is the region where Rome is. Lazio in Latin is Latium, and Palatium is the Latin word for Palace, but it could also be seen as a pun, a play on "palate" and "Latium." – just my take anyway.) 

One nice thing about this wine bar is the location, right on via Frattina near the Spanish Steps. So it's a great stopping point when you need a break from all that shopping! They have a nice little happy hour with minimal snacks, and have a pretty good selection of wines by the glass from Lazio.  Some of these wines are so regional that they use grapes that you cannot get anywhere else. I've tried some interesting wines this way. I find the staff to be knowledgeable and friendly, and the ambiance mellow and relaxed. 
Details: 

Via Frattina, 94 Another street that branches down from the Piazza di Spagna, at the bottom of the Spanish Steps.
Monday CLOSED | Tuesday-Saturday: 12:30-23:00 | Sunday: 11:30-16:00
Reservations accepted but not necessary
---
Enoteche/Restaurants
These are restaurants where wine is the focus but where you can eat an excellent meal with your excellent wine. In fact, some of the wine bars I mention above also fall into this category.
There are many of these Rome wine bars/restaurants now, but these are some I've tried and some I love:
---
Enoteca Ferrara
I mention Enoteca Ferrara restaurant because they do have an incredible wine list. They have two entrances, one is for the restaurant and the other for their small wine bar. I love the wine bar and think it's a great option for an aperitivo if you are in Trastevere and want a pre-dinner drink. They have a nice little happy hour with snacks, a cozy ambiance and a very interesting and modern way to store and serve the wine.
As for the restaurant, I am sorry to say, I find it over-priced for what it is, and just not that special. Go for drinks and happy hour at the wine bar, and head over to Glass restaurant for a really special dinner.
Details: 

Piazza Trilussa, 41 in the heart of Trastevere.
Monday-Friday 17:30-02:00 | Saturday-Sunday: 12:00-02:00
CLOSED all August and December 24
No outdoor dining
---
Casa Bleve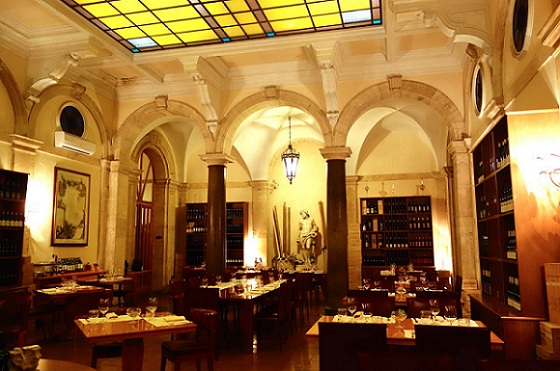 Casa Bleve is another one of the original Rome wine bars. They started out as a modest enoteca in the Jewish Ghetto (it's sadly not there now.) They later opened another location near the Pantheon, which is worth a visit just to see the interior.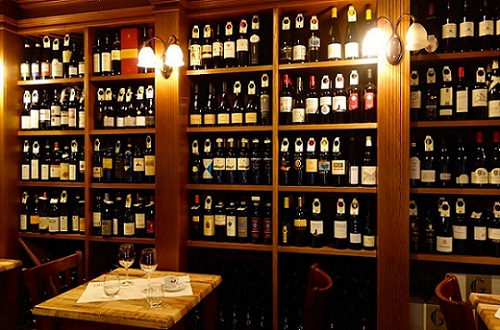 When you first walk in, you will gaze at their walls and walls of wines, and their gourmet food selection. Past this, into the restaurant itself, you will love the giant open-space room with it's softly light stained glass and giant marble columns.
But of course, this is not enough to make a wine bar special. 
The food is divine (a little on the expensive side), and of course their selection of wines is impressive. Definitely a spot for a special dinner with special wine. 
Details: 

---
Get your free Rome trip planner!
We are committed to respecting your data. Click for our Privacy Policy.
---
Comments? Questions? Suggestions?
Please come over to the private Romewise Facebook group and join in the conversation.

You will often find me there, happy to answer your questions / comments!
You will also meet other Rome lovers and experts, too.
What are you waiting for?
---