Where to Stay in Rome - The Definitive Guide
Wondering where to stay in Rome?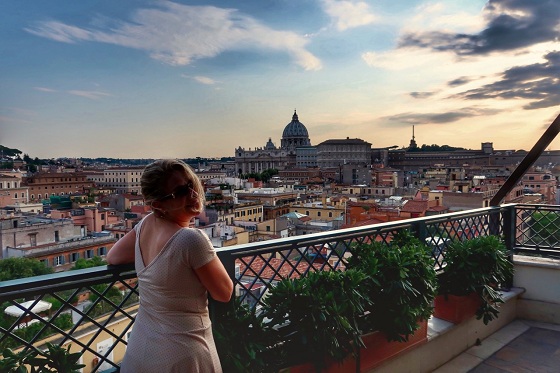 I love this view of Saint Peter's dome from the terrace bar at the Hotel Atlante Star. This is where we had our wedding reception and spent our wedding night, so it holds a special place in our hearts!
It can be stressful trying to decide where to stay when you visit Rome.
What if you pick the wrong neighborhood and it's loud/far/icky?
What if you pick a place to stay only to find out the breakfast is horrible or the staff is less than friendly?
I not only live in Rome, I ran a B&B for nearly 18 years with my Roman husband, who worked in various hotels in Rome and other parts of Italy for several years before that.
Believe me, we know a lot about Rome accommodation from the perspective of a traveler (you!) and also from behind the scenes. And we are here to help.
Where to stay in Rome - Everything you need to know
Today, variety, quality, and the sheer quantity of places to stay in Rome have grown exponentially, resulting in a huge choice for the visitor.
We've got suggestions for where to stay in Rome for every budget, mood, and area based on our personal knowledge of the Rome hotel scene.

Our recommendations for where to stay in Rome by area:
Hotels near the Vatican
Hotels in Trastevere
Our recommendations for where to stay in Rome by type of lodging:

For more detailed research on where to stay in Rome, check out our resources here:
Don't forget to bring these essential travel items with you!
Disclosure: If you make a purchase through a link on this page, I may receive a small commission - at no extra cost to you. Thank you for supporting my site!

Where to Stay in Rome - what kind of accommodation should you pick?
A room in Rome is often more than just the room. Factors to consider in choosing your accommodation in Rome:
Do you want daily cleaning?
Do you want breakfast served?
Do you want a 24 hour reception?
Do you want help with your stay?
Do you want a gathering or lobby/lounge space?
CAVEAT EMPTOR!
In Italy, accommodation category meanings may differ from what you know they mean in other parts of the world!
Besides choosing a neighborhood, the second factor in choosing where to stay in Rome is about what kind of accommodation you should book. 
The main types of accommodation in Rome include hotels (from 1-5*), B&Bs/Guesthouses, and self-catering apartments. (Hostels mostly fall into the B&B section.)

Some people already know they want to stay in a luxury hotel with a full staff, 24-hour reception, and lots of amenities. 

When you choose to stay at a 5* hotel like the Hotel Inghilterra near the Spanish Steps, you can be sure of a certain level of comfort, luxury, and amenities.
View from Spanish Steps
Others know they want a self-catering apartment, without any additional services.
If you are not sure yet which type of accommodation you want, here is what you can expect when you book one of these categories in Rome:

Where to stay in Rome - hotels
The first thing I want to tell you about hotels in Rome is that the way stars are awarded in Rome and the rest of Italy may not be what you think. 
The star system is based on a check list like whether or not every room has a private en-suite bathroom, where the reception is located, how many languages the staff speaks, etc. You can read about this in more detail on my page about Rome hotel star ratings.
For the purposes of this page, and helping you decide where to stay in Rome, if you want to stay in a hotel, just know that anything in the 1-3* categories will be quite varied.
You may find more style and luxury in a 1* hotel, simply because they couldn't meet the criteria on the checklist for getting a 2nd or 3rd star, than you would at a 3* hotel that checks all the boxes but has rather tired decor and almost no charm.
Once you get into the 4* level, you get more consistency, but do not expect a lot of space or luxury necessarily.
It's only when you get into the 5* luxury category that you can count on a certain level of amenities, because the check list is very long and intensive. For a hotel to meet those requirements, they are going to be offering you the bare minimum of style and luxury in Rome.
Where to stay in Rome - B&Bs/Guest Houses/Inns/Relais
Are you wondering what are all these different accommodation terms you see when you go to book a place to stay?
It's actually a bit more complicated than you might think.
Any property offering accommodation, whether a 5* hotel or a 3-room B&B, must register with the Rome Tourist Board.
Based on many factors they can be classified as hotel, B&B, affittacamere (that is an Italian word literally meaning "room rental", but you can equate it to a B&B with a few more rooms, a guesthouse, or inn), or casa vacanze (that is another Italian phrase meaning "vacation home" and like an affittacamere this gets applied to many types of accommodation).
Factors that dictate how a particular kind of accommodation is classified include zoning, building regulations, number of rooms, etc.
Where affittacamere and casa vacanze are concerned, it's unlikely the owner would use those terms to market their property because most of their guests don't speak Italian.
So to make their properties appealing to tourists who may not understand Italian, they often use terms that have no "legal" meaning here, like inn, relais, guesthouse, townhouse, etc. Some even call themselves "hotel" even if they are not technically in the hotel category.
Why does this matter to you?
It really doesn't. But it's one reason you will find such a huge disparity across all the different places to stay in Rome with these very broad categories.
For more, visit our page all about B&Bs in Rome.
---
The perfect 3-day itinerary in Rome
Trying to figure out how to organize your visit to Rome? I've got the perfect 3-day itinerary for first-time visitors (or those who have not been here in a while.) It works for a 2.5 day visit as well.
In my 3-day itinerary, you'll see all the major must-see Rome attractions like the Vatican, Colosseum, Trevi Fountain, Pantheon, Piazza Navona, Spanish Steps, Castel Sant'Angelo, and much more.
And if you have more time, or want suggestions for extra/other things to do, you'll find that there too.
Visit my page with the best 3-day itinerary in Rome for first-timers.
---
Where to stay in Rome - self-catering apartments
More and more people are opting to stay in self-catering apartments. I think this trend is true in Italy and many parts of the world. There are a lot of good reasons to choose this option like:
You plan to stay at least a week and want to have options for eating in.
You are coming with a large family/group, and it's much more comfortable and cost-effective to stay in a spacious apartment than trying to book several rooms in a hotel.
You like the idea of "living" someplace when you travel there.
You prefer not to have daily cleaning service and/or don't want or need other services like breakfast or concierge help.
One of the most reliable services you can use for finding quality apartments in Rome is VRBO (Vacation Rental by Owner).
Visit our page here to find out more about Rome apartment rentals and how to pick the best one.
---
Get your free Rome trip planner!
We are committed to respecting your data. Click for our Privacy Policy.
---
Comments? Questions? Suggestions?
Please come over to the private Romewise Facebook group and join in the conversation.

You will often find me there, happy to answer your questions / comments!
You will also meet other Rome lovers and experts, too.
What are you waiting for?