Money in Rome
There is a lot I want to tell you about using money in Rome, and it's not about how to spend it (that part is easy! Food! Wine! Gelato! Shoes!)
When we ran our Rome B&B, we got a lot of questions about money matters by people trying to plan their trip to Rome. This page is to help you prepare the money part of your trip by answering:
How much will money in Rome will you spend per day?
This is obviously pretty subjective. For the purposes of budgeting, here is what you might spend minimally per day (per person) in Rome:
Accommodation can cost you anywhere from 30 Euros per person per night, depending on the season, location and type of lodging. To stay in a fairly nice Bed and Breakfast, or 3-star hotel in the center of Rome, during mid-high season, count on spending closer to a minimum of 80 Euros per person per night.
Breakfast is often included in many hotels/b&bs, but if not, you can eat breakfast, standing at a bar, for about 2.50€ (a croissant and cappuccino.)
Water is free, just drink from the little fountains you find all over Rome.
Lunch can be under 5€ if you have a sandwich or panino.
Dinner can be had for under 20€ but plan for about 30€.
Much of Rome is walkable, so you don't need to spend a lot on transportation but if you want to use the metro/bus system, consider getting a 1, 2 or 3-day pass. One ticket costs 1.50€, a day-pass is 7€, a 2-day pass is 12.50€ and a 3-day pass is 18€. Or you might consider getting the Roma Pass, which gives you unlimited use of the metro/bus system in Rome for a 3-day period, along with entry to museums. There are other types of Rome city passes, too.
There is so much to see in Rome that costs nothing. But if you plan to visit the 3 main sights, without any tours, it will cost about from 17 Euros for the Vatican, 16 for the Colosseum and 15 for the Galleria Borghese (I am rounding here. Also these are base prices without pre-booking fees.) Once you add booking and/or agency fees, headphones etc, you get to an average sightseeing cost of about 15-20€ per person per day for a 3-day trip in Rome.
BOTTOM LINE - How much Money in Rome to plan for your trip?
Accommodation aside, for meals, sight-seeing (the main sights), and transportation, you could spend as little as about 50 Euros per day (rounding again.)
Plan to spend more if you want to hire any tour guides, get laundry done, take taxis, shop, and/or splurge a bit on meals.
Want my top ten tips on visiting Rome on a Budget? Go here.
Money in Rome - Conversion rate into Euros
If you use the tool below, you'll have a good idea of the exchange rate. Some things to note:
The above only shows interbank rates. This means that is the rate that banks get when they move money between them. You cannot ever get this rate. There will always be a surcharge when you exchange money. Usually, with credit cards and ATM machines, there is a 2-3% surcharge. An average money exchange office can charge from 5-12%. If you want to see real exchange rates with these possible surcharges, go to the Oanda full currency converter.
If you want to know how much something in Euros will cost you in your own currency, go to the online converter. Make sure that "currency I have" is selected on the left side, and "currency I want" (Euros) is selected on the right. Then enter the Euro amount on the right side (selecting any surcharges you think apply to you) and you will see, on the left side, what you need to spend in your own currency to get that many Euros.
BEST PRACTICE:
To get the best exchange rate, use credit cards when you can. And use your ATM card to get cash out.
Avoid bringing/changing your own currency in Rome.
Money in Rome - How much cash to bring?
Regardless of your budget, you should plan to arrive in Rome with at least a little cash, especially if you are flying here. You will need some cash to get into Rome, whether by car service, train or bus. And even if you have prepaid a car service, you should always have some Euros on hand. 
There are ATMs in both Rome airports, but they are not bank ATM's (i.e. they are usually part of the currency-exchange service), and you will probably get a hefty surcharge for using them. Of course you can use these ATMs if you didn't bring money with you, but to avoid the heavy fees, I recommend you get at least 100€ at your bank at home before you travel.
Money in Rome - Bringing traveller's checks
I remember when it was a must to get traveller's checks before any trip. But now, it seems a bit outdated. You won't be able to spend them anywhere. You will only be able to exchange them at currency exchange offices or banks. You would do better simply using your ATM to get cash as you need it.
If you don't have an ATM card, or prefer not to use one, then yes, traveller's checks are safer to carry than cash. But if you have an ATM card, skip the traveller's checks.
Money in Rome - Do most places accept credit cards?
The answer to this is . . . yes and no.
Italy has a large cash-based economy. While more and more businesses are required to accept credit cards, some do so grudgingly. If they do, they often don't take American Express. (They think Amex charges higher fees, but we know from having run a business here that it's not that complicated to get a lower fee as a merchant. But this prejudice remains and you will very often find that businesses in Italy don't take Amex.)
Often, a merchant may encourage you to pay with cash (by offering a cash discount), and in some cases, will say their POS is out of order, or their lines are down, or today their credit card system is not working, etc. Believe me this is very common, so be prepared to pay cash.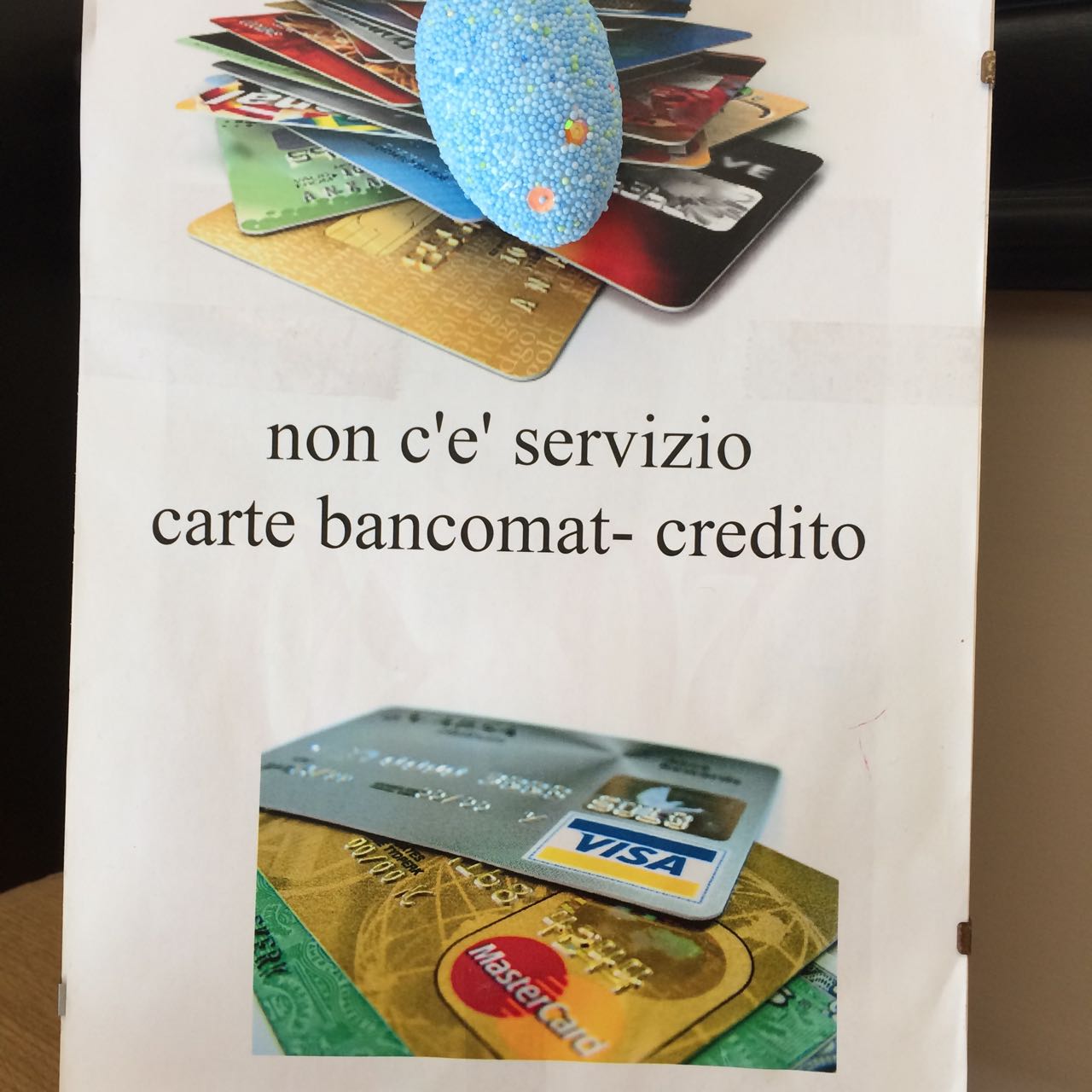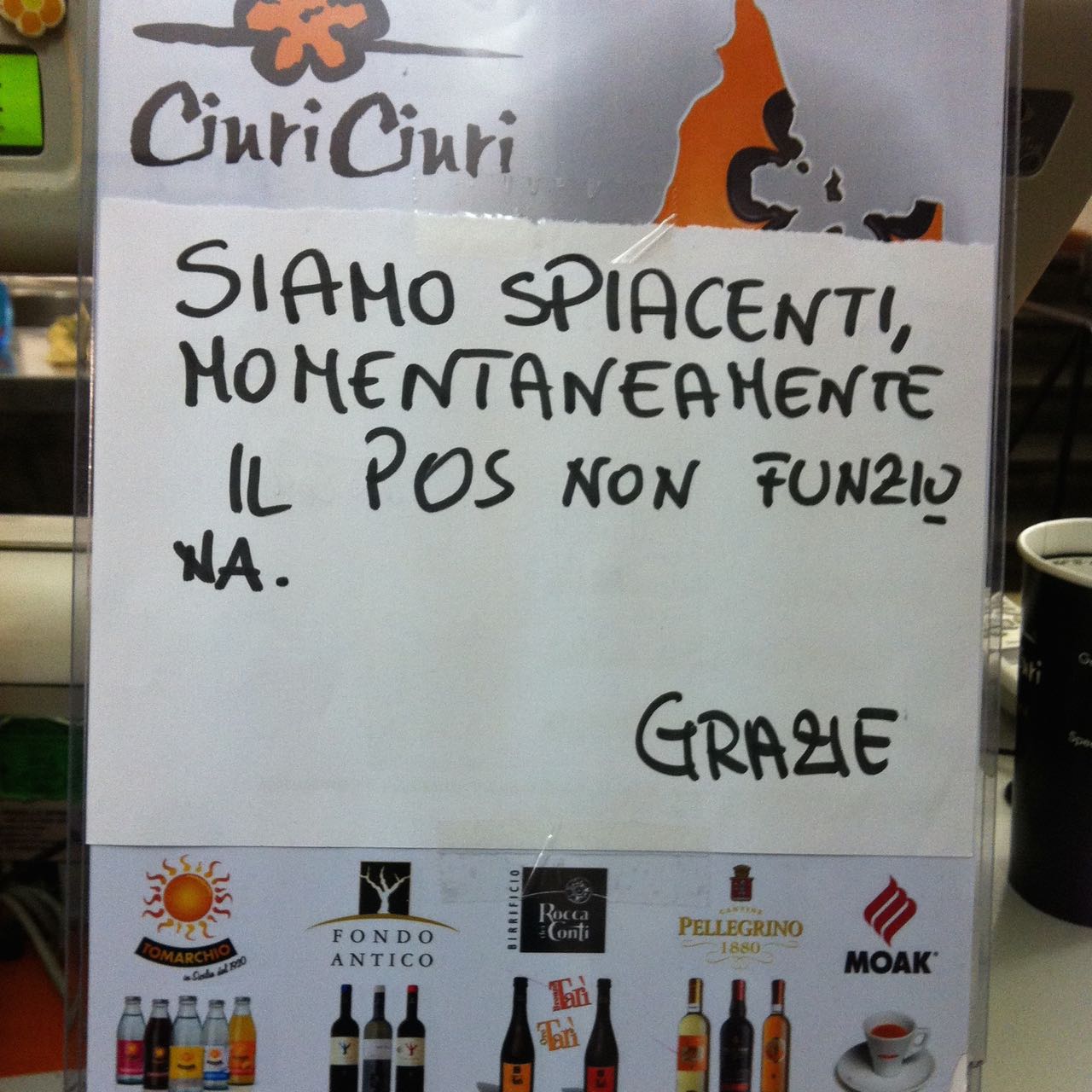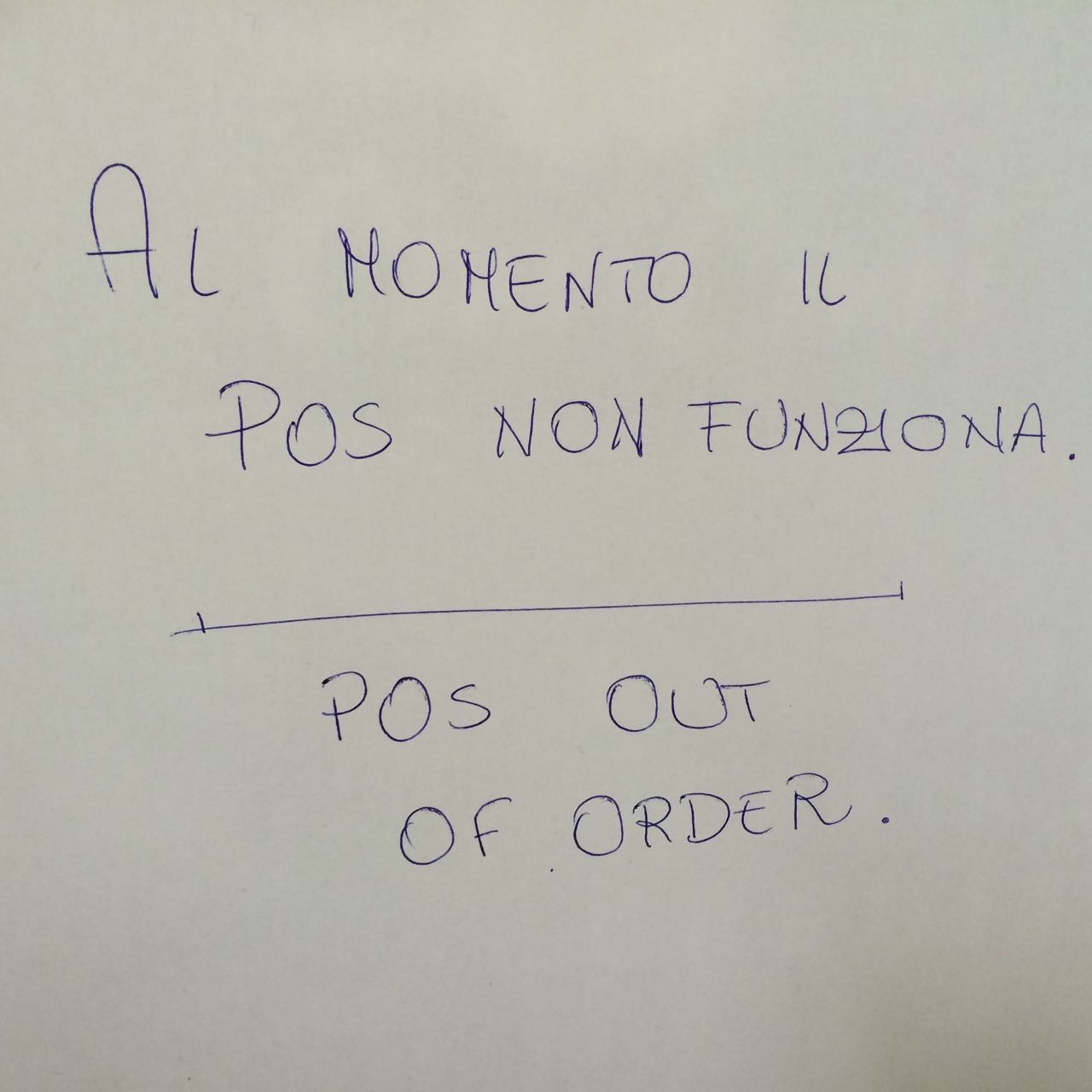 Look how easy it was for me to find these signs in Rome. And I only posted these 3.
This is especially true of small businesses, little boutiques, mom-and-pop trattorias, and small-priced service items like tours, laundry, audio guides etc.
You may rest assured that large hotels, brand name shops, and most restaurants will accept credit cards.
---
The perfect 3-day itinerary in Rome
Trying to figure out how to organize your visit to Rome? I've got the perfect 3-day itinerary for first-time visitors (or those who have not been here in a while.) It works for a 2.5 day visit as well.
In my 3-day itinerary, you'll see all the major must-see Rome attractions like the Vatican, Colosseum, Trevi Fountain, Pantheon, Piazza Navona, Spanish Steps, Castel Sant'Angelo, and much more.
And if you have more time, or want suggestions for extra/other things to do, you'll find that there too.
Visit my page with the best 3-day itinerary in Rome for first-timers.
---
Money in Rome - Convert Pounds/Dollars to Euros 
As I've said above, you should actually avoid bringing your own currency to Rome. Plan to use credit cards when possible, and take cash out of ATMs as needed.
But, if you do have your own currency, and want to change it to Euros, there are plenty of currency exchange offices in Rome. Avoid the ones at the airports, where you are held hostage to a much higher fee or lower exchange rate. Sadly, the American Express office at the Spanish Steps is gone.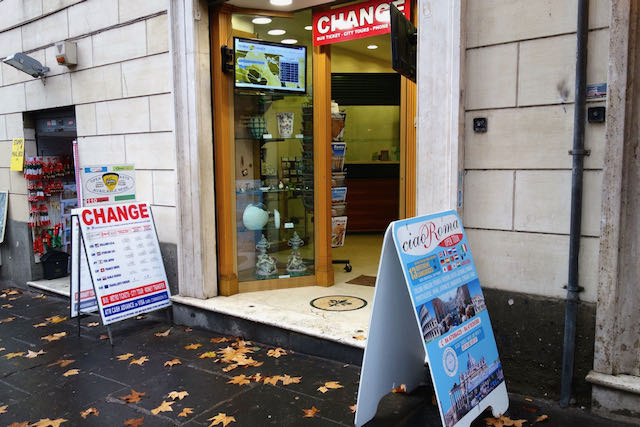 The best way to use money in Rome is by getting it out of an ATM. You can also change money at exchange offices like this one, but expect to get a worse exchange rate than if you use an ATM.
The biggest concentration of currency exchange offices is at or near Termini Train station. There is an office at the bottom of via Veneto, and one each at Piazza Mignanelli and Piazza di Spagna, the two plazas at the bottom of the Spanish Steps. There are two by the Trevi Fountain and about 3 by the Vatican. For a complete list, and to see them on a map, look in the Italian Yellow Pages. Expand the map and then zoom in on Rome.
Money in Rome - places you cannot change currency
I've seen these questions asked over and over, by our hotel guests, and on several Italy expat online forums I follow, so here goes:
You cannot go to a bank in Rome and exchange currency unless you have an account in that bank.
There are not branches of many foreign banks in Rome (with a few exceptions like Barclays, but even then, they are not set up for currency exchange.) So unless you have an account with an Italian bank, you cannot exchange money in any of the banks in Rome.
The American Express office that used to be at the bottom of the Spanish Steps is gone, never to return. The Valentino flagship store is there now.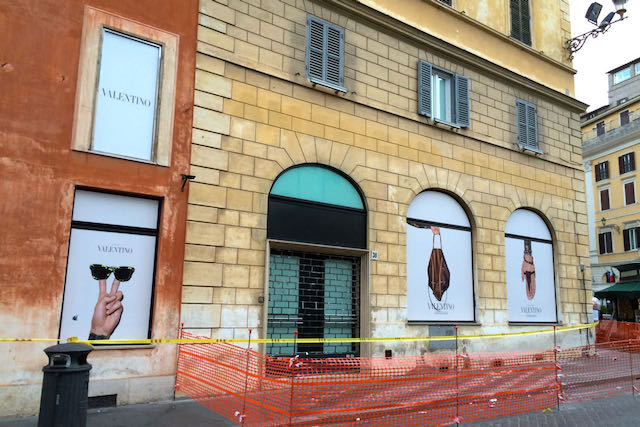 The new Valentino store in Rome, going into the space once occupied by the long-gone American Express office
Money in Rome - ATMs
ATMs are everywhere, and you should be able to use your ATM card or credit card at most of them to get cash out. I get asked this a lot so I will answer here: There is not a Citibank ATM in Rome, but you can still use your card at ATMs on the same network to withdraw money.
Most ATMs have a 250€/day limit. Your bank at home may also have a daily limit. But some banks, such as Banca di Roma and Credem, will let you take out more. Just try a higher amount and see if the machine will let you. Keep in mind it may be convenient to take out more money at once, to avoid per-use ATM charges.
Alert your bank and credit card companies before you leave home that you will be travelling to Rome.
This will help you avoid stress and hassle if your charges are denied by over-protective banks that see a foreign charge as a reason for alarm.
The Best Money in Rome Tip I Can Give You: Get Travel Insurance!!!
This is possibly the best money-tip I can give you. It amazes me that more people don't think about getting travel or trip insurance. I think it may be because a lot of people don't know it exists.
Travel insurance will protect you for a variety of travel-related problems and subsequent money losses/charges. Plans range the gamut for flight cancellation/delay-compensation, to medical evacuation. You can get a plan that covers you on a yearly basis or on a per-trip basis.
Travel Insurance Quote - Sign up today!
---
Get your free Rome trip planner!
We are committed to respecting your data. Click for our Privacy Policy .
---
Comments? Questions? Suggestions?
Please come over to the private Romewise Facebook group and join in the conversation.

You will often find me there, happy to answer your questions / comments!
You will also meet other Rome lovers and experts, too.
What are you waiting for?