The Best Rome Shopping Guide - Trust My Experience!
Looking for the best Rome Shopping Guide? You've come to the right place!
Living in Rome means shopping in Rome. I have shopped till I dropped. And then some!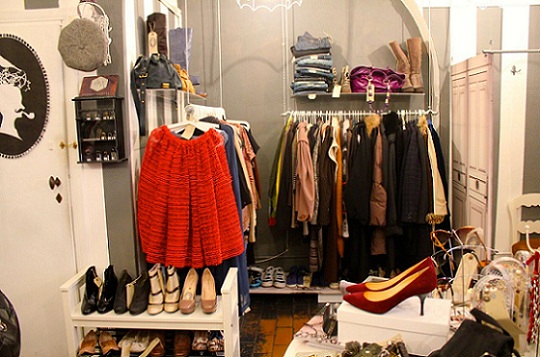 My Shopping Guide for Rome is the product of years of browsing, roaming, hunting, discovering and shopping the best that Rome has to offer.

Rome Shopping Guide - Everything you need to know
Based on all my years helping visitors (hotel guests, friends, family) with their shopping needs and questions, and doing oh so much research on this topic, here is my list of what you should know about shopping in Rome:
---
Like any Rome resident, I have my favourite local shops I frequent in my neighbourhood.
But most of the time when I really want to "go shopping", I head for the Rome neighbourhoods where some of the best concentration of shops can be found.
But, they all have very different kinds of shopping:
Spanish Steps - Piazza di Spagna
The area around the Spanish Steps has the highest concentration of shops in the capital.
There are not only the high-end brands such as Gucci, Prada and Armani, but some even more local brands, such as Fausto Santini.
There are even smaller, less expensive shops in the area.
So there is really something for everyone.
And yes, this is really where Romans come to shop. They like good brands, and they like to be see and be seen (who doesn't?) 
Click here to go to my page about Rome Shopping Guide to Shopping Near the Spanish Steps, where I have lots more details about what the different streets have, and good places for stopping for a break between purchases!
---
The perfect 3-day itinerary in Rome
Trying to figure out how to organize your visit to Rome? I've got the perfect 3-day itinerary for first-time visitors (or those who have not been here in a while.) It works for a 2.5 day visit as well.
In my 3-day itinerary, you'll see all the major must-see Rome attractions like the Vatican, Colosseum, Trevi Fountain, Pantheon, Piazza Navona, Spanish Steps, Castel Sant'Angelo, and much more.
And if you have more time, or want suggestions for extra/other things to do, you'll find that there too.
Visit my page with the best 3-day itinerary in Rome for first-timers.
---
Behind Piazza Navona - via del Governo Vecchio and via dei Coronari
Piazza Navona is one of my favorite places to visit in Rome, and arguably one of the most beautiful.
There are a few shops and restaurants right on the piazza itself, but the best shopping in the area is on two of the streets leading away from here.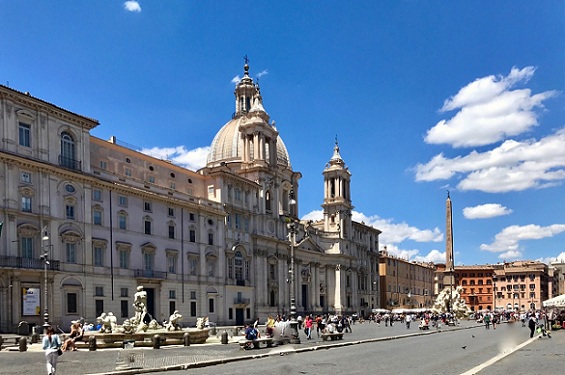 Just behind the Brazilian Embassy on Piazza Navona is via del Governo Vecchio, one of my favourite shopping streets for fun boutiques plus great ambiance.
If you walk down this street, you will find plenty of places to stop for a snack or drink, lots of little one-off boutiques, and especially, lots of vintage shops.
When you get to the very end, come back up via dei Coronari.
This used to be known as the street of the antiquari, or antique dealers.
Sadly, that market has died out quite a lot, and there are very few of these original dealers left. But there are lots of fun shops and eateries there too. 
Meandering behind piazza Navona on both or either of these streets is a great way to spend a half or even whole day shopping in Rome.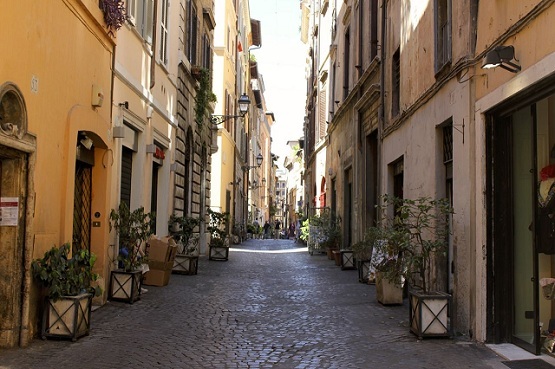 Rome Shopping Guide favorite - via dei Coronari is one of the loveliest streets in Rome, and one of the best for one-off boutique shopping.
---
Monti - via del Boschetto and via Urbana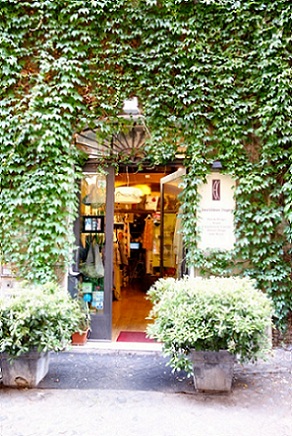 When it comes to local, cute neighbourhood shopping in Rome, the Monti neighbourhood is the darling among Rome shopping aficionados.
There are no big chain shops here, and since the area is literally one of the oldest in Rome (going back 2000 years), it has a very old-world, charming feel about it. 
You'll find little cobblestone streets, interesting café's and bistros, and plenty of fun little boutiques.
It is also, along with via dei Coronari (behind Piazza Navona), one of the original streets where all the antique dealers were in Rome (once upon a time.) There are still plenty of these dealers left, and their shops are speckled throughout, mixed alongside the newer and more modern shops.
The best streets for shopping in Monti are via del Boschetto, via dei Serpenti, via Urbana and via Panisperna. 
Love browsing vintage and second-hand stores?
Monti is home to some of Rome's best vintage shops and markets - visit my page here for my recommendations!

No matter what season you visit Rome, here are 4 things never to leave at home:
Disclosure: If you make a purchase through a link on this page, I may receive a small commission - at no extra cost to you. Thank you for supporting my site!

By the Vatican - via Cola di Rienzo and Prati
Via Cola di Rienzo is a long, wide shopping street that runs between the Vatican and Piazza del Popolo (more or less.)
You will find some bigger brand names, including Tiffany's and the Coin department store.
You'll also find some smaller local shops.
But if you venture past this street into the more residential part of the Prati neighbourhood, you will come across lots of very cute and even innovate shops.
This area includes streets running parallel to via Cola di Rienzo, such as via dei Gracchi and via degli Scipioni, but also the little cross streets. 
Prati is a kind of upscale residential area of Rome, but also one full of accountants' and lawyers' offices, and the buildings are quite grand, so it's also pleasant to wander this neighbourhood and see a different side of Rome.
---
---
Rome Shopping Guide - When Are the Sales
In all of Italy, sales (called Saldi in Italian) are held twice a year, and that's it: Once in winter and once in summer.
The exact date depends on the region.
All shops in a given region must begin and end their sales on the same day. 
In Rome, summer sales begin usually the first Saturday of July. They go through most of August.
In Rome, winter sales begin usually the first Saturday in January. They go through most of February.
Rome Shopping Guide HINT!
How to get a head start on the sales:
If you are here just a few days before the sales officially begin, you may find that some shops will be willing to offer you the sale price if you ask.
But it has to be just before the sales start, and it cannot be a major brand such as Max Mara or Prada, who very strictly follow the rules.
---
Rome Shopping Guide - What are Rome Shop Hours?
Traditional Italian shop hours go like this: Monday mornings, shops are closed.
They open around 3-4pm, and close around 7-8pm.
Tuesday-Friday, shops are open in the mornings, around 9:30 or 10, until about 1, then close for "siesta", then reopen around 3 or 4, closing again around 7-8pm.
Saturday mornings shops are open from about 10-1.
Then they close again until Monday afternoon.
So in general, shops are closed for "lunch", or from about 1-3/4pm, and from Saturday afternoon until Monday afternoon.
This is still pretty true for small boutiques, and shops in local neighbourhoods.
Globalisation is hitting even Rome, and certainly the shopping zone around Piazza di Spagna (Spanish Steps).
In this area, most shops stay open through lunch, and all day Saturday.
You will, however, find about half the shops closed on Sundays and on Monday mornings. Some traditions die hard.
Major shopping days in other countries are not shopping days here.
In Italy, a holiday is not a reason to shop.
It's a reason for the shop-keepers and workers to take a holiday.
The day after Christmas is a holiday in Italy.
Shops are closed. New Years Day, shops are closed.
Easter Monday is another big holiday. Shops are closed.
And May 1, the European "Labor Day" holiday, shops are closed. 
Rome Shopping Guide Hint!
Where to Shop on a Major Holiday
If you need to shop on a major holiday when almost everything really is closed (Christmas Day, August 15, Easter Sunday), you can count on the shopping gallery in Termini Train station.
The station is of course open 365 days a year, and is full of shops, many of which are also open, even on those holidays when the rest of Rome is shuttered.
And lately, I'm seeing shops open on Christmas Day, New Years' Day, and Easter Monday in the more trafficked tourist areas of Rome such as around the Trevi Fountain, via dei Giubbonari, via del Governo Vecchio, and via dei Coronari.
Rome Shopping Guide - Where to Buy Shoes in Rome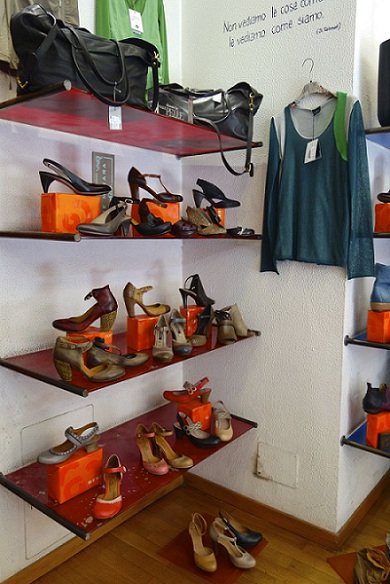 Rome Shopping Guide - you'll find some of my fave shoe shops on this page!
The best concentration of shopping in general is around the Spanish Steps.
This includes shoe shopping.
Aside from the well-known brands of Prada, Gucci, Tods and Fratelli Rossetti, you will also find more special and local brands such as Fausto Santini (shoes made of soft leather that fit like gloves.)
Less-expensive but stylish and well-made shoes by Spanish brands Geox and Camper are also a good option.
There are Geox and Camper shops all around Rome, including the main shopping sections like the Spanish Steps and Cola di Rienzo.
Want my Rome shopping guide to my favorite shoe boutiques? Here ya go: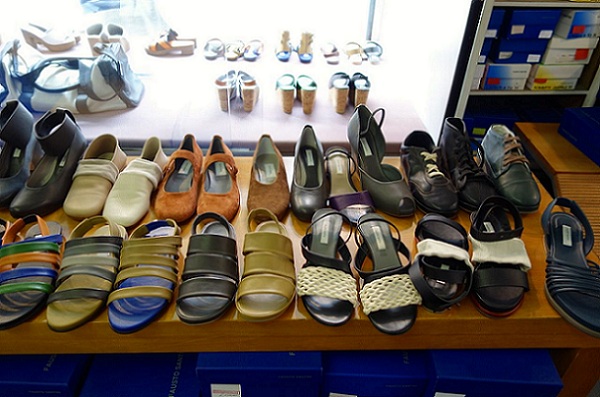 Scarpe Diem - their motto is "useless but beautiful shoes". Indeed. Behind piazza Navona, on Via di Parione 40.
Fausto Santini on via Frattina - chic, particular, super well made with gorgeous leather. And they have the most wonderful bags, too.
The Fausto Santini Outlet (oh yes!) - actually run by the original, Giacomo Santini, Fausto Santini's father. Near the Monti neighbourhood, on Via Cavour 103. Photo above.
Mencucci boutique - right next door to the Santini outlet. Also sells clothes.
L'Autre Chose - near the Pantheon. They make beautiful clothes too but my faves are their shoes and bags. Their shoes are fabulous and stylish, yet comfortable, and last forever. Piazza Campo Marzio 9-11.
Shopping in Rome (and in other parts of Italy) can be different than what you might be used to. Things to keep in mind so you don't stress while shopping here:
Italy is less of a customer-service oriented economy than in some other cultures (in particular many Anglo-Saxon countries). Don't be put off by what may seem disinterested, inattentive, or even what might seem rude behavior on the part of sales staff. Ask for help if you need it. Sometimes you will find very helpful and friendly staff. Just not always.
On the other hand, in some old-fashioned shops, much of the merchandise is not on display and you will have to ask for what you want. This can also be off-putting if you prefer to browse at your own pace. But don't worry if you ask for someone to show you something and then you don't want to buy it. It's routine for them.
In shops like the one I described above, where you have to ask to see something, you might not be allowed to try it on. This goes for sweaters you could stretch out, blouses you could stain with lipstick, and some lingerie. Yes I know, how can you buy something without trying it on? I usually don't. And this is slowly dying out as larger stores and department stores do allow people to try on everything. Just know you might come across this.
Exchanges and returns - brace yourself. It can be difficult to return or even exchange something in Rome (and other parts of Italy.) Out and out returns where you get your money back are almost non-existent. The way fiscal policy is run here makes it very difficult for a shop to justify a cash outlay, and often, a return on a credit card can be a Byzantine process involving a fax and several days of waiting. So if you can return something, it will most likely be for a credit in the same shop, i.e. and exchange. Also, if a shop even allows exchanges/returns, it must be within a very short time frame, in its original packaging and unused. So just be careful when buying things in Rome, knowing that it's unlikely you will be able to return it.
---
Get your free Rome trip planner!
We are committed to respecting your data. Click for our Privacy Policy.
---
Comments? Questions? Suggestions?
Please come over to the private Romewise Facebook group and join in the conversation.

You will often find me there, happy to answer your questions / comments!
You will also meet other Rome lovers and experts, too.
What are you waiting for?