Rome in January
With Updated Events for 2020
Are you thinking of coming to Rome in January? Yes, it's cold but it's also quiet and almost tourist-free! What a great time to sight-see in Rome. Here's what you can expect.
Giardino Degli Aranci with panoramic views of Rome. I snapped this in mid-January around 10am. Crystal clear skies and nobody around but me.
---
---
Rome in January - At a Glance
Here's what you need to know about coming to visit Rome this time of year:
Weather in Rome Italy in January
January is definitely the heart of winter. So expect winter weather, but mild winter weather.
Rome doesn't really get much sleet and snow (although it can happen.) Sometimes there is a quick hail shower, but again, it's not that common. Does it rain a lot in Rome in January? It can rain sometimes, sure. But February and March tend to be rainier.

The weather in Rome Italy in January is fairly mild, with lows (at night) of about freezing, and highs during the day of about 10-14 Celsius / high forties - low fifties Fahrenheit.
Castel Sant'Angelo and the Tiber river in January. Cloudy skies but fairly mild.
The days are still pretty short, being winter, but they are already getting longer since the winter solstice on December 22.
What to pack for Rome in January

This is what I wear when I walk around Rome, and I walk around Rome a lot, in all seasons and in all kinds of weather. These are my personal recommendations for your visit to Rome in January.
Affiliate Disclosure:
Below you see photos of products I've researched and in some cases, own. If you click the picture, it will take you to Amazon.com, and if you purchase anything there, I will earn a small commission. Please rest assured, the prices are the same whether you click from here or buy directly. I invite you to visit my page about Affiliate and Advertising Disclosure.
Thanks for supporting my site!
Aside from the usual packing stuff you should bring for Rome, don't forget to pack:
For Rome in January, don't forget to include the following items in your packing list:
For more ideas, visit my page about What to Pack for Rome, with downloadable packing list.
What to wear in Rome in January
Make sure to bring winter items (above.) The key is to be comfortable. And the other key is layering. You'd be surprised at how warm you can feel during the day in the sunshine walking around the Coliseum.
In the morning and at night, wear a sweater, jacket, hat, scarf and gloves. During the day, wear what is comfortable, but plan on layering. You might want to bring/use a large bag or backpack you can pop your scarf/gloves/hat into if it's sunny out. And, you might want to carry a small umbrella in case of rain.
A rainy January day by the Spanish Steps. Wear jeans, comfortable walking shoes, a comfy warm winter jacket, and carry a small umbrella, just in case!
I cannot stress highly enough how important it is to wear comfortable shoes. So make sure you bring quality, comfortable socks, too. I suggest sturdy hiking shoes or similar.
---
The Romewise 2020 Wall Calendar - Get Yours Now! (30% off with code 30OFFQ12020)
---
Rome in January - What to expect
Weather-wise, you can expect wintery but often mild weather in January in Rome. The days are short but it can be surprisingly warm and sunny between 11am and 4pm.
As far as crowds go...
Is it crowded in January in Rome?
You might expect January, being a winter month, to be pretty quiet in Rome. That depends on which part of January you are here. 
The first week of January is high season in Rome, and very crowded. First of all, it's still part of the New Year's and general holiday season.
January 6 is a major holiday in Italy and other Catholic countries: It's the Day of the Kings (the day the Magi brought gifts). In Italy, this holiday is mostly about kids, and is called Befana, which is the name of a not-very-pretty witch, who is actually nice, and who flies around bringing gifts to the kids. The Christmas holiday season officially ends on the 6th of January (although you will still see lights up around Rome even through late January.)
Christmas lights on via dei Giubbonari in Rome
Most major tourist sites, and even shops are open on January 6 (except for the Vatican Museums.)
However, schools and a lot of offices are closed through that date. And often, this will stretch through whatever the following weekend is. Then everything gets back to "normal" the following Monday. So until then, Italian families are travelling and visiting Rome. And that makes it pretty crowded here!
I've visited the Vatican in the first week of January and it's as crowded then as it is in May.
Saint Peter's Square on January 2. A mob scene! This is one of the busiest times of the year in Rome.
And, finally, winter sales usually begin sometime the first week in January, and Italians will flock to their favorite stores that day, so it's yet one more reason you will see Rome's streets very busy in the first week of January. In 2020, the sales begin on Saturday, January 4. Stay tuned.
After that, Rome tourism drops to almost nothing. And THEN, you can pretty much count on having a lot of sites, including the Sistine Chapel, to yourself.
OK maybe the Sistine Chapel is not the best example, there are always people in there.
But one winter I went and there were lots of places to sit down.
Did you know you can sit down inside the Sistine Chapel?
You would not even see the benches other times of the year, because of how crowded it is. But in low low season, like Rome in January, you betcha you can sit down!
The Pantheon in Rome in January - very uncrowded!
January in Rome - Low Season
By the end of November, it's the beginning of (mostly) low season in Rome. And once you get past the Christmas holidays. January is the quietest time of year to be a tourist in Rome.
Hotel and airline are low throughout winter.
This is a great time to visit Rome without the crowds. You can see all the popular sites and monuments in Rome, and have many of them nearly to yourself.
CHECK HOTEL RATES IN ROME IN JANUARY
If you want to visit Rome on a budget, you will find great deals on accommodations in January (after the 6th).
Foods in season in January in Italy
January is a great time to enjoy all the seasonal winter foods like artichokes, chicory, broccoli, cabbage, apples, pears, citrus fruits, and persimmons. 
Puntarelle (curled raw chicory), with anchovies, one of my favorite winter treats. At i Tre Archi on via dei Coronari in Rome.
Some of my favorite seasonal things to eat in Rome in winter include broccoletti (like broccoli rabe), puntarelle (pictured above), artichokes, clementines, and Sicilian blood oranges.
Want to know more about Rome cuisine? Click here.
Rome in January - things to do
If you are here for the first week of January, you are probably enjoying the holiday festivities like New Year's Eve in Rome, and still checking out all the lit up streets and nativity scenes everywhere. 
Wondering what to do on New Years Day? Visit my page here.
January is the beginning of winter sales in Italy, so if you are here for the beginning of them, you can get the best stuff. By the end of January, you will start to see all the new spring fashions arrive, and can get a head start on all the latest spring fashion trends.
After the busy first week, January is a great time to visit monuments and museums, since they will be much less crowded.
Free Things to do in Rome in January
On the first Sunday of every month from October to March, state sites and museums are free for everyone. This includes archeological sites like the Colosseum, Forum, Palatine Hill, Baths of Caracalla and Ostia Antica; and museums like the Galleria Borghese and Palazzo Barberini. 
On the first Sunday in January, Rome is packed to the gills, so get there very early, and for the Galleria Borghese, you need to book long in advance.
In 2020, the Free Sunday is January 5.
---
On the last Sunday of every month, the Vatican Museums are open from 9am - 2pm (normally closed Sundays.) 
If you are on a tight schedule and this is the only day you can go, or if you are on a tight budget, then this is a great opportunity. But otherwise it is usually better to book your visit ahead of time and pay to go another day. You can expect large crowds even in low season.

In 2020, the Vatican Museums will be free and open on Sunday January 26. Expect large crowds on this day, even in January.
St. Peter's Basilica and Square are free and open daily.
Vatican events in January
On January 1, you can head to St. Peter's Square for the Angelus.
At noon, Pope Francis will appear in one of the windows, and address the crowds.
It's free, and lasts about 15 minutes. Expect large crowds.

---
There will be papal masses held on January 1 (Solemnity of Mary, Mother of God), January 6 (Epiphany).
If you want to try to get tickets to attend any of these masses, visit my page about Seeing the Pope in Rome.
---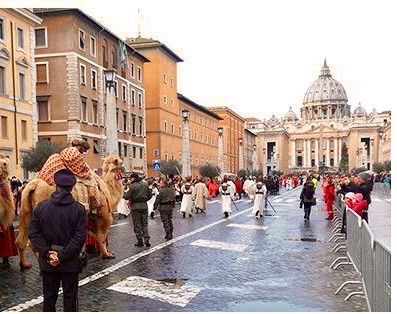 On the Befana, January 6, which is the Epiphany (Day of the Kings), you can watch a mini-procession along the street leading up to St. Peter's Square, Via della Conciliazione.
Starting at about 10am (but you should get there earlier for a decent viewing position), there will be a little procession, with people dressed in period costume, that will sort of re-enact the visit of the 3 Wise Men. Great thing to do with kids!
---
January 17, 2020 is the celebration of Sant'Antonio Abate in St. Peter's Square. I have been and it's absolutely wonderful!

It's the day of the "Blessing of the Animals", and many farmers bring their farm animals, but also locals bring their pets. You will also see a big parade of officials on horseback, in all their regalia.
Outside the square, a cardinal gives a prayer and blesses the animals. It's quite festive. When I went in 2015, a man brought his turtle and lo and behold, the cardinal blessed it!

---
Rome in January - Current Events for 2020
The cooler fall and winter months are a great time to take in the arts and some art indoors. Some museums stay open later on the weekends.
Here are some special things you can do in Rome in January:
Wondering what's open and what's closed January 1?
Visit my page about New Years Day in Rome with all the latest news and events.
EXHIBITS IN ROME

 

IN JANUARY 2020

Concerts in Rome in January 2020
With cold and sometimes blustery days that January brings, it can be fun to enjoy a concert indoors. 
Concerts New Year's Day
The Three Tenors - Enjoy New Year's Eve Concert in Rome in the beautiful Caravita Church in the center of Rome.
The singers are some of Rome's most talented, and they do credit to the original Three Tenors. 
January 1, 2020. From $45. Children under 7, and disabled people can attend for free.
Sparkling wine after the concert is included.
---
MUSIC CONCERTS IN ROME IN January 2020
---
Other Things to do Indoors in Rome in January
One of my favorite museums in Rome is the Capitoline Museums. These museums comprise some of the most extensive and comprehensive displays of painting, sculpture, artefacts and architecture in the world.
The museums are vast and they can easily take up an entire day. So if it's cold and rainy out, this is a great place to be. There is also a cafe on the roof, with spectacular views towards St. Peter's basilica, the synagogue and the Pantheon. And from the tabularium, you have amazing views of the Roman Forum...which, when it's icky out, can be beautiful if you are seeing it from the inside!
Open daily from 9:30am - 7:30pm. 15€. No need to book in advance.
---
This is the time of year I'd visit St. Peter's tomb under the Vatican. Why? Because I went in August one year thinking it would be "cool", and instead I was roasting. They seal you into every room you go into, so it's quite hot.
So in cold January, this is not only a great thing to see, but a great way to be warm in an awesome place!
More ideas for things to do in January
Maybe it's your 2nd (or 3rd or 4th) time in Rome. Or you have more than 3 days here. Or you just want to see and do lots of fun things.
Besides the obvious must-see tourist attractions, there are lots of great things to see and do in Rome! Here are some ideas for your visit:
---
Want to share this page on Pinterest? Pin it here!