Museums in Rome
I find most visitors only have time to visit just one of the many Roman museum options.
And they usually pick the Vatican Museums.

Fair enough. The Sistine Chapel is in there.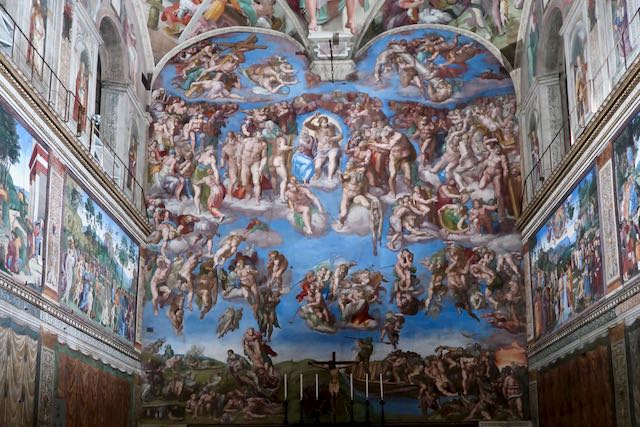 Seeing the Last Judgment in the Sistine Chapel is top of most visitor's lists, but there's so many more museums in Rome to explore!
But if you have already been there, or you want to know about some of the other treasures you can find in Rome, sometimes stored in the oddest of places, read on:
Museums in Rome - Truly something for everyone!
I won't list every single museum in Rome - we have so many!
But here are some different categories of some of the most interesting and popular the museums in Rome:
If you want a comprehensive list of all the museums and archeological sites in Rome, visit the website of the Rome Tourist Board.
---
Disclosure: If you make a purchase through a link on this page, I may receive a small commission - at no extra cost to you. Thank you for supporting my site!
Don't forget to bring these essential travel items with you!
Disclosure: If you make a purchase through a link on this page, I may receive a small commission - at no extra cost to you. Thank you for supporting my site!

Top 3 Must-See Museums in Rome
Let's say you really have a short time in Rome. Most visitors do. If you want to visit at least one of the top 3 spots in Rome, that have the biggest collections of art and archeology, don't miss these:
Vatican Museums
The most visited museum in Rome is at the Vatican. (Actually, this collection is not in Rome, but rather Vatican City, but that's nit-picking!)
This is because one of the top attractions in Rome is the Sistine Chapel. The Sistine Chapel is at the end of the visit route, and there is no way to just see it without visiting the whole museum. So inevitably, for many people, a visit to the Vatican Museums becomes a must-do, especially for the first-time visitor.
A visit here can be intense and exhausting, but for most people, it's worth it to see all the wonderful classical art and items from the whole stretch of Roman civilization, not just the amazing Sistine Chapel.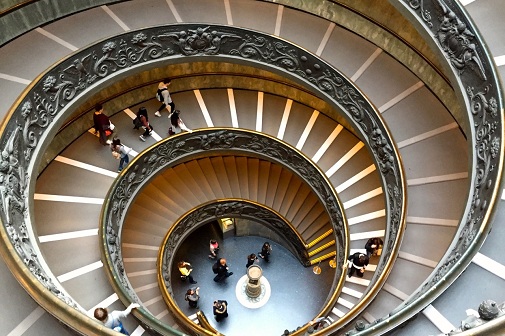 The spiral staircase inside the Vatican Museums. Photo source: Wikimedia Commons
---
Galleria Borghese
The museum I hear the most requests for after the Vatican Museums is undoubtedly the Galleria Borghese.
My personal opinion is that this museum should be at the top of your Rome itinerary! For me, it is one of the best museums in Rome.
I realize some people just don't have the time. But often, I find people have never heard of it. So let me remedy that!
For one of the richest art, architecture, and sculpture collections in Rome, chock full of Bernini, Caravaggio, Rubens, Canova, Titian, Raphael and so many more...nothing comes close to the Borghese Gallery.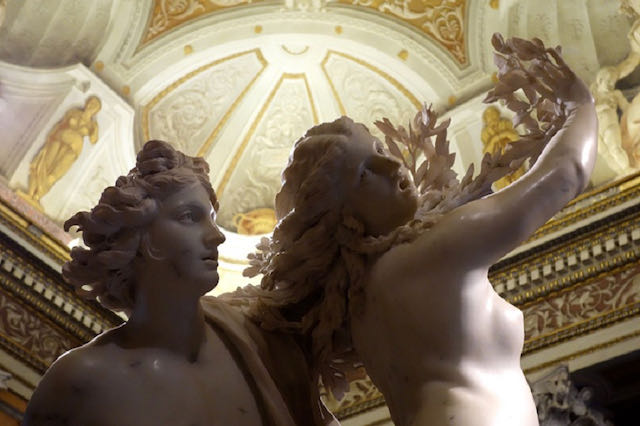 It's worth visiting the Galleria Borghese just to see this extraordinary Bernini sculpture of Apollo and Daphne
Click here to visit my page all about the Galleria Borghese, including tips to get the most out of your visit.
---
The perfect 3-day itinerary in Rome
Trying to figure out how to organize your visit to Rome? I've got the perfect 3-day itinerary for first-time visitors (or those who have not been here in a while.) It works for a 2.5 day visit as well.
In my 3-day itinerary, you'll see all the major must-see Rome attractions like the Vatican, Colosseum, Trevi Fountain, Pantheon, Piazza Navona, Spanish Steps, Castel Sant'Angelo, and much more.
And if you have more time, or want suggestions for extra/other things to do, you'll find that there too.
Visit my page with the best 3-day itinerary in Rome for first-timers.
---
Capitoline Museums
The Capitoline Museums are the oldest museums in Rome. In fact, they are the oldest museum in the world.
There are treasures spanning centuries, starting from before the founding of Rome in 753 BCE. 
Sculptures, paintings, sarcophagi, bronzes, relics, you name it...the Capitoline Museums is the place to discover and understand Rome's history and impact on the world.
They may also be the most under-visited of the important museums in Rome.
Despite the central Rome location at the top of the Capitoline Hill, I find most visitors spend half a day visiting the ruins of Ancient Rome below (in the Colosseum and Forum), and then are too tired to spend another half day visiting the Capitoline collection as well.
I believe they deserve their own place in a Rome itinerary, and not as an also-ran. Plan for at least a couple of hours - this is one of Rome's largest collection open to the public.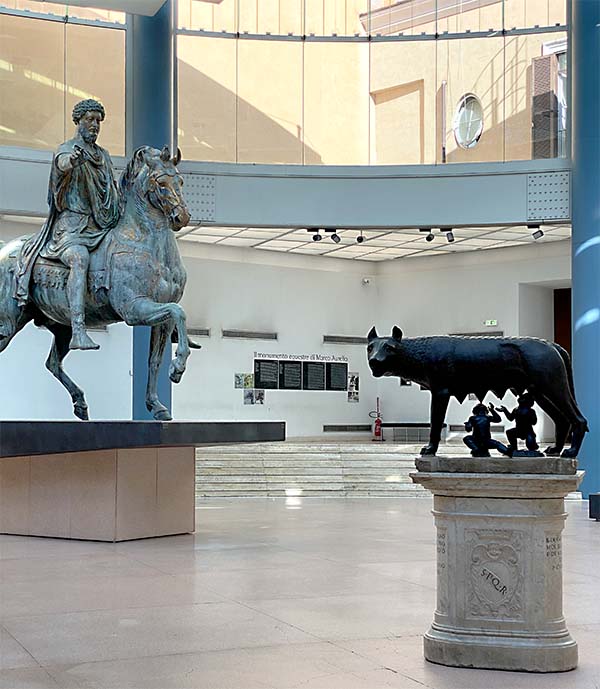 Two of the Capitoline Museums most famous items on display together - well worth seeing in person!
Museums in Rome Open on Monday
Many attractions in Rome are closed on Mondays (as is common in many places around the world.)

But we do have plenty of museums open on Mondays.
And you are in luck!
Two of the three best museums in Rome are indeed open on Monday:
Here are some more:
Galleria Doria Pamphilj

The Palazzo Doria Pamphilj is an easily overlooked treasure of a museum.
It's actually the downtown Roman villa of a once wealthy and prominent Roman family, and visiting it is like stepping back into their world.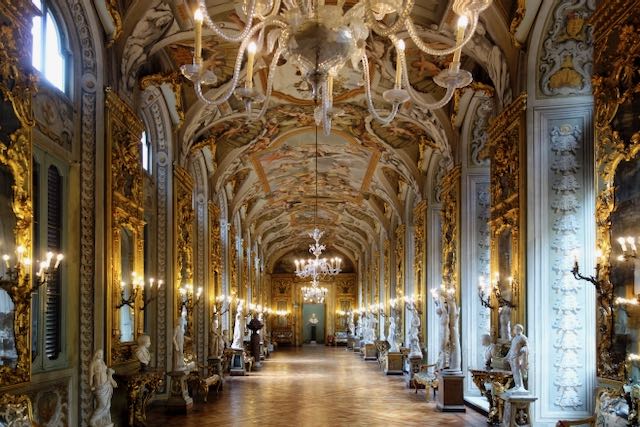 The Doria Pamphilj gallery allows you to see how this noble family lived, and also has a vast art gallery, housing their very rich fine arts collection including works by Gian Lorenzo Bernini, Valasquez, Caravaggio, Correggio, Domenichino, and so many more.
The museum is also astoundingly accessible: just off the via del Corso, so you can escape the crowds in Rome immediately by just walking off the busiest street in Rome's center and right into the villa.

Via del Corso, 305. Open daily 9 AM - 7 PM. Closed the 3rd Wednesday of the month, December 25, January 1, Easter.
Galleria Spada

Galleria Spada is one of Rome's hidden gems. It's a wonderful museum because there are so many masterpieces in a relatively small space, and it doesn't take long to visit.

While the art gallery itself is small, what makes a visit here so special is the optical illusion created by Francesco Borromini in the courtyard. It's really amazing to see in person and definitely worth a visit!
Closed Tuesdays.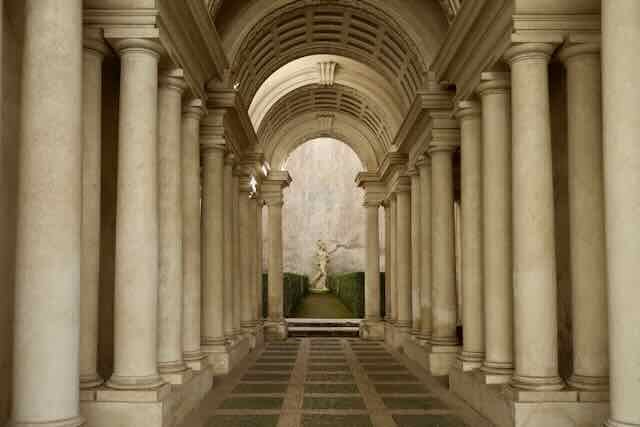 Francesco Borromini's optical illusion in the courtyard of Galleria Spada is unique
Vittorio Emanuele II Monument - Vittoriano

The Complesso Vitttoriano, or Victorian Complex, also called the Altar to the Fatherland and nicknamed "the wedding cake" or "the typewriter" is one of the most iconic monuments in Rome.

This gigantic white marble monument was built to honor King Vittorio Emmanuel II, the first king of a unified Italy, and also houses museums inside. While many people come here to enjoy the great views from the terraces or to see the Unknown Soldier's Tomb, it's also worth visiting some of the collections inside, such as Museo Centrale del Risorgimento, which tells the story of the Italian unification movement and how it changed Rome's history.
Villa Farnesina alla Lungara

The Villa Farnesina is a beautiful Renaissance villa on the Lungotevere.

The Villa Farnesina was built for the wealthy banker, Agostino Chigi, during the Renaissance. 
He had his favorite artist Raphael decorate the villa's loggia, and the result is a masterpiece of Renaissance architecture and art.
The villa was eventually purchased by Cardinal Alessandro Farnese (another wealthy nobleman, whose family also owned the Villa Farnese near Campo dei Fiori, which is today the French embassy.) 
The Farnesina is now an art gallery, called Accademia Nazionale dei Lincei e Corsiniana.

It is really worth visiting this gorgeous villa just to see the Rafael frescoes. And it's almost always quiet and fairly empty inside.
Details: Via della Lungara, 230.Open Monday to Saturday from 9 a.m. to 2 p.m. Closed Sundays and holidays. Guided tours in English on Saturday at 10 am. Tickets are 6€.
Museo dell'Ara Pacis

The Ara Pacis ("Altar to Peace") is a beautiful altar that was built to honor Roman Emperor Augustus and his peace-making efforts.
The Ara Pacis was originally located on the Campus Martius, and in modern times it was discovered just under the now Via del Corso.
It was such a large and important find, that a whole museum was built to house it.
The museum that showcases it was designed by American architect Richard Meier.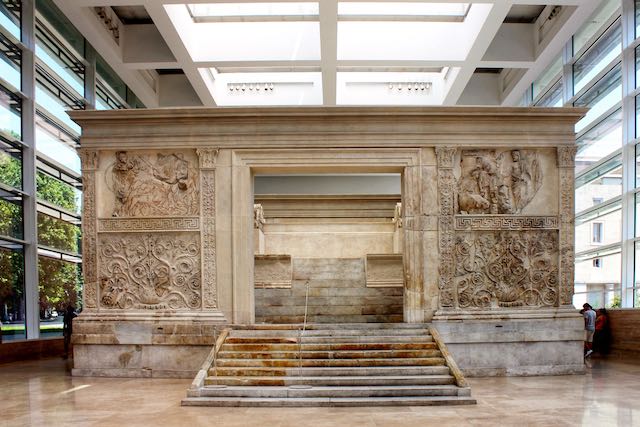 The Ara Pacis museum is housed in a modern, open and light space which adds to the experience, definitely a great sight to see during your trip to Rome.
It's a wonder of glass and light, and when you are inside this building, part of the joy of the museum visit is seeing the beautiful Baroque Roman architecture around you, through the enormous glass walls and skylights. (You might even enjoy being inside this building in the pouring rain and watching the rivets stream down the glass.)
Not surprisingly, the building was vilified at first by many Romans who saw this modern building with its sharp, clean minimalist lines as being an affront to the wondrous ancient and baroque architecture surrounding it.
Gianni Alemmano, once a candidate for Rome's mayor, used as part of his campaign platform, a promise to tear down this building if he became mayor.
He has since come and gone as mayor. The building is still there.
Mercati di Traiano

Trajan's Market is an ancient Roman market located in the heart of Rome. The first shopping mall, you could say.

The market was built by the Emperor Trajan and is now a museum, featuring ancient ruins and an insight into the ancient Roman civilization.
Hadrian's Villa and Villa d'Este in Tivoli

These two villas are located in the town of Tivoli, about an hour outside of Rome. They are both worth a visit if you have the time - combining the two makes for a great day trip!

Hadrian's Villa is a massive archaeological site that was once the country retreat of the ancient Roman Emperor Hadrian. It is now a UNESCO World Heritage Site, where you can explore the ancient ruins of his vast complex.
Villa d'Este is a Renaissance villa that was built for Cardinal Ippolito II d'Este. It is famous for its lush gardens and fountains.
Why not take a tour that includes guides at both locations, transportation to and from central Rome and even lunch for a special day out?

Archeological museums in Rome
Rome is an open-air museum.
You can see Ancient Rome everywhere you go.
But if you want to see some of the best-preserved and most important artifacts from Rome's long history, you'll want to visit one of the many archaeological museums in the Eternal city.
Capitoline Museums and Central Montemartini

One of the best archeological museums you can visit in Rome is the Capitoline Museums (a must-see and also open on Monday!)
You may also want to visit their sister location, Centrale Montemartini, a former power plant that now houses a huge selection of ancient Roman sculptures, all part of the Capitoline Museums' collection.
Vatican Museums

Another of Rome's must-see museums is the Vatican Museums and you can absolutely consider this a place to see ancient art and artifacts.
There is an Egyptian collection as well as a fairly extensive Etruscan wing that is almost always devoid of visitors.
In the under-visited Gregoriano Profano wing of the Vatican museums, you can see wonderful mosaics, reliefs, sculptures, sarcophagi, and other early Christian art.
And of course inside the main wings, you will see some of the most important ancient sculptures: the Apollo Belvedere, the Laocoon Group, and the Belvedere Torso, among others.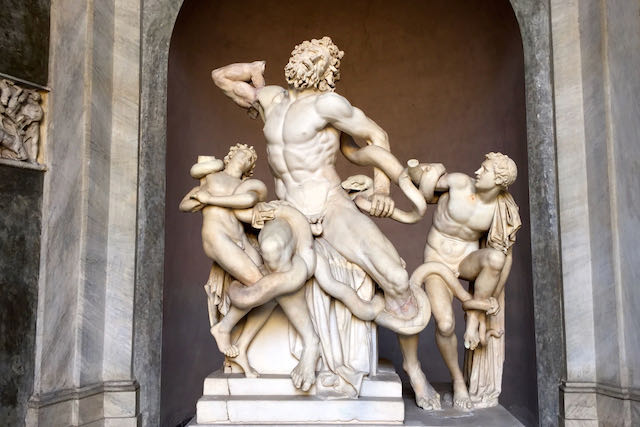 The Laocoon sculpture is one of the most famous pieces of art in the huge collection at the Vatican Museums
National Roman Museum - Museo Nazionale Romano

The Museo Nazionale Romano is made up of 4 locations across the Eternal City, Palazzo Altemps, Palazzo Massimo alle Terme, Crypta Balbi and the Baths of Diocletian. You can visit them in any combination, but together they tell the long and fascinating story of Italy's capital and its influence.
The National Roman museum's four locations are:
All 4 sites of the Museo Nazionale Romano are definitely worth a visit, and you can purchase a combo ticket that gives you access to all of them which lasts a week, so you can spread out your visits.
If you only have time to go to one of the National Roman Museum collections, I would recommend Palazzo Massimo alle Terme or the Baths of Diocletian.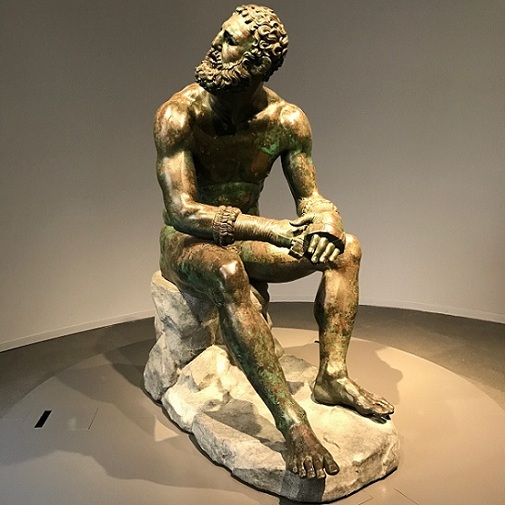 The Boxer at Rest sculpture is unbelievably detailed!
Museo Nazionale Etrusco di Villa Giulia

The National Etruscan Museum is located in the Villa Giulia, a beautiful Renaissance villa built for Pope Julius III.
The museum houses an incredible collection of Etruscan art and artifacts, making it one of the most important museums for understanding this ancient civilization, which pre-dates the Romans.
Palatine Hill Museum

If you are visiting the Colosseum, you have access to the Palatine Hill and Roman Forum with your entrance ticket.
There is a wonderful small museum on top of the Palatine Hill that's really worth a visit, especially if you love the ancient stuff.
Antiquarium Forense

The latest museum to open inside the Roman Forum, the Antiquarium Forense is located between the Temple of Venus and Roma and the church of Santa Francesca Romana .
The museum houses a collection of artifacts from Ancient Rome and even earlier, many of which were found during excavations of the Roman Forum.
Museo Barracco di Scultura Antica

The Barracco Museum is located in a beautiful 16th-century palazzo near Piazza Navona.
This free museum has a wonderful collection of ancient Greek and Roman sculptures, as well as an impressive collection of Baroque and Renaissance sculptures.
Roman Houses of Celio

The Roman Houses of Celio is a small but interesting museum located on the Celian Hill.
The museum is located in a complex of ancient Roman houses, some of which date back to the 1st century BCE, and it houses a collection of artifacts from the homes, as well as a small collection of Roman sculptures. 
Renaissance/Baroque Art Museums in Rome
Many of the museums already listed above contain Baroque and/or Renaissance art and sculpture.
These include the Vatican Museum collection, Galleria Borghese, Capitoline Museums, and Galleria Doria Pamphilj.
Here are some more wonderful museums in Rome where you can find Renaissance and/or Baroque artwork:
Palazzo Barberini - Galleria Nazionale d'Arte Antica

Palazzo Barberini is a beautiful Baroque palace that now houses the Galleria Nazionale d'Arte Antica (the National Gallery of Ancient Art.)
This museum has an incredible collection of paintings, sculptures and tapestries from the 13th to the 18th century, ideal for the avid art collector.
Some of the fine art highlights on show include:
Works by Caravaggio, Raphael, Bernini, Titian, and Pietro da Cortona.
One of my personal favorites, a veiled Vestal Vergin by Antonio Corradini.
Two stunning staircases by Baroque geniuses and rivals, Gian Lorenzo Bernini and Francesco Borromini.
As a bonus, there is a beautiful garden in the back, that you can visit for free even if you don't visit the palazzo itself. You can book a private tour to the palace here. 
Don't forget to visit their sister museum in Trastevere, Galleria Corsini. Your entry ticket is good for both.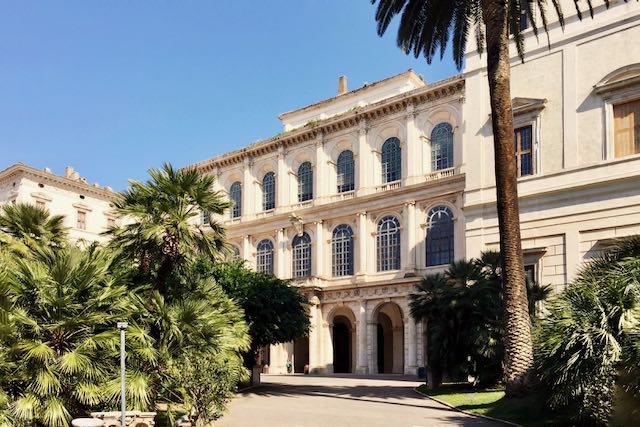 Walking up to the entrance of Palazzo Barberini, you get a sense of how special the inside of this art gallery is
Modern art museums

Rome has some excellent modern art museums. These include:
MAXXI Museum - National Museum of the 21st Century Arts

The MAXXI museum is a cutting-edge gallery designed by Zaha Hadid, located in the Flaminio neighborhood. This is definitely a place to see some contemporary art and architecture.
The MAXXI museum has two parts: MAXXI Art and MAXXI Architecture. It also has an excellent restaurant, Fiume, that is definitely worth a visit even if you don't have time for the galleries themselves.
MACRO - Museum of Contemporary Art of Rome

MACRO is located in an old factory in the Testaccio neighborhood. The permanent collection includes works by Takeshi Kawashima, Mario Schifano, Mimmo Rotella, and Michelangelo Pistoletto.
The museum also has a great program of temporary exhibitions showcasing modern art.
There is another branch in the northern part of the city that is worth visiting as well.
Villa Torlonia

This city museum was once home to the Torlonia family, one of the wealthiest families in Rome during the 18th and 19th centuries. It was later Mussolini's party palace and some of the exhibits in the museum portray photos from this era.
Visiting the Villa Torlonia is combining a museum visit with a park visit.

The Villa Torlonia is made up of several buildings, all set in a large park. The main building is a beautiful villa itself, with a permanent exhibit of Futuristic art on the top floor.
The other buildings has some other temporary exhibits, and in one, there is a charming outdoor cafe with lemon trees all around.
Or you can do as the Romans do, and escape the crowds in Rome by simply coming to the park itself, and lounging on the grounds with a blanket and a book.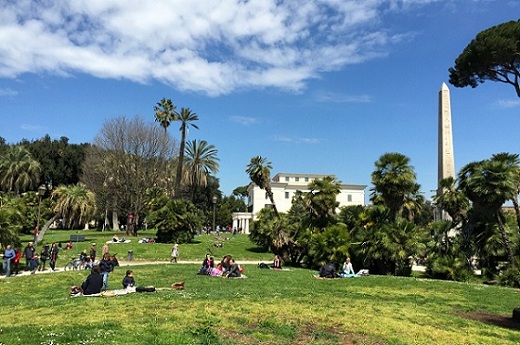 As well as the different collections within the Villa Torlonia, there is also a lovely park and gardens to relax in
Details: Via Nomentana 70. Tuesday-Sunday: 9.00 - 19.00; Closed Mondays and 25 December; 1 January; 1 May.
Museums with rotating art exhibits

There are many museums in the Eternal City that have temporary exhibitions. You can see what's currently on show by visiting my up-to-date month events pages.

Often, these museums are open on Christmas and/or New Year's Day.
These include:
Royal or noble palazzos

You can visit several noble palazzos in Rome today in such a way that you see how the families lived in them. These include:
Palazzo Colonna

Palazzo Colonna is one of the oldest and largest private residences in the Italian capital. The family has owned this palazzo since the middle ages. You can visit many of the state rooms, which contain an important collection of art, as well as a beautiful garden.
Not to be missed is the great gallery, a jaw-dropping hall that was used as the princess' palace in the film Roman Holiday, starring Audrey Hepburn and Gregory Peck.
Palazzo Doria Pamphilj

The Palazzo Doria Pamphilj is one of my favorite collections in Rome. This 17th-century palace was home to two popes, Innocent X and Alexander VII.
This large palazzo is still owned by the princely Pamphilj family. You can visit many of the state rooms, which contain an important collection of paintings, furniture, and tapestries.
A highlight is the Gallery of Mirrors, considered to be one of the most beautiful rooms in Rome.
The Palazzo has an incredible art collection, with works by Raphael, Caravaggio, Titian, Tintoretto, Veronese, Antonello da Messina, Rubens, Van Dyck, and many more.
Palazzo Farnese

Although it is today the French embassy, you can actually visit Palazzo Farnese. This is one of the most beautiful palaces in Rome, with a magnificent facade (designed, in part, by Michelangelo) and stunning interiors.
The museum contains several important works of art, including a fresco cycle by Annibale Carracci depicting The Loves of the Gods.
Best museums for kids

There are a few of Rome's museums that are geared specifically towards children, or that have exhibits that children will enjoy.
These include:
Leonardo da Vinci experience

There are 3 museums around Rome that offer a wonderful educational and tactical experience exploring the life and inventions of the great Renaissance artist. There are also some original writings and drawings by the artist himself.
These museums are filled with life-sized examples of da Vinci's inventions, making them an excellent option for families with teenagers.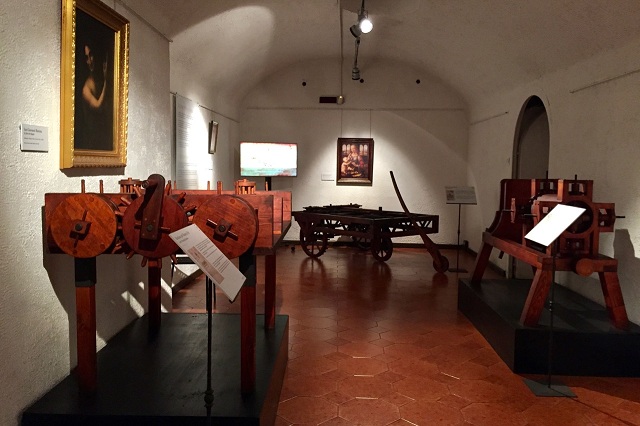 Exploring the interactive displays at the Leonardo da Vinci museum is perfect for kids!
Gladiator museum on Piazza Navona

This is a little-known, tiny museum with a few pieces of armor and weapons, as well as some interesting information about warfare during the time of the ancient Romans.
Explora

This is the Children's Museum of Rome, with interactive exhibits and educational projects on science, nature, art, and technology.
Free museums in Rome

You can visit many of Rome's state and civic museums and sites for free on the first Sunday of every month. You can also visit the Vatican Museums for free on the last Sunday of the month.
There are a few Roman museums that are always free. These include some of my favorites, such as:
For more details, visit the website of the Rome Tourist Board.
If you love museums, Rome is definitely the place for you!
There are so many incredible museums to choose from, with something for everyone. Whether you're interested in the ancient Romans, Renaissance masterpieces, or contemporary works, you'll find it all in Rome.
So plan your visit today and get ready to explore the amazing museums of this incredible city!
Want to save this to Pinterest? Pin it here!
---
Get your free Rome trip planner!
We are committed to respecting your data. Click for our Privacy Policy.
---
Comments? Questions? Suggestions?
Please come over to the private Romewise Facebook group and join in the conversation.

You will often find me there, happy to answer your questions / comments!
You will also meet other Rome lovers and experts, too.
What are you waiting for?