Museums in Rome
I find most visitors only have time to visit one of the museums in Rome. And they usually pick the Vatican Museums. Fair enough. The Sistine Chapel is in there.
But if you have already been there, or you want to know about some of the other treasures you can find in Rome, sometimes stored in the oddest of places, read on:
Museums in Rome - a Pretty Comprehensive List of the Best
I won't list every single museum in Rome - we have so many! But here are some different categories of some of the most interesting and popular the museums in Rome:
I will also let you know if a museum listed below is available for use with the Roma Pass.
Archeological museums in Rome
Renaissance and/or Baroque art museums
Modern art museums
Museums with rotating art exhibits
Royal or noble palazzos
A bit creepy and strange
If you want a comprehensive list of all the museums and archeological sites in Rome (and it's pages and pages long), visit the Rome Tourist Website. The museums are in alpha order, and most descriptions are in Italian, but you can do a search if you are looking for something specific.
Top 3 Must-See Museums in Rome
Let's say you really have a short time in Rome. Most visitors do. If you want to visit (at least one of) the top 3 museums in Rome, that have the most treasures of Roman art and archeology, don't miss these:
---
Vatican Museums
The most visited museum in Rome is at the Vatican. (Actually these museums are not in Rome, but rather Vatican City, but that's nit-picking.)
This is because one of the top attractions in Rome is the Sistine Chapel. The Sistine Chapel is at the end of the Vatican Museums, and there is no way to just see it without visiting the whole museum. So inevitably, for many people, a visit to the Vatican Museums becomes a must-do, especially for the first-time visitor.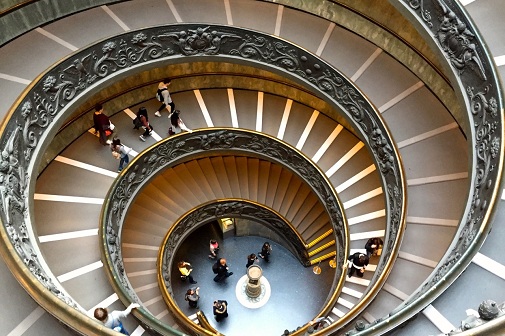 The spiral staircase inside the Vatican Museums. Photo source: Wikimedia Commons
Yes, I understand, you really may not want to see all the other stuff. But there is just no way around it. And a visit to the Vatican Museums takes around 2 hours. So it's a good half day if you add St. Peter's Basilica.
A visit to the Vatican Museums can be intense and exhausting, but for most people, it's worth it to see all the wonderful art there, not just the amazing Sistine Chapel.
Not part of the Roma Pass, but part of the Omnia Pass
The Vatican Museums does not have a daily limit on how many people can enter. Up to 30,000 people a day visit the Vatican Museums. The yearly count is close to 6 million visitors.
---
Galleria Borghese
The museum I hear the most requests for after the Vatican Museums is undoubtedly the Galleria Borghese. My personal opinion is that this museum should be at the top of your Rome itinerary!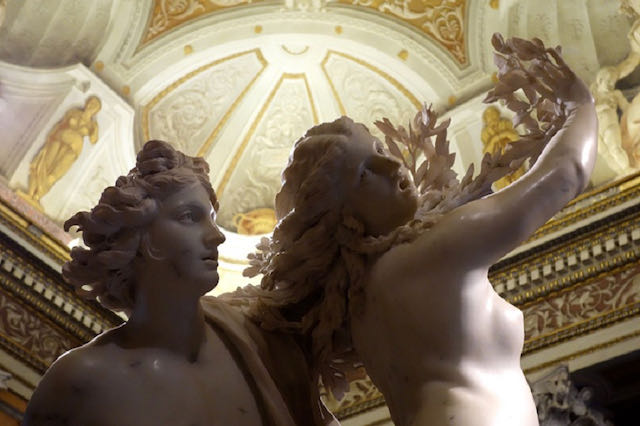 It's worth visiting the Galleria Borghese just to see this extraordinary Bernini sculpture of Apollo and Daphne
Is that saying too much? Maybe. I realize some people just don't have the time. But a lot of times, I find people have never heard of it. So let me remedy that!
For one of the richest art, architecture and sculpture collections in Rome, chock full of Bernini, Caravaggio, Rubens, Canova, Titian, Raphael and so many more...nothing comes close to the Borghese Gallery.
Participates in the Roma Pass 
Click here to visit my page all about the Galleria Borghese, including tips to get the most out of your visit.
---
---
The perfect 3-day itinerary in Rome
Trying to figure out how to organize your visit to Rome? I've got the perfect 3-day itinerary for first-time visitors (or those who have not been here in a while.) It works for a 2.5 day visit as well.
In my 3-day itinerary, you'll see all the major must-see Rome attractions like the Vatican, Colosseum, Trevi Fountain, Pantheon, Piazza Navona, Spanish Steps, Castel Sant'Angelo, and much more.
And if you have more time, or want suggestions for extra/other things to do, you'll find that there too.
Visit my page with the best 3-day itinerary in Rome for first-timers.
---
Capitoline Museums
The identity of this statue lying on its side dating back to the second century is traditionally attributed to a river cult or to the god of the Ocean.
The Capitoline Museums are the oldest museums in Rome. There are treasures in there spanning centuries, starting from before the founding of Rome in 753 BCE. 
Sculptures, paintings, sarcophagi, bronzes, relics, you name it...the Capitoline Museums is the place.
They may also be the must under-visited of the important museums in Rome. Despite their location at the top of the Capitoline Hill, I find most visitors spend half a day visiting the ruins of Ancient Rome below (Coliseum, Forum), and then are too tired to spend another half day visiting these museums as well.
I believe these museums deserve their own place in a Rome itinerary, and not as an also-ran. Yes, you do need a couple of hours. 
But it will be much less crowded in here than in the Vatican museums, and if you are interested in Ancient Rome, the Capitoline museums are a must-see!
Participates in the Roma Pass
Museums in Rome Open on Monday
You are in luck! Two of the three must-see museums in Rome are indeed open on Monday: The Vatican Museums (closed Sundays), and the Capitoline Museums (open daily!) Here are some more:
Galleria Doria Pamphilj 

one of the most spectacular museums in Rome, the Palazzo Doria Pamphilj allows you to see how this noble family lived, and also has galleries of their vast and very rich art collection including works by Bernini, Valasquez, Caravaggio, Correggio, Domenichino, and so many more. Closed Thursday.
Renaissance/Baroque Art Museums in Rome
---
Get your free Rome trip planner!
We are committed to respecting your data. Click for our Privacy Policy .
---
Comments? Questions? Suggestions?
Please come over to the private Romewise Facebook group and join in the conversation.

You will often find me there, happy to answer your questions / comments!
You will also meet other Rome lovers and experts, too.
What are you waiting for?