Secret Gardens in Rome - Oases hiding in plain sight
Did you know we have secret gardens in Rome? 
If you're looking for some peace and quiet in Rome, it can be tough to come by when you are zipping around in high season, trying to see all the sites along with the hordes of other visitors like you.
Would you believe that there are some real oases of peace, right in the center of Rome? Right near the tourist sites? 
I am not talking about churches, or a cozy cafe (those are great too!). I am talking about green space, fresh air, and a respite from the din and chaos of touristy Rome. A place to sit, take in some nature, gather your thoughts, your strength and some zen.
---
---
The Best Secret Gardens in Rome
We are already blessed to have so much green space in Rome. According to Wikipedia, between public parks, forests and reserves, Rome "has one of the largest areas of green space amongst European capitals."
According to Statista.com, nearly 40% of Rome is green. You may know some of these spaces already - the Villa Borghese, the Appian Way, the Palatine Hill.
But often, when I am making my way through the crowds in Rome, I need a little breather, literally.
A place to rest my feet, to absorb some of that sensory overload that Rome can give you, for better or for worse, and really, to just some peace and quiet for a moment.
1. Palazzo Venezia
Every time I visit the gardens of Palazzo Venezia, I am amazed to find there is hardly anyone there. It's been open to the public for a few years, but it still seems relatively unknown. But I think another reason for it not being crowded is that many people simply don't have the time.
I always bring visitors here, precisely because we need to make the time, even 15-20 minutes, to just sit. Because all the walking you will do nearby will take it out of you. And this is a great spot to rejuvenate.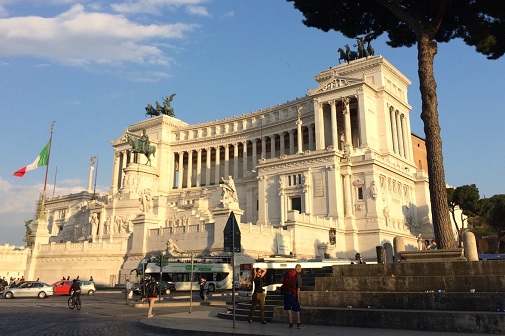 What it's near: Piazza Venezia, and the Complesso Vittoriano (big wedding cake); via Fori Imperiali; Capitoline Hill and Capitoline Museums.
How to get there: How to get there: When facing the Complesso Vittoriano (the wedding cake), walk to your right. There is a beautiful church there (one of the oldest in Rome), called Basilica di San Marco. Keep walking past it, and you will see the gate to the garden. Come on in!
---
2. Ospedale nuovo trastevere
One of my favourite places to visit in Trastevere, especially with visitors, is the medieval cloister inside the hospital there.
Anyone can visit, and locals often do, especially in nice weather. You can enjoy the space, sit and relax, or explore a little bit and check out the various spaces, and even the very special church in the second cloister.
What it's near: Santa Maria in Trastevere
How to get there: 
3. Villa Aldobrandini
Right near the Quirinal Palace, the beginning of Monti neighbourhood, and Trajan's Market, there is a beautiful garden with views over Rome. 
It's so easy to access, and so beautiful, but there's hardly ever anyone there.

What's it near: Trajan's Market, Quirinale, Fori Imperiali, Via Nazionale (shopping), Trevi Fountain
How to get there:
4. Garden of Sant'Alessio
By now, the Orange tree garden on the Aventine Hill has become a little bit famous. If you haven't been, by all means, head over there! It's wonderful, as is the church of Santa Sabina.
So we could consider the orange tree garden a nice green space all by itself. But it can be busy there, especially in high season, and at sunset. And when there's been a wedding there. With good reason.

But there is another beautiful garden, just down the road a little bit from this orange tree garden, And it's pretty much always empty. It's also next to a beautiful church, and has views of Saint Peter.
What's it near: Basilica of Santa Sabina; Knights of Malta keyhole; Orange tree garden; Roseto rose garden
How to get there:
5. Casa dell'Architettura
https://www.casadellarchitettura.it/

What's it near: Termini station; Santa Maria Maggiore; Piazza Vittorio
How to get there:
6. Villa Celimontana
What's it near: Palatine Hill, Colosseum; Circus Maximus
How to get there:
7. Castel Sant'Angelo
What's it near: Castel Sant'Angelo; Vatican; Angel Bridge
How to get there:
8. Palazzo Barberini
What's it near: Piazza Barberini; Spanish Steps; Trevi Fountain
How to get there:
9. Cemetery of Commonwealth war Graves
What's it near: Testaccio; Pyramid; Non-Catholic cemetery
How to get there:
10. Sant'Andrea al Quirinale
What's it near: Quirinal Palace; Four fountains; Borromini's San Carlino; Bernini's Sant'Andrea; Trevi Fountain
How to get there:
There are certainly more than just 10 secret gardens in Rome. If you're looking for off-the-beaten-paths spots, try ducking into a church. Sometimes you can find a hidden cloister. Or, check out some of the parks in far-flung local neighborhoods.
These 10 secret gardens in Rome are just some of my favorites. And, they happen to be smack in the middle of the tourist areas, so they are perfect for me to escape and breathe for a moment.
I cherish these spots as a place to rest, meditate, and just enjoy some quiet. And now you can too.

Secret Gardens in Rome - a Map
Click the image below to visit my interactive Google map showing all the places listed on this page. It will open in a new window.
---
Get your free Rome trip-planner!
Simply sign-up today using the adjacent form
We are committed to respecting your data. Click here for our Privacy Policy
---
---
---