Castel Gandolfo - how to visit the Pope's summer residence and gardens
All about Castel Gandolfo and how to visit it
Castel Gandolfo is a lovely small lake town about half hour outside Rome.
It's most famously home of the Papal summer residence and gardens.
Castel Gandolfo makes for an easy day trip from Rome and there is plenty to see and do.
On this page, we'll go over:
What is Castel Gandolfo known for?
Castel Gandolfo is famed for being the Pope's summer home in Italy. The town is located on Lake Albano, southeast of Rome.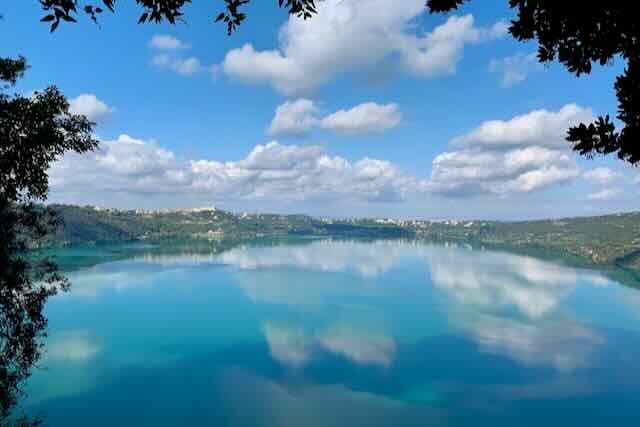 See some of the beautiful Italian countryside on your way to Castel Gandolfo, including the blue waters of Lake Albano
The town of Castel Gandolfo has a long papal history.
The first pope to reside here was Urban VIII who had the pontifical residence of Castel Gandolfo constructed in 1628.
In more recent times, Popes Pius XII and John Paul II also called Castel Gandolfo home.
Benedict XVI was the last Pope to live here before he retired in 2013 (he passed away in December 2022.)
The Papal Palace of Castel Gandolfo is now open for visitors, but was once the vacation retreat for multiple popes
While no longer used as a summer residence, the Apostolic Palace of Castel Gandolfo and the gardens of the pontifical villas are open to visitors.
Does Pope Francis use Castel Gandolfo?
Pope Francis has not used the Apostolic Palace inside Castel Gandolfo as his summer residence.
He spends his summers in the pope's house in Casa Santa Marta in Vatican City, just next to Saint Peter's Basilica.
Is Castel Gandolfo part of Vatican City?
No, the town of Castel Gandolfo is not part of Vatican City.
It is an independent municipality located within the region of Lazio.
However, the Apostolic Palace in Castel Gandolfo does have extraterritorial status, which means that certain Vatican City laws apply.
It is not under Italian jurisdiction.
Is Castel Gandolfo worth visiting?
Absolutely!
Castel Gandolfo makes a wonderful day trip from Rome.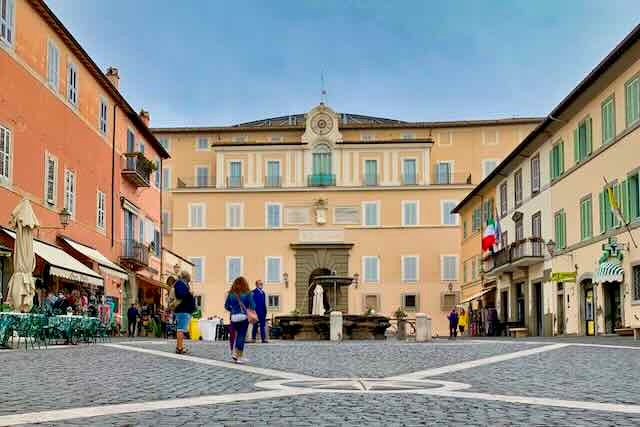 Central piazza in the town of Castel Gandolfo
Besides visiting the Papal Palace and gardens, Castel Gandolfo's town itself is charming and the views of Lake Albano are lovely.
I think the gardens are very much worth a visit when you take a guided tour.
You get to see the Papal palace and also most of the gardens.
Take a tour of the ornamental gardens in the grounds of the Apostolic Palace for a fantastic day out!
For me, one of the best parts was seeing the fairly well-preserved ruins of the Villa of Domitian, built by the Roman Emperor in the late 1st century.
Ruins of the Villa of Emperor Domitian
If you're interested in Italian history or art, then a visit to the Museo Diocesano should also be on your list.
You can watch my video below about touring the palace of Castel Gandolfo and its beautiful gardens.
What's the best way to visit Castel Gandolfo?
A visit to Castel Gandolfo can entail several things.
You could come to the town just to enjoy the lake and have lunch as a refreshing day trip from Rome.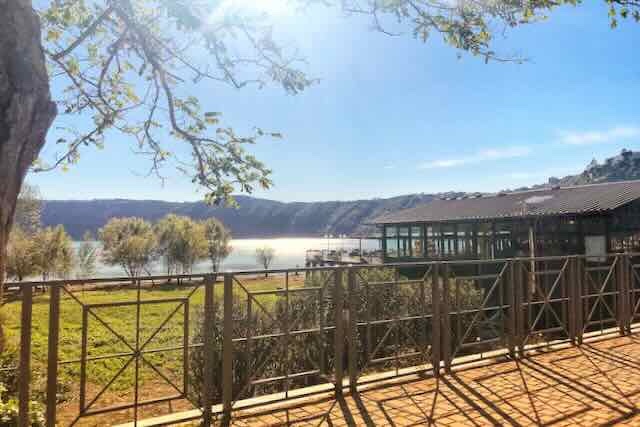 You can visit the lake, take a walk and loop all around it, have some lunch and even go kayaking!
Or, you could come to Castel Gandolfo to visit the Apostolic Palace.
Or you could do both!
Visiting the Apostolic Palace at Castel Gandolfo
If you visit the Apostolic Palace, you can just visit it on your own, or you can take a guided tour.
You can visit the Papal palace without visiting the gardens if you like.
You can visit the Gardens of the Pontifical Villas, also known as the Barberini Gardens, as a separate visit from the Apostolic Palace.
Or you can combine the two.
The visit to the gardens is either on foot or with a minibus.
You cannot wander the gardens on your own.
Visiting the gardens with a walking tour
If you want to see the gardens on foot, you will be accompanied by a member of the Vatican staff.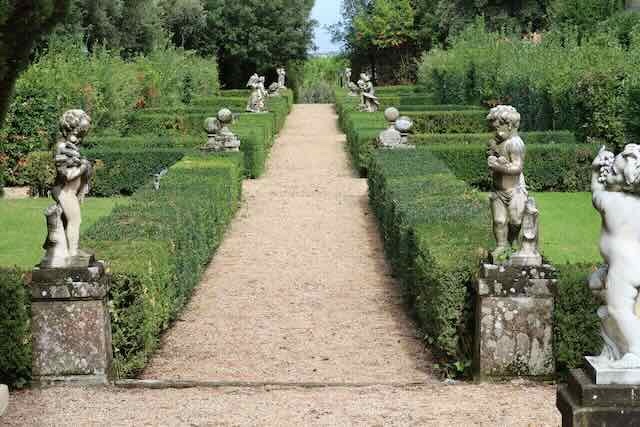 You cannot stroll freely in the gardens, but the walking tour is a great way to explore!
A walking tour of the gardens lasts 1 hour and 15 minutes.
Full price ticket: € 12,00 
Reduced ticket: € 5,00
Infant ticket (0-5 years): free
Visiting the gardens with a bus tour
By taking the bus tour, you can cover a lot more ground, and of course it's an easier tour than walking.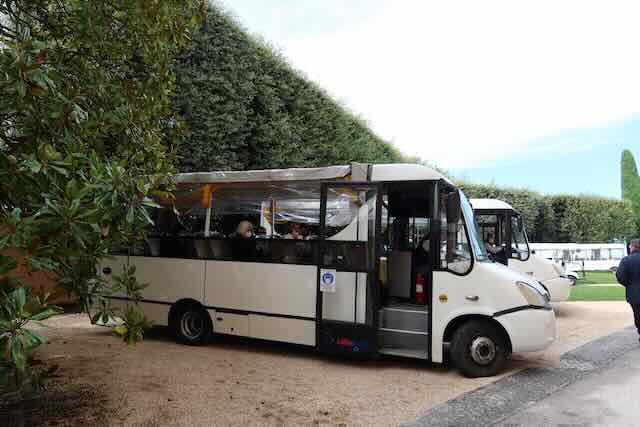 Taking one of the many bus tours allows you to see far more of the vast gardens, and you will still be able to walk around a little.
The bus goes pretty slowly and it stops often so you can take some time to see things.
On occasion, you will also get off the bus so allow you to take photos.
The bus tour takes about an hour without stops.
Full Price Ticket: € 20,00 
Reduced Ticket: € 15,00
Infant Ticket (0-5 years): free
Taking a tour of Castel Gandolfo from Rome
You can easily take a local train to Castel Gandolfo from Rome and make your way on your own into the town. (See below.)
From there, you can simply pay the entry fee to the Apostolic Palace and the gardens (either or both, as you prefer.)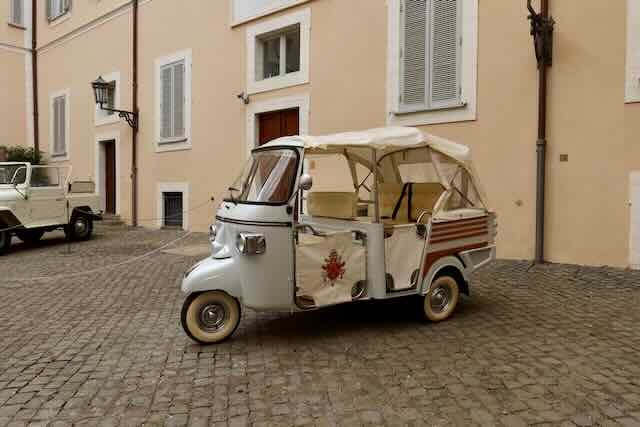 One of the first things you see when you enter the Apostolic palace is the collection of Popemobiles from throughout the years.
Another way to visit Apostolic Palace and gardens of Castel Gandolfo is to take a tour from Rome.
You can either book a day tour or combine it with a visit to another nearby town such as Albano Laziale or Frascati.
One thing I really enjoyed about the Castel Gandolfo day trip tour I took from Rome was the lunch we had at the end.
It was very simple but scenic as we ate right in the garden.
This tour option includes lunch served to you in the impressive surroundings!
What else is there to do in Castel Gandolfo?
In addition to visiting the Apostolic Palace and its gardens, there is plenty more to do in Castel Gandolfo.
The town is lovely to walk around and very picturesque.
There are also lots of places to eat, drink, and shop.
If you're looking for something more active, you can go hiking or biking in the nearby Alban Hills, or kayaking on the lake.
Where can you eat in Castel Gandolfo?
There are lots of Castel Gandolfo restaurants to choose from, but probably the most famous restaurant in the area is the lovely Antico Ristorante Pagnanelli, which boasts stunning views of the lake, and a high-level rating from the Michelin Guide.
Romans and tourists alike come to Castel Gandolfo simply to eat here.
The town has a few charming spots to eat as well.
My favorite places to eat are all down on the lake itself.
They are simple and offer plain, homey food with a nice lake view.
We come here often for hiking so I've tried many of the places around the lake and they are all fine.
---
The perfect 3-day itinerary in Rome
Trying to figure out how to organize your visit to Rome? I've got the perfect 3-day itinerary for first-time visitors (or those who have not been here in a while.) It works for a 2.5 day visit as well.
In my 3-day itinerary, you'll see all the major must-see Rome attractions like the Vatican, Colosseum, Trevi Fountain, Pantheon, Piazza Navona, Spanish Steps, Castel Sant'Angelo, and much more.
And if you have more time, or want suggestions for extra/other things to do, you'll find that there too.
Visit my page with the best 3-day itinerary in Rome for first-timers.
---
How do you get to Castel Gandolfo?
Castel Gandolfo is located about 30 minutes outside of Rome.
The best way to get there is by car or bus.
If you're coming from Rome, you can take the train from Termini station.
The journey takes about 40 minutes.
Regional train from Termini station
Once you arrive in Castel Gandolfo, it's a short walk to the town center.
Road signs for the popes house and Castel Gandolfo
If you're driving from Rome, take the A90 motorway and exit at Castel Gandolfo.
Parking is available near the Papal Palace.
Most people tend to visit as a day trip, but if you want to relax and take your time exploring, why not stay the night in a Castel Gandolfo hotel?
When is the best time to visit Castel Gandolfo?
The best time to visit Castel Gandolfo is in the spring or autumn when the weather is milder.
If you visit in summer, I recommend taking the bus tour through the gardens as opposed to walking in the heat, as it's hard to stay cool during the hottest part of the day.
What are Castel Gandolfo opening hours for the Papal Palace?
The Papal Palace is open Monday - Friday from 8:30AM - 2PM.
From early November - early April, and also between Christmas and New Year, they are open on Saturdays from 8:30AM - 5:30PM.
From mid-April - end of October, they are open on Saturdays from 8:30AM - 6:30PM, and on Sundays from 10AM - 6:30PM.
How much are Castel Gandolfo tickets?
For just the Apostolic Palace, without the gardens, the entry fees are:
Full price ticket: € 11,00 
Reduced ticket: € 5,00
Infant ticket (0-5 years): free
What is the dress code for visiting the Papal Palace?
There is no strict dress code, but visitors are asked to dress respectfully.
This means avoiding shorts, tank tops, and flip-flops.
No matter what season you visit Rome, here are 4 things never to leave at home:
Disclosure: If you make a purchase through a link on this page, I may receive a small commission - at no extra cost to you. Thank you for supporting my site!

What is the history of Castel Gandolfo?
The palace is named after a castle in the 12th century belonging to the noble Gandolfi families.
The first fortified structure on the site was most likely built in the 9th century.
In the 13th century, Pope Boniface VIII took ownership of the property and turned it into a summer residence for the popes.
In 1626, Pope Urban VIII (Barberini) had the existing castle demolished and rebuilt in Baroque style.
The new palace included a loggia, or an open-air porch, where the pope could greet crowds of people.
What is the Vatican Observatory?
The Vatican Observatory is an astronomical research institute located in Castel Gandolfo.
It was founded in 1891 by Pope Leo XIII.
What research is carried out at the Vatican Observatory?
The Observatory carries out research into a wide range of astronomical topics, including cosmology, planetary science, and stellar evolution.
Who works at the Vatican Observatory?
There are around 30 astronomers who work at the Observatory, both priests and lay people.
Can you visit the Vatican Observatory?
Currently, the Vatican Observatory is not open to visitors.
However, the Vatican Museums are developing a visitors' center at Castel Gandolfo and hope to have it open sometime in 2022 or 2023.
Want to save this to Pinterest? Pin it here!
---
Get your free Rome trip planner!
We are committed to respecting your data. Click for our Privacy Policy.
---
Comments? Questions? Suggestions?
Please come over to the private Romewise Facebook group and join in the conversation.

You will often find me there, happy to answer your questions / comments!
You will also meet other Rome lovers and experts, too.
What are you waiting for?