What is Ferragosto and why is it such a big deal in Italy?
What is ferragosto?
Ferragosto is when Italians take to the beaches and the mountains for summer holidays. But what exactly does "ferragosto" mean?
It's fairly well-known that many Italians take their vacations during August, sometimes for the whole month. And this started with ferragosto.
But what is it and how did this tradition start?

What is Ferragosto and where did this tradition come from?
Ferragosto's origins go back to the days of the Roman empire. On this page, we'll cover:
Ferragosto - what it's about and why we celebrate it
Since my birthday is August 15, and I spent many of my childhood years in countries like Mexico, Greece, and Italy where this date is a "big deal", I'd always known that August 15 was an important date (yes, of course I thought it was all about me. And since August 15 also happens to be the Assumption of the Virgin Mary, everyone wondered why I was not named Maria.)
Later, in my college and post-college years backpacking around Europe, I became well-acquainted with the fairly continent-wide sacred "August vacation."
Alessandro enjoying some downtime during our summer break in the Dolomites.
What I was not quite prepared for when I moved to Rome in 2001 was that a G8 country, no, the CAPITAL of a G8 country, SHUT DOWN for the entire month of August. Closed. Chiuso per ferie.
Those first few years, trying to find a place to eat out on my birthday was always a challenge that usually ended in disappointing results as so few restaurants were open in Rome on August 15.
Of course, plenty were open in the mountains and at the seaside, but here I was in Rome, with almost nowhere to go.
If we needed groceries that month, we'd look for the few larger supermarkets that stayed open, and even head to Termini train station in search of bread and milk.
What is ferragosto? It's August 15, but as you can see, during the month of August in Rome, Romans are away on holiday, and the city empties out.
When we first opened our B&B in 2001, we had to help unsuspecting visitors figure out what to do in Rome in August, especially around that August 15 date.
And finding places for them to eat was tough (but we did it because we were also looking for a place to go for my birthday!)
When I first began this website in 2009, I created a page about where to eat in Rome in August.
Let's skip ahead to the present day.
That page about where to eat in Rome in August is not as useful as it once was.
So many restaurants now stay open for most, if not all of the month, it would be hard to NOT find a good place to eat, even on August 15.
What is ferragosto - ancient Roman origins
While today, ferragosto does refer specifically to August 15 (more on this below), the origins of ferragosto go back to Ancient Rome to the time of Rome's first emperor, Octavian Augustus, who ruled from around 27 BCE to his death in 14 CE.
In 18 BCE, Augustus imposed the feriae Augusti (Latin for "Augustus' rest").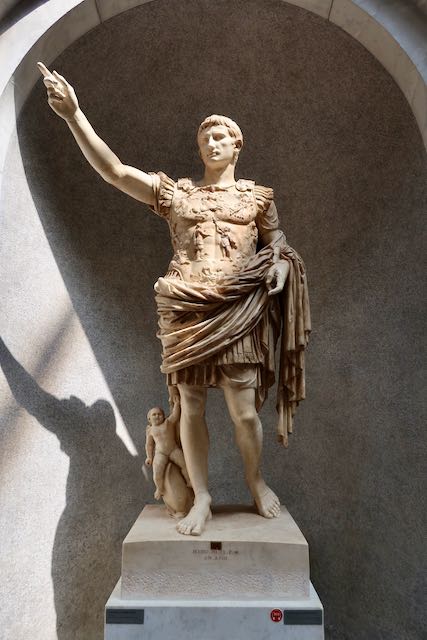 Rome's first emperor, Octavian Augustus, began the tradition of taking a break in August, after the long, hard season of agricultural work.
Augustus proclaimed the 1st of August a day of rest to recover from the long harvest season.
Workers would wish their patrons well, and in return would receive a tip from them.
This became so ingrained that during the Renaissance, it became law under the Papal States.
The feriae Augusti were celebrated across the Roman Empire. There were widespread feasts, games, and horse races.
Beasts of burden were given a day of rest as well, and even adorned with flowers.
---
These traditions managed to last from Ancient Rome through the centuries, as you can see if you attend the Palio of Siena on August 16.

The Palio of Siena derives from the horse races during August holidays in ancient Roman times. Source - Wikimedia Commons - Mirco.
When Augustus implemented the August 1 holiday, there were already several holidays in the month of August, mostly dedicated to the harvest and to fertility.
So eventually, feriae Augusti became feriae Augustales, holidays that lasted the whole month and are now firmly embedded in Italy's summer holiday season.

The Catholic meaning of ferragosto
So how did Augustus' August 1 holiday move to August 15?
What is ferragosto where the Catholic calendar is concerned?
From the early Middle Ages, Christianity took hold across the Roman Empire.
Since around the 5th century, August 15 became one of the most important holidays on the Catholic calendar: the assumption of the Virgin Mary.
For observant Catholics, at least in countries like Italy, Spain, Greece, Mexico, etc, August 15 is right up there with Easter and Christmas.
During the Renaissance, the Catholic Church wanted to make the secular August holiday fall on a religious feast day, so ferragosto was moved to August 15 in order to celebrate the assumption of the Virgin Mary.

Ferragosto and the Fascist regime
During the Italian Fascist era in the early 20th century, the regime organised trips for less well-off families for 3-4 days around the August 15th holiday so they could rest and have a chance to see the sea or the mountains.
There were special "People's Trains of Ferragosto", and tickets were sold at discounted rates so everyone could go away.
Is ferragosto a specific date or the whole month of August?
Over time, factories in Italy all began to shut during the month of August to give all their workers a break.
This meant that truck drivers also stopped working and so it went on up the chain.
Soon everyone was taking the entire month of August and going to the sea or the mountains.

---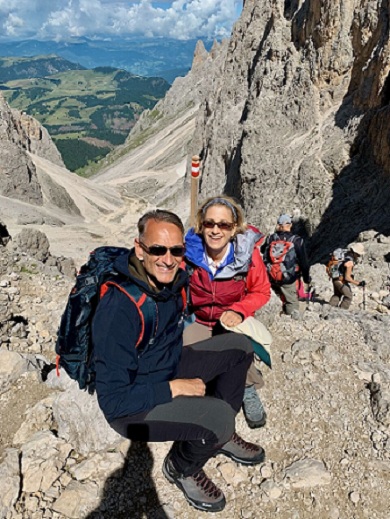 Alessandro and I love going to the Dolomites in August. The air is cool and the mountains are simply amazing!
This is not the case any longer.
I have seen with my own eyes a huge change since I moved here in 2001.
Most of my Italian friends, who do indeed get 4-5 weeks off a year, simply do not take them all at once in August.
They might take a week or ten days, usually around the 15th. Or, they take holidays from the 15th until the end of the month. 

---
But even if ferragosto technically is August 15, many Italians think of the month of August as "the month" to be on vacation.
They may not take the entire month but psychologically, we could say that Italy still takes off the whole month.

When you try to get something done around the end of June, middle of July, people say things like, ok, well, we'll come back to this "after the holidays."
I mean, one can't just have the month of August off and then come back and jump right into things.

One must ease into it.
And that means Italy's summer holiday season actually comes to an end sometime in mid-September.
Is everything closed in Rome on ferragosto?
As I said, when I first moved here in 2001, many cafés, restaurants, shops, and small grocers would close for most of the month of August. 

Shops, cafés, restaurants, grocers, etc.
Today, you will still find some shops and restaurants closed for part of the month, especially in the 3-7 days surrounding the 15th. (I say 3 days because it's common for people to take just the 13-16th off, but I also say 7 days because often they will also just take whatever week surrounds the 15th.)
But even then, on those crucial ferragosto dates, there is now still plenty of places open as normal, including good restaurants, supermarkets, and shops, beyond what's open in Termini train station.
Do cultural sites in rome close in August?
As for the tourist sites, they are (mostly) all open throughout August, including on August 15 (unless the 15th falls on a normal closure day) - with one obvious exception.
Almost all the major cultural sites like the Colosseum are open in Rome throughout August, including on August 15.
The Vatican Museums are always closed August 15, and if that date falls near a weekend, you may find it closed for 2-3 days in a row.
Saint Peter's Basilica, on the other hand, is always open, because it's a church. In fact, on August 15 you can attend mass as this is such an important holiday in the Catholic calendar.

---
The perfect 3-day itinerary in Rome
Trying to figure out how to organize your visit to Rome? I've got the perfect 3-day itinerary for first-time visitors (or those who have not been here in a while.) It works for a 2.5 day visit as well.
In my 3-day itinerary, you'll see all the major must-see Rome attractions like the Vatican, Colosseum, Trevi Fountain, Pantheon, Piazza Navona, Spanish Steps, Castel Sant'Angelo, and much more.
And if you have more time, or want suggestions for extra/other things to do, you'll find that there too.
Visit my page with the best 3-day itinerary in Rome for first-timers.
---
Should you visit Rome during ferragosto?
Absolutely!
If this is the time you planned to be in Rome, you should still come.
There are plenty of sites and restaurants open on August 15, and as long as you have another day or two, you can also visit the Vatican Museums if you want.
It will be hot, so you could head to the beach. Just know that thousands of Romans will have the same idea as you, so either go super early, or expect huge crowds.
Things to do on Ferragosto
When Alessandro was a kid in the 70s and 80s, people in his neighborhood (Castro Pretorio) would ask each other "What are you doing for ferragosto?"
And often, they'd answer, "I guess we are going to Villa Borghese!"
Yes, people had the whole month off but many people did not have money to take the whole family to the sea or to the mountains, so on August 15, they would bring a picnic to the Villa Borghese park.
---
Disclosure: If you make a purchase through a link on this page, I may receive a small commission - at no extra cost to you. Thank you for supporting my site!
---
Italian author Alberto Moravia wrote in his book, Racconti Romani, "T'ha fatto comodo che io sia venuto a cercarti, eh… se no ti tocca passare il Ferragosto a Villa Borghese."
This is Roman dialect for "It's a good thing I came to visit you, otherwise you'd have had to spend your ferragosto at Villa Borghese."
---
Today, you can certainly visit Villa Borghese or another of the beautiful parks and gardens we have in Rome.
You can also do pretty much anything you'd do on any other day, except for visiting the Vatican museums.
For things to do in August, visit my page of current August events.
Want to save this to Pinterest about What is Ferragosto? Pin it here!
---
Get your free Rome trip planner!
We are committed to respecting your data. Click for our Privacy Policy.
---
Comments? Questions? Suggestions?
Please come over to the private Romewise Facebook group and join in the conversation.

You will often find me there, happy to answer your questions / comments!
You will also meet other Rome lovers and experts, too.
What are you waiting for?