Rome at Christmas
Updated for 2020

I absolutely love Rome at Christmas time. The city is all lit up and decorated, there are wonderful things to eat (always a priority with me), and it's a great time to see Rome in an entirely different light - literally.
Saint Peters square at the Vatican is one of the prettiest places to be during Christmas in Rome
---
---
Christmas Market in Piazza Navona! 
It's been several years that the Christmas market situation in Piazza Navona has been a bit iffy.
Ever since a big scandal in 2014 reduced the market to minuscule proportions, there HAS ALWAYS been some semblance of a market in Piazza Navona.
On December 12, 2019, local police SHUT DOWN the Christmas Market in Piazza Navona and for the first time since I can remember, there was not even a carousel there.
As for the current year of 2020, there will be NO Christmas markets in all of Italy, according to the latest decree.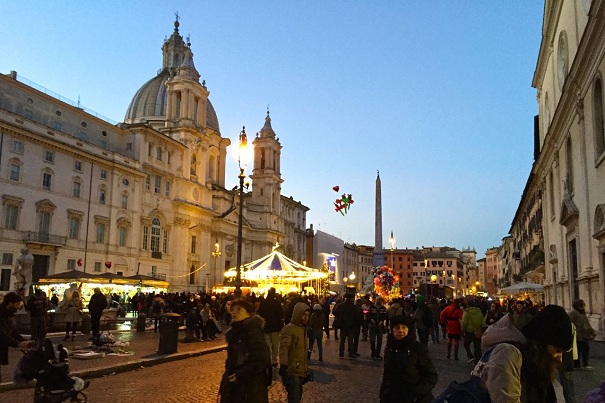 The Christmas Market and Fair in Piazza Navona in 2014, when a controversy and scandal caused the fair to reduce its proportions drastically. This is now more or less what it looks like each year since then.
Here's what you need to know about coming to Rome at Christmas time:
Rome at Christmas - what to do
Trastevere street during Christmas in Rome
Will you be in Rome for Christmas? Are you worried that a lot is closed?

Well don't worry!
The city is quite alive and only a few places close on Christmas Eve and/or Christmas Day, but there is still plenty to do and you will not be without a place to eat.
The Christmas holiday season in Rome starts on December 8, which is the holiday of the Immaculate Conception, or Immacolata.
The season officially ends on January 6, the Epiphany.
This day is called the Befana in Italy. 
---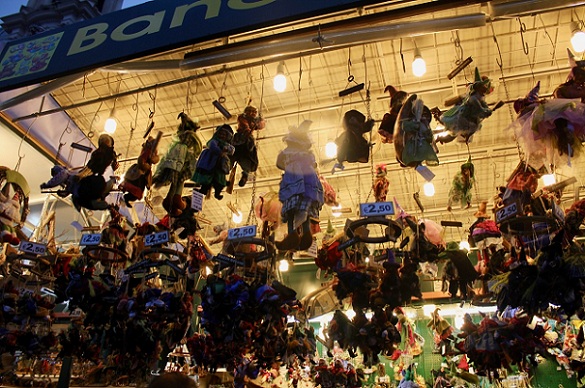 The word Befana is not a direct translation from the word Epiphany.
In Italy, the Befana is a good, although not pretty, witch that flies around and brings gifts to children on the night of the 5th of January, celebrating the Day of the Kings, or Epiphany.
What's closed in Rome at Christmas time
During the Christmas holiday season in Rome, pretty much the whole city is open normally with the exception of Christmas Eve, Christmas Day, the day after Christmas (Santo Stefano), and New Years' Day. The Vatican Museums will also be closed on January 6 (the Epiphany.)
Main Rome sites that close in Rome at Christmas holidays
Most of the major sites and monuments that have entry tickets, including the Colosseum, Forum, and Borghese Gallery, are closed on Christmas Day and New Years Day. They will, however, all be open on the 26th, despite that day also being a holiday.
TIP!!   
The 26th of December is an excellent time to sightsee.
Many sites will be much less crowded than usual.
Vatican closing days and times in Rome at Christmas
The Vatican museums are open normally throughout Christmas time, with the following exceptions:
December 25, Christmas Day
December 26, St. Stephens (Santo Stefano)
January 1, New Years Day
January 6, Epiphany
Saint Peter's Basilica is open daily for visits and normally scheduled masses. The basilica opens at 7am and closes at 6:30pm. You may also climb St. Peter's dome (it's wonderful to see the Christmas tree in Saint Peter's Square from way up high!)
See below for more information about midnight mass at the Vatican.
Rome at Christmas - Shops closing hours
Many shops have extended hours from early November through the 6th of January, i.e. opening on Sundays or staying open through lunch when they don't normally.
Decorations going up for Christmas at one of the many shops on Via Veneto
However, most shops will be closed by 6pm on Christmas Eve, and shops in Rome will be closed on both the December 25th and 26th.
In the UK and other Commonwealth countries, Boxing Day is one of the biggest shopping and sales days of the year. In the US, the 26th of December is a day for after-Christmas sales (and returning or exchanging some of what you got as a gift on the 25th.) 
In Italy, there is no such thing. Here's why:
You just don't return stuff you get as gifts (they are just not that into returning and exchanging things here, and you can almost never get your money back.)
December 26th is Santo Stefano, another religious holiday, which is why banks, offices and shops are closed. But Italians start chomping at the bit by the afternoon of the 25th and from then, and all during the 26th, you will see large swaths of Italians strolling the city center, gazing longingly at the shop windows.
Shopping sales (saldi) are held twice a year, the dates of which are government regulated. Sales are held once in summer and once in winter. In Rome, winter sales begin sometime the first week in January. Click here for more about Shopping Sales in Rome.
TIP!
Do you really need to shop on December 25th?
Termini train station has many shops, restaurants, a few pharmacies and a grocery store.
They are (almost) all open on Christmas Day!
Restaurants closing in Rome over the Christmas holidays
Most Rome restaurants are open normally throughout the holiday season but may close for Christmas Eve, sometimes Christmas day (although many are open for Christmas day lunch, which is popular among Italians today), and particularly Christmas day evening.
Most Rome restaurants stay open for New Years' Eve, offering a special New Years Eve menu (cenone, or big dinner), at a set price. Alternatively, some restaurants will offer an "a la carte" menu for Christmas and/or New Years, except that the menu will not be their usual one, and the prices will be higher. Some Rome restaurants close for New Years day, either for lunch or the entire day.
So then, what CAN you do on Christmas day in Rome?
So now that I've told you about all the things that are closed, you may be wondering what to do on Christmas Day in Rome.
Here's a list of things I have done in my years here, things I've sent our guests to do, and things I know Romans do on Christmas day: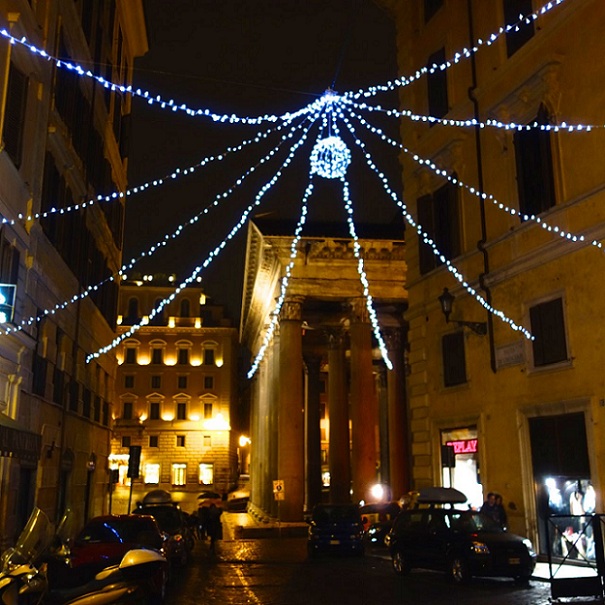 Walk around the city center, soaking up the lights and atmosphere, from via Veneto to via del Corso.
---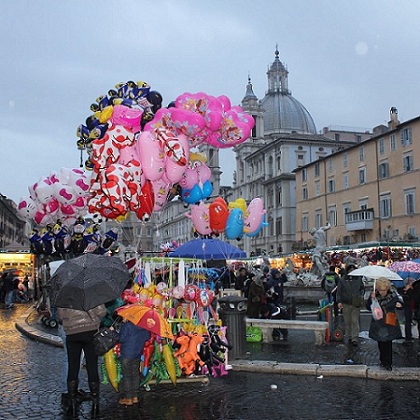 In 2020, there will be NO Christmas markets in all of Italy, according to the latest decree.
However, a light show has been set up in Piazza Navona which is being projected onto the three fountains in the square, it's a fun, festive thing to do!
---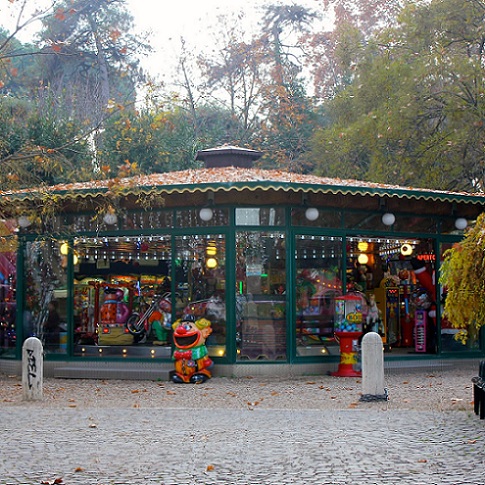 Take the bus to the Gianicolo hill and get a bird's eye view of Rome from there.
There is another carousel here for kids, too.
---
Visit any number of churches and see the presepi, or Nativity Scenes.
In 2020 there are also nativity scenes on display in the Piazza del Campidoglio, Piazza di Spagna and Piazza del Popolo.
---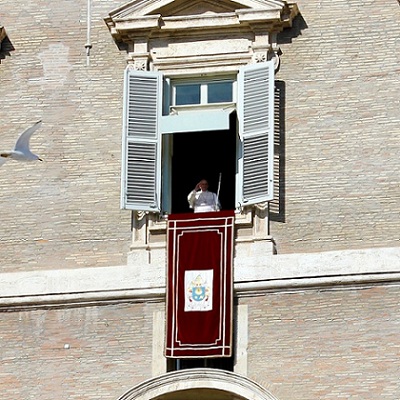 In 2020 the Pope's Christmas Day Urbi et Orbi speech will be given inside St. Peter's Basilica instead of overlooking St. Peter's Square, to control the number of visitors in line with Covid-19 regulations.
The Pope normally appears at the loggia of St. Peter's Basilica and blesses the crowd. (He only does this one other time each year, at Easter.) You don't need tickets but this event normally draws large crowds, this year the Vatican are managing it differently to ensure this does not happen.
---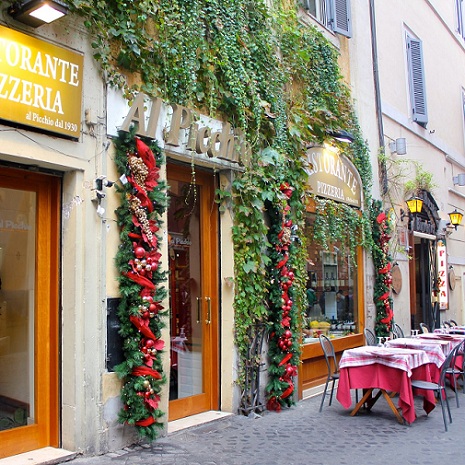 Have a big Roman Christmas lunch out at a restaurant.
Make it last at least 3 hours (this is quite the Roman thing to do. But you have to book in advance!)
---
---
Rome in Winter
A Romewise Photo Book
Travel to the Eternal City in winter from the comfort of your home with our beautifully designed photo book.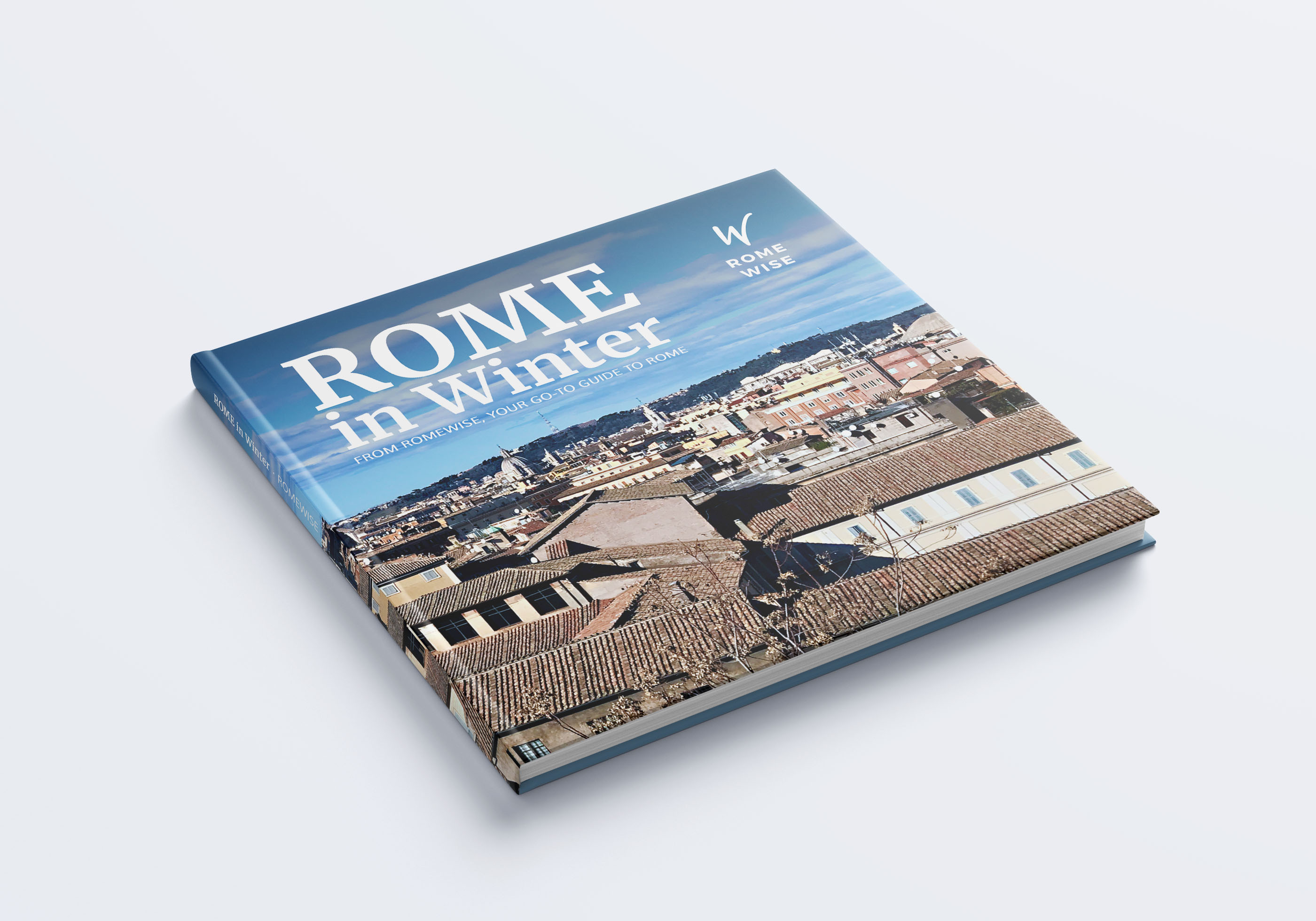 This book comes as a hardback, with a glossy cover finish, ensuring it will look stunning on your coffee table, desk or bookshelf.

Produced in, and dispatched from the United States, this book is available now for worldwide shipping*.


$19.99
*This product is produced in, and dispatched from the United States. Please consider that delivery timeframes may fluctuate based on where you are in the world, particularly while COVID-related disruptions persist. Deliveries outside of the United States may be subject to custom or import fees, which Romewise bears no responsibility for - if you are unsure, please check with your national authorities before ordering.

---
Concerts to attend in Rome at Christmas
Besides the above concert on Christmas Day, there are a few other concerts in Rome around this time that will get you into the holiday spirit!
Listen to a Christmas concert with a variety of holiday songs, from opera arias to classics like White Christmas and Jingle Bells, in a lovely church in the center of Rome.
Enjoy a light aperitivo of snacks and sparkling wine after the show, together with the artists.
December 22 and 26, 2019. From $35.
---
Rome at Christmas - Exhibits Open Christmas Day
Italian state museums and sites, like the Colosseum, Galleria Borghese and Castel Sant'Angelo; and Rome museums, such as the Capitoline Museums are all normally closed Christmas Day (but open the 26th.) They also have shorter hours on the 24th. 
In 2020, no museums or cultural sites will be open, all sites have been closed since early November in line with a Government decree, and will remain closed until at least mid-January.
If you are interested in seeing an art exhibit, the following are open on Christmas Day 2020:
 The exhibition "The Torlonia Marbles-Collecting Masterpieces" opened to the public on 14 October 2020.
Ninety-six marbles from the Torlonia collection will be on view to the public at a major show in Rome.
Capitoline Museums, New venue at Palazzo Caffarelli.
Open daily, from 9.30 to 19.30, now through 29 June 2021. 
Tickets from €15,00.
---
Banksy - A Visual protest - Over 100 works, in a rigorous exhibition itinerary, tell the world of Banksy. Inside the sixteenth-century architecture of the Chiostro del Bramante, in Rome, there is space for the "unknown" artist who has conquered the world thanks to works steeped in irony, denunciation, politics, intelligence, protest.
At the beautiful Chiostro del Bramante, now through April 11 2021.
The Chiostro del Bramante is behind Piazza Navona, on Via Arco della Pace, 5. T. +39 06 915 19 41
Click the picture to visit the museum's official site.
Open Mon - Fri 10am - 8pm; Sat - Sun 10am - 9pm.
13€ includes audioguide. No advance booking required.
---
Enjoy beautiful exhibitions on Palazzo delle Esposizioni, on via Nazionale. Now through January 17, 2021. 
Click the picture to visit the museum's official site.

Tue, Wed, Thu, Sun: 10am - 8pm; Fri-Sat: 10am - 10:30 pm; Closed Mondays. 8€ 
---
Raphael beyond the exhibition
The exhibit has left but you can visit it virtually.
Click the picture to visit the museum's official site.
---
For a complete list of museums and exhibits open/closed during Rome at Christmas, visit the official Rome Tourist Information page. (This page is almost never translated into English so hopefully you can either figure it out from the Italian version, or use Google translate.)
Where to see the lights in Rome at Christmas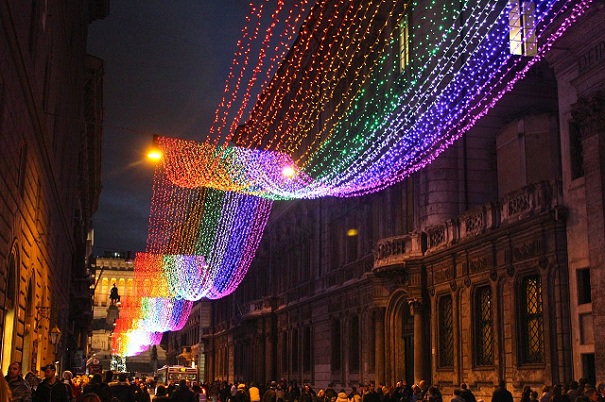 Christmas lights on Rome's via del Corso in 2013/2014. These were my favorite so far!
Until only a few years ago, lighting up streets, homes and buildings was a small part of the Christmas tradition in Italy.
And Christmas trees, which are originally a Northern European tradition, only started being a thing in Rome and in Italy the past few decades.
Christmas tree in front of the Complesso Vittoriano in Piazza Vittorio - the decorations and type of tree change very year, and this one was particularly beautiful!
Now, Rome at Christmas is awash in lights and decorations. Certainly just walking around the city center is a fun thing to do during the holidays in Rome.
The best streets/areas include the area around the Spanish Steps, via del Corso, via dei Coronari, Trastevere, and Piazza Navona, even without a Christmas Market there.

Is Rome crowded at Christmas?
The answer is yes. And no.
Mostly Rome is not very crowded just up to Christmas and on Christmas.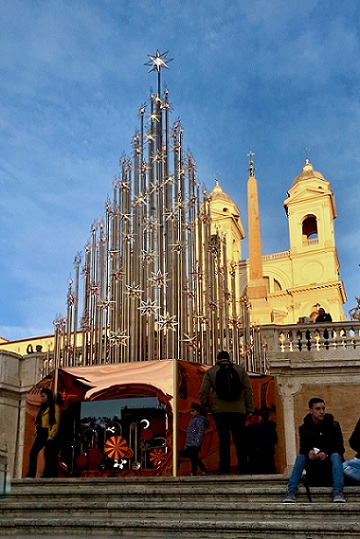 The Spanish Steps at Christmastime. It can be very crowded just before Christmas and through New Years, but there are quiet moments too
It starts getting pretty busy right after Christmas and leading up to New Years and then through January 6 (Epiphany or befana.)
So for the dates leading up to Christmas you should be able to find inexpensive accommodations in Rome, but from the 26th, expect rates to go up.
When do they light the tree in Vatican Square in Rome at Christmas?
The Christmas tree in Vatican Square is without a doubt one of the most popular of the Christmas trees in Rome.
A relatively new phenomenon, started in 1982 during the pontificate of Pope John Paul II, the tree is lit up in the afternoon sometime around December 8. There is also an enormous life-sized nativity scene in the square, in addition to the one inside St. Peter's Basilica.
The Christmas tree and Nativity Scene in Vatican Square is one of the biggest attractions around the Christmas holidays, usually lit sometime around December 8, and staying up through January 6
The nativity scene and Christmas tree in St. Peter's Square will be lit on December 11, 2020 at 4:30pm. They will stay lit through January 10, 2021.

---
---
Christmas markets in Rome
Rome at Christmas - Market in Piazza Navona
The main Rome Christmas market we ONCE had was at Piazza Navona.
It was arguably Rome's biggest and most popular Christmas market and fair. Every year, from sometime in early December until January 6 (Befana), there was a traditional, family-oriented Christmas fair that took up almost all of Piazza Navona, as you can see from the photo below.
Piazza Navona in Rome at Christmas. This is the fair we used to have before the 2014 scandal!
In 2014, the fair nearly disappeared. The reasons are political (see below.)
It's now slowly coming back, but with fewer stands than before. The point is that while you will find Piazza Navona festive, with a carousel, nativity scene, some lights, a handful of stands and maybe a tree, it is NOT the huge Christmas Market hub in Rome we once had.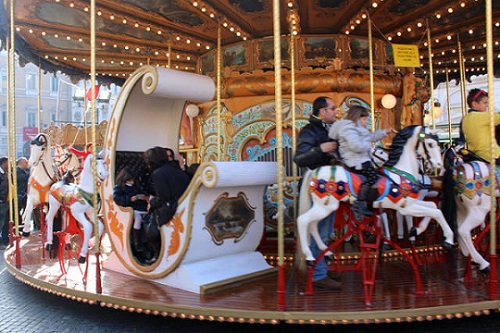 Enjoying a carousel ride during the annual Christmas fair in Rome's Piazza Navona
The carousel and Nativity Scene (should) still go up every year, even if the market is much smaller. The idea is that Piazza Navona should be about families and children, and less about "commercial" things. 
For 2020, there is no market at all due to government restrictions on all Christmas markets nationwide, there is also no carousel or nativity scene this year. However, there is a fun light show projected onto the Fountain of the Four Rivers in the center of the piazza which plays in the evenings from 5pm-9pm.
Nativity Scene, or Presepe, in Piazza Navona in Rome at Christmas
LOCAL SCANDAL TIDBIT
In 2014, a bit of controversy arose, regarding the vendors at Piazza Navona. In a nutshell, the mayor at the time (Marino) tried to "clean up" Piazza Navona, and bring it back to its more traditional roots, of just local artisans and food vendors. The number of concessions went from 115 to 72. Then, those vendors who signed up for their concessions did not go pick them up, to show solidarity with their kicked-out brethren. That year, there was mini-protest in Piazza Navona, with only a handful of vendors (something like 4-5.) 
In 2016, there were about 6-7 stands, all with carnival-type games where you can win a stuffed animal. That's it. No food, no toys, no crafts, nothing to buy.

In 2017, there was supposed to be a Christmas Market, with SOME stands, but it didn't even go up until December 14.
In 2018, there were as usual the carousel, a nativity scene and a stage for some small shows.
In 2020 there will be NO Christmas markets in all of Italy, according to the latest decree.
I suggest going there anyway as it's a beautiful ambiance no matter what!

So where are the Christmas Markets in Rome in 2020?

The first thing you may want to be aware of, is that Christmas markets are not part of Italian Christmas tradition. They tend to be more common, and much bigger, in northern European countries.
We did have a pretty bustling market, Roman-style, in Piazza Navona. Now that it's sort of diminished, there are a few more places in Rome where you can check out Christmas Markets - just don't expect them to be like the one in Piazza Navona, or what you find in northern Europe!
In 2020 sadly no Christmas markets are allowed to open.
There is a vintage/antique market in Piazza Mazzini in Prati on the first and third Sunday of every month. Throughout December the market turns into a fairly large Christmas Fair (it seems to be open daily during this time.) You will find gifts, crafts, food, Christmas decorations and more. 9am - 9pm.

Throughout December, head to the funky

Mercato Monti

, in the Monti neighborhood near the Colosseum. This is a year-round market, normally open mostly on weekends. But during Christmas, they are open on the above dates, daily, and with more of a Christmas feel. Now with 2 floors for twice the fun! 10am - 8pm, via Leonina 46.



Throughout December , you can enjoy a small Christmas market with about 30 stands near the Rome Auditorium. Open daily 10am - 10pm, except Christmas Eve when it will close at 2pm. Food trucks, designers, artisans, Christmas food and decorations. You can easily reach this market from Rome center, with the Metro red line A, and then transferring to tram 2.
I listed above the Rome Christmas Markets that you can most easily reach from Rome's city center. There are quite a few other Christmas Markets that are just outside Rome, or in sort of far-off neighborhoods of Rome, like in EUR and in Cinecittà. If you'd like to see a complete listing even with the farther-away markets, visit this page (only in Italian.)
Rome at Christmas - Year-Round Christmas store
If you are looking for some seriously cute Christmas ornaments and decorations, check out the "Sempre Natale" store in Rome.
That means "always Christmas", and it does feel like it inside. The shop is small but well stocked with a great assortment of ornaments.
Via della Scrofa 93, not far from Piazza Navona and the Pantheon. Open Thurs - Tues 11am - 9pm. Closed Wednesday.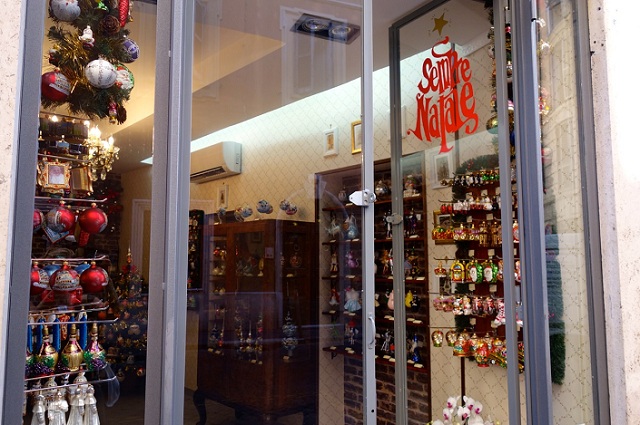 "Sempre Natale" Christmas shop, where it's always Christmas in Rome!
Nativity scenes in Rome at Christmas
Probably one of the oldest Christmas traditions in Italy is the Presepe, or Crèche, or, Nativity Scene.
Whatever you call it, you will find them everywhere in Rome at Christmas, and they are amazing.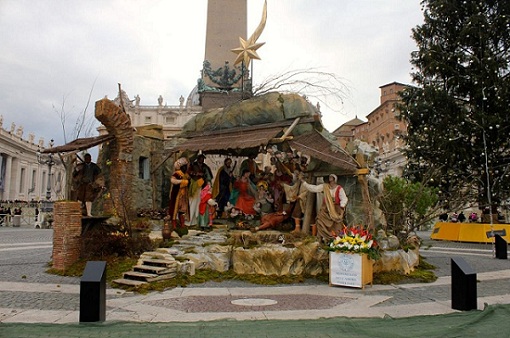 The Nativity Scene in Saint Peter's Square at the Vatican
The most popular Nativity Scenes in Rome at Christmas are in the center of Piazza Navona, the one in Vatican Square, the one in Piazza del Popolo and the one in the church of Santa Maria d'Aracoeli, on the Capitoline Hill.
But almost every church in Rome (and frankly just about everywhere in Italy) has a presepe during Christmas.
Naples is famous for their Nativity Scenes.
There is a street I love to visit there, Via San Gregorio Armeno, where the artisans make the figures and figurines for nativity scenes around Italy and the world.
Via di San Gregorio in Armeno in Naples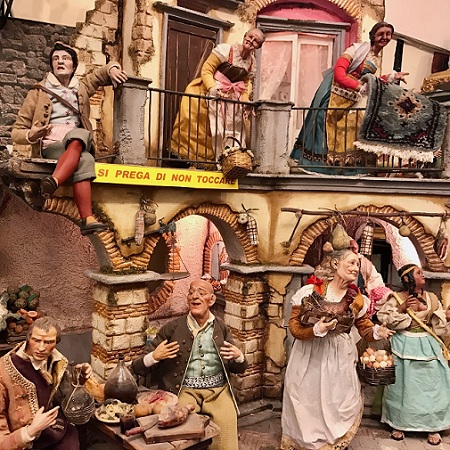 Figurines for Nativity Scenes (presepi) in Naples
These figurines are just incredible, down to the tiniest detail . . . like little wood burning stoves that actually light up; bakers shoving pizza into ovens; and animals that seem alive even though they are only the size of my hand.
One more year-round Christmas Store in Rome - Presepi
Speaking of these little figurines for Christmas Nativity Scenes (presepi), you may also want to check out the shop on via dei Coronari, that sells these year-round. So even if you are not in Rome at Christmas, you can get into the "Christmas Market" mood.
The figurines are (mostly) not made in Naples, but are made by Italian artisans from different parts of Italy, in particular Tuscany. Items range from Christmas-y to not, and very small to quite large. It's a fun shop and frankly anytime I take visitors there, they seem to buy something! Presepi Pampa. Via dei Coronari 152, open daily 10am - 8pm.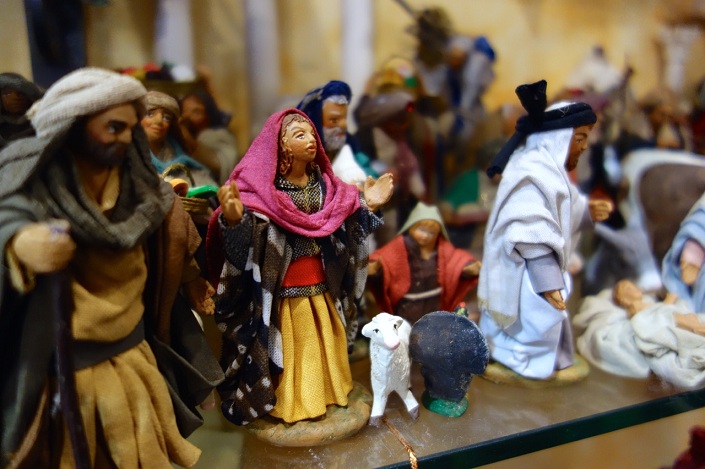 The details are wonderful on these nativity scene figurines on via dei Coronari in Rome
Rome at Christmas - what the weather's like
As you might expect, the weather in Rome in December is chilly and can be rainy. The days are short which means it gets dark early, and if it's rainy or humid, the air can feel especially cold after the sun goes down.
But the good thing is that with a darker afternoon, you can enjoy all the lights even more! And with so many people out and about, there is a pretty warm feeling in the air and it's easy to forget you are cold.
A chilly rainy day doesn't stop people from enjoying the Christmas atmosphere in Rome!
What to pack if you are coming to Rome at Christmas
If you are coming to Rome over the Christmas holidays, don't forget to add to your suitcase:
A rain coat or jacket
Goretex or waterproof shoes
Hat, gloves and a scarf
A good camera that can take pictures in the dark - you will want lots of pictures of the lights and decorations!
Some extra vitamin C and Zinc to keep the cold and flu away
Want more information about what to pack for Rome? Click here.
Rome at Christmas - where to eat
Want to know what Romans eat in Rome at Christmas? And, where to eat? I have a separate page about this. Go here.
Midnight Christmas Mass at the Vatican
On Christmas Eve, you may attend midnight mass at the Vatican...but you should know:
It actually starts at 10pm, not midnight. (In fact, the procession begins at 9:30pm, so you may want to be there even earlier.)
It's extremely difficult to get tickets to midnight mass inside the basilica. You might try with any clergy you know, and request tickets many months in advance. 
If you would like to request tickets to attend a Papal Mass, here's how.
But if you can't get tickets to attend midnight mass inside St. Peter's Basilica, take heart. You and many thousands like you, can spend Christmas Eve mass in Saint Peter's square, and catch the service on the giant jumbo-tron screens. It's actually a very festive and warm atmosphere, even if it's not physically warm outside!
For more details about dates/times of events, and even to watch them live on the Vatican telecast, go here. Note the times given are for GMT, and Rome is one hour later than that.
For 2020, the Christmas Eve mass will start at 7.30pm to ensure that it ends before the 10pm curfew currently in place, and public participation will be severely limited to ensure compliance with Covid-19 regulations.
Rome at Christmas - Midnight Mass at the Pantheon
For something really special, attend a midnight Christmas mass at the Pantheon (which is a church now.)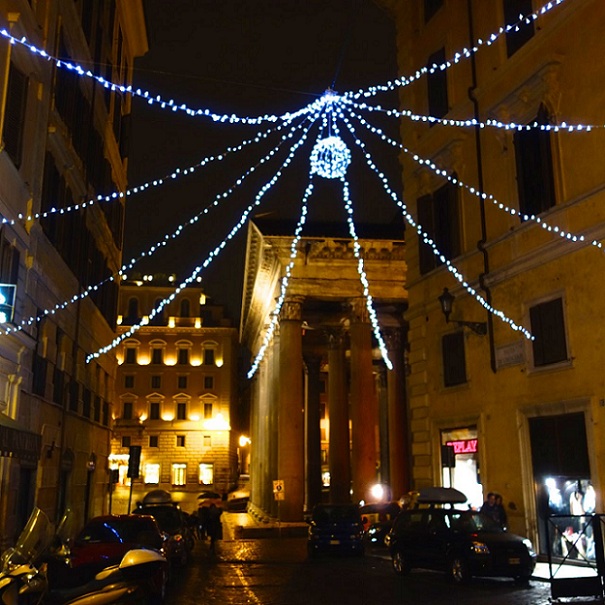 Midnight Mass at the Pantheon is a special way to celebrate in Rome at Christmas Eve.
No tickets are required but if you want to be inside, you should get there early.
Mass at the Pantheon begins at midnight on Christmas Eve, but will not take place in 2020 as the Pantheon remains closed to all visitors for the moment.
Many churches around Rome hold midnight mass on Christmas Eve. And they do it closer to midnight than at St. Peter's (which is at 10pm.) 
Another special place to attend midnight mass on Christmas Eve in Rome is at Santa Maria in Ara Coeli, above Campidoglio.
---
Want to share this page about Rome at Christmas on Pinterest? Pin it here!
---
Get your  free Rome trip planner!
We are committed to respecting your data. Click for our Privacy Policy .
---
Looking for Facebook comments?
I removed them to make this page load faster and thereby improve your page experience.
I am happy to answer your questions / comments!
Please come over to the Romewise Facebook page , or, if you want to send me a message, visit my Contact Me page .