10 Great Reasons to Visit Rome in Winter

Rome in winter is one of our best-kept secrets. Most of the season, you will enjoy the city like most visitors never get to: (almost) all to yourself.
But there's more! Here are my 10 top reasons to visit Rome during winter (plus ideas for things to do):
Arch of Constantine in winter sunshine - chilly but sunny, and look how uncrowded!
---
---
Why I love Rome in Winter
I am a summer person. A Leo.

And yet, I LOVE winter in Rome.
Why?
Find out below my favorite reasons to love Rome in winter, along with my top suggestions for things to do.
1. No Crowds! No Lines! No Waiting!
Much of winter is low season in Rome. This is the way to see the sights!
St Peters Basilica in January - stormy skies and just not that many people! Look how beautiful!
Everyone loves coming to Rome when it's warm and sunny and glowing, and you can sit in a piazza sipping prosecco and people-watch.
While that's all lovely, Rome in winter is a real treat for those of us who live here, and for anyone visiting then. You can decide to visit things at the last minute and not worry about not getting in.
You can actually enjoy the Sistine Chapel without the crush of people.
You can even go sit down on one of the benches lining the walls. Yes, there are benches inside the Sistine Chapel, something you would not even notice in high season when you are in a swarm of other tourists.
Most of the year, you need to book the Galleria Borghese at least a week in advance (if not farther in advance during really peak season like April-June and September/October.)
In winter, you can either book the same day or try going without a reservation (although I never recommend this because you just never know. I'd say to go ahead and pay the 2€ reservation fee and be sure even when it's low season.)
2. Cheap flights and hotels
This one's pretty obvious but since most of winter is low season,  fewer people are travelling, and so by the law of supply and demand, airfares and hotel prices drop dramatically. 
Check for Cheap Flights to Rome in winter:
---
Check for cheap hotels in Rome in winter:
---
3. This is some of the best weather for sight-seeing
Yes winter can be dreary. Sometimes rainy and grey.
Trajan's Forum on a rainy winter day. Pretty dreary right?
But Rome is blessed in general with a mild climate, so even in the dead of winter, we often have lots of sunny days. 
While there is plenty to see in Rome indoors, even in icky weather, winter is really one of the best times to sight-see outdoors in Rome.
You will not be suffering from heat exhaustion, dehydrated and melting, the way summer visitors do.
A sunny January day in Rome at the Forum - so nice to walk around in the winter sun!
You will always be dressed appropriately for visiting the Vatican and any other Christian sites like the catacombs.
And, if you visit some of Rome's best underground sites, you will be plenty warm.
4. Holiday magic fills the air
If you are here in the first part of winter in Rome, you will get to experience all the holiday fun - pretty Christmas lights going up . . .

One of my favorite things about winter in Rome is how festive it looks around the holidays.
 . . . the big mystery of whether there will be a tree on the Spanish Steps or in front of the Colosseum, and what kind of tree we will get in Piazza Venezia (one year it was nearly dead, and the Romans nicknamed it "Spelacchio", or baldy).
Maybe it's not fair of me to post the picture of the saddest tree we ever had at Piazza Venezia, but I did come to love "spelacchio", or baldy. Regardless, it's always a treat to see what kind of trees we will get around Rome each year for the holidays!
You might get to see the tree and nativity scene in Vatican Square, and maybe the menorah at Piazza Barberini.
The Christmas tree and nativity scene in Vatican Square are different every year, and always a big draw.They usually go up sometime around the 8th of December.
New Years Eve is a popular time to be in Rome, so if you are coming for that, you will definitely get to enjoy some holiday fun.
The Christmas holidays are over on January 6, but you will still see some lights up through around mid-January.
So if you are coming to Rome in winter from mid-January on, you might miss some of the holiday lights and decorations.
But Carnival is just around the corner, not to mention Valentine's Day. So even if you are here in late winter, you may still get to have some sort of holiday fun after all.
5. Artichokes!
Artichokes, particularly prepared a la Romana, are seasonal and readily available from winter through early spring.
Carciofo alla Romana at Il Falchetto - definitely a huge bonus of visiting Rome in winter!
That would be enough for me personally, but there are other great winter seasonal foods too, like Sicilian blood oranges (best fresh-squeezed juice at the bar), puntarelle and broccoletti.
And somehow I feel much more justified eating a big bowl of carbonara in winter than in summer. Like it's going to warm me up or something (or maybe I'll just take any excuse to eat pasta).
Spaghetti carbonara at Stazione di Posta - I'll take any excuse to eat pasta, like cold weather!
Oh yeah, and red wine.
6. Winter is the best time to get cozy
Warm up in some of Rome's best restaurants, café's, and wine bars.
Some of Rome's best trattorias do not have any outdoor seating at all.
In fact, it's a joy to eat inside, stuffing oneself with all the Roman delicacies while surrounded by a jovial warm atmosphere. Armando al Pantheon, Trattoria Monti, Da Danilo and Arcangelo are just a few such places.
There is a very convivial atmosphere inside trattoria Da Danilo
For a really special treat Rome in winter, head to Babington's Tea Rooms next to the Spanish Steps. Spending the afternoon enjoying a Victorian Tea in this warm and welcoming setting will make you forget all about the cold outside.
Enjoying a Victorian Tea at Babington's is one of the special things you can do to treat yourself in Rome in winter!
Then there are the uber-cozy Rome cafe's like Caffe Greco and Caffe Doria, not to mention one of my secret spots inside the Chiostro Del Bramante.
Always a treat to have something hot in the warm and welcoming Café Doria in Rome
And how about dimly-lit wine bars like i Colori del Vino, il Goccetto and Da Achille?
Warm and inviting wine-tasting rooms at Da Achille al Parlamento, near the Pantheon
Another place I really love in Rome in winter is the lounge inside the Hotel Locarno. 
And while the outdoor patio of the Stravinsky Bar at the Hotel de Russie is a real treat in warm weather, the indoor lounge is sumptuous as well. And in case you just have to be outside like one of my friends who smokes, they have heat lamps.
Even in winter, you can enjoy the elegant courtyard of the Hotel de Russie, heat lamps and all!
If you are in Rome in December through early January, you can do some shopping at some of Rome's Christmas markets. Buy Christmas gifts and treats.
And update your wardrobe with some stylish Italian winter fashions. 
What better place to shop for winter fashions than in a Rome boutique?
You can also stock up on red undies - a New Years' tradition in Italy!
If you are in Rome in early January, you can take advantage of the winter sales that start the first week in January and go through mid February.
And starting in late January, you can get a head start on all the hot new spring looks!
Winter is the time to get ahead of the curve on all the hot new looks for spring!
8. Time to treat your body right with a Roman spa
Winter is an excellent time to enjoy some of Rome's best indoor spas (and a couple of outdoor spas too!)
Why not treat yourself to a luxuriating soak and steam? There are some wonderful spas around Rome to choose from. My favorites are:
Hotel de Russie
While you can splurge and indulge in some sumptuous treatments like a facial or massage, you can also simply book yourself a morning or afternoon at the spa (45€), and bask in the hot indoor pool, super steamy Turkish bath, and cedar sauna.
Pamper yourself with a relaxing morning or afternoon enjoying the pool, steam room, and sauna at the Hotel de Russie.
Details - Via del Babuino 9. Tel: +39 06 32 88 88 20. Piazza del Popolo, Metro A stop Flaminio.
Rome Cavalieri Waldorf Astoria
Enjoy the most relaxing day at the one and only Rome Cavalieri Waldorf Astoria. This unique 5-star luxury hotel on a hilltop overlooking Rome is the perfect place to warm up on a chilly winter's day.
Kick back at the heated indoor pool at the luxurious Cavalieri Waldorf Astoria in Rome.
If you are not staying at this sumptuous hotel, you can still come pamper yourself with a facial, massage, or other treatment. Once you book, you can enjoy access to the Cavalieri's exclusive spa facilities.
What better way to warm up on a chilly day in Rome in winter than by plunging into this steamy spa at the Cavalieri Waldorf Astoria.
Rates for treatments start at 125€.
Details: Via Alberto Cadlolo, 101; Tel: +39 06 3509 2950
9. Take the most jaw-dropping sunset photos
Are you thinking, spring - fall offers the best light for photographs? You know, Daylight Saving Time and all that?
I have news for you. The light in Rome in winter is magical! We get this burst of warm light in the afternoon, and then long, low shadows across the monuments and Rome sites, which can be gorgeous all on its own.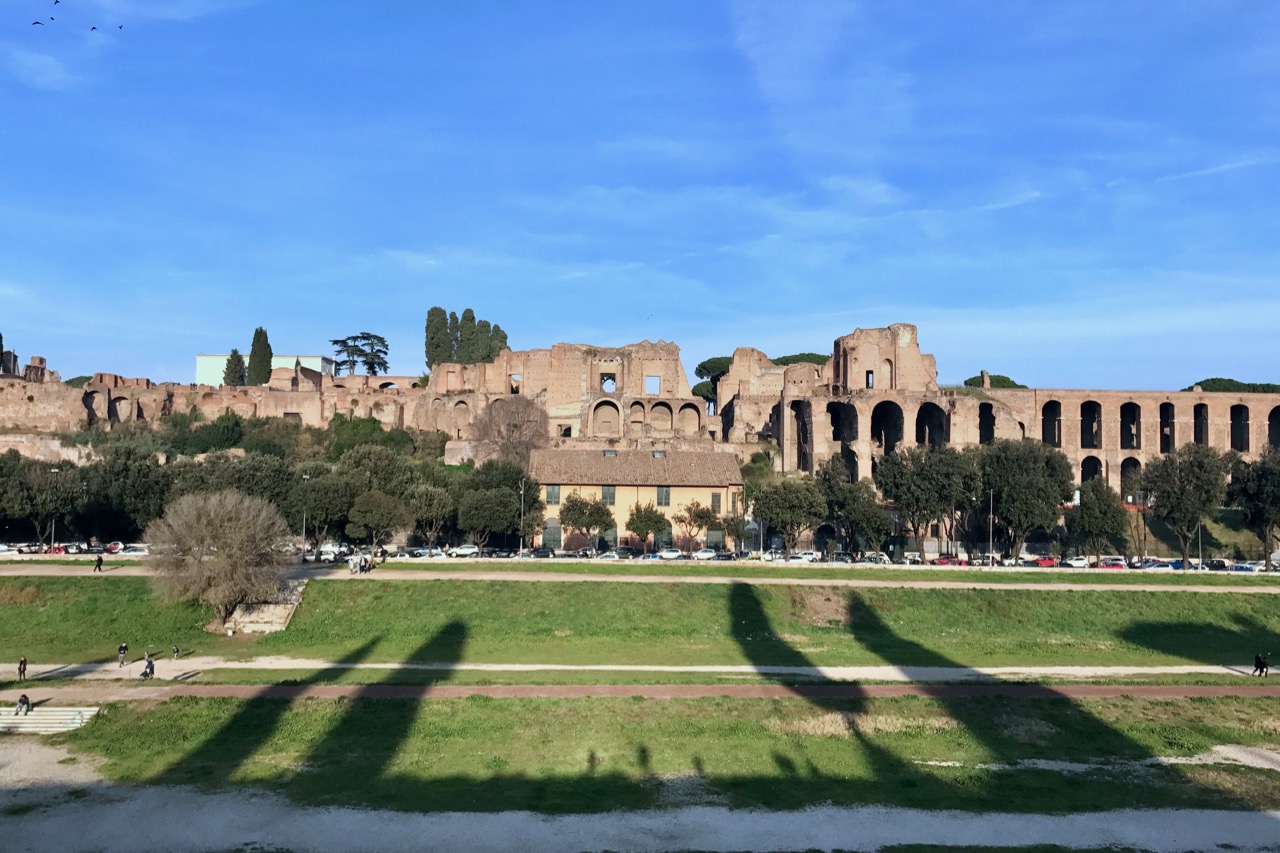 The beautiful long shadows cast in Rome in winter can make for some dramatic photographs.
And here's the bonus: There are some sites that close at 6 or 7pm. So from spring to fall, that means they close before sundown.

But in winter, it means the sun will set while you are at that site. What do I mean? Well, how about this view from the top of St. Peter's Dome:
Only in winter can you get a sunset or night view of Saint Peter's Square from the the dome of the basilica.
Even just being at the Vatican itself, and coming out of Saint Peter's Basilica at sunset or even nighttime, can be pretty stunning.
In winter, you get this gorgeous sunset light on the monuments, and it can be stunning to visit a site and find yourself enveloped in this beautiful light.
In winter, you can see the night sky through the oculus of the Pantheon, and enjoy the twinkly lights in the piazza outside, when looking out from the inside. It's a whole new way to enjoy the Pantheon.
In winter, you can see the night sky through the oculus of the pantheon.
The pantheon is so beautiful in Rome in winter, and it's stunning to see it with nighttime outside.
10. No bugs
Seriously one of the things I love about Winter in Rome - No mosquitoes! Enough said.
Bottom line - winter is a great time to visit Rome! So get on the plane! What are you waiting for??
---
Want to save this to Pinterest? Pin it here!