Top 10 Photography Tips for Rome
Looking for some photography tips for Rome? Ways to make your Rome photos stand out?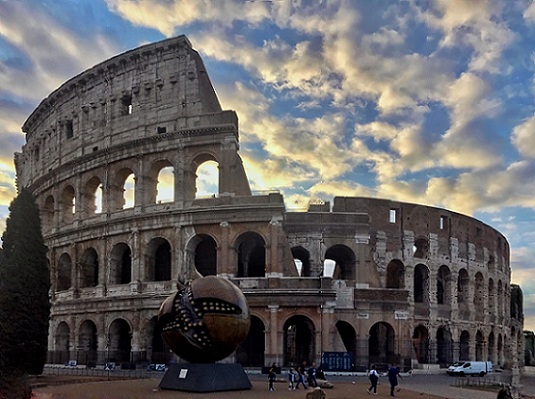 I've taken hundreds of shots of the Colosseum and I've learned some things about photography along the way.
If you follow me on Instagram, you know I love taking pictures of all things Rome - from large monuments, to plates of cheese, to tiny details in churches to people. 

Top Ten Photography Tips for Rome - What I've learned
On this site, I publish a lot of my own photos too (almost all the photos on Romewise are taken by me, unless noted.)
Some of my pages have older, badly taken photos, just waiting for me to update them to better ones, which I will do!

I am not a pro, by any means. 
But over the years, and after taking thousands of pictures of Rome in all kinds of weather, day and night, month after month, well, I've learned a lot about taking pictures in Rome. 
Some of these photography tips for Rome can be applied to photography in general. And some are specific to Rome.
I also know many of you are also looking to post great Instagram pictures of Rome so I'm including some of my best tips for Instagram Rome pictures here too!
---
My top 10 photography tips for Rome:
1. PHOTOGRAPHY TIPS FOR ROME - The Golden Hour
My most interesting photos of Rome are the ones I've taken early morning, or late afternoon or sunset.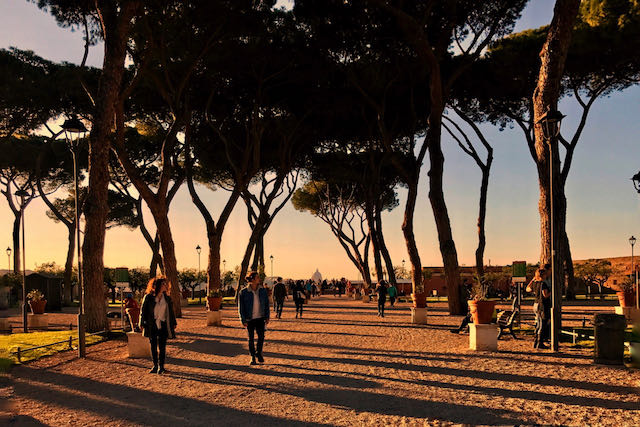 The view of St. Peter's dome from Rome's orange tree garden is always special, but as the sun goes down and starts casting gold around, it's even more breathtaking
The light in the middle of the day is right overhead, and often does not make for much of a dramatic photo.

---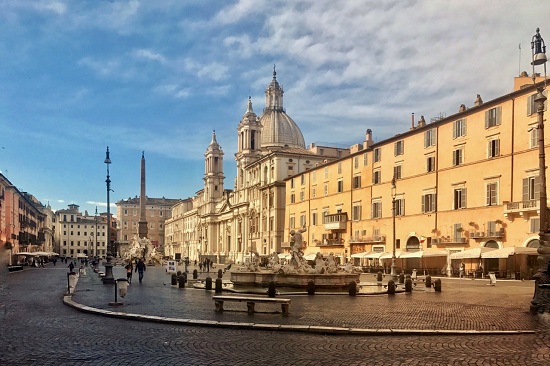 In the early morning, the sun hits the ochre buildings on piazza Navona, making for a lovely color splash.
---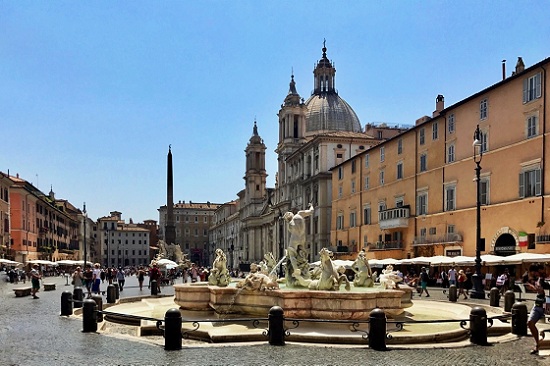 Piazza Navona is stunning at any time of day. But at mid-day, when the sun is overhead, there is no sun-glow, and there are no interesting shadows.
---
By dusk, the sun starts kissing Borromini's dome, and from this angle, you can see how the fountain's statues take on a new warmth.
Rome has a special glow, especially in warmer months, but it's most stunning in the morning hours, and late afternoon/evening.

2. PHOTOGRAPHY TIPS FOR ROME - Hope for some rain
The skies in Rome can be spectacular just before the rain.
Piazza Barberini gleams in the overhead sunshine while dark storm clouds threaten a downpour just beyond...
And after the rain. I've taken some of my most beautiful photos of Rome during and after a shower.
On the via dei Fori Imperiali, where the skies are wide open, you can really get the contrast between stormy rain clouds and blue sunny skies...not to mention the shimmery streets just after the rain
If it's not raining too hard, you can even be out in the rain taking pictures if your camera is protected.
But after the rain, you will find beauty all around you!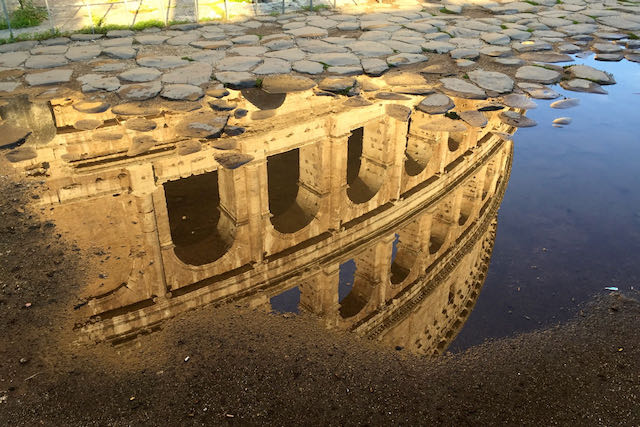 Rome's ruins, statues, fountains and buildings can often be seen reflecting in puddles everywhere after a rain storm. Just look down!
---
The perfect 3-day itinerary in Rome
Trying to figure out how to organize your visit to Rome? I've got the perfect 3-day itinerary for first-time visitors (or those who have not been here in a while.) It works for a 2.5 day visit as well.
In my 3-day itinerary, you'll see all the major must-see Rome attractions like the Vatican, Colosseum, Trevi Fountain, Pantheon, Piazza Navona, Spanish Steps, Castel Sant'Angelo, and much more.
And if you have more time, or want suggestions for extra/other things to do, you'll find that there too.
Visit my page with the best 3-day itinerary in Rome for first-timers.
---
3. PHOTOGRAPHY TIPS FOR ROME - Where to take the best sunset pics
The best places to be when Rome's skies get really dramatic, is along the via dei Fori Imperiali...

or standing on one of Rome's bridges....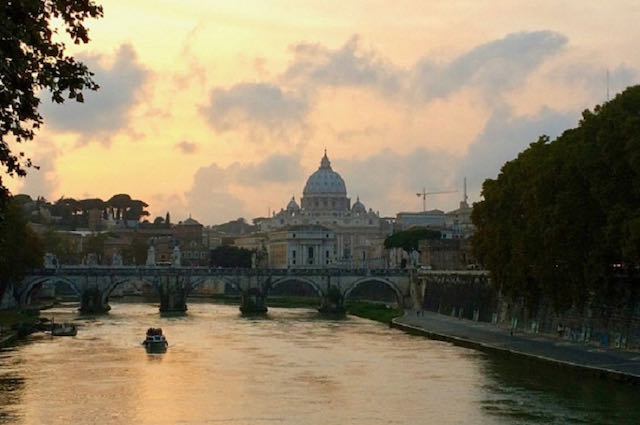 This iconic shot of Saint Peter's Basilica from one of Rome's bridges is even better when the skies go wile
also in St. Peter's Square....

Saint Peter's Square is a great setting for dramatic skies
and of course, the top of the Spanish Steps, Trinita dei Monti...
The top of the Spanish Steps is a great spot to catch Rome's beautiful sunsets
You might also try a hotel rooftop bar with views of the city, like the First Hotel, the Eitch Borromini in Piazza Navona, or my absolute favorite, the Sofitel.
My absolute favorite place for drinks with a view in Rome is at the Sofitel. The sunsets are magnificent from up there!
4. PHOTOGRAPHY TIPS FOR ROME - Go High or Go low
A wise and seasoned Instagrammer once advised me to always try to get shots from a different angle than just standing and shooting straight ahead.

Yes, I did get down on the ground to get this shot but isn't it worth it to see the ancient Roman road leading to the Colosseum?
Shoot from way down low (I often get all the way down, and angle the camera so it includes the ground, if it's interesting...)
I am actually on a Polaroid tour doing this shot (more about that tour below.)
And shoot from above too...
This ruin in the Roman Forum is just underneath the main lookout point from Capitoline Hill, and yet most people never notice it.
With things like stairs, handrails, long tiled floors, you can get a lot more perspective if you shoot from below.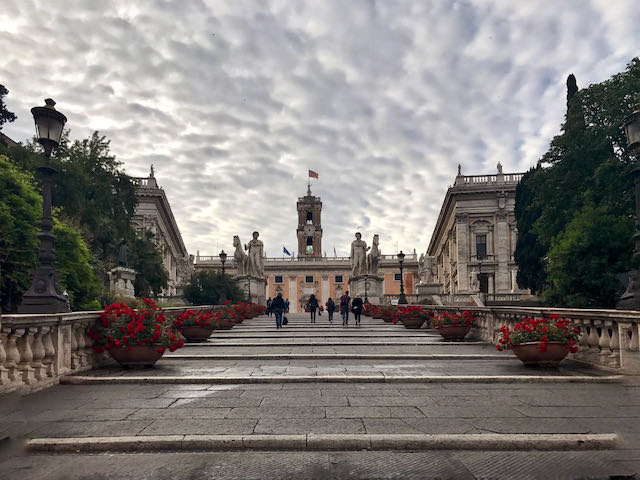 This is another shot where I got almost all the way to the ground to shoot angled upwards to give the ramp more dimension
Take photos of angles or just pieces of buildings, giving the impression of just coming upon something beautiful.

In Rome, you can get endless shots buildings and monuments behind other buildings, creating a kind of "aha!" effect.
Up your game!
Why not go all the way and jump into this fantastic Digital Photography School?
I took the course and it was easy and fun and it has made a huge difference in my understanding of both my dSLR and my mirrorless cameras.
5. PHOTOGRAPHY TIPS FOR ROME - Follow the sun
Know where the sun will be rising/setting from a particular vantage point if you really want a specific shot.
The Colosseum is spectacular at sunset and at dawn, so it's win win. But you may also want a particular shot, so you should keep in mind where the sun goes.
For example, my favourite time to climb the dome of St. Peter's Basilica is first thing in the morning, because I'm claustrophobic, and it's easier for me when nobody is in front of or behind me.

But, the basilica was purposefully made to face east, so at that hour, you get a very washed out view of the iconic shot of St. Peter's Square. 

Saint Peter's Square from the Cupola of the basilica...in early morning, the view is pretty washed out.
For a better photo of this square, you'll want to go sometime after 4 or 5, depending on the season. In winter, the basilica closes at 6.30pm, which means entry to the dome is finished at 4:30pm.
I go right at that time…and stay until they make me leave.
The beauty of this is that the days are short in winter, and the sun goes down around 5pm, so I can get a sunset and even sparkly night shot of the square, at closing time in winter. 

View of St. Peter's Square from the Cupola, at Christmastime, with the lights shimmering below.
In spring and summer, the basilica closes at 7pm, so last entry to the dome is about 5pm…the closer you are to spring, the better chance you get of the sun going down while you are up there.
Of course, when you visit the sites at night, be prepared to set your camera or smartphone on a night setting to get the most dramatic shots.
6. Photography Tips for Rome - Look around, all around
It's easy to find something amazing to photograph in Rome, if you just walk around.  Look into open doorways and courtyards...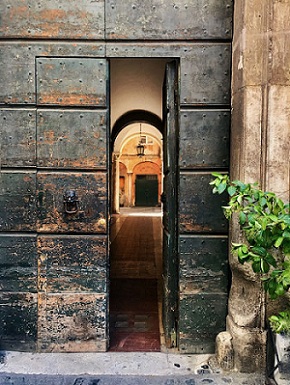 Rome is full of hidden doorways and secret courtyards...just keep your eyes open!
The city is, after all, an open-air museum. Vatican, Pantheon, Trevi Fountain, you will not run out of things to see, enjoy and photograph. But don't forget to look at details, and look down..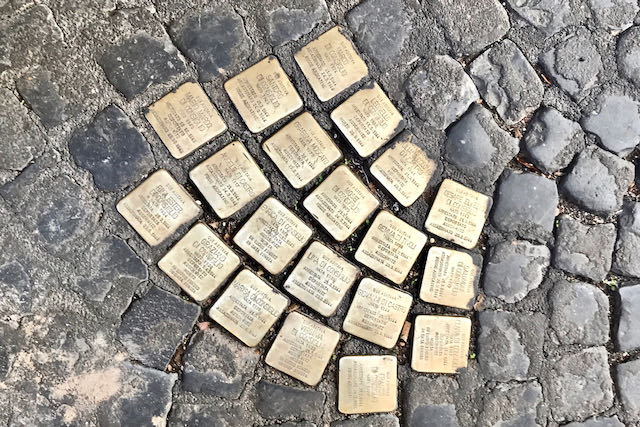 These Stolpersteine commemorate people who were forcibly removed from their homes, deported and murdered during WWII. Look down. Rome has so many of them.
You should also look up, and into places you might not think of.
Then, the possibilities really are endless.
7. PHOTOGRAPHY TIPS FOR ROME - Follow the rules
Know the rules for taking photographs inside museums and churches in Rome:
You cannot take selfie sticks or tripods into most sites or museums in Rome. 
In most places in Rome you can take photos, but inside churches and museums, you should not use flash.
Sometimes, a special exhibit will be in place, with pieces on loan from another museum. In that case, you may notice a no-photo sign in front of THAT piece.
Absolutely no photos or video are allowed inside the Sistine Chapel, although you may take all the photos you want inside the rest of the Vatican Museums, and inside Saint Peter's Basilica.

8. PHOTOGRAPHY TIPS FOR ROME - Great Apps and Gadgets for smartphones
If all you want is to take pictures for Instagram or other social media, you might consider only travelling with, and carrying around with you, a smart phone (the newest iPhones offer a really cool depth feature, which gives your photos a much more professional look.)
Some smartphones now, like the iPhone 12 Plus, allow you to take photos like this, with a sharp focus, but blurry background, that gives it a more "depth effect."
If that is the case, you can get even more out of your smartphone pictures with this little gadget, which puts an instant wide-angle or macro lens on it.
A good, lightweight travel tripod can be an excellent accessory (this hand-held version is ok to bring into the Vatican or Colosseum, but you have to keep it as a hand-held, and not set it up as a tripod.)
You might also want to try some photo apps. I love these free apps of VSCO (like Photoshop on your phone), and Snapseed (free by Google.)
(Of course if you are a photographer, like the deeper photos a larger camera can give, and/or want to take a lot of food pictures, then you will want your larger camera too.)

9. Photography Tips for Rome - how to tour Rome if you are a photography buff or pro
I recently had the pleasure to visit Rome with two professional photographers.
We walked around at the pace they wanted, because, as photographers, they wanted to take their time figuring out the lighting, the best angle, taking many practice shots etc.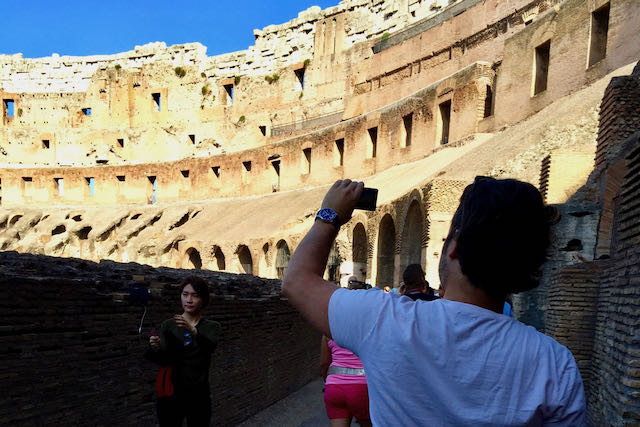 Many people take quick snaps or selfies in and around the monuments, but this is the OPPOSITE of how a photographer wants to take their shot. They need TIME to concentrate and adjust their camera.
They told me to let anyone really into photographing Rome to know, that it's NOT a good idea to take a guided group tour of the Vatican or Colosseum, if your goal is to photograph.

The tours must move at a certain pace to get the group through all there is to see, usually in a 3-hour time-period. This was painful for the photographers I spent the day with, as they could not get any shots the way they wanted.
So, bottom line, if you want to focus on taking pictures, but you also want to see and get to know the site, you can
Take the tour

and not worry too much about the pictures, but then stay inside, and go back on your own and take your time taking photos, or

Hire a private guide

, so you can set the pace, and inform the guide that your goal is to go slowly and take the photos you want.
10. Photography Tips for Rome - frame your shot
Because Rome is literally a massive museum itself, chock-a-block with beautiful ruins, art and architecture, you can often take a photo of something interesting up close, with something else interesting in the background, or vice-versa.

So much to see in this multi-layered photograph of a fountain, a seagull and Saint Mary Major basilica.
Sometimes I start by aiming at one thing, only to realize the better shot is the whole composition, with the background as the star of the picture.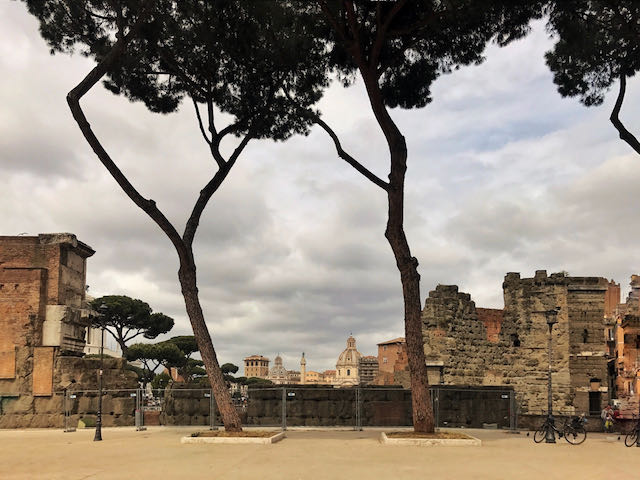 So many objects can be the focal point of your Rome photos - trees, ruins, fountains, door handles. Rome is a feast for the eyes!
You can change the viewpoint of the shot, by taking a picture through a gate or doorway.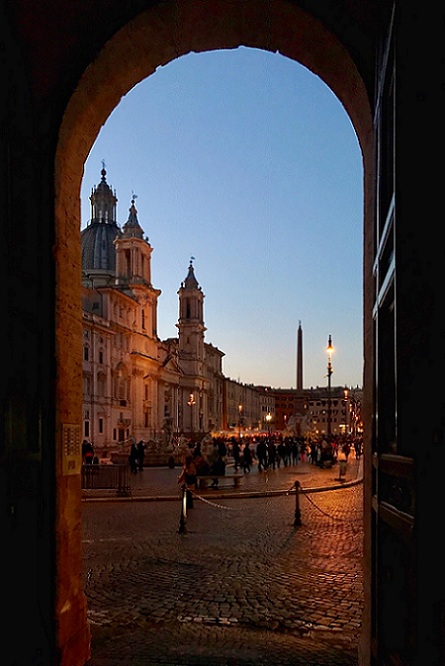 Photography Tours in Rome
I hope you've enjoyed my photography tips for Rome. As I said, I am not a pro, but I have definitely learned a lot in my years working on this site and with various cameras, from several iterations of iPhone to my little Sony to my Canon G7x Mark iii to my Canon T2 Rebel.
If you're looking for more guidance, try these photography tours in Rome:
There are a few interesting tours that focus on photography.
Want to save this page about Photography tips for Rome to Pinterest? Pin it here!
---
Get your free Rome trip planner!
We are committed to respecting your data. Click for our Privacy Policy .
---
Comments? Questions? Suggestions?
Please come over to the private Romewise Facebook group and join in the conversation.

You will often find me there, happy to answer your questions / comments!
You will also meet other Rome lovers and experts, too.
What are you waiting for?