Restaurants Near Colosseum
2019 Version
Great places to eat when you visit one of Rome's most popular landmarks!
Maybe you think it's hard to find good restaurants near Colosseum in Rome? That it's too touristy of an area to eat well? Not true! There are some really good options, but you have to know where to go.
One of Rome's must-see monuments. Now, where to eat nearby?
---
---
Restaurants near Colosseum - you DO have choices
The area of the Colosseum and Roman Forum (and Palatine Hill), is quite large and does not allow for any actual restaurants on site (at the time of this writing...that may soon change. Stay tuned!)
A visit to this archeological area will usually be at least 3 hours long, so don't arrive hungry, and don't get caught in a low-blood sugar panic.
One thing I often tell people on their way to the Colosseum is to go with a sandwich, a snack-bar or some fruit in their bag.
But if you want to eat near the Colosseum, perhaps before or after a tour, just know you will need to venture slightly away from the ruins themselves. But not far.
---
Neighborhoods Around the Colosseum
There are two main neighbourhoods near the Colosseum: Celio (Coelian Hill) and Monti.
Both have their share of excellent places to eat, whether for lunch, dinner, drinks, gelato or even a quick snack.
There are also a few extra restaurants near Colosseum that I recommend, that are not quite in either of these neighbourhoods. 
Restaurants Near Colosseum - My Picks

Want to see a map of all these restaurants near Colosseum? Click here.
Thinking of visiting the Colosseum at Night?
Restaurants Near Colosseum - in Caelian Hill (Celio)
Celio is the neighbourhood just southeast of the Colosseum in Rome. It is a truly ancient area, where soldiers and citizens lived in Roman times. Even today, it is a real, lived in, charming little neighbourhood, with lots of places to eat and drink. It's the closest neighborhood with restaurants near Colosseum.
Here are some little things to know about eating and drinking in Celio neighbourhood: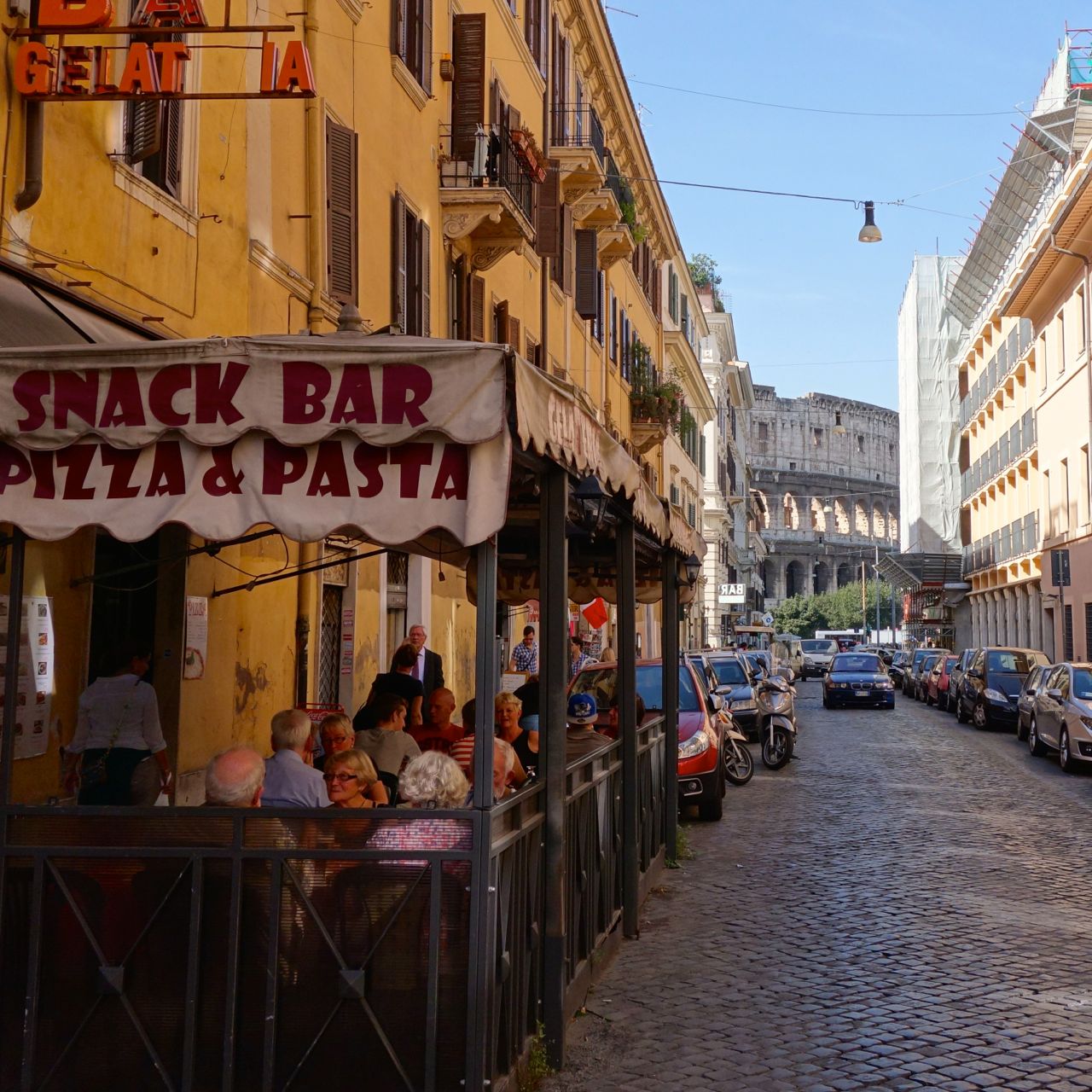 There are many really cheap restaurants in this area. They are fine for the price you pay, but they are not great. The food will be very average, and the restaurants are usually crowded and a bit hectic. So I am not specifically recommending them. On this page, I only recommend restaurants near Colosseum where I love the food (or drink), and know that you will get quality.
---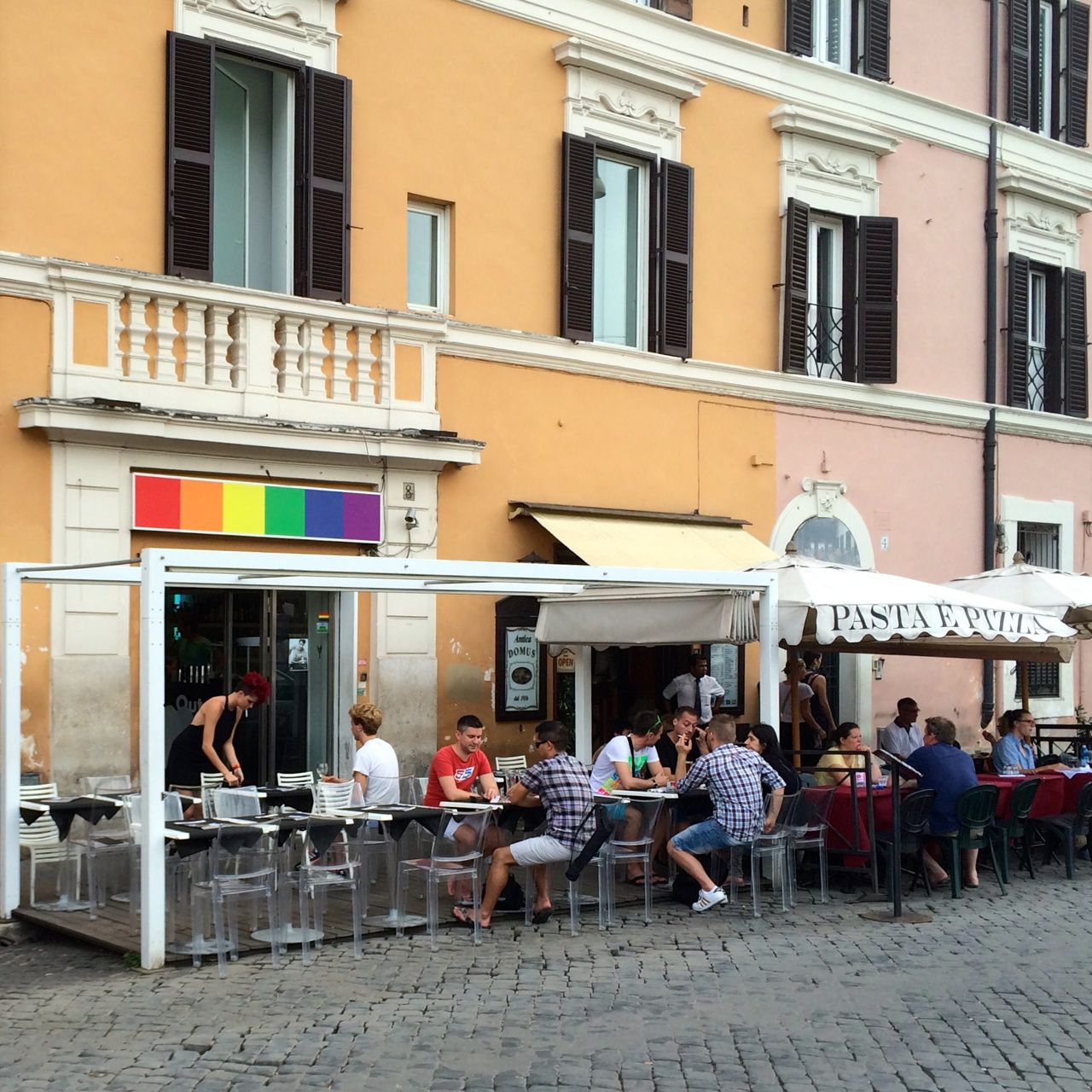 The street leading directly from the Coliseum through the edge of the Celio neighbourhood, San Giovanni in Laterano, is one of Rome's top gay-friendly streets. It's got lots of great little bars, cafe's and (Roman style) fast food spots, and becomes especially busy in the evenings.
---
Sorry but I cannot recommend any of the restaurants near Colosseum that run along the edge facing the it. I have tried a couple of them, but honestly, they truly are tourist traps, in every way (prices, mediocre food quality, and sketchy accounting on your bill.) It's not the best way to enjoy a view of the Coliseum, or a meal...so I'd suggest you skip these.
So, below, are restaurants near Colosseum I really recommend in Celio neighbourhood.
Li Rioni - some of the best pizza in Rome
Pizza Napoli at Li Rioni pizzeria in Celio, near the Colosseum
I am very partial to this pizzeria, maybe because it's not far from my house, so I go often. 
Or maybe, it's just because they serve a great pizza every time. They do have other food there so if someone in your group wants more variety, this is a great choice.
Details: Via S. Quattro, 24. Tel: 06 7045 0605. Reservations are essential. Open Wednesday - Monday for dinner only, from 7pm. Closed Tuesdays. 
i Clementini - always fresh, Roman cuisine with a twist
i Clementini has become one of my go-to restaurants near Colosseum when I go out with friends, partly because we all live nearby, but mostly because the food is fantastic.
Hostaria i Clementini, just blocks from the Colosseum
After years of eating here, and getting to know the owners and chef, I can confidently tell you that the quality of the food here is top notch: nothing frozen, nothing they don't deem good enough to serve. On more than one occasion I have been disappointed to find they did not have my favourite antipasto: a heaping platter of perfectly crispy fried calamari e gamberi (squid and shrimp), but it was only because they simply didn't have it fresh.
Lightly battered fried calamari and shrimp, at i Clementini near the Colosseum
I love any of their typical Roman pastas: amatriciana that is perfectly made, with just the right pepperoncino kick, and smokey, slightly crackly guanciale ; carbonara that uses just the right amount of egg yolk so it's not overly eggy; and more.
Rigatoni alla carbonara at i Clementini near the Colosseum
They have excellent meat courses, some typical Roman, others more inventive. I often get their seafood dishes, in particular the seared tuna steak with pistachio and cherry tomatoes. 
Seared tuna steak with pistachio and tomatoes at i Clementini near the Coliseum
i Clementini is probably one of my favourite all-around restaurants near Colosseum.
Details: Via di San Giovanni in Laterano, 106. Tel: 06 4542 6395. Reservations suggested. Open daily for lunch (12-5pm) and dinner (7-11:30pm). 
il Bocconcino - lovely trattoria serving Roman cuisine
Il Bocconcino is one of the few Slow Food restaurants near Colosseum. They serve excellent, fresh Roman cuisine, like spaghetti all'amatriciana:
Perfectly balanced spaghetti all'amatriciana at il Bocconcino, just blocks from the Colosseum
Il Bocconcino has a cozy, very casual interior, and a nice setting outside, on a quiet street, where you can eat in nice weather.
Outside dining at il Bocconcino near the Colosseum (no view)
Details: Via Ostilia, 23. Open Thursday - Tuesday for lunch and dinner. Closed Wednesdays. 
Sforza Piero - simple but delicious pizza by the slice, a great quick lunch
Are you looking for a quick bite for lunch before or after your visit to the Coliseum and Forum? You'd do well to pop over to Sforza Piero, a very unassuming little place serving pizza by the slice. 
Margherita pizza and red peppers pizza by the slice, at Sforzo Piero
Their pizzas are simple but delicious, with a perfect, light, digestible crust. The toppings are super fresh and tasty, not under or over done. There is a little counter where you can sit and eat, or you can get it to go.
Details: Via Celimontana, 17. Open daily from 9am until 10pm. 
Restaurants Near Colosseum - in Monti
The neighbourhood (rione) of Monti is a really great Rome area to be explored, savoured, shopped and enjoyed all on its own. There are some sights there as well. 
Since this page is about restaurants near the Colosseum, I'll stick with that topic here.

One street to start on, if you just want to have a little stroll and check out a few places all at once is via Urbana. I could almost make a separate page just about restaurants on via Urbana. But here are just a few good ones to get you started:
Broccoletti
Since discovering Broccoletti a few years ago, thanks to food-writer extraordinaire Elizabeth Minchilli, it's become one of my go-to spots for restaurants near Colosseum.
The interior of Broccoletti is simple, yet warm and welcoming.
Broccoletti's concept is simple. They use all local, seasonal ingredients to create traditional (and sometimes less traditional) Roman dishes.
This hot and slightly spicy dish of juicy mussels is my favorite appetizer and I get it every time. Those mussels are simply fabulous!
You can find many typical Roman favorites, like Gricia and Amatriciana, but also other seasonal items like orecchiete with winter broccoli. 

All the wines are from Lazio, the region where Rome is. There is an excellent selection, and the owner is often on hand to help you pick.

The wines are all from Lazio region, where Rome is located.
Broccoletti owner Fabrizio usually gives me a hand selecting the wine.
I love Broccoletti because every single time I've eaten here the food has been consistently wonderful. Buon appetito!
Details: Via Urbana, 104. Tel: 06 9027 1389. Open Tuesday - Sunday for lunch and dinner. Closed Mondays. No outdoor seating.
Osteria della Suburra
For a truly Roman trattoria meal, this is the spot. 
Maltagliati pasta with mussels, fava beans and pecorino cheese at Osteria Suburra
You'll find very casual, sometimes harried service; every typical Roman dish you know (amatriciana, scottaditto, pollo alla romana) and others you didn't know (like lumache alla romana, Roman-style snails); foods only in season (love their maltagliati con cozze, pecorino e fave, but only when fava beans are in season), and very good prices, despite the prime location in Monti near the Coliseum. You can eat outside or in. 
Pollo alla Romana - Chicken with red and yellow peppers at Osteria Suburra
Details: Via Urbana, 67. Tel: 06 486531. Open Tuesday - Sunday for lunch and dinner. Closed Mondays. They only take reservations for the very first seatings at lunch and dinner. This is because they don't rush people to finish their meal so cannot guarantee a table at say, 8:30pm. You can reserve for this time, but you may arrive and find you still have to wait.
Urbana 47
Ubrana 47 is one of several hip restaurants near Colosseum that have opened in recent years: they have a charming shabby-chic interior; there is a open-space kitchen in the back in case you want to watch while they cook; they feature a seasonal "food of the month"; and they are open every day all day.
Zucchini "pasta" with hazelnuts and pesto, at Urbana 47
It's also a bonus that they have some outdoor seating, so you can enjoy the lovely neighborhood scenes and people watching as well.
Eating outside at Urbana47 allows for great street- and people-watching
Urbana 47 is a "km0" restaurant - meaning, "zero kilometers." What does that mean?
Well it's an offshoot of the Slow Food movement, which promotes slower way of preparing and enjoying food, as people used to do long before the days of fast food and globalization.
"Km0" means that the ingredients have come from local producers, i.e. with minimal impact on the environment due to transportation costs.
Details: via Urbana 47. Tel: 06 4788 4006. Open daily for breakfast, lunch, tapas and dinner. Open throughout August.
Pizza Trieste
Frankly the food scene up and down via Urbana is getting more interesting all the time. One recent addition is Pizza Trieste, which, despite its name, specializes in pizza from Abruzzo region. What does that mean? 
The friendly guys at Pizza Trieste, the latest fab food offering on via Urbana in Rome
First it means a whole new choice in how to eat pizza in Rome. Second, it means, cute little round individual pizzas, with delectably light crust and simple but super tasty toppings.
You can eat it there (standing), or take it to go. A great option for a quick meal or snack.
These individual pizzas at Pizza Trieste in Monti are light, crunchy and delicious
Details: Via Urbana 112. Tel: 06 481 5319. Open Sunday - Thursday 10:30am - 11pm; Friday - Saturday 10:30am - 2am.
A few more restaurants near Colosseum, all on via Urbana, include
Brocoletti - innovations on Roman and Italian cuisine
Zia Rosetta - a sweet little sandwich shop with very fresh offerings
Grezzo Raw Chocolate - a raw, vegan chocolate shop with an eye-popping, mouth-watering selection of sweets
Scuié Sciué - a trendy but mellow trattoria with an airy atmosphere and excellent food
Below are more restaurants near Colosseum that I love, but on streets other than via Urbana:
Pizzeria Alle Carrette
One of my go-to pizzerias in this area is Alle Carrette. This is a simple restaurant: they only have pizza, bruschetta, salads, fried appetizers (amazing ones), and that's about it. For wine choices there is red or white (literally), but there are more beer choices.
Pizza with cherry tomatoes and basil at Pizzeria alle Carrette
The pizza here is superb: thin and crispy crust coming right out of a wood-burning oven that sits sort of in the middle of the place. There is a very small and always full outside seating area but a much larger space inside. 
I have never come here without getting several of their fritti, which are some of the best in Rome: fiori di zucca (fried zucchini flowers), supplì (rice balls), fried artichokes, or olive ascolane (pork-stuffed fried green olives). 
Fritti at Alle Carrette - supplì and olive ascolane
Details: Via Madonna dei Monte 95. Tel: 06 679 2770. Either reserve or show up by 7:20pm. Open daily for lunch and dinner.
L'Asino d'Oro
L'Asino d'Oro seems like just a cute little trattoria, but it's definitely more of a special meal.
At Asino D'Oro, you will find creative takes on Italian cuisine, like this tomato pudding with buffalo stracciatella
The quality of the food and the combinations used in each dish are outstanding. 
Lombrichelli pasta, with red and green peppers, and two types of ricotta cheese, at L'Asino D'Oro
I find the menu to be heavily meat-oriented, but there are options for non-meat eaters too. There is a nicely-lit cozy dining room and also an outside eating area. Prices are very reasonable considering the quality.
This flan of chicory and ricotta was perfectly paired with a fava-bean sauce. Divine!
Details: Via del Boschetto, 73. Tel: 06 4891 3832. Reservations suggested. Open Tuesday - Saturday for lunch and dinner. Closed Sunday and Monday. (In summer, open Monday for dinner.)
Breakfast Restaurants Near Colosseum
As you probably know by now, Rome is not the place to get a big breakfast, Anglo-Saxon or northern-European style. Romans eat breakfast by having a quick cappuccino and a pastry.
If you are looking for breakfast restaurants near Colosseum, your best bet is to find a nice bar that has good coffee and some delectable pastries. 
L'arte Del Caffè - Er Baretto
For some of the best coffee in the area, if not in Rome, head to L'Arte Del Caffè - Er Baretto. 
They have actually won awards for their coffee. You'll find typical breakfast pastries, creamy smooth cappuccino, and a place to sit, inside or out.
Marocchino is one of my favorite coffee drinks anywhere, but especially at Er Baretto
Details: Via del Boschetto, 132. Open Mon - Fri 7am - 11pm; Sat - Sun 9:30am - 11pm
Antico Forno ai Serpenti
And for some of the best pastries in the area, and a nice (small) sitting area to enjoy them, try Antico Forno ai Serpenti. 
The small, cozy interior of Antico Forno ai Serpenti. The perfect spot to enjoy a delectable pastry before your Colosseum visit!
They are a bakery and make pastries, breads and pizzas fresh on-site daily.
It is impossible to resist the freshly made pastries at Antico Forno ai Serpenti
Details: Via dei Serpenti, 122-123. Open daily 8am - 8pm (there is also a nice happy hour here)
Gelato near Colosseum
This list of restaurants near Colosseum would not be complete without a few superb gelato stops. There is actually a lot of gelato around the Colosseum, but there are only a few very good places for really good gelato.
Fatamorgana
Fatamorgana is hands down some of the best gelato in Rome. And luckily for you, there is one just off via Urbana in Monti, making it an easy location to get to from the Colosseum.
This seasonal pairing of fig and mango gelatos at Fatamorgana was one of my best tastings in summer ever
Details: Piazza degli Zingari, 5. Open daily 12:30 - midnight
Ciuri Ciuri
You may already know that Sicily is one of the places where gelato originated.
And Ciuri Ciuri has some of the best Sicilian gelato around...not to mention a dizzying array of Sicilian pastries, including but not limited to, freshly-filled cannoli (as they should be.)
Details: Via Leonina, 18. Open daily 8:30am - midnight.
Il Gelatone
Il Gelatone is not really artisinal gelato but it is very yummy and creamy. And one of our favorite stops after pizza at Alle Carrette (also on this page.) Love their mint-chocolate chip but they have plenty of other flavors too. Bonus  for vegans - this is one of the best spots in Rome for vegan gelato!
Details: Via dei Serpenti, 130. Open daily.
Drinks Near the Colosseum - Great places for a cocktail or aperitif
A lot of Coliseum tours/visits finish around 5 or 6pm, which is too early for most restaurants to be open for dinner in Rome. But if you want to grab a drink before dinner, or have an early, lighter dinner by engaging in the all-the-rage Roman aperi-cena (which means aperitif with so many appetisers it becomes dinner), you may enjoy these options.
In Rome, you will find a lot of bars offering an "aperitivo." This often means that you will pay a set price (usually around 10 Euros) for one drink and some snacks.
The quantity and quality of these snacks varies, from potato chips and green olives, to a full-on carb-y extravaganza of little pizzas, bruschetta with spreads and sometimes small sandwiches.
Oppio Cafe - aperitivo with a view of the Colosseum
The Oppio Cafe is perhaps one of the most strategically-placed bars in Rome. It sits right at the end of a lovely neighbourhood block, that literally overlooks the Coliseum. They have tables inside and out. 
The all-you-can-eat appetizer buffet, with views of the Colosseum, at Oppio Cafe
My favourite thing about Oppio Cafe is their "happy hour." For 10€, you get one drink and an all-you-can-eat buffet. Yes! Now that is a rarity in Rome. And it's not just olives and some pieces of stale pizza. There are pastas, meats, veggies, and dessert! And if you want another drink, it's just another 5€. 
This has to be hands down one of the best restaurants near Colosseum for: happy hour, drinks with a view of the Coliseum, or a very inexpensive dinner - not a Rome trattoria dinner but it definitely fills you up!
Details: Via delle Terme di Tito, 72. Open daily all day, for breakfast, lunch, aperitivo, dinner. Mon-Thu until 9pm, Fri-Sun until 10pm.
Propaganda - great cocktails and cool interior
I recommend Propaganda for three things: it's cool, big-city decor, and its fantastic full bar, with excellent wine choices and cocktails. And, as of late, their outstanding burger.
The very inviting bar inside Caffe Propaganda, a block from the Colosseum
This is a great choice if you want to step into another world after a day of sightseeing at the Coliseum: the white-tiled, Parisian-bistro style is a lovely respite from the dusty and busy scene outside. If you are looking for a huge selection of cocktails, including in-and-out martinis, or, just a good selection of wines for a nice aperitif, this is the spot. 
Perfect dry martini at Propaganda
Cheese plate at Propaganda
Your drinks will come with a minimal snack, like potato chips or peanuts, but you can also get some lovely appetisers although the choice is very limited.
Propaganda has recently upped their game (2019), and now it's one of my favorite places for dinner, in particular, for super juicy burgers!
Details: Via Claudia, 15. Open Tuesday - Sunday from noon until 2am. Closed Monday.
Enoteca Pentagrappolo - the perfect little wine bar
Enoteca Pentagrappolo is a really inviting spot, just a few blocks from the colosseum. 
Drinks and appetisers on a warm fall evening, at Enoteca Pentagrappolo near the Colosseum
You won't have a view of any kind, except of the neighbourhood, but it's charming inside and out. In fact, the view of this neighborhood is just lovely.
The inside of Enoteca Pentagrappolo makes it a warm, cosy place to have some drinks near the Coliseum
There is an excellent wine list and a small wine-bar food menu as well. In the evenings on weekends, there is music, and it can get lively but in a nice, not-rowdy way. You can see their music program on their website. It's probably one of the best all-around wine bars in the neighbourhood.
Details: Via Celimontana, 21B. Open Saturday and Sunday from 6pm to 1am, and from Tuesday - Friday from noon until 1am. Closed Monday.
Hotel Forum - one of the best views in Rome
The Hotel Forum is a posh little 4-star hotel with an amazingly strategic location. Their rooftop bar has exquisite views of the Roman Forum (not so much the Colosseum), and it's a lovely place for a pre-dinner aperitivo. 

No major snacks to go with, just some potato chips and olives, but views to die for. Open (also to non-hotel guests) only from March to October.
Details: Via Tor Dei Conti, 31. Daily from 5pm until late in the evening. 
Where to Eat and Drink Near the Colosseum, with a view
At Caffè Oppio, and Hotel Forum above, you can have nice views of the Colosseum, while sipping a drink. If you want someplace to eat lunch or dinner and have an amazing view of the Colosseum, the best option for this does not come cheap:
Palazzo Manfredi and its Aroma restaurant - on top of the world
Aroma, the very elegant restaurant at the top of the Palazzo Manfredi, is really the place to come and splurge: you will eat at a world-class restaurant with amazing food, and the most incredible views of the Colosseum. 
This is a 1* Michelin restaurant and it shows.
The chefs have the background and pedigree worthy of the setting.
I'd say this is the finest and most romantic of the restaurants near Colosseum.
Details: Via Labicana, 125. Tel:  06 97615109. Reservations for lunch and dinner essential. Open daily for breakfast, lunch and dinner. 
---
Restaurants Near Colosseum - A little off the beaten track
Do you want to have a really authentic, local Rome experience?
After a day tromping through 2000-year-old ruins, why not also delve a bit into modern local life? These local restaurants near Colosseum are just a little off the beaten track, but still easily accessible:
Romolo e Remo
I am a bit partial to Romolo e Remo, as it's just near my house, and I go there quite a lot. But when I take friends and family there, they always comment how much people would love this really authentic Rome eating experience. And, it's really not far from the Colosseum so I am sharing it with you here.
Carciofi alla Romana, or stewed artichokes, at Romolo e Remo trattoria
Romolo e Remo is a very local neighbourhood trattoria. They are always packed with Romans, probably because they serve good food at very good prices. You can get all the traditional Roman-trattoria foods like thin-crust Roman pizza, typical Roman pastas, and other typical Roman dishes like trippa alla romana, coda alla vaccinara, and even occasionally rigatoni pajata.
Tonnarelli allo scoglio (with shellfish) at Romolo e Remo, not far from the Colosseum
But you can also get lots of other kinds of dishes too, like chicken breast in creamy green pepper sauce or ricotta, spinach and mushroom crepes.
I often get their fish dishes like steamed mussels and clams, or just a whole grilled sea bass with roast potatoes.
Fresh grilled sea bream with roasted potatoes at Romolo e Remo
The food here is always fresh and good. The ambiance is very local, with lots of unevenly hung, signed photos of semi-famous guests covering the walls, and the prices are really low. There is a huge outside area for dining as well.
If you want one of the most truly local Roman restaurants near Colosseum, this is it.
Details: Via Pannonia, 22-26. Tel: 0677208187. It's about a 15 minute walk from the Coliseum: Walk behind the Coliseum up the via Claudia. Continue just over a little hill until you come to a large intersection. Cross the intersection at the light, and continue straight ahead on via Pannonia. Romolo e Remo is on your left, you cannot miss it.
Open daily for lunch and dinner. Closed very rarely, such as on August 15, and for dinner on December 25th.
Farmers' Market lunch at Circus Maximus
This last one doesn't really fall into the restaurant category, as it's actually a farmer's market.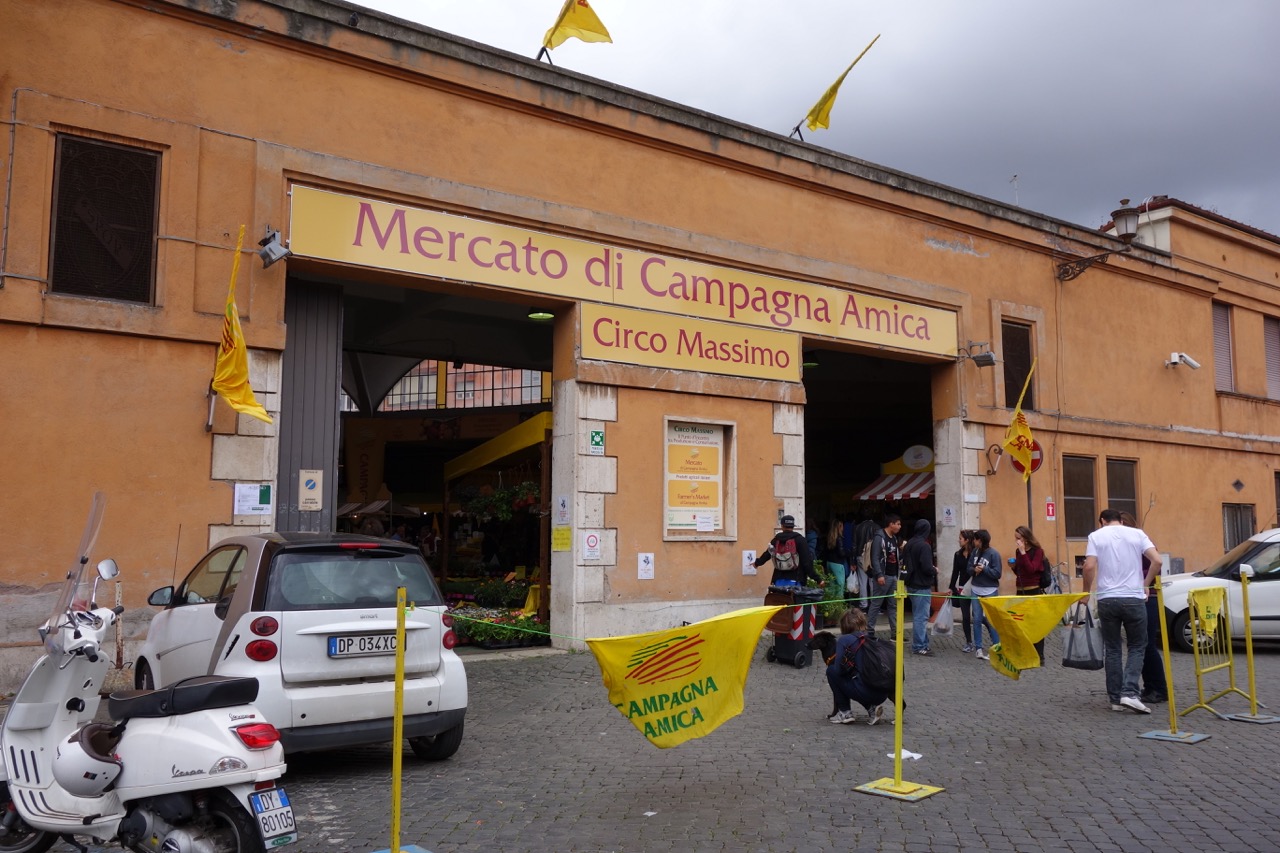 The Farmers Market at Circus Maximus, only open on weekends
And it can be such a fun option for lunch near the Coliseum on weekends (only) when the market is open. The market itself is a treat just to see. 
Grains, honeys, jams and many local products for sale at the Campagna Amica Farmer's Market
I shop there, for organic olive oils, fresh ricotta and mozzarella, eggs that are so fresh their yolks are a dark orange, every fresh herb I need, and the freshest fruits and vegetables around, in-season only of course. 
Only seasonal fruits and vegetables are for sale at Campagna Amica Farmer's Market
But you can eat here too! Once, I spent so much of my time going around to all the stands trying all the olive oil and tasty spreads and cheeses, that I actually was full. It was not intentional but it was fun!

But in the back, there is a lunch counter, and for 6 Euros, you get one dish, bread and water. And there is a little picnic area outside to sit and eat.
Simple but fresh and delicious lunch is served at Campagna Amica Farmers Market at Circus Maximus
You do have a couple of other options: having a hot meal of whatever the prepared food of that day is, or, checking out some of the food-truck-style offerings in the back garden.
Details: Via San Teodoro 74. Open Saturdays from 8am until 6pm. Open Sundays from 8am until 4pm. In July only open Saturdays, and close Sundays. Closed throughout August.
Unique al Palatino
This one doesn't fall into any of the main categories on this page, but it is right next to the farmers' market above, so it's a little off the beaten track.
It is, however, right next to the Palatine Hill, making it very convenient if you exit the Roman Forum from this side.
Unique al Palatino is conveniently situated steps from the Palatine Hill. This is the view from their terrace, which is not always open. But you can see how close you are to the site.
The location is fantastic, the food is delicious, and, on top of it all, they offer a beautiful setting for outdoor dining as well.
Here's a photo of their outdoor space, which is part of their private garden in the back. This means you can enjoy your meal in peace, free from traffic or street musicians and vendors.
Unique al Palatino is one of the best restaurants near Colosseum to offer a lovely ambiance for outside dining. Photo credit - Unique al Palatino
Details: Via di S. Teodoro, 48, Tel: 06 6992 1077. Open daily for lunch and dinner.
---
Restaurants Near Colosseum - map
Here is a map of all the restaurants near Colosseum that I've talked about on this page. As you can see, they are all within walking distance of the Ancient Roman ruins.
Want to save this page to Pinterest? Pin it here!