Italian Food Customs - 
What to Know Before You Visit!

Italian food customs in Italy may not be what you expect. 
If you're visiting Rome, you might be looking to get more in tune with local customs, especially when it comes to eating. Pasta is a symbol of our culinary culture.
Want to know how Italians eat pasta? Why there is no cream in carbonara? Why you are not supposed to have a cappuccino after dinner? Keep reading . . .
Italian Food Customs - How to Eat Like a Local in Rome
If you want to eat like the locals eat in Rome, check out these tips for understanding food culture in Italy:

Italian food customs - breakfasts

If at home, Italians usually have something hot like an espresso or caffe latte (it's not common to make cappuccino at home; most Italians only have the little moka machine to make espresso, then they heat their milk in a little pan. Cappuccino requires steamed foamed milk, which requires a gadget most Italians don't have at home.)
The usual home-breakfast is either sweet dried biscuits for dunking in the hot drink, or, dried toast (fette biscottate), with marmalade. 
With or without foam, sprinkled with cocoa or cinnamon, cold or hot, sipped with a soft croissant or savored straight, a cappuccino is an essential morning staple for Romans.
If Italians go out for breakfast, they will stop at a bar, stand at the counter and have their drink (this time, maybe a cappuccino or caffe macchiato, which both have foamed milk), and some kind of pastry, like a croissant ("cornetto", which is definitely not as sweet and buttery as the French version), or stuffed pastry (cream, jam, etc.)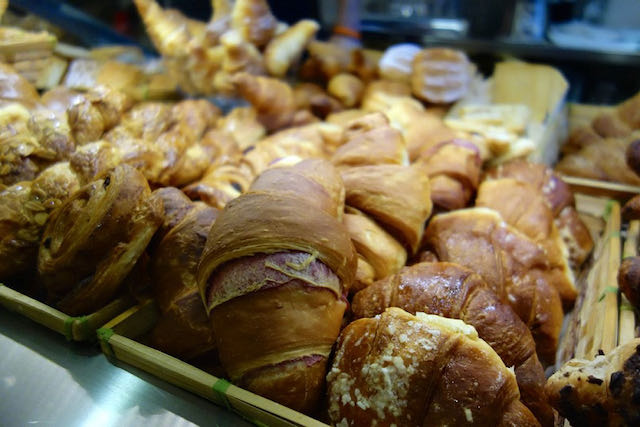 The morning chat with the barista, the aroma of the coffee, and the inevitable sweet fragrance of croissants.
In Italy, breakfast is something quick to start the day but never as an elaborate, sit-down event.
This is often why it's hard to find "American breakfasts" or "English breakfasts" in Rome (although it's getting easier to find now.)
You may need to stay at a 4- or 5-star hotel that has a kitchen dedicated to this "unusual" kind of cooking, or a bar that is willing to make those foods.
---
Lunch in Rome

I have another page about this, but in a nutshell, if Italians have lunch during working hours, it's very often just a slice of pizza, eaten while standing up; or a sandwich (panino) at the bar.
A very popular lunch with Romans is the tavola calda – an inexpensive and relatively quick way to have a nice hot lunch.
At a tavola calda, you will find pre-made dishes, such as pastas, veggies, meat and fish, ready to be re-heated, at a café (bar).  
In local trattorias, it is customary to find a buffet of mixed starters and seasonal vegetables. Worthy prelude to a lunch or dinner.
Italians may go out for a longer business lunch as well.
This is another kind of lunch, involving hours of sitting, eating and talking.
Dinner in Rome

If Italians eat dinner out, probably the most common place to go among friends is a pizzeria.
"Let's go have a pizza together" is a phrase my friends and I use the most when we want to see each other for dinner in Rome.
It does not mean we will all have pizza, but it's a way of saying, let's just go have something easy and casual.
Many pizzerias also serve other food, so it's easy for everyone to have something they like.
Disclosure: If you make a purchase through a link on this page, I may receive a small commission - at no extra cost to you. Thank you for supporting my site!

Italian Sunday Lunch
One of the most typical Italian food customs is the family Sunday lunch outing.

This might be at someone's house, a restaurant out of town, so it feels like a getaway, or just a local trattoria in Rome.
No matter where, that Sunday family lunch will be long, hours long, and very filling.
If you want to see a slice of Italian family life, go out for Sunday lunch (from 1pm onward) in a local trattoria, or a small town outside of Rome, such as Frascati, and you will see this in action.
It's fun, loud, warm and loving, and a great way to pass a Sunday.
Types of restaurants in Rome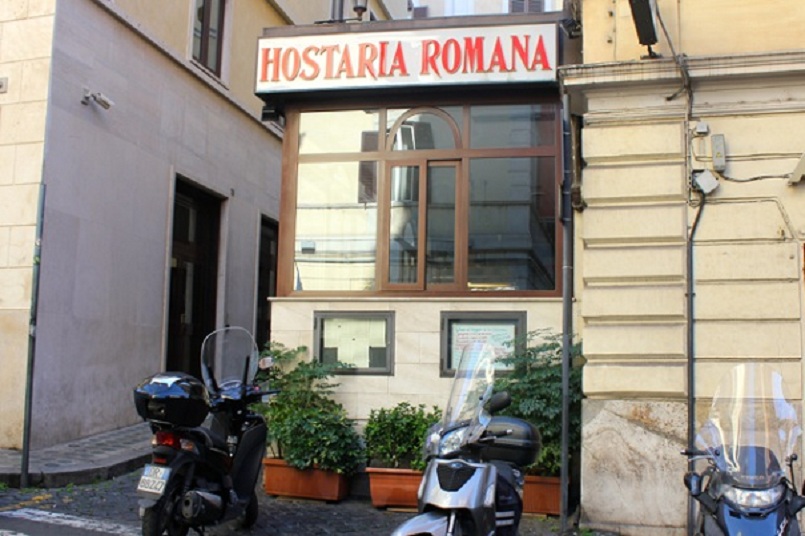 Aside from the pizzeria, here are the other types of eateries in Rome:
Restaurant vs. Trattoria – Basically, a restaurant (ristorante) is a more formal, sometimes upscale way of dining in Rome. Usually there will be a host to seat you, waiters, tablecloths and a printed menu. And a wine-list. And prices to boot. So expect a more elegant dinner, suitable for celebrations, in Rome if you eat at a restaurant. A trattoria is a more informal, casual place to dine in Rome. The menu may or may not be printed. It may be written on a chalkboard, or not at all. There might be tablecloths but there might also just be paper placemats, or nothing at all. In some cases, you might even share a table with people you don't know. Trattoria food is also casual, but can be wonderful, even exceptional. It's the ambiance and overall experience that differ the most between a restaurant and a trattoria. 
Osteria/Hostaria – Historically, a Osteria or Hostaria was a low-key inn, often providing lodging, and serving a bit of local wine and maybe some food. This definition has pretty much fallen away, and now, you will find the words Osteria/Hostaria and Trattoria being used pretty interchangeably. Osterias and Trattorias in Rome tend to be small and family-owned and run.
Some other terms you might find: 
An "enoteca" is a winebar, and these days, most of them serve food. 
A "paninoteca" is a panino bar or sandwich shop.
A "fiaschetteria" is another way to say wine bar.
A "taverna" is like an osteria.
How to order dinner in a Rome restaurant

Italian food customs vary a little across regions.
But more or less, a typical meal in Rome (and the rest of Italy) consists of the following (the links below will take you to my page on Rome cuisine, where you will find examples, photos and more descriptions about each course):
An antipasto
A primo (pasta, soup or rice/risotto…and in Rome, Thursday is gnocchi day!)
A secondo (main course, of meat, fish or vegetable. By vegetable, I mean that green salads, eggplant parmesan (parmigiana) and caprese salad (mozzarella and tomato) are all considered typical second courses.)
Contorno – side dish, usually a vegetable (see above, you may also consider to order just a vegetable as your main course.)
Dessert/Dolce 
Digestivo
You can also skip dessert and head out for a stroll and a gelato!
Sharing your dinner at a Rome restaurant
Do Italians eat and drink all that?
Not usually. I certainly do not.
But in Italy, that's the general order of a full-blown meal. And if you go to one of those Italian Sunday lunches I mentioned above, then yes, be prepared to try them all.
Nobody expects you to eat/order all those courses. In fact, when I eat out with my Italian friends, we all almost always get about 2 items each (not including dessert and after-dinner drinks!) 
I also like to share with a friend: maybe one antipasto, one primo and one secondo, all to split. I do not know of any restaurant where this is a problem.
Italian food customs do not prohibit sharing at all. I find they are always happy to oblige, and bring extra plates. Some even go so far as to bring the dish out already divided into two.
This is true even in nice restaurants, so go ahead, sharing food in Rome restaurants is just fine.
Italian Food Customs - Portion sizes

Portion sizes for food in restaurants in Rome are generally much smaller than what you find abroad.
The idea is to actually be able to finish what you order.
In Italian food customs, taking left-over food home is generally not done, but there are exceptions. If you do leave over a huge portion of meat or fish, and want to take it with you, they will always wrap it up for you.
But certainly not pasta, which is meant to be eaten hot, and freshly made. 
---
Check out my video about how my local cheese vendor sometimes whips up a steaming plate of pasta for us on the fly. Delish!
---
In some restaurants you may also ask for a half-portion (mezza porzione) of pasta. They don't all do it, but if they do, it will be slightly larger than a half-sized portion, and may cost slightly more than half the price, but at least you can cut down even further on the portion size if you want to try to keep room for more courses.
One reason Italians seem to stay so slim may be attributed to these "normal" portion sizes (there are no super-size meals in Italy!)
Another reason is, they are NOT always eating pasta. Italian food customs include a lot more soup, vegetables and fish than pasta … the famous healthy Mediterranean diet.
(Contrary to popular belief, they also tend not to drink much wine, which I sadly discovered is very fattening!) And when they do eat pasta, as I say, the portion sizes are so reasonable that it's just not a big cause of weight gain for them.
A caveat – with more and more Italians staying single longer, more and more adult Italians are eating pre-made packaged foods like never before.
Italian food customs are changing. People are eating more fast-food. And you know what this means…more stuff you don't know what you are eating, more fat…and Italians are getting a little heavier. 
---
The perfect 3-day itinerary in Rome
Trying to figure out how to organize your visit to Rome? I've got the perfect 3-day itinerary for first-time visitors (or those who have not been here in a while.) It works for a 2.5 day visit as well.
In my 3-day itinerary, you'll see all the major must-see Rome attractions like the Vatican, Colosseum, Trevi Fountain, Pantheon, Piazza Navona, Spanish Steps, Castel Sant'Angelo, and much more.
And if you have more time, or want suggestions for extra/other things to do, you'll find that there too.
Visit my page with the best 3-day itinerary in Rome for first-timers.
---
Bottled Water vs. Tap Water 

Most visitors to Italy (and frankly many parts of Europe) are baffled by the fact that it seems impossible to just get a big pitcher of tap water at the table.
Italian food customs include a strong emphasis on bottled water. Most Italians say they prefer the taste, but there is also a distrust of tap water and how safe it is (it's perfectly safe in Rome, but it does have a lot of minerals in it, particularly calcium.)
Many Italians I know will tell you which brand of bottle water they love or can't stand.
When you order water, the server will ask if you want flat or fizzy. It is assumed you want bottled water. Most Romans love their "lightly effervescent" water, which they believe aids digestion.
If you want tap water, just ask for it. In Italian, it's called "acqua dal rubinetto." Note that it will never come with ice unless you ask for it, and even then, it will be a cube or two at most. They are not very into ice in Italy.
House wine vs. the wine list 

I am not a wine connoisseur, but I do drink my share (ahem.) In Italy, house wines tend to be pretty drinkable. You'll also find that a good bottle of wine, even in a Rome restaurant, can be very affordable (a great option if you're looking for souvenirs and gifts). 
Looking for real, authentic Italian wine back home?
Look no further!
The Roscioli Italian Wine Club delivers worldwide only the best organic Italian wines in collections curated by the experts at Roscioli in Rome. 
Find out more from Lindsay Gabbard, co-founder of the Roscioli Italian Wine Club here: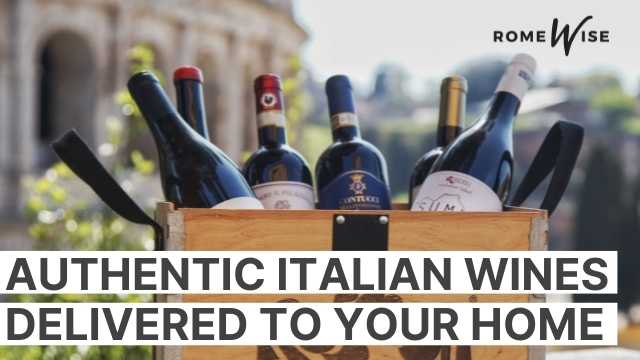 Subscribe today and save 25€ on your first payment with code ROMEWISE - click here:
After dinner coffee 

In Italian food customs, after dinner, you will be asked if you want coffee.
This usually means espresso.
For an Italian, the idea of having a huge cup of hot steaming milk (i.e a cappuccino) after a big meal is just not an option.
Don't worry, though, if you want one. They do not frown at foreigners who do it, and will usually even offer it to you. (If you want a more liquidy American-style coffee, ask for that: "caffe Americano". They will make an espresso and add extra hot water. You may also ask for decaf.)
The digestive

After the whole meal (including coffee) is over, you may be asked if you'd like a digestive (or digestif.) Sometimes the restaurant will offer this, on the house (but not always.)
Some typical digestives of Italian food customs are limoncello (sweet lemony liquor), amaro (bitter, something like Jägermeister) or grappa (made from distilled grape skins.) I prefer to drink limoncello only if I'm on the Amalfi coast (where it originates and where it is divine). Otherwise I find it a bit too sweet. However, I have recently learned to appreciate a good grappa.
Service in Rome restaurants
I'll have to say that Italy just does not have the customer service bug.
You will find great customer service, in shops, restaurants, hotels, bars and taxis, when you happen to run into that individual Italian who really enjoys what he/she is doing, or loves working with people.
But overall, don't expect very attentive or overly friendly service. This is not rudeness. It's simply that in many Italians' minds, it's not about you. They are just doing their job.
I have learned to relax and just try to enjoy a restaurant based on other qualities, very often despite terrible or non-existent service.
Restaurant hours and closing days

Hours – Most restaurants in Rome are open for lunch between about 12/12:30 and 3/3:30pm. They close, then reopen for dinner around 7/7:30, and the kitchens usually close by 10:30/11pm. There are a few exceptions, i.e. some restaurants open at 6 or 6:30, as there is tourist demand for this. Just don't expect to see any Italians eating at that hour.
Closing days – Most restaurants close one day a week. It seems to me that the majority choose Sunday or Monday as their closing dates but of course it does vary and some are even open 7 days a week.
Understanding the bill in a Rome restaurant

Costs
How much will you spend to eat dinner out in Rome?
I would say an average price for dinner out in Rome will run about 30 Euros per person, if you include two courses and a moderate amount of moderately priced wine. If you want to eat really good seafood in Rome, expect to pay closer to 40-60 Euros per person with wine.
Of course there are exceptions. But remember, you get what you pay for.
When you see pasta advertised for 5 Euros a portion, how good do you think that pasta is?
It is likely mass-produced and packaged, frozen and reheated.
A pretty good spaghetti all'amatriciana at a Roman trattoria will cost 9-11 Euros, and a superb plate of the same in a slightly more upscale restaurant or trattoria will cost from 15 Euros and up. That's not so bad right?
Want to know how to eat well in Rome on a budget?
See our top tips for sightseeing without breaking the bank here, as well as some of our favorite cheap restaurants!

Service Charge 

I wrote above that servers in Italy get paid a full salary and don't depend on tips to make a living. Service is "built in" to the price of your meal. So why are you getting charged a service charge?
Good question. Well, this is where things get a little murky. In Italy, there is a tax called IVA. For services, it's 10%. Mostly when you pay for goods and services in Italy, the price you pay already includes this tax. However, some (very few) restaurants choose to add the 10% service charge at the end, when you get your bill.
This is confusing enough for those of us who live here and expect that the price listed on the menu is the final price. But, by law, if they are going to do that, then this policy has to be printed on the menu. The worst thing is that some restaurants have a bad habit of tacking on a hand-written "10% service charge" only when they think they can get away with it, i.e. with unsuspecting tourists. I've also heard of 15% and 20% service charges being arbitrarily added on.  
Always check if the menu has this policy printed on it or not. And if you see a "service charge" hand-written on your bill, ask them why.
Cover Charge

A cover charge? For a restaurant?
Well, yes. This is one of those Italian food customs that may not seem to make sense but in Italy, a long time ago, there were "Osterias" where people would come with their own food, but pay for wine and sit at a table and join with other people. The Osteria would then charge for things like the silverware and basic fee to just come in. This habit is still around and you will normally find it on your bill, usually in the amount of 1-3 Euros per person.
Bread Charge
This is not supposed to be allowed any more but it still shows up on some restaurant bills.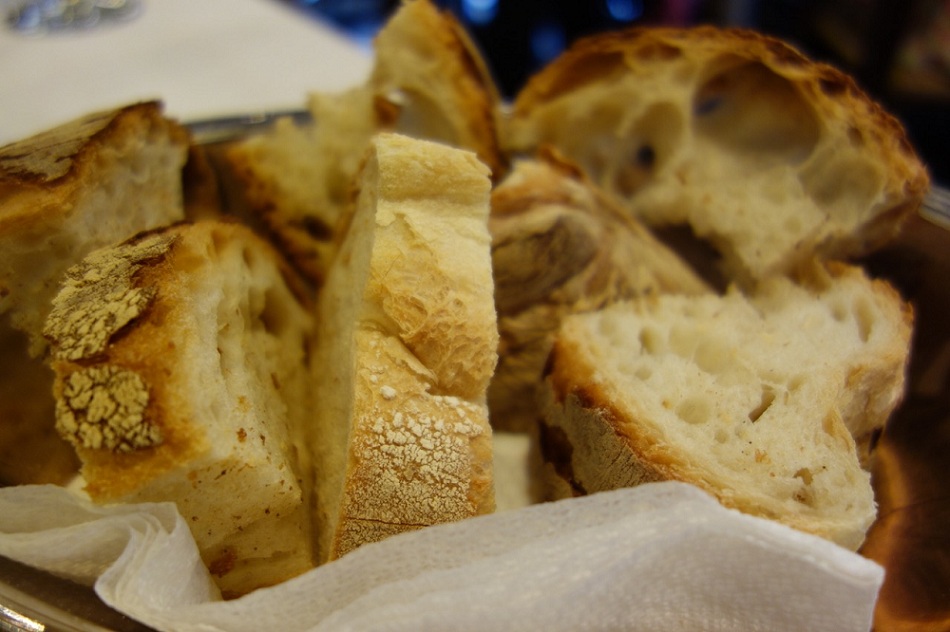 It's typical at Italian restaurants for them to bring you a basket of bread. They are not supposed to charge for it, but many places still do.
Usually it's 1-2 Euros per person. You may try to ask them to remove it, especially if you did not ask for or eat any bread.
Tipping
Should you tip?
You don't have to. Restaurant servers make a full salary, with paid vacations, sick time, and full benefits. They do not make their living off of tips.
As noted above, the "service" is built into the bill.
In fact, the service charge is really not a tip, it's a tax, but in any case, you have paid for the service. However, nobody will be offended if you want to tip him or her. It's fine to tip 1-2 Euros per person.
If you feel you had wonderful service and really want to tip a lot, then 3-4 Euros per person is plenty. You are never expected to tip 10, 15 or 20%.
How to dress in a Rome restaurant
You almost never need to dress up to eat at a Rome restaurant or trattoria, unless it is a Michelin-star restaurant.
You may choose to dress up if you like. Romans are (almost) always dressed to look great so you won't be overdressed. I would not suggest being scantily clad at all when in Rome, not even in the summer.
But it's fine to wear jeans, shorts, sandals and tennis shoes to a restaurant in Rome. Use your judgement.
---
Get your free Rome trip planner!
We are committed to respecting your data. Click for our Privacy Policy.
---
Comments? Questions? Suggestions?
Please come over to the private Romewise Facebook group and join in the conversation.

You will often find me there, happy to answer your questions / comments!
You will also meet other Rome lovers and experts, too.
What are you waiting for?