Where to eat lunch in Rome? 

Are you wondering where to eat a light or a quick lunch in Rome? It's one of the most common questions I get, so here goes!
Lunch in Rome - what kind are you looking for?
You have lots of options, depending on how much time you have, your budget and your tastes:
Pizza by the slice
Getting a stand-and-eat-it pizza by the slice is a very Roman way to have a quick lunch or snack.  There are two types of pizza by the slice: the kind made in a big rectangular pan like this:
.... and the kind that is hand-shaped, then shoved with a palette deep inside a wood-burning oven, like this: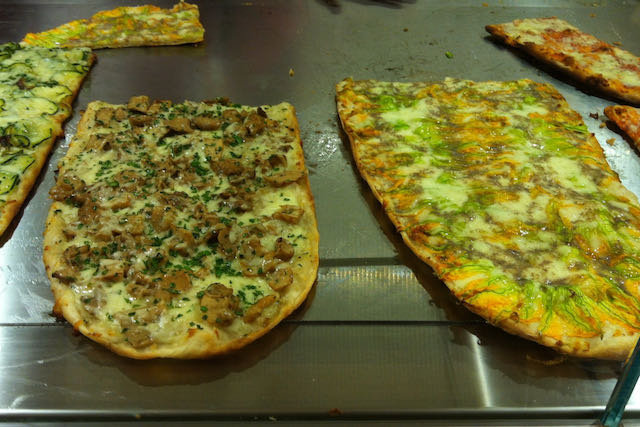 Pizza alla pala, which means pizza on a palette, at Cerulli bakery in Rome
Both are great in their own way!
You walk in, see what's available and on display.
You pick the flavors you want, and the staff will suggest a size, and then cut it for you and weigh it.
If need be, or you like it super hot, you can have it reheated. (Most Italians like theirs just warm or at room temperature but I love mine bollente (boiling!)
People flock to Pizzarium for their pizza by the slice for lunch, and are willing to stand outside to eat it, it's that good
Want to take a Food Tour in Rome, where you can learn about these different types of Roman food including pizza?
A great way to spend a morning in Rome. And then, you are set for lunch!
Lunch in Rome - Tramezzino or panino in a bar
If you want a quick lunch in Rome, perhaps between site visits, try a pre-made sandwich in a bar (café.)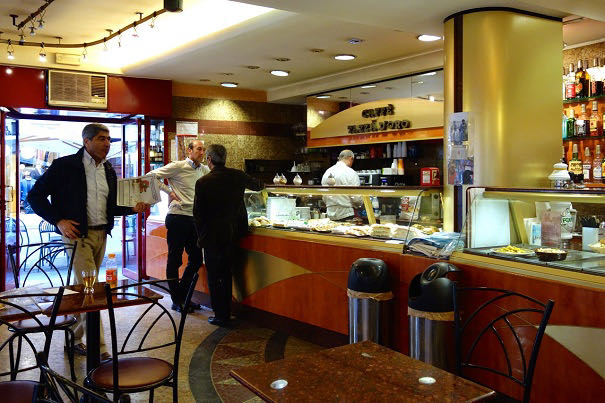 Bar del Gambero, a typical Roman bar (café) in Rome
There are generally two types: a panino is a sandwich on a roll of some kind, and it's displayed with one edge showing, so you can see the filling. 
A tramezzino (literally, "between meals") is a half sandwich, on white bread, almost always with mayonnaise, and usually two other things, such as egg and tomato, tuna and artichoke etc.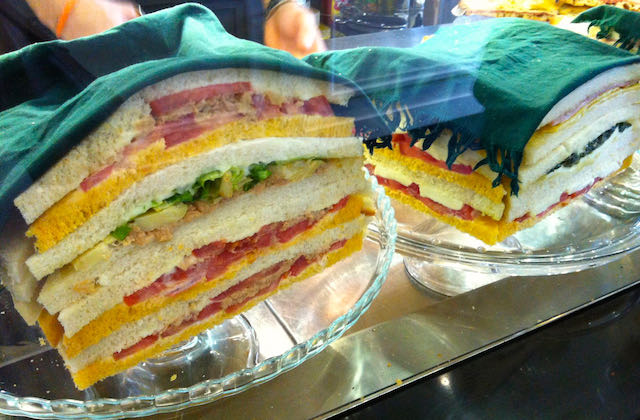 Tramezzini on display in a bar in Rome - the perfect light snack or quick lunch
These are very light and perfect as a snack, or you can have a few as a quick lunch.
I often recommend packing a sandwich or tramezzino to take with you on a tour, as most tours go at least three hours, and once you are on them, it's hard to find something to eat.
Tavola calda
This is one of my favorite ways to eat lunch in Rome, because you can almost always eat something healthy, and it's quick and relatively cheap. 
A tavola calda is usually a bar or café that also serves hot lunches. They make all the food that morning, and it goes on display behind glass for lunchtime. There is often a choice of meat, fish, pasta and lots of vegetables. You pick what you want, then they plate it and heat it for you, if necessary.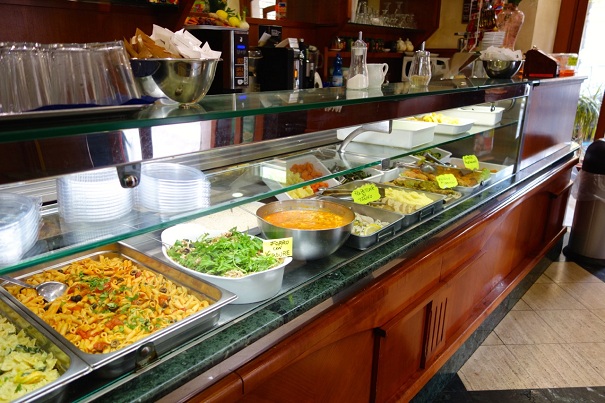 This tavola calda at Caffeteria Ruberto is right near the Vatican and a great option for an affordable, quick, healthy lunch
You can take a roll (extra), and a drink, and even pre-order/pay for your coffee, so you don't have to pay again after. You can usually sit at cafeteria-style tables, and although there is no real table service, they will bus for you after.
Then you can just slide on over to the bar, have your coffee and you're done. Tavola calda is a great option for a nice, healthy lunch in Rome that is quick, easy and affordable.
There is a huge variety in quality of tavola calda and the best of them are found in neighborhoods where people work and go out for lunch, so you will find fewer of the really fabulous ones in the historic center.
To find a tavola calda while out and about, just look for any Roman bar/café, and go inside to see if they have it. Most of what they have to offer will be on display so you can get a sense if it appeals to you or not.
Wine bar lunch
This is another one of my favorite ways to eat lunch in Rome. It's also become quite a thing lately.
You find a nice wine bar that seems to be mostly selling wine by the bottle, but then come to find, they also have food. The options are usually quite limited, because they are typically not restaurants by themselves.
There is often a daily menu, written on a little chalkboard outside, and to find the tables, sometimes you have to go inside or to the back. At the very least, you will eat in a fun atmosphere, surrounded by food and wine on display, and will usually be given pretty good options of wine by the glass to accompany your meal.
Here are some of my favorite of the old-fashioned wine-bars in Rome where you can have lunch:
Il Buccone
Near Piazza del Popolo, Il Buccone looks just like a wine shop, with lots of other fun gourmet foods to buy (flavored peppers, balsamic vinegar, pate's etc.)
But at the doorway there is a little chalkboard propped up, with the daily lunch specials.
The food is great, very simple and homemade. In the back there are basic wooden tables and you will eat surrounded by walls and walls of wine.
Excellent choices of wines by the glass and a great lunch stop, again, in the shopping zone, so good to rest your feet between purchases!
Details: 

Read more about il Buccone and other Wine Bars near the Spanish Steps here.
Fiaschetteria Marini
A fun, relaxing and very affordable place to have a quick lunch. Their daily lunch specials are homemade, cheap and excellent, and this bar is walking distance from piazza Barberini and via Veneto.
Details: 

For more about Fiaschetteria Marini and other inexpensive places for lunch in Rome, visit my page about Cheap Rome Restaurants.
Disclosure: If you make a purchase through a link on this page, I may receive a small commission - at no extra cost to you. Thank you for supporting my site!

Enoteca Pigna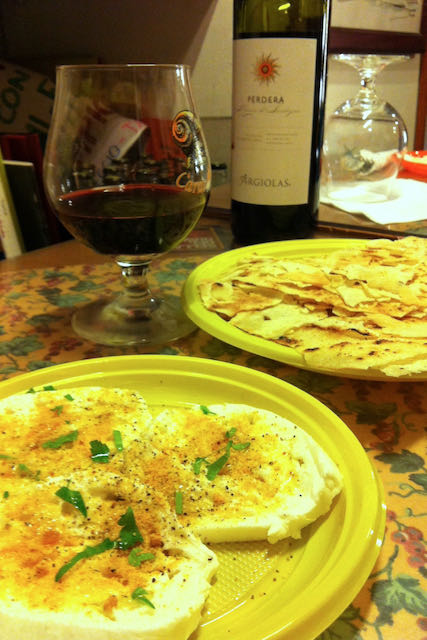 Enoteca Pigna Rome. Charming little venue with tasty specialties of Sardinian cuisine.
Friends and I recently discovered this tiny spot behind the Pantheon. 
Enoteca Pigna is a little hole in the wall, really, specializing in Sardinian foods and wine for purchase (the owner is Roman but loves all things Sardinian.)
There is a little board in front, with the daily specials, which are very limited, but absolutely yummy! 

We had fresh buffalo mozzarella lightly dusted with bottarga (fish roe); Sardinian ravioli stuffed with Sardinian cheese and potatoes and covered in a fresh, light tomato sauce; a plate of cheeses and salami from Sardegna and finally, seadas, which is a typical Sardinian dessert – a cheese-filled pastry that is fried and then dusted in powdered sugar.
Yes it was a very cheesy lunch, but oh so fun.
Details: 

For more about Enoteca della Pigna and other places to eat lunch in Rome near the Pantheon, visit my page about Where to Eat Near the Pantheon.

A big salad lunch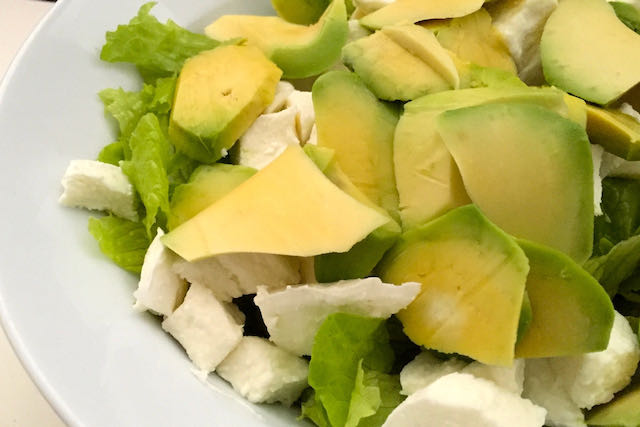 Located within two minutes of Piazza di Spagna, Gina restaurant is devoted to serving foods and dishes made with ingredients from local farms.
For Italians, a salad is something you have after your main course, to kind of cleanse the palate and the tummy. Traditionally, they do not view a salad as a meal.
But since most foreigners do like having salads as a meal, and since there must have been more and more requests for this, a lot of restaurants now serve "big salads" (in Italian, insalatone), and even specialize in them. Want a big salad for lunch in Rome? Try these spots:
L'Insalata Ricca
L'Insalata Ricca is a chain of salad restaurants, found in many spots in Rome. Their salads are fine, not that special, but there is a huge variety of them. 
They have multiple locations across the city - check out their website here for individual addresses and opening hours.

Ciampini
Ciampini is an absolute fixture on the old-school Rome scene, and is a favorite with locals for a good but relatively quick business lunch, as well as being a perfect spot for aperitifs, and one of my personal faves for gelato.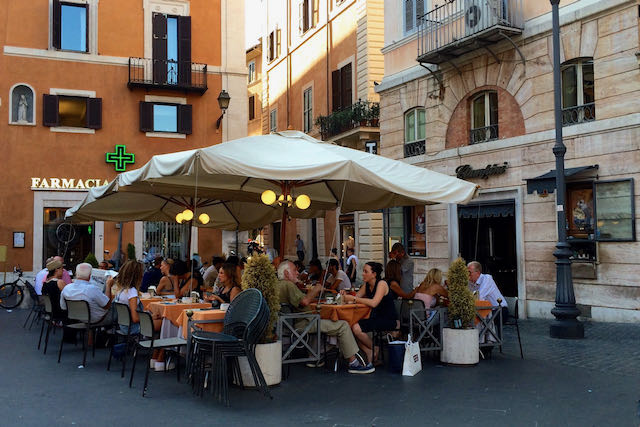 A local favorite for lunch in Rome, Ciampini in piaza San Lorenzo in Lucina
When not eating outside in the piazza, most locals head inside and upstairs for more quiet and privacy.
Details:
La Buvette
One of my go-to spots for lunch in Rome, especially in nice weather. There is a well-varied menu, with big salads but also other hot dishes, and it's on one of the quieter streets by the Spanish Steps. It's not an inexpensive lunch (20-25 Euros pp if you include a glass of wine), but lovely when you want to chill out a bit between shopping trips. 
Details: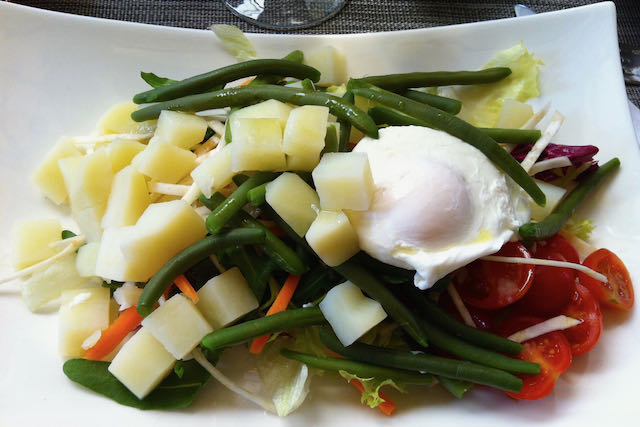 Their take on salad nicoise with egg is a perfect light lunch salad
The lunch buffet
They are not quite into the all-you-can-eat buffet mentality in Rome (with two notable exceptions, below):
But a lunch buffet, even with only one trip allowed, can still be a great way to have lunch in Rome. The idea is that you pay one price, and that gives you one trip up to the lunch bar. Usually drinks are extra. Here are some of my faves:
Esposizioni
Esposizioni, (previously called Open Colonna) is a Rome business-person lunch spot, despite its very modern decor.
Go for the light sunny spacious atmosphere, and to really eat lunch with the Romans...but also, go for the food!
Their lunch buffet is definitely worth it, and it actually is all-you-can-eat!
The buffet lunch at Esposizioni is one of the best in Rome
Esposizioni is actually inside a Rome museum, Palazzo delle Esposizioni, on via Nazionale.
But you don't need to visit the museum to go here. Take the Scalinata di via Milano 9A to the entry, then the elevator to the top. Esposizioni is also a wonderful spot for an evening drink outside on the terrace, and for Sunday brunch.
Details: 

Maxxi museum cafeteria
Piazza del Popolo
The Maxxi museum is one of Rome's pride and joy on the modern art scene, as well as the on the innovative architecture scene that is flourishing now here.
They also have a gorgeous café for eating lunch, in keeping with the style of the rest of the museum. You don't have to visit the museum to eat there, although that is also very worthwhile doing.
Their lunch buffet is not inexpensive (22 Euros per person, drinks not included), but there is an excellent quality and selection. And it is in fact all-you-can eat.
A bit of a splurge for a buffet lunch in Rome, but it can be worth it if you want a treat.
Details:
Alla Rampa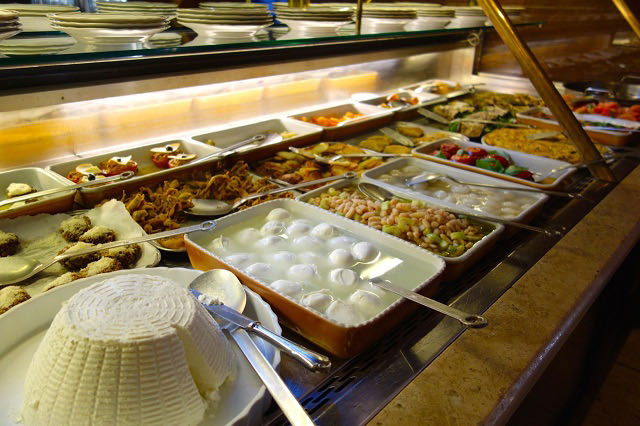 The lunch buffet at Alla Rampa has plenty of options for everyone, from cheeses to meats to salads
Alla Rampa is a little more of a tourist-spot, owing to its location in the piazza next to the Spanish Steps. But, they do have a very nice lunch buffet (one trip only) for only 10 Euros (drinks not included), and you can sit outside.
Details:
The long lunch
The Roman way to enjoy a long lunch at Acchilli al Parlamento
Of course you may not want a quick lunch, but a real sit-down, enjoy your meal and really relax kind of lunch, perhaps if you're celebrating an event or looking for a romantic meal.
This is also a very Roman way to have lunch, especially if you are a politician, priest or business-person.
In this case, pick a nice local restaurant that you like, and go spend a few hours there. Most restaurants like this that are near the Pantheon/Parliament are very difficult to get into at lunch time, with all those senators discussing the state of the Italian economy, so you may need to book ahead.
Porchetta
Do you want a real, local lunch in Rome, the old-fashioned way? I have to add this as a lunch option because it is a special food in Rome, and there is one special place to have it in Rome: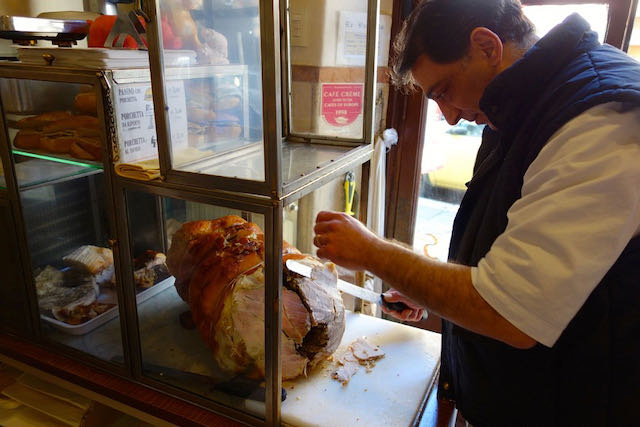 Alessandro, the owner of Er Buchetto, slicing porchetta for his customers
Er Buchetto. Porchetta is a local way of slow-cooking an entire pig that has been stuffed with herbs. It's eaten by itself or on white crusty bread. At Er Buchetto, this is (almost) all they serve, although you may also purchase cheap wine (or even water) to wash it down with. 
Details: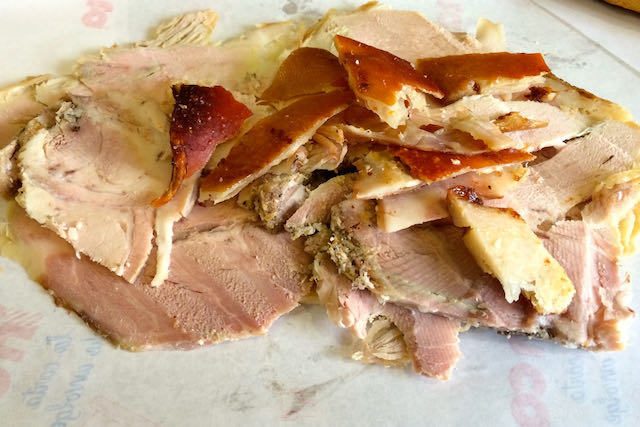 For meat lovers, a simple porchetta lunch at Er Buchetto is just the thing to have in Rome!
---
Get your free Rome trip planner!
We are committed to respecting your data. Click for our Privacy Policy.
---
Comments? Questions? Suggestions?
Please come over to the private Romewise Facebook group and join in the conversation.

You will often find me there, happy to answer your questions / comments!
You will also meet other Rome lovers and experts, too.
What are you waiting for?