Best Vegetarian Restaurants in Rome
(Vegan too)
Looking for vegan and vegetarian restaurants in Rome?
Now more than ever before, the Eternal City offers lots of great options for vegans and vegetarians alike.
But I have even better news for you!
Tagliatelle with tomato sauce, basil sauce and almonds at Marzapane (this restaurant no longer exists but I do love the photo and it's vegetarian so I hope you don't mind!)
Eating Vegan and Vegetarian in Rome
Great news for vegans and vegetarians in Rome:
Roman cuisine already offers lots of vegetarian (and vegan) options
Much of Roman cuisine is or can be vegetarian all by itself, so you don't need to feel too restricted about where to eat in Rome.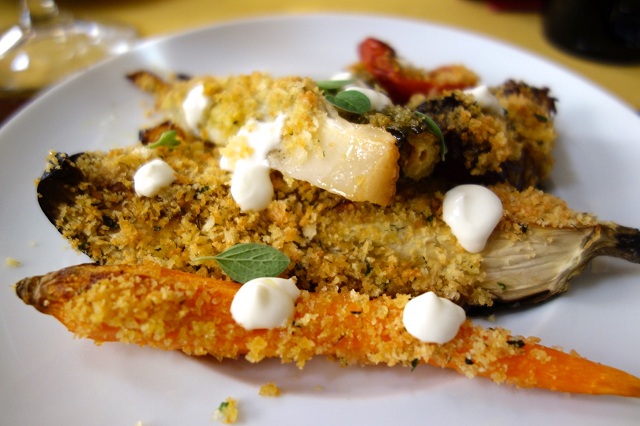 Vegetables are a huge staple of contemporary Roman cuisine. These grilled veggies au gratin were topped with a dab of Greek yoghurt, and were super delicious at Osteria dell'Ingegno.
I was vegetarian for several years recently, and found myself always able to find plenty to eat when going out with others (who were not vegetarian), to just about any Rome restaurant, bar or pizzeria.
We didn't need to look for specific vegetarian restaurants in Rome.
There was never an occasion when my friends or husband would say, oh, we can't go THERE because Elyssa doesn't eat meat.
Meaty Rome restaurants
It can be tricky when you go out with serious carnivores, such as to one of Rome's oldest restaurants, Checchino, which is famous for their use of offal pretty much throughout their menu. And yet, I was able to eat there! Vegetables and cheese.
For vegans, this place would have been a bit stickier to navigate.
Another difficult place for vegetarians, especially vegans, is Santo Palato, a recently-opened, much-lauded Roman trattoria serving up traditional Roman food that's mostly focused on pork and offal.
I had a Roman artichoke, and cacio e pepe pasta (a typical Roman dish that has cheese but no meat).
Even in situations like that, if you don't like cheese or are vegan, you could simply order a few of the contorni, or side dishes, which are usually vegetable based. 
How to Eat Vegetarian Food in Rome Restaurants and Bars
If you visit a Roman trattoria, take a look at the vegetable bar, or the contorni (side dish) option on the menu, and you'll find that it is often comprised almost entirely of vegetarian, if not vegan dishes, like cooked vegetables, beans, and potatoes.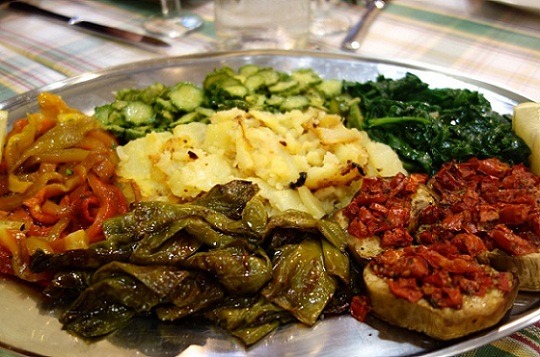 At Sora Lucia, a typical Roman trattoria, I often just ask them to bring a huge selection from their vegetable bar for the table. But I could eat this by itself as a meal.
There is almost always a vegan or vegetarian pasta choice.
Of the four traditional Roman pastas, one has only cheese (cacio e pepe, which is sheep's milk cheese and black pepper).
For vegan pasta, you'll often find fettuccine with funghi porcini (porcini mushrooms), penne arrabbiata (short pasta with a spicy tomato sauce), or some version of a simple basil-tomato sauce.
And at most (but not all) Roman restaurants, you can usually just ask them to make you a simple dish with just tomato and basil, or as my dad loves, with aglio, olio e peperoncino (garlic, olive oil and hot peppers. Simple is good!)
Penne arrabbiata is a lovely vegan dish you can easily find in Rome. This one is from Sora Lucia, a Roman trattoria near the Trevi Fountain.
Some common vegetarian items you will often find on the menu in Roman trattorias include:
Eggplant parmesan
Scamorza (a kind of grilled, melty cheese)
Caprese (tomato and buffalo-milk mozzarella, in season, i.e. summer)
Eggs (not that common but you can also ask for them)
Vegan dishes you will often find on Rome menus include:
Bruschetta with olive oil or tomatoes
Grilled funghi porcini (in season)
Grilled vegetables (eggplant, zucchine, peppers)
Spaghetti with tomato and basil sauce
A simple bruschetta with fresh tomatoes (in season), drizzled with olive oil, is a delicious option for vegans, and available at almost any Rome trattoria.
I would not expect to start seeing a flurry of "Vegetarian" menu headings anytime soon at traditional Rome trattorias.

Which is not to say you cannot eat there as you would at dedicated vegetarian restaurants in Rome. You will just have to be selective.

Foods to be careful of in Rome if you are vegan/vegetarian
Roman cuisine today is in part based on ancient Roman cuisine.
This means that to flavor food and give it saltiness, one of two common ingredients are often used (never together): anchovies and pork.
These are often incorporated into Roman dishes in small amounts and chopped up.
So you will have to either know it's there, or ask to make sure it's NOT there.
It's important not to ask if something "has meat", but rather to ask if it's vegetarian.
For many Italians, the word carne, or meat, implies beef or lamb. I've been told by many a barman that a ham-and-cheese tramezzino (little half-sandwich on white bread that you will find at bars/cafe's all over Rome) does not have meat.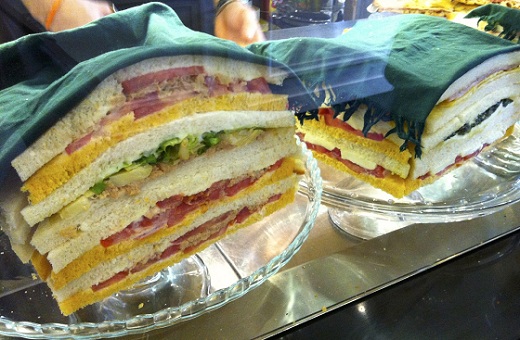 "Tramezzini" are a great little mid-day snack (or even a good option for a quick lunch). You can usually see the ingredients clearly. Almost all of them contain mayonnaise, and while there is usually a pretty good selection for vegetarians, it may be difficult to find a vegan option of these.
Likewise, I've been told by many Italian restaurant waiters that something does not have meat only to find out there are small bits of anchovy in there.
When confronted, the response from the not-understanding waiter: "Well, just a little, you know, for flavor."

Which is fine if you are like me and love anchovies. But not fine if you hate fish or are vegetarian.
So the correct question to ask is "is it completely vegetarian?"
You can ask in English. If you want to ask in Italian, say this: "Il piatto è completamente vegetariano?"
Here are some places meat or fish is "slipped" into the food in Roman restaurants:
Supplì - Classic Roman breaded-and-fried rice balls. Supplì are mostly made with rice, tomato sauce and cheese. But many places also serve a "classic" version that has some form of meat (beef, or chicken innards). 
Fiori di zucca - Fried zucchini flowers. They are nearly always filled with mozzarella (more rarely with ricotta) and 1-2 anchovies "for salt".  One place I know of that offers this dish on the menu specifically without anchovies is Pizzeria Emma.
Mixed fried things as appetizer - You often find a fritto misto on a menu where fried things are served, especially at pizzerias. It should be clear if the dish is JUST mixed vegetables or if there are meaty things involved (like fried zucchini flowers, fried cod, and stuffed olives). But if you are not sure, you should ask because once a platter of fried things arrives, it's not easy to tell what's inside.
Vignarola - this seasonal spring dish of sautéed artichokes, fava beans and peas can be served vegetarian, but is often "flavored" with guanciale (pork jowls), so always ask.
Many minestre (soups), especially if beans are involved - just as with split pea soup or chili, people add meat/pork for flavor, so too do Italians often flavor soups and stews, either with pork or shellfish.
Pastries - For a long time I thought I was "safe" having my morning cappucino e cornetto (like a croissant). But it turns out the pastries are often made with lard (strutto). By law, bars/cafés have to place a list of ingredients used in their food, someplace visible. So I checked one day and saw strutto all over the place. You will need to check the ingredients list, or go someplace that serves vegan pastries.
Bottom line with the above: Ask if it's not clear or you are not sure.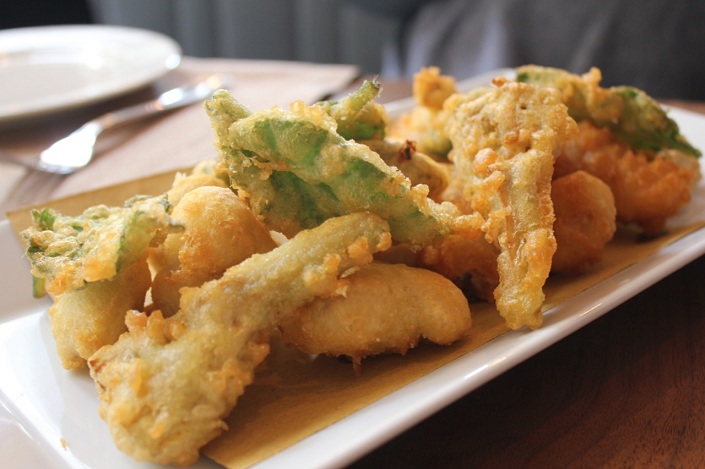 This gorgeous "Fritto Romano" at Secondo Tradizione, was made up of mostly vegetables. But there were other things in here too: veal parts you probably don't want me to describe here. But they did tell us in advance.
Rome's Vegan and Vegetarian Bloggers Recommend their favorite Vegetarian Restaurants in Rome
The second piece of good news I have for you is that many of my wonderful Rome blogging/vlogging friends are vegan or vegetarian, and have added to this page by sharing their favorite vegetarian restaurants in Rome.
Below are their suggestions, in their own words. I've included photos and websites where possible. 
Livia Hengel
"Being vegetarian in Rome is a little different than being vegetarian in the US - you won't find tofu, tempeh or seitan on the menus here, or even big bowls of chopped salads dressed with interesting vinaigrettes.
On first impact, it can be difficult to navigate past all the pastas, bruschetta and pizza but my favorite trick is to flip to the back of the menu where the contorni lie."
"Italians are so good at preparing flavorful vegetables that I often feel like I'm indulging in something as delicious as dessert: between broccoli rabe sautéed with olive oil, garlic and red chili flakes, braised Roman artichokes flavored with lemon and mint, grilled radicchio with melted taleggio cheese and crispy roasted potatoes served with fresh rosemary, it's hard to pick my favorite side dish. I also have to admit I eat a lot of cacio e pepe and pizza margherita. I love carbohydrates!

I can always find vegetarian options on the menu but if I'm eating out with veggie friends, I like to go to Il Margutta near Piazza del Popolo for dinner with a chic atmosphere."
---
Livia Hengel is a writer, photographer and digital strategist who helps Italian businesses share their stories online. Follow her travels on her website, Instagram, or other social media (Twitter/Pinterest: @liviahengel, Facebook page: @liviainitaly).
---
---
by Zoey Arielle
"Romeow Cat Bistrot is a must-visit for all of the animal lovers out there on a trip to Rome. Located in the Ostiense/Piramide area of the city, your journey there will bring inspiration through the lively streets, Rome's piramid and famous street art.
Romeow itself has a very charming vibe and this includes the furry friends you can see sleeping in unique beds throughout the restaurant. The food is all vegan and tasteful."
We loved this sweet potato dressed with vegan sour cream, seed, nuts and herbs. Romeow Cat Bistrot is definitely one of the most creative vegetarian restaurants in Rome.
"The menu changes with the season, however always contains vegan versions of famous Italian cuisine (and of course delicious deserts!). For an afternoon treat or a delicious meal Romeow is an excellent choice!"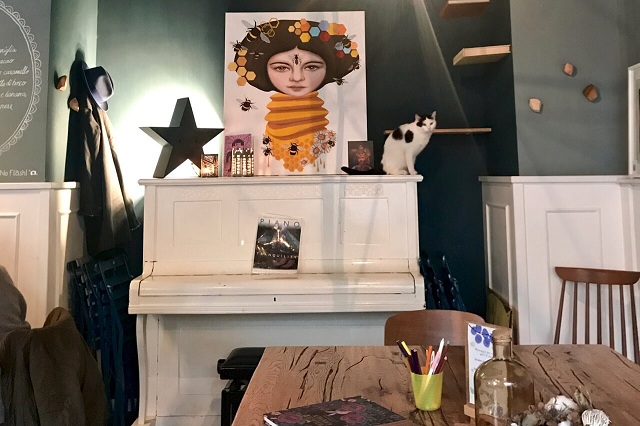 There are plenty of kitties to adore while you enjoy your vegan meal at Romeow Cat Bistrot.
Details: 

---
Zoey Arielle Poulsen, is a 30-something Canadian living life the way it was meant to be lived. Zoey was born and raised on Vancouver Island, BC, Canada. She moved to Toronto to continue her post-graduate degree in Sport & Event Marketing when it happened. She fell in love with life, traveling and sharing her positive message. From Toronto, she followed her heart all the way to Italy to become the digital nomad of sorts we've all come to love. (And now she is in Bali!) Follow her adventures on her YouTube channel, on her blog, and on her beautiful Instagram profile.
---
---
The perfect 3-day itinerary in Rome
Trying to figure out how to organize your visit to Rome? I've got the perfect 3-day itinerary for first-time visitors (or those who have not been here in a while.) It works for a 2.5 day visit as well.
In my 3-day itinerary, you'll see all the major must-see Rome attractions like the Vatican, Colosseum, Trevi Fountain, Pantheon, Piazza Navona, Spanish Steps, Castel Sant'Angelo, and much more.
And if you have more time, or want suggestions for extra/other things to do, you'll find that there too.
Visit my page with the best 3-day itinerary in Rome for first-timers.
---
---
Linda Martinez
"I find I can eat well almost anywhere so I'm not one to go to specifically vegetarian restaurants in Rome.   
However, when I do one of my favorites is Bibliothè.
Bibliothè is a hidden gem -  an Indian restaurant run by an American & Italian couple Trina & Enzo on a little side street near Largo Torre Argentina. Everything is homemade with organic ingredients and Trina makes amazing American-style decadent  cakes and pies for dessert."
Bibliothè is one of the best ethnic-food vegetarian restaurants in Rome, and has a lovely, calming atmosphere. Photo - Livia Hengel
"Their Ayurvedic tea is a delicious way to end the meal or just stop by for tea and some cake in the afternoon. For lunch, they have their "curry in a hurry" which is a fast track sampler of different menu items of the day on one platter."
Details: 

---
Linda Martinez runs the Beehive hostel along with her husband Steve Brenner. The Beehive hostel is one of my favorite places to recommend in Rome. 
The Beehive is a hostel with a small cafe which serves vegetarian breakfast daily from 07:30-10:30. The café is open to guests and non-guests alike. 
Everything is à la carte, made to order. There's everything from in-house homemade bread, cakes, and pastries to omelets, French toast, porridge, and more. Ingredients are organic and coffees & teas are fair trade. In addition, there are family-style vegetarian & vegan set menu dinners starting 19:30 on Monday, Wednesday and Friday that are based on donation. For the dinners, reservation is required before 17:00 on the day of the dinner.
Details: 

---
---
Sofia Medina
"I love the aperitivo at Freni e Frizioni because not only is it super affordable, but it's 100% vegetarian (and vegan friendly!) With the purchase of one drink, you can choose as much food as you'd like at the buffet station. It's a perfect option for vegetarians and vegans who are visiting Rome because they can experience the Italian "aperitivo," without having to ask, "Is there any meat?" 
The buffet has a huge selection of salads, pastas, legumes, dips and so much more."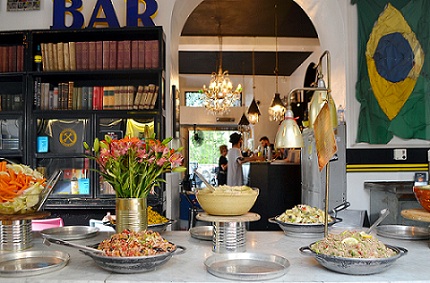 Freni e Frizioni offers a superb vegetarian aperitivo spread, and is a favorite with many Rome vegetarians and carnivores alike! Photo - Livia Hengel
"My favorite time to come here is during the summer, where you can take your drink and plate of food and sit outside in a very casual and laid back environment. I never leave Freni e Frizioni hungry!"

Details: 

---
Disclosure: If you make a purchase through a link on this page, I may receive a small commission - at no extra cost to you. Thank you for supporting my site!
An American transported to an Italian world. Sofie left the corporate world and moved to Rome for love in 2016. She started documenting her travels and experiences as a bilingual expat on YouTube to share the love of Italian culture and stepping outside comfort zones with like-minded individuals. She and her husband now live in Florence.
Follow Sofie on her YouTube channel and on her Instagram page.
---
---
Gian Pietro Gentilucci Leonardi

"Rome is increasingly becoming the capital of plant based cuisine. More and more new and trendy restaurants are opening  and the older ones are changing their menus to include vegan options.
But there is a place that manages to perfectly combine traditional Roman cuisine and delicious vegan food: I'm talking about Rifugio Romano, a few steps from Termini Station.
A very friendly place where you can taste Roman food in its vegan version and new specialties created specifically by the chef.
The wine list is also vegan friendly and well-priced. A special mention to the staff, very welcoming and with the typical Roman liveliness. It is better to book in advance. Highly recommended."
Details: 

---
Gian Pietro Leonardi combines a passion for art (he's content curator of Rome's Civic Museums Social Networks), literature (he publishes the blog Queerographies), and travelling. Follow his wanderings on Instagram.
---
---
Sian Lloyd
"I can definitely recommend Flower Burger. Gosh, I love this place! It is a little out of the centre, but the vegan ceci (chickpea) burgers are so delicious."
Flower Burger offers a large variety of veggie and vegan burgers, and a bright, welcoming atmosphere. Photo - Sian Lloyd
"The atmosphere of this tiny place is very cute, brightly coloured and with adorable quotes on the walls. Apart from their amazing fresh burgers, the staff are friendly and it just has such a welcoming, easy going atmosphere."
Details: 

---
Sian is a Lifestyle Blogger, Content Creator & Eternal Explorer. Having moved to Rome over 2 years ago from South Africa, she is constantly out and about exploring the endless eternal city, especially when it comes to food! Follow Sian on her healthy lifestyle blog Live The Wonderful Life and on Instagram.
---
Rome is now overflowing with options for vegans and vegetarians
The third piece of good news I have about eating vegan and vegetarian in Rome is that the city is now bursting with restaurants catering to you!
Besides new (specifically) vegetarian restaurants in Rome popping up right and left, many more traditional Rome restaurants are now offering some form of vegetarian and vegan options on their menus. 
When it comes to recommending specific vegan or vegetarian restaurants in Rome, I am going to have to actually NARROW down the list here, and include the places I know best, and in the most central or at least accessible parts of Rome.
This all vegetarian "burger" spot can be found in the "Veg&Veg" stand in the Mercato Centrale food hall in Termini train station.
Vegetarian Food tours in Rome
The best way to enjoy a food tour in Rome as a vegetarian is to book the general food tour you want, and just let them know your restrictions.
Roman food tours have become so popular that there are now many different options, from pizza-specific, to kid-friendly, to market-exploring, and much more.
Many Rome food tours can be modified to accommodate vegetarians and vegans, so make sure to inform the company when you book.
Some more great vegetarian restaurants in Rome
I've already listed a few excellent vegetarian restaurants in Rome, or at least, places where it's easy to eat if you are vegetarian or vegan.
Here are a few more of my favorite vegetarian restaurants in Rome.
Sit-Down Vegan and Vegetarian Restaurants in Rome
The below are all sit-down restaurants, where you can enjoy breakfast, lunch, brunch, and/or dinner. Some are regular restaurants with a good vegetarian selection, and others are all vegan or all vegetarian restaurants in Rome.
Ops!
We love the varied, fresh and delicious vegetarian buffet at Ops!, which is one of our favorite vegetarian restaurants in Rome for brunch.
Ops! is a 100% vegetarian (and almost totally vegan) casual restaurant not far from Via Veneto or Termini.
I go here often with Roman friends for brunch. And none of these friends is vegetarian. We just love the atmosphere, the brunch special, and the fantastic food. Try some of their vegan desserts too!
Details: 

Il Margutta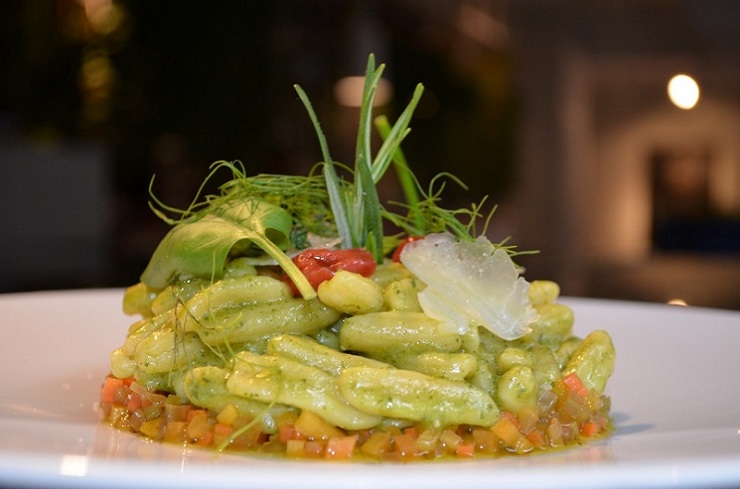 Mostly known for their fabulous lunch or brunch buffet, Il Margutta has a gourmet chef, and at night, the menu becomes even more interesting.
Most of my vegetarian blogging friends mentioned this as one of their favorite vegetarian restaurants in Rome, and I love it too.
Il Margutta is one of the best-known and loved vegetarian restaurants in Rome. I agree, it's great!
Il Margutta Vegetarian Food & Art is probably the most famous of the specifically vegetarian restaurants in Rome.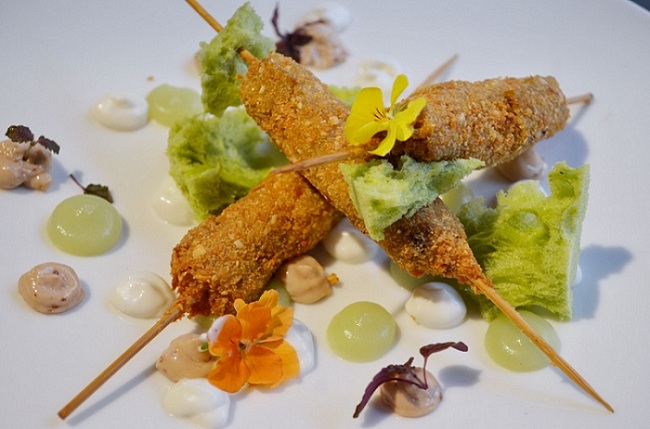 This delicious dish prepared by chef Mirko Mogliani consists of breaded seitan skewers with hazelnut and drops of wasabi and other vegan mayonnaises. Photo credit - il Margutta
I love it at lunchtime, but it's also a great option for a slightly upscale, even romantic dinner. They have a gourmet chef, Mirko Mogliani, and he is gifted at creating delicious dishes that even omnivores love.
Bonus - the whole place doubles as a modern art gallery, so you have the pleasure of being immersed in a beautiful setting while you eat.

Details: 

Address: Via Margutta 118 (near Piazza del Popolo and Spanish Steps)
Opening hours: Monday-Sunday: 12:30-15:30, 19:00-23:30
Reservations recommended, especially for Sunday brunch and weekend dinner.

Ginger
Ever since Ginger came upon the Rome dining scene, hip Romans have been flocking here for the healthy-food menu, the bright, cheery atmosphere, and the "something new and different" factor.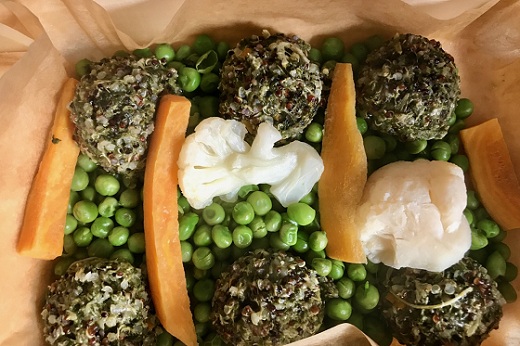 I loved this steamed basket of peas with quinoa balls, cauliflower and carrots. A little salt, and some EEVO drizzled on top made it just perfect.
It's also pretty nice to know you are eating at a restaurant that adheres to a strong sustainability philosophy.
Ginger has something for everyone, including those avoiding gluten.
Romans love the cheery, modern vibe at health-food restaurant Ginger.
Near the Spanish Steps: 

Near the Pantheon:
Orto
Orto is a relative newcomer in the vegetarian restaurants in Rome scene. There's a casual, warm, cozy atmosphere with a creative menu full of fresh vegetarian, vegan and bio ingredients. It's one of the nicest vegetarian restaurants in Rome to enjoy an inexpensive vegetarian lunch, brunch or dinner. Even my Roman carnivore friends love it. Check out the all-you-can-eat lunch during the week (9€) and brunch on Saturdays and Sundays (15€).
Details: 

Phone: +39 06 4567 8050
Opening hours: Monday-Sunday: 12:30-15:00, 19:00-24:00
Reservations recommended

Ecru
Not far from the Vatican, Campo dei Fiori and Piazza Navona, Ecru Raw is perfectly located to enjoy raw, biological, vegetarian food in a lovely, serene setting.
Look for smoothies, vegan cheeses, soups, natural wines and much more.
Details: 

Fast Food Vegetarian Restaurants in Rome
The below vegetarian restaurants in Rome are more "fast food". Some have limited seating available but otherwise, they are mostly take-out.
Ciao Checca

Ciao Checca is a great option for eating healthy, right in the center of Rome near the Pantheon and Piazza Navona. 

Ciao Checca is one of my favorite health-food places to eat in the center of Rome.
Omnivores, vegans, and those with gluten-intolerance will all feel at home here.

Details: 

Duecento Gradi
Duecento Gradi is a small sandwich shop with a huge menu offering choices for everyone, including specific vegetarian and vegan menus.
Details: 

La Zazie
La Zazie is an Italian franchise of health-food juice bars. Everything is vegetarian or vegan.
Details: 

Dessert Vegetarian Restaurants in Rome
I think it goes without saying most desserts are vegetarian.
If you're looking for vegan desserts, start with those at some of the dedicated vegetarian restaurants in Rome. One of my favorites is Romeow Cat Bistrot (above).
Here are a couple of other excellent spots:
Grezzo
For vegan dessert at its best, head to Grezzo, a chocolatier in Monti neighborhood offering raw, vegan, gluten-free, sugar-free (yes you read that right!) desserts, gelato, truffles, cookies, and more.
It's not inexpensive, but you get quality for the price. 

Details: 

Address: Via Urbana, 130
Phone: +39 06 483 443
Opening hours: Monday-Thursday: 12:00-13:00, 13:30-20:00 | Friday: 12:00-13:00, 13:30-23:00 | Saturday-Sunday: 12:00-23:00
Il Gelatone Gelato
There are now lots of great gelato spots in Rome, and some of them offer lactose-free, sugar-free, vegan choices, and more. 
There's a huge selection of flavors at Il Gelatone, and this includes a large section of vegan flavors too!
Il Gelatone is one of the best gelaterias in Rome to find vegan gelato flavors. Let your taste buds go crazy!
Details: 

The Happy Cow
The Happy Cow is a great resource for finding vegan and vegetarian restaurants in Rome, but also around the world.
They also list shops, hotels, and anyplace you could buy food, so you have a complete resource for vegetarian eating wherever you travel.
Map of Vegan and Vegetarian Restaurants in Rome
There are even more vegetarian restaurants in Rome than those I've listed on this page. This should be a great start though.
Click here to visit a Google map with all the vegetarian restaurants in Rome I have listed on this page. It opens in a new window.
---
Pin Me!
Want to share this page on Pinterest? Pin it here!
---
Get your free Rome trip planner!
We are committed to respecting your data. Click for our Privacy Policy.
---
Comments? Questions? Suggestions?
Please come over to the private Romewise Facebook group and join in the conversation.

You will often find me there, happy to answer your questions / comments!
You will also meet other Rome lovers and experts, too.
What are you waiting for?