Rome transportation - how to get around
The Rome Transportation system makes it easy to get around the city - find out how to get tickets, how to get in and around Rome, whether kids ride free, and much more.
Rome transportation options
One of the most important things that can affect your visit to Rome is deciding how you will get around.
Walking is always my first choice, because there is so much to see on foot, and also because I love the exercise.
And, Rome is pretty compact and you can walk easily from monument to monument, piazza to piazza. Plus you get to peek into doorways along the way.
But it's not always feasible to walk as a means of sight-seeing in Rome, due to weather, tiredness, trying to fit in a lot of stuff in a day, hurt knees, little ones, etc. 
Other than walking, here are the best ways to get around Rome:
Finally, here's how to know how to get where you want to go in Rome:
No matter what season you visit Rome, here are 4 things never to leave at home:
Disclosure: If you make a purchase through a link on this page, I may receive a small commission - at no extra cost to you. Thank you for supporting my site!

Public Transportation - ATAC
Rome's public transportation is run by ATAC (Azienda Tramvie ed Autobus del Comune di Roma). Once you open the site, you can choose English from the language menu at the top.
The ATAC system includes the Metro (underground), Bus, and Tram. There are also a few limited trains that belong to the ATAC system. The best example is the train that takes you to Ostia Antica/Ostia Beach.
You can get a single-use ticket, a daily ticket, 3-day ticket, or longer. These are easy to purchase inside most Tabacco shops or at most news stands, or by using the machines inside the Metro stations.
---
---
Children under 10 ride free on all ATAC transportation, and must be accompanied by an adult.
Looking for a place to store your luggage before your train or flight?
Rome Transportation - Metro
The Rome Metro or underground is an easy, quick way to get around parts of Rome.

At least, the parts not full of underground Roman ruins! 
The metro runs daily from 5:30 am to 11:30 pm. On Friday and Saturday, the metro runs until 1:30 am. 
Find out everything you need to know about riding the Rome Metro on my dedicated page.
---
ROME TRANSPORTATION - bus
Rome has an extensive bus system, allowing you to get almost anywhere in Rome, even to many areas outside Rome.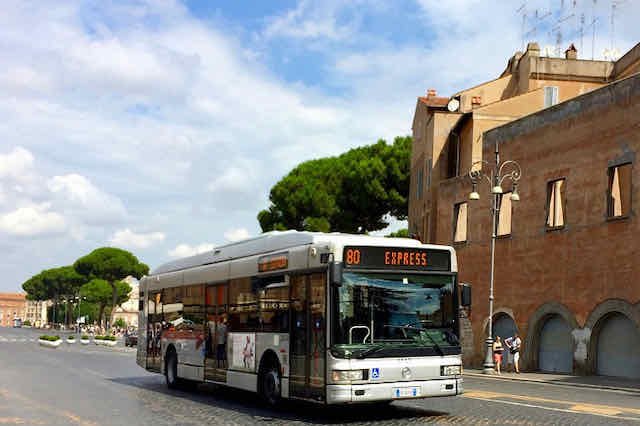 The Rome bus system is inexpensive and easy to use to get around Rome, especially if you use an app to tell you which one(s) to take.
It's the slowest way to go, but it can be an adventure and/or scenic if the bus isn't too crowded.

---
---
ROME TRANSPORTATION - Tram
There are a limited number of trams in Rome, all part of the ATAC Rome public transportation system.
The trams in Rome are limited but they go far and can be useful if you have a specific destination outside the center.
The trams are all in strategic spots, connecting to either a metro or bus stop, making it very easy to get quickly to locations the metro cannot always go, such as the auditorium or MAXXI museum.

---
The Rome ATAC tickets are not valid for the following means of Rome transportation:
---
Hop on / Hop off bus

Many open-bus companies offer hop-on / hop-off service in Rome, and they all offer pretty much the same route.
You will see the main tourist attractions of Rome, such as the Colosseum, Vatican, Pantheon, Palatine Hill, etc.
In front of the Palatine Hill, you can see many different brands of Hop-on / Hop-off buses waiting to take off.
Because they are hop-on/hop-off, you could use this double decker bus both as a means of Rome transportation and also as a way to sight-see.

The hop-on/hop-off bus is also a great option if you want to take in the sights in a day and/or if you are short on time and just want to get an overview.
Click here to read my page about the the Hop-on Hop-off bus tours in Rome.
Click here to book your Hop-On/Hop-Off bus tickets.
Taxi
I know that many visitors to Rome are wary of taking a taxi in Rome.
Unfortunately, there have been too many tales of people being ripped off by unscrupulous taxi drivers.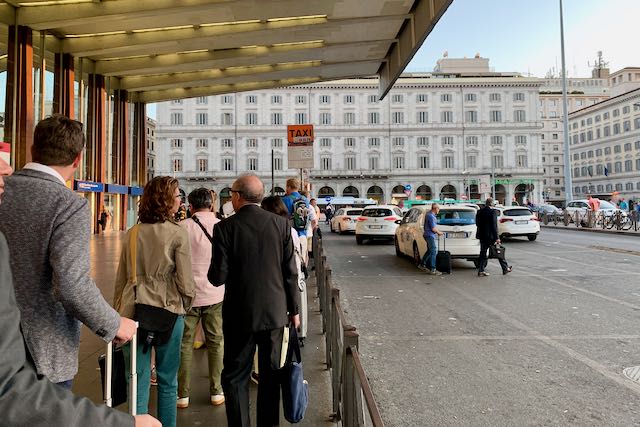 Taxis are a common form of Rome transportation. Just know the rules so you have peace of mind.
But I am here to tell you that most Rome taxi drivers are honest.
And there are ways to take a taxi and make sure you do not get hustled.
And taking a taxi in Rome can be a good thing when you are tired and hot and just want to get quickly back to your hotel or apartment.
For details on how and where to get a taxi, costs, and how not to get ripped off, visit my dedicated page about taking a taxi in Rome here.
Private car hire
You may want to hire a private car while in Rome.
Typically, people book these to get between Rome and the airport or between Rome and the cruise port city, Civitavecchia.
Hiring a private limo driver is one way to get into and out of Rome. It's also popular when taking a private tour in or near Rome.
Many people also opt for a private car hire to take a private tour in Rome, or to get them to other nearby spots such as Pompeii, the Amalfi Coast, Florence, etc.

The best way to hire a private car in Rome is to book in advance.
This way you know exactly what kind of car you are getting and you know the price in advance.
The worst way to take a private car anywhere in Rome is by picking up one as you would a taxi.
Unfortunately, here, again, you may get taken advantage of.
Click here to book your private car for airport transfer.
Click here to book your private car for Civitavecchia port transfer.
Click here to book a private tour of Rome with limo and driver.
Driving

Sorry but I must strongly urge you not to use a car as a way to get around Rome.
Driving is probably the worst choice as a means of Rome transportation. Try to avoid this if you can!
If you are renting a car and driving in or out of Rome, fine.

But there is no need for a car in Rome, it's not easy or cheap to park it, and you risk getting slapped with hefty fines for driving in restricted areas that you may not be able to recognize.
---
---
Vespa / motorcycle

As a means of Rome transportation, you can rent your own Vespa (scooter) or motorcycle if you feel comfortable navigating Rome streets and traffic.
You can also take a tour of Rome on a Vespa/scooter.
This is one of the most fun ways to tour the city. It's easy, safe and allows you to cover a lot of ground. You will be a passenger and get to look and film as you go. You'll wear a helmet and the drivers go very slowly, but you also get that feeling of zipping around Rome as the Romans do.

Click here to rent a Vespa while in Rome.
Click here to book a Vespa tour of Rome!
Bicycle - from e-bike sharing to rentals to tours

I have a bicycle but rarely use it as a means of Rome transportation, preferring to use it for a leisurely ride along the Appia Antica or along the Tiber.
But ever since the electric bike-sharing programs began and these bikes started popping up everywhere in Rome, I must say I find them quite useful.
Electric bike-sharing services like these Jump bikes by Uber can be a fun and way of getting around Rome.
First of all, the bikes are electric which makes riding them a breeze even up small hills.
Second of all, you don't have to worry about where to park them (except of course you do have to make sure you do not park in a prohibited area. The app you use to rent the bike will let you know.)
All you need is the app for the product you want to rent. I have found you can download an app, sign up, and rent one of these electric bikes in a matter of minutes.
You could also choose to rent an electric bike for longer than just a one-time use, and enjoy it as a means of getting around Rome for a day or longer.
Beware, though, that they do not come with helmets so you are taking a risk. Drive slowly, obey traffic laws, and stay safe!
Click here to book an e-bike tour along the Appia Antica.
You can also rent bicycles on the via Appia which is a very pleasant way to spend a Sunday (because on Sundays the Appia Antica is closed to car traffic).

Electric scooter

Lately it's all the rage in Rome, and it seems in many cities around the globe as well, to rent an electric scooter or bicycle as a means of getting around Rome.
By rent I mean for one-time use.
There are many brands in Rome that rent these electric vehicles.

A big one is Uber, so if you already have an Uber account, you are set. They use Lime as their intermediary rental app so you'll need to download that if you don't have it already.
Many tour companies are now offering electric bike tours. This is really fantastic because you can see a lot while exercising but without it being too strenuous.
All you need is the appropriate app. Enter your details and payment method and you're good to go.
Segway

Segway can be a fun way to get around Rome but given that we barely have bike lanes in Rome, going around on a Segway may not be a very good option as a means of Rome transportation.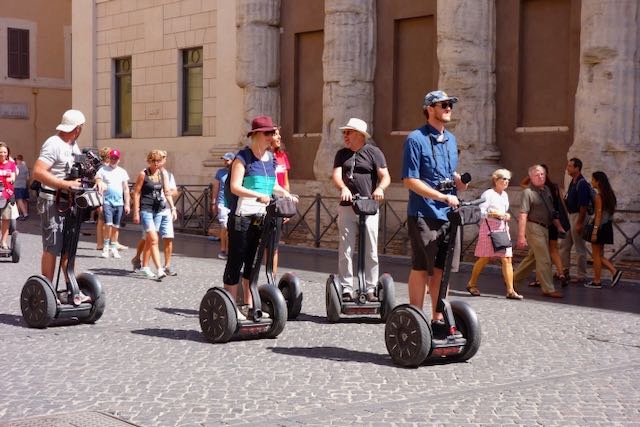 Segway tours are popular in Rome, allowing you to cover a lot of ground.
More than anything it could be a fun thing to rent one in the Villa Borghese park, or take a Rome Segway tour.
Golf cart

A golf cart is another comfortable, albeit limited, form of Rome transportation. You can rent a golf cart in the Villa Borghese at two locations - one at the Pincian hill and the other inside the park.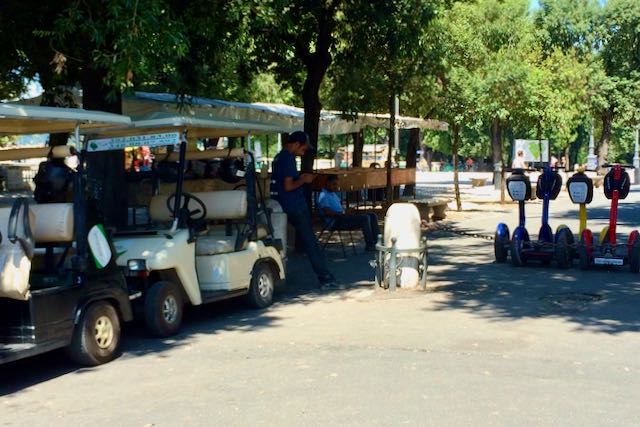 Inside the Villa Borghese there are a couple of spots where you can rent wheels like Segways or golf carts. Your best bet is to ride them around inside the park as opposed to using them as your means of Rome transportation.
Rates range from around 25 Euros per hour.
You must be over 18 and possess a valid drivers' license.
The golf carts may be taken out of the park but if you are not comfortable driving around Rome, you will probably not want to use this as your means of Rome transportation.
At best, it could be a fun way to spend some time in the park.
Your best bet if you want to sight-see by golf cart is to take a tour and let someone else take you around.
Horse and carriage

Hiring a horse and driver to get around Rome is probably one of the least useful in terms of getting around.
It's more of a touristic experience that will allow you to enjoy a little bit of the sites from the comfort of a slow-moving, open-air carriage.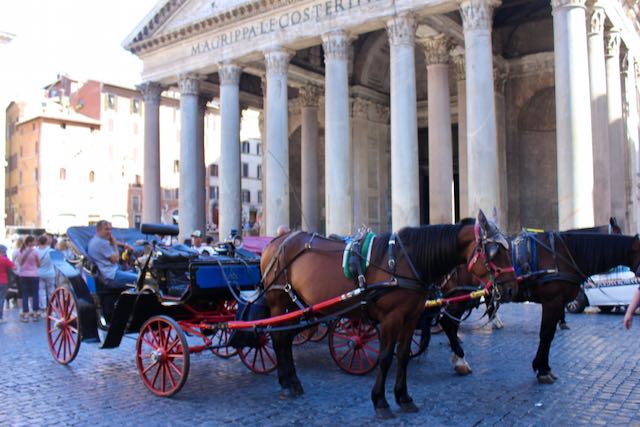 Getting around Rome by horse and carriage can be romantic but the options are very limited and it's also an expensive way to get around Rome.
While it may seem romantic, it's also been fraught with controversy over the years.
Some horses have collapsed and even died and the city keeps banning the buggies.
As of December 2020, the carriages are banned from city streets and may only operate in historic villas (like the Villa Borghese or Villa Celimontana) or public parks.
One final note - this is a very expensive form of Rome transportation so if you do it, negotiate the price in advance so you know what to expect.
How to know how to go - apps for transport in Rome
Wondering how to know how to get from point A to point B in Rome? There's an app for that!
Well, there are a few apps and also a few websites that can help with easy directions, whether you're walking, taking public transport in Rome, transport in Italy, or driving.
Public transportation apps for Rome
Google maps - they are connected to Rome's ATAC transport system in Rome and also to other transport systems across Italy.
Apple maps - if you are using an iPhone or other Apple device, you may want to use the built in Apple maps which is also connected to Rome's ATAC system as well as other Italy transport systems in other cities.
Taxi apps for Rome
Both of these apps are free and easy to use and allow you to pay with credit card. You can track where your taxi is while you wait for it:
Free Now (previously mytaxi)
ITTaxi
Directions in Rome and in Italy
Here are some of the best and easiest to use apps and websites for getting directions in Rome and in Italy:
Rome2Rio - Also sometimes mis-named "rome to rio", this app is not about going from Rome to Rio per se. It's a great app that gives you complete directions literally from start to end, as in, "walk 20 feet to the end of the street. Wait for the bus, once off the bus, walk 2 blocks, then get the tram", etc. It will give you all the steps so you know truly how to get from point A to point B. It will give you options including public transportation, driving (with options for Uber/Lyft/similar or taxi, if applicable), local, regional, and international trains, flights, and more. It's a really complete direction system and easiest to use on a website where you can see the full map.
Waze - Waze is similar to Google Maps and especially helpful when driving.
---
---
Get your free Rome trip planner!
We are committed to respecting your data. Click for our Privacy Policy.
---
Comments? Questions? Suggestions?
Please come over to the private Romewise Facebook group and join in the conversation.

You will often find me there, happy to answer your questions / comments!
You will also meet other Rome lovers and experts, too.
What are you waiting for?