Airports in Rome
What to Know Before You Fly Here
We have two airports in Rome.
Are you wondering which one to fly into?
Two airports in Rome - which to use and how to navigate it
Rome's two airports are Fiumicino (Leonard da Vinci) airport or Ciampino airport.
On this page, you will find:
Visit these detailed pages for more about:

Would you like to book a flight to Rome?
If you would like to check airfares now, start here.

Kayak is one of the best aggregator sites to find flight solutions for wherever you want to go.
You can easily adjust your flight criteria to see real-time updates to routes and fares.

To check and compare schedules and fares, try them right here:
If you're looking for help getting cheap flights to Rome, visit this page.
Please keep reading for more information about the airports in Rome, Ciampino and Fiumicino.

---
Differences between Rome airports
Leonardo da Vinci airport, in the town of Fiumicino, is the main Rome international airport.
You will land here if you fly to Rome with any of the large international carriers coming from overseas or other parts of Europe.
Ciampino airport (pronounced "champeeno") is the smaller of the two airports in Rome.
Flights to Rome on smaller, budget or charter carriers will land here.
The Rome airport of Fiumicino is about 40 kilometers (25 miles) outside of Rome's historic center (literally in the town of Fiumicino, on the coast.) Ciampino airport is only about 12.5 km (7.5 miles) outside the Rome's city center.
Here is the official website for the airports in Rome, translated as "aeroporti di Roma."
It defaults to Fiumicino airport, but you can select Ciampino airport, and also change the language to English (there is a button at the top of the screen.)
Rome airport maps
On the above site, you can find maps for the airports in Rome.
Ciampino is quite small but Fiumicino is a major international airport and it can be easy to go to the wrong terminal, so just make sure to have your terminal information before arriving at the airport.
TerminalS at Fiumicino Airport
Since 2001, anyone flying to the USA or Israel had to check in at Terminal 5 (then get a shuttle back to the departure gates in the main Fiumicino terminal.)
At the time of this writing in summer 2023, Terminal 5 is not operational.
There are three terminals at Fiumicino airport:

TERMINAL 1 - Alitalia, and all Sky Team (code-share) airlines including Delta, KLM, and Air France fly out of Terminal 1. A few other international airlines do as well. There are some arrivals at Terminal 1, in particular, from Europe.
TERMINAL 2 - A small number of budget airlines including RyanAir, German Wings and WizzAir (among others) fly out of Terminal 2. There are no arrivals at Terminal 2.
TERMINAL 3 - All other airlines, including almost all the large international carriers such as El Al, United, Lufthansa, Iberia, Thai and many more all fly out of Terminal 3.  Passport control, Customs (incoming) and all international arrivals are at Terminal 3.
The bottom line is that you should check your ticket and check online before you fly, to determine which terminal your flight leaves from.
Once in the airport, keep checking on your departure gate, as this information can change last minute.
If you get dropped at the wrong terminal by your taxi, you can either walk between them (about 10 minutes' walk between each), or take the free shuttle that goes around the airport, about every 15 minutes.
Terminals at Ciampino Airport
Ciampino airport is much smaller than Fiumicino, and has only one terminal for commercial flights, which is used for both arrivals and departures.
You just need to check in, and then find your gate.
Codes for the Airports in Rome
The codes for the airports in Rome are 
FCO for Fiumicino. Technically the name of this airport in Rome is Leonardo da Vinci, but since the airport is in the town of Fiumicino, it is also often called just Fiumicino airport. Hence its code.
CIA for Ciampino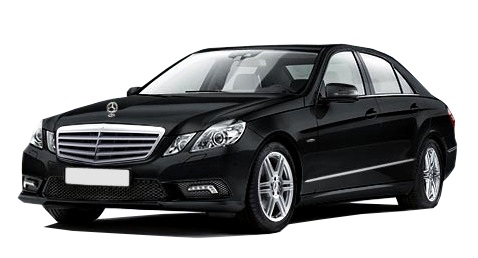 Looking for an airport transfer to/from either of Rome's airports?
Book in advance to avoid surprises.
Book a private airport transfer between both Ciampino and Fiumicino airports and Rome.
Where to Eat and Shop at the Airports in Rome
Since Ciampino is a small airport, you will easily see the few options for (mostly fast-food) eating and shopping there once you head into the terminal.
For more, visit my page about Ciampino airport here.
Eating at Fiumicino airport
There are three terminals at Fiumicino, with varying degrees of options for eating, both before and after security checks.
However, there are a lot more options for eating after security.
Of the three terminals at Fiumicino, Terminal 3 has the most options for eating before the security check.
To see a map, and indications about the type of food and restaurants you can find at all 3 terminals in Fiumicino, you can visit ADR's official Eating Guide here. 
Shopping at Fiumicino airport
You will find some shops before you go past security, but the majority of shops are inside the terminal, after security.
If you are travelling internationally, and not an EU citizen, you may purchase Duty Free goods in the airport.
This means there is no VAT (value-added-tax, which in Italy is 22%) on items you purchase.
That is a pretty huge savings!
To shop at Duty Free, you will need to show your boarding pass when you pay for the items.
Whatever you buy will be bagged and waiting for you to collect when you board the plane.
If you are wondering where are the best places to buy gifts and souvenirs, visit my page about gifts in Rome.
Shopping at Duty Free has nothing to do with Customs and Duty when you land in your home country!
Duty Free means that you can shop in Rome, and not pay VAT (value-added-tax), because you will use the product outside the EU.
You must be a non-EU citizen, flying out of the EU, to be eligible for Duty Free shopping in Rome.
As for Customs and Duty when you get home, that is a separate matter, regarding goods you are bringing IN to your home country.
It varies by country.
Check your own country's Customs guidelines online to find out what you can bring in to your country Duty Free.
And, if you are wondering about getting your VAT refund at the airport, visit my page about this here.
Experience Rome with ease and confidence! 
Disclosure: If you make a purchase through a link on this page, I may receive a small commission - at no extra cost to you. Thank you for supporting my site!

How long before your flight should you be at the airport?
Flying out of CIampino airport
Ciampino airport is relatively small, with only one terminal. Also, the flights don't generally go overseas.
Most airlines suggest you be there 1.5-2 hours before your flight.
This may depend on you, and how used to budget travel you are, and also how much time you like to allow yourself before boarding.
It also depends on whether you are checking luggage or not.
But I'd say be at Ciampino at least 1.5 hours before your flight time.
Flying out of FIumicino airport
If your flight out of Fiumicino is to another EU country, you should arrive for your flight at least 2 hours before.
If your flight out of Fiumicino is overseas, you should arrive 3 hours before.
Most people look at me funny when I tell them this, but if you check with your airline, they also recommend it.
Fiumicino is a large, busy airport, with lots of security, and you will need this time to get checked in, check bags, get through passport control and to your gate.
If you are flying premium class, and think you won't need to wait as long in line, you could shave off maybe half an hour, but I suggest you don't.
You can always sit in your airline's lounge if you find you have extra time.
Getting money at the airports in Rome
Did you arrive in Rome without Euros?
There are ATMs in both airports in Rome.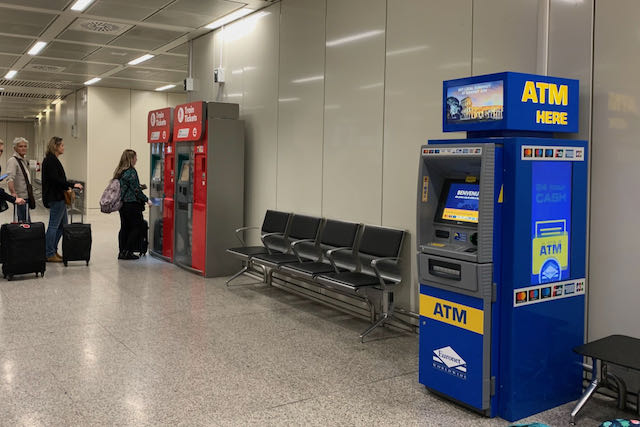 There are ATMs at both airports in Rome. But they are stand-alone machines and you will pay hefty fees and probably get an unfavorable exchange rate in exchange for the convenience. There are better ways to get Euros for your trip to Rome.
And while I recommend using an ATM as the best way to get cash in Rome, just be aware that at the airport, these ATMs are standalone machines, not part of a bank.
And this means high fees.
It's likely your bank at home will charge a fee, and the machine itself does too.

There are also money-changing booths in both airports in Rome.
This is one of the worst ways to exchange your money, whether you are coming or going.
They have you over a barrel, and so the rates are horrible.
If you are leaving the EU and want to get rid of your Euros, I suggest considering saving them for a future trip or maybe spending them before you go.
If you are arriving in Rome and need Euros, I suggest getting 100€ worth at your bank at home, before travelling.
Then, in Rome, use in-town, bank ATMs to get money out as you need it.
---
Getting the Roma Pass at the Airports in Rome
You can buy your Roma Pass at either of the airports in Rome:
At Ciampino, you will see where to buy it after you collect your luggage and go into the external arrivals area.
The office is open from 8.30am - 6pm.

At Fiumicino, you will see where to buy the Roma Pass in the International Arrivals area in Terminal T3.
After you've cleared passport control, collected your luggage it's to the right when you exit Customs.
They are open from 8am - 8.45pm.

Picking up or dropping off a rental car at the airport
Like most airports, both Ciampino and Fiumicino have rental car offices and garages.
These are well marked and pretty self-explanatory.
So this part is about whether you SHOULD drop off or pick up your rental car in one of the airports in Rome.
Picking up a rental car at the airport in Rome
Are you picking up a rental car at one of the airports in Rome because you are leaving Rome right when you land?
Fine.
Are you picking up a rental car at the airport to bring into Rome?
This is a bad idea, sorry!
If you are planning on driving around Rome, please try to avoid this!
You don't need a car while in Rome, and you will just have headaches to deal with - crazy Roman driving, ZTL (zones in the center where you will be heavily fined if you enter), parking (either you will pay over 30€ per day for a garage, or you will risk being fined for parking in the street and not paying for it, not to mention worrying about possible theft if leaving a car in the street.)
If the idea is to have a rental car for WHEN YOU LEAVE Rome for your next destination, then I strongly suggest you rent the car on the day you leave Rome, not before.

Are you picking up a rental car at the airport once you leave Rome, because you don't want to deal with driving in the city?
In this case, I suggest trying to pick up your rental car at a location near where you will be staying in Rome, in particular near Via Veneto where so many of the car companies have offices (and cars), because it is very easy to get OUT of Rome from there.
This way you avoid wasting time and money getting to the airport.
Does this idea make you nervous?
Especially since I just wrote about what a bad idea it is to drive in Rome?
Then of course do what makes you comfortable, but you should know that picking up a rental car at the airport in Rome is not the only option.
Are you picking up a rental car in Rome to drive to Florence?
Also a bad idea, in my opinion.
You can easily take the train to Florence from Fiumicino.
Then, when you are leaving Florence for the countryside, THEN you can rent your car.
My point is not to have a rental car in one of the big cities.
Wondering about rates for car rentals in Rome?
Check AutoEurope to see comparisons across different car rental companies.
---
The perfect 3-day itinerary in Rome
Trying to figure out how to organize your visit to Rome? I've got the perfect 3-day itinerary for first-time visitors (or those who have not been here in a while.) It works for a 2.5 day visit as well.
In my 3-day itinerary, you'll see all the major must-see Rome attractions like the Vatican, Colosseum, Trevi Fountain, Pantheon, Piazza Navona, Spanish Steps, Castel Sant'Angelo, and much more.
And if you have more time, or want suggestions for extra/other things to do, you'll find that there too.
Visit my page with the best 3-day itinerary in Rome for first-timers.
---
Dropping off a rental car at the airport in Rome
If you want to drop off your car at the airport because you are flying out of Rome, great.
It's easy and intuitive.
If you are coming to Rome from elsewhere in Italy, and need to drop off the car so you can enjoy your stay in Rome without having the burden of a rental car, then I suggest you consider the option of dropping the car in town.
I'd avoid dropping it at Termini, which is confusing, but rather at a location in town, which makes it faster and easier to get to where you are going in Rome.
Again, if the idea of driving in Rome does not appeal to you, by all means, drop the rental car at the airport.
Otherwise, you do have options for dropping it in town.
---
Want to share this page on Pinterest? Pin it here!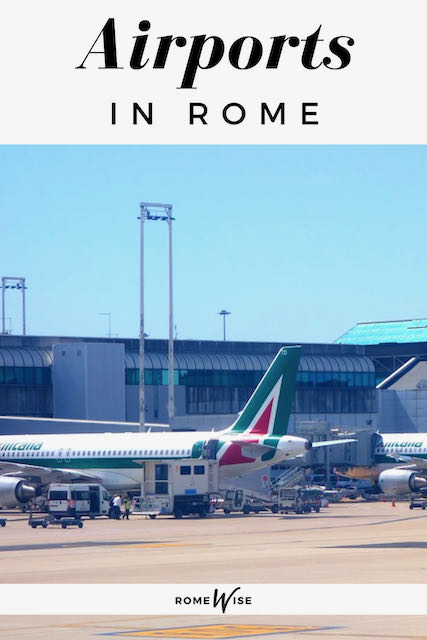 ---
---
Get your free Rome trip planner!
We are committed to respecting your data. Click for our Privacy Policy.
---
Comments? Questions? Suggestions?
Please come over to the private Romewise Facebook group and join in the conversation.

You will often find me there, happy to answer your questions / comments!
You will also meet other Rome lovers and experts, too.
What are you waiting for?