Where to Eat in Rome in August - 
2021 version
Wondering where to eat in Rome in August, when many restaurants shut their doors for some or all of the month? 
Enjoying lunch outside in Rome in August at Cul de Sac
---
---
Where to Eat in Rome in August - listed by type
Running a boutique hotel in the center of Rome since 2001, I created (and keep updating) a rather large database of our favorite restaurants in Rome over the years.
Every July, we call them and find out when they will close (and reopen) for their summer holidays.
Each year, I find more and more restaurants are staying open for part or all of August.
In fact, it's getting easier every year to find out where to eat in Rome in August all month long, even on August 15.
Times are indeed a-changing.
On this page, I'll give you a great selection of some of my favorite places to eat in Rome. Let's start with the ones that are open the entire month, including August 15.
Below that, I have grouped some great places where to eat in Rome in August, by cuisine, along with the closing and reopening dates.
At the bottom of this page, you'll find a map of all the restaurants I've listed on this page for where to eat in Rome in August.
Where to Eat in Rome in August - My Faves, and open all month long!
These restaurants are open all during August, including on August 15 (ferragosto.)
Pizzeria Emma - Ever since discovering this place near Campo dei Fiori, I've been there more times than I can count. And have tried pretty much the whole menu. And it's all fantastic. But if you ask me where to get a superb pizza in the center of Rome? This is the place.
Via del Monte della Farina; Tel: 06 6476 0475. Reservations essential. Outdoor seating available.
---
Flavio Velavevodetto - a real Roman trattoria with authentic local cuisine. This homemade ravioli with herbs and ricotta is one of their signature dishes, and a perfect summer meal. You can get all the traditional Roman cuisine here including rabbit, lamb, amatriciana and other Roman pasta dishes. Open all year, no closing dates!
Via di Monte Testaccio, 97; Tel: 06 574 4194. Outdoor seating available.
---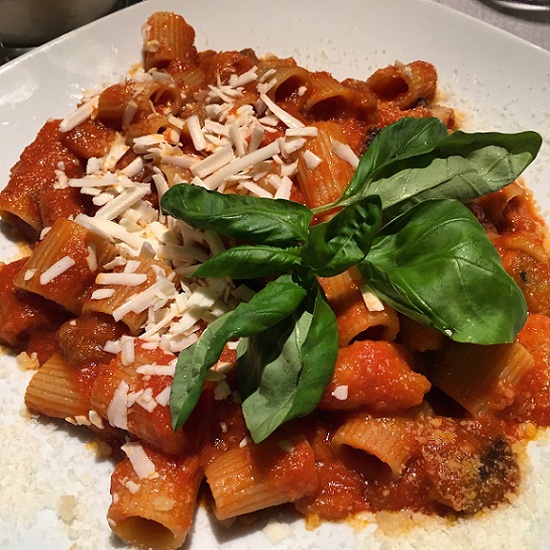 San Marco - this is one of our favorite pizzerias in Rome that also serves up excellent Roman cuisine. The bright, open, minimalist atmosphere just off the via Veneto make this a winner with Romans who enjoy their standard Roman fare in a modern setting.
Via Sardegna, 38; Tel: 06 4201 2620. Outdoor seating available.
---
Crispi 19 - Of our favorite seafood restaurants in Rome. Between the Trevi Fountain, Piazza Barberini and the Spanish Steps, Crispi19 is very central. The chef is a genius when it comes to the right balance of flavours, textures and even colors. The food is always fresh, exquisite and newly delightful each time. The menu is nearly all seafood, but just in case, there are a few non-seafood items. 
Via Crispi, 19; Tel: 06 678 5904. No outdoor seating.
---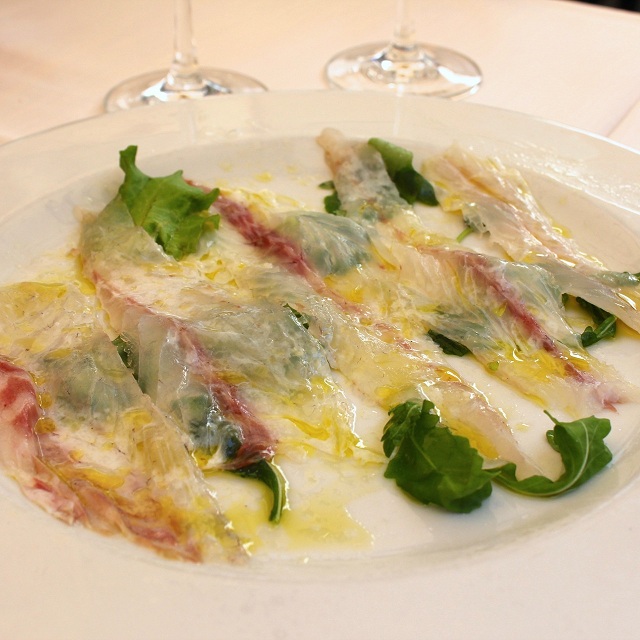 Osteria der Belli has quickly become one of my favorite places to eat in Rome, thanks to my friend Maria (HeartRome), who introduced it to me as one of HER faves. This Sardinian seafood spot smack in the heart of Trastevere's busiest thoroughfare serves fresh, fabulous seafood and never disappoints. Open throughout August, including the 15th. Closed Mondays.
Piazza di Sant'Apollonia, 9-11; Tel: 06 5803782. Reservations strongly suggested. Large outdoor seating area.

---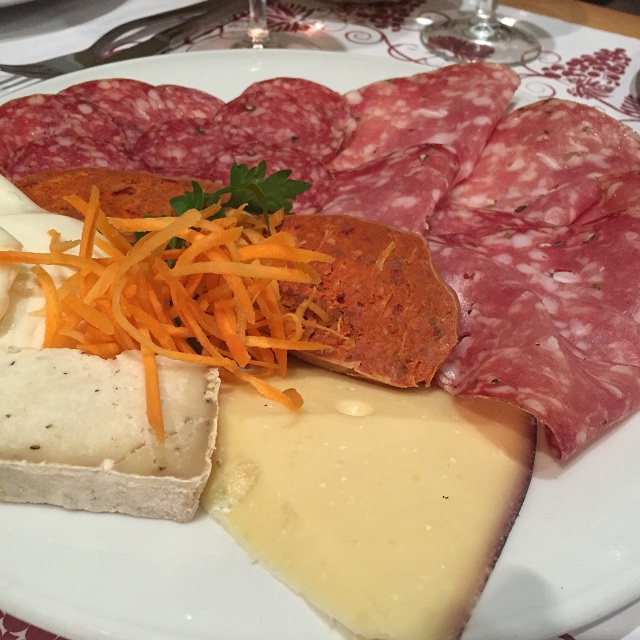 Cul de Sac - One of my favorite wine bars in Rome. Tucked in a little square just behind Piazza Navona, Cul de Sac has a fantastic wine list, and scrumptious food, including cheeses, cold cuts and patés, but also hot dishes such as coda alla vaccinara (ox-tail stew), pollo alla romana (chicken with red and yellow peppers), and pastas.
Piazza di Pasquino, 73; Tel: 06 6880 1094 (no reservations). Outdoor seating available.
---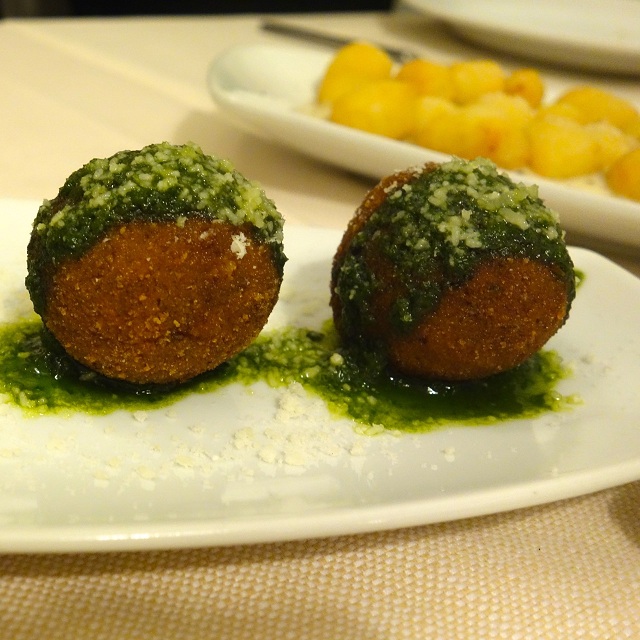 Da Cesare al Casaletto - This local favorite has become very popular, despite their location at the end of the Tram 8 line (a bit far from the city center), due to their wonderful, local Roman cuisine at very affordable prices, and relaxing, friendly atmosphere. Along with typical Roman favorites, you can get their specialties like fried gnocchi with cacio e pepe, or these fried meatballs with pesto. Book very early for August 15!
Via del Casaletto, 45; Tel: 06 536015. Large outdoor seating area. 
---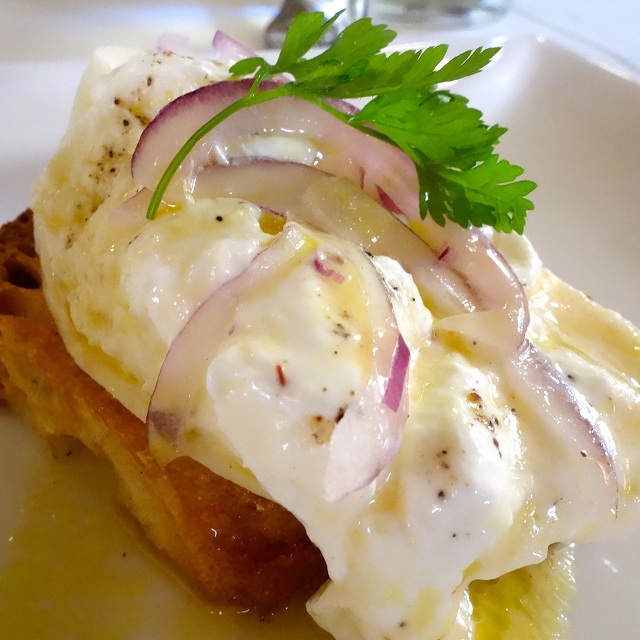 Baccano - This modern, bright, bistro-style restaurant near the Trevi Fountain is (usually) a great place to eat. There is something for everyone, and the food is quite good. One of the best things is the ambience which I find warm and relaxing.
Via delle Muratte, 23; Tel: 06 6994 1166. Outdoor seating available.
---
For another superb seafood choice, head to Chinappi, where chef Federico Delmonte creates new delicacies each month. Every plate is beautiful but also delectable! A fantastic wine list, a nice soft, romantic atmosphere, and excellent service round out the reasons why I love it here any time. And, in August they are open daily, including August 15! Not far from via Veneto or Termini.
Via Augusto Valenziani, 19; Tel: 06 481 9005. No outdoor seating.
---
Rimessa Roscioli - What a treat to know this branch of Roscioli is open daily. Come for a Roman lunch, or for the perfect wine-tasting evening. Fantastic food, and an airy, casual ambiance make for an excellent choice in August. 
Via del Conservatorio, 58; Tel: +39 06 6880 3914. No outdoor seating.
---
Unique al Palatino - An absolutely beautiful choice for breakfast, lunch, or dinner in this special hotel just next to the Palatine Hill. Enjoy delicious cuisine in a quiet garden in the back.
Via di S. Teodoro, 48; Tel: +39 06 699 21077. Outdoor seating available.
---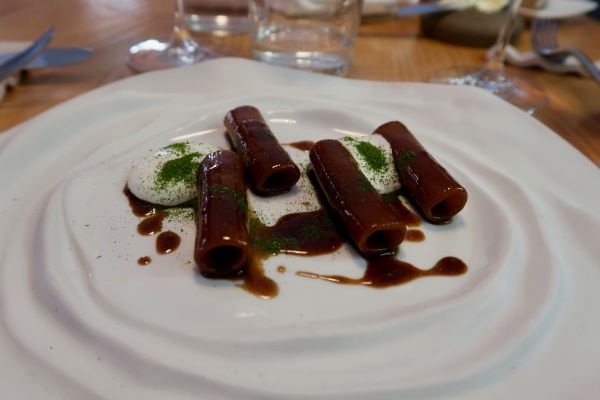 Fernanda - One of my favorite places for innovative cuisine in Rome. Everything here is unusual and wonderful. The setting is understated elegance, and the service is just right. 
Via Crescenzo del Monte, 18; Tel: 06 5894333. No outdoor seating.
---
Temakinho - All the rage if you're looking for something different. This Brazilian sushi hot-spot has been popular with Romans since they opened a few years ago, and they are consistently busy. I love the food here, and try new things each time. It's fun to experiment with all the choices!
Rinascente Department Store, Via del Tritone, 62; Tel. +39 06 87916660. (you can Only book online)
---
Ristorarte Vegetariana Margutta - Nice arty vegetarian restaurant near piazza del Popolo.  Excellent option for a romantic and/or gourmet vegetarian meal in the evenings. Outdoor seating available.
Via Margutta, 118. Tel: 06. 32650577.
Want to take the guessing out of where to eat in Rome in August?
Take a Roman Food Tour and sight-see while you eat!
Where to Eat in Rome in August - Roman Trattorias
It may be a paradox to say you can eat Roman food in a real Roman trattoria during August, since one of the things that makes a Roman restaurant traditional is the traditional full-month closing at August.
But there is good news for us foodies! I've already listed two of the very best Roman trattorias in Rome, that are open all through August, above (Flavio al Velavevodetto and da Cesare al Casaletto.)
Where to eat in Rome in August when you want some traditional Roman cuisine? Try these too:
I used to say "Don't look for artichokes in Rome in August. They are not in season!"
But it seems I would be wrong. More and more restaurants are serving artichokes year round in Rome. If out of season, they won't be from Rome, but that does not seem to be as much of an issue as it once was.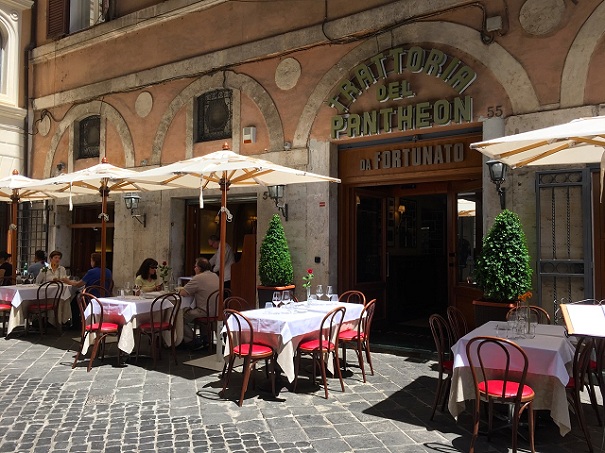 Enjoy outdoor dining, a view of the Pantheon, and traditional Roman cuisine at Da Fortunato, open all month long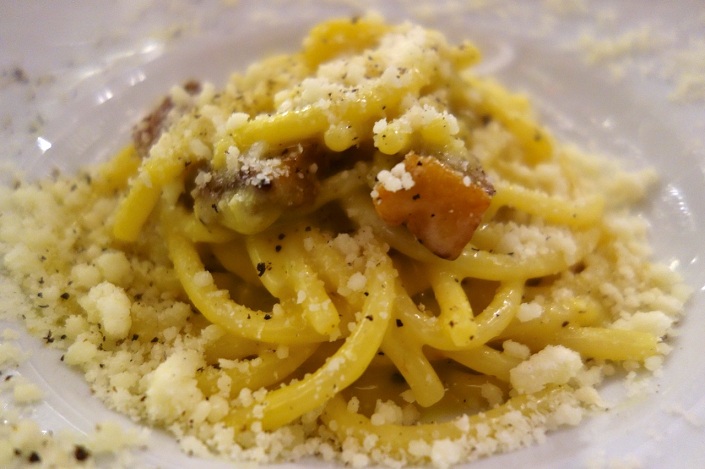 Enjoy delicious carbonara and other Roman specialities at gourmet deli and restaurant Roscioli, open most of August in Rome
Trattoria Epiro - I'm loving the new formula at this hip trattoria. Once the hottest of the new-style Roman experimental trattorias, Epiro has changed it's direction just a little. Still offering quality, interesting dishes, but in small sizes and at a fraction of the previous prices, Epiro is now packed nightly with young locals enjoying the cozy outdoor space in the back. Closed 12-26 August. Piazza Epiro, 26; 

Tel: +39 06 6931 7603
GELATO!
Of course it goes without saying that you will easily find gelato in Rome in August.
Where to Eat in Rome in August - Italian Modern
I am calling these restaurants Italian modern because they all serve Italian food, sometimes even Roman food, but in an innovative and often modern way. Here's where to eat in Rome in August if you are looking for a great meal, with interesting and well-prepared cuisine.
Osteria dell'Ingegno - this is one of my favorite restaurants overall in Rome. Combine a fantastic setting right in front of Hadrian's Palace, near the Pantheon, with beautiful, warm inviting decor, soft jazzy background music, and most of all a fresh, fantastic, always interesting and delicious menu. Oh yes, and a great wine list and friendly staff. This is why I come here so often. Open daily for lunch, and nightly for happy hour and dinner. Closed August 11-19.
Piazza di Pietra, 45. Tel: 06 678 0662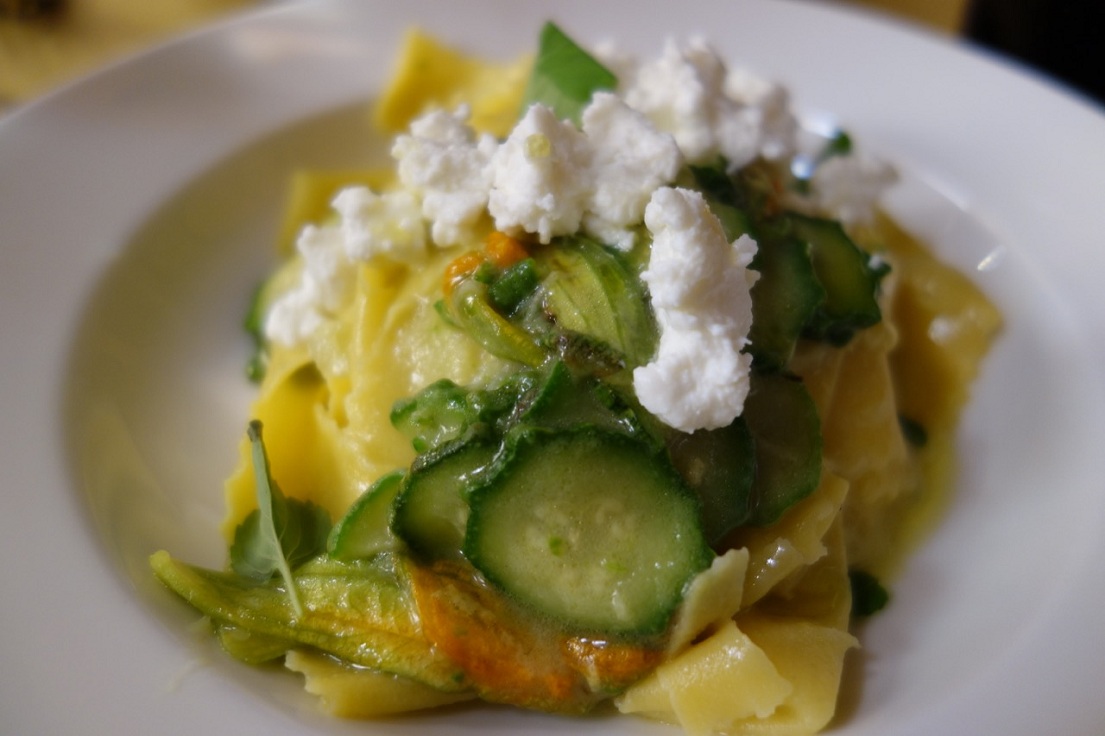 Homemade pasta with zucchini, zucchini flowers, fresh mint and ricotta and Osteria Dell'Ingegno
Glass - A special place with amazing food, and gorgeous decor, Glass probably should be saved for a special meal out. Chef Christina Bowerman has turned this Trastevere gem into a 1-star Michelin restaurant and it's well deserved. Open Tuesday - Sunday from 8-11:30pm. Closed Mondays. Open all through August.  
58, Vicolo del Cinque. Tel: 06 5833 5903
Trattoria Moderna

 - Tucked in a little plaza not far from 

Campo dei Fiori, this warm and inviting trattoria serves Roman and Italian food, with a modern twist. The owner and chef are super friendly and accommodating and the staff is also helpful and nice. There is a small area to eat outdoors. Prices are very reasonable and the food is delicious. In August, open daily for dinner only.


Vicolo dei Chiodaroli, 16. Tel: 06 6880 3423

L'Uliveto

 - Want to know where to eat in Rome in August and 

spend a day by the pool

? Head to the 

Roma Cavalieri Waldorf Astoria

 and enjoy lunch by 

chef Fabio Boschero, under shaded umbrellas. A bit of a splurge but a great way to spend a hot August day in Rome! 
Via Alberto Cadlolo. Tel: 

Phone: 06 35091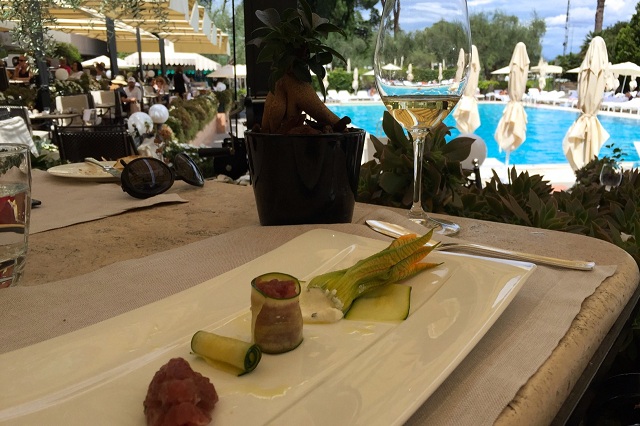 Enjoy a shaded lunch by the pool at the Rome Cavalieri Waldorf Astoria. A great way to spend an August day in Rome!
Outdoor dining at All'Oro restaurant in Rome - Here's where to eat in Rome in August when you want something special or romantic.
Madeiterraneo - An excellent choice for lunch or dinner near the Spanish Steps and Trevi Fountain, this lovely spot is the creation of Michelin chef Riccardo Di Giacinto, of All'Oro (above.) My favorite thing here is the chicken salad maritozzo. Thanks HeartRome for that! Open daily. Rinascente, 

Via del Tritone 61, 6th floor; 

Tel: +39 06 87 91 66 50. 

Outdoor seating available.
Pro Loco Trastevere - A fantastic place in Trastevere serving quality Roman food, this little spot is open for just part of August, but it's worth going if you are around when it's open. Closed August 5-22. Via Goffredo Mameli, 23; 

Tel: 06 4559 6137
Where to Eat in Rome in August - Pizzerias
I've listed two excellent pizzerias above, Pizzeria Emma and San Marco, and where to eat in Rome in August. You may also try these:
Pizzarium - unlike the other pizzerias listed on this page, this place serves pizza by the slice (priced by weight and varying by topping), and is best for lunch. Expect to eat standing up, elbow-to-elbow with fellow pizza lovers. Bonci Pizzarium (named for Gabriele Bonci, the mastermind behind this insanely wonderful pizza) is a special pizza-by-the-slice place in Rome, coveted by foodies and anyone wanting fantastic, interesting, unique and light-crusted pizza for lunch. Add their intriguing supplì (rice balls), and their proximity to the Vatican, and you have a great option for pizza in Rome in August (or really any time.) Open throughout August including August 15. 11am - 10pm.  Via della Meloria, 43.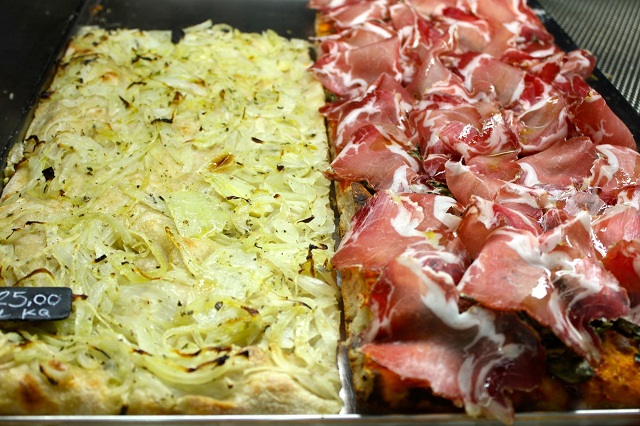 The pizza at Bonci Pizzarium is some of the best in Rome, hands down. And they are open throughout August!
Pro Loco Pinciana - Although they get their ingredients from the same suppliers, this excellent spot is not to be confused with Proloco Trastevere (above.) Pro Loco Pinciana is on the other side of town, not far from Termini or Via Veneto. They also have a different menu from the Trastevere restaurant. And they have pizza to die for.  Closed August 12-17. From August 18 - 1 September, open for dinner only. Via Bergamo, 18; 

Tel: +39 06 841 4136
Where to eat in Rome in August - a refreshing treat
Did you know Rome has a proper English Tea room?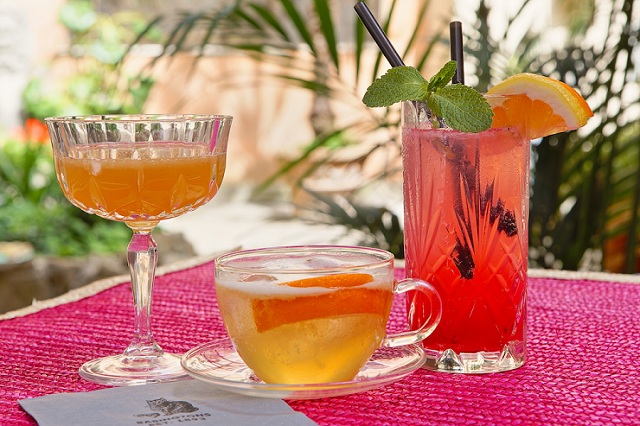 Special summer cocktails at Babington's Tea Room at the Spanish Steps in Rome. Photo credit - Babington's
Babington's has been an institution in Rome since 1893. And the descendants of the founders are still running it today.
Wondering where to eat in Rome in August near the Spanish Steps? It does not get any nearer than this.

Babington's Tea Room is right next to the Spanish Steps. Photo credit - Babington's
You can enjoy brunch, club sandwiches, burgers and a variety of delicious foods served all day. 

The Victorian Happy hour at Babington's is an experience on its own. Photo credit - Babington's
Open daily from 10am - 9:30am, non-stop, including August 15.  Piazza di Spagna, 23; Tel: 06 678 6027
Where to Eat in Rome in August - various other options
I am lumping these all together to give you some more choices where to eat in Rome in August. All of the below are open throughout the month of August.
Hard Rock Cafe - American fare on via Veneto, always open.
Almost all 5-star hotel restaurants, including La Terrazza dell'Eden, Le Jardin de Russie, The Raphael Rooftop Bramante Restaurant, and many more.
Some ethnic restaurants including Chinese and Indian, such as Il Guru, i the Monti neighbourhood.
Where Not to Eat in Rome in August - closed for vacation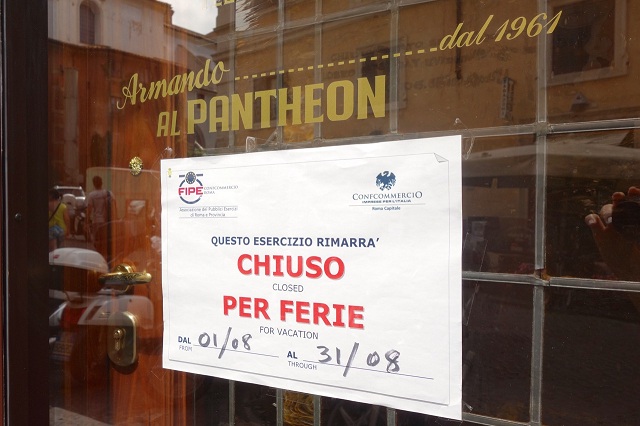 My guess is you will always find Armando al Pantheon closed for the entire month of August
I have seen a lot of restaurants changing their August policies, and staying open more and more, even on August 15. And on this page, I've included quite a lot of classic Roman trattorias where to eat in Rome in August.
But there are still a few holdouts. These super traditional Roman trattorias close the entire month of August ... and sometimes into the first week of September. Don't plan to come to Rome and eat at these wonderful restaurants in August. 
Armando al Pantheon 
Colline Emiliane
Hostaria Romana
Trattoria Monti
La Campana
Nino
Checchino dal 1887
Dal Cavalier Gino
Roberto e Loretta
This is not a comprehensive list of restaurants in Rome that close almost the entire month of August. But it is a good representation of those really Roman restaurants I know are on the foodies' radar. 
Where to Eat in Rome in August - a Map
---
Want to save this to Pinterest? Pin it here!
---
Get your  free Rome trip planner!
We are committed to respecting your data. Click for our Privacy Policy .
---
Looking for Facebook comments?
I removed them to make this page load faster and thereby improve your page experience.
I am happy to answer your questions / comments!
Please come over to the Romewise Facebook page , or, if you want to send me a message, visit my Contact Me page .