What to drink in Rome and where to drink it
Wondering what to drink in Rome?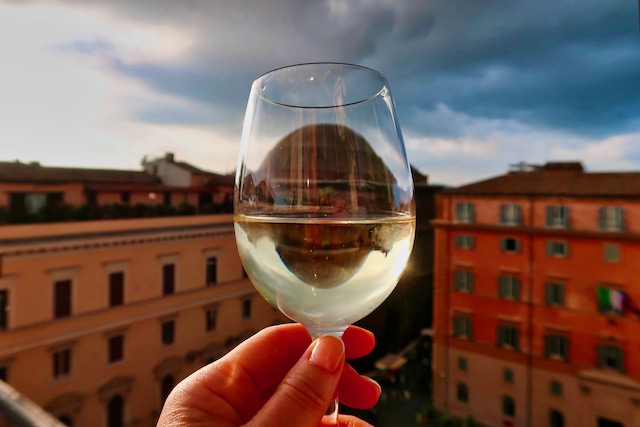 One of the joys of drinking in Rome is having this gorgeous city as a backdrop. I love when I have the pantheon in my wine glass!
Whether you're looking for an aperitivo (what's that?), the best wine bars, coffee, beer, or even water, you'll find lots of great options in every neighborhood of Rome.

What to Drink in Rome – Roman Drinking Habits

Have you thought about what you'll drink when you visit Rome? Wondering what the Romans do? 
On this page, we'll go over the basics of the different types of things you can drink in Rome, especially if you want to do as the Romans do!
What to drink in Rome for breakfast?
Italy is pretty famous for their coffee, so naturally you might assume Romans drink coffee at breakfast.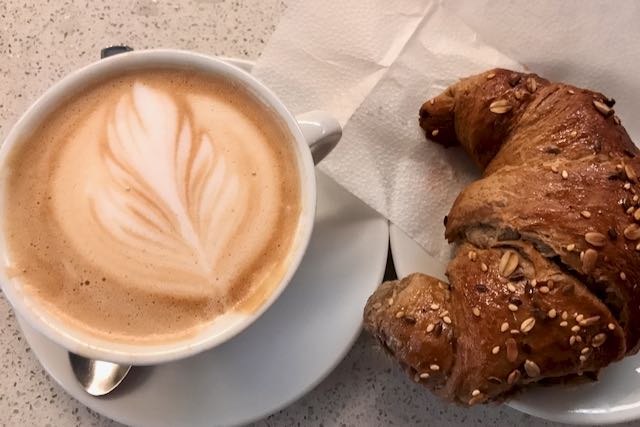 A cappuccino and "cornetto" (Italian version of a croissant) is a typical Italian breakfast at a bar.
Mostly they do, and it's usually an espresso or espresso-based drink.
At home, most Romans use a moka, and don't own a filtered-coffee maker.
Alessandro, like many of his generation, grew up having a bowl of milk for breakfast with maybe a bit of coffee, and biscotti (sweet dry cookies), to dunk in it.
Today he drinks espresso from the moka, like he grew up with. And he can't drink it for breakfast without a splash of milk.
If you go to a bar (café) for breakfast, you may want to do as the Romans do, and order a caffè (espresso) and cornetto, or a cappuccino and cornetto.
Below are just a few different types of coffee you can drink in Rome. For more about how and what to order, visit my dedicated page about Coffee in Rome.
Espresso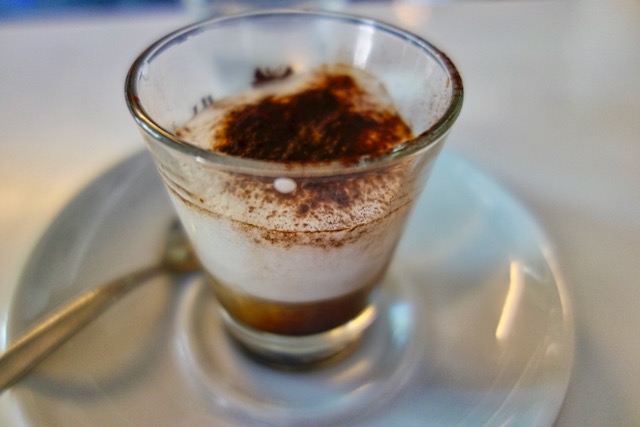 Marocchino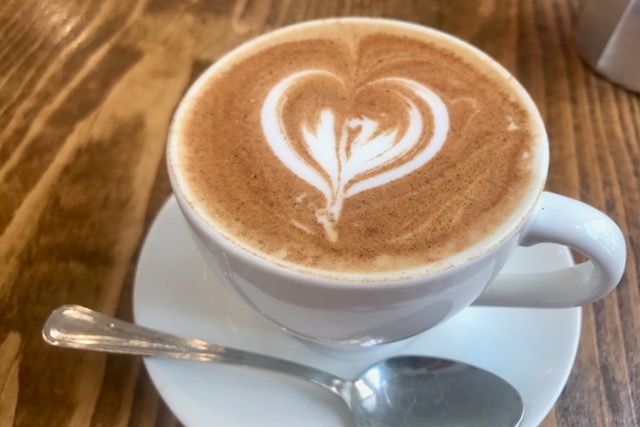 Cappuccino
For my favorite cafés, visit my page here.

Of course some Romans don't drink coffee, but rather tea or hot chocolate, or maybe orange juice. In recent years, ginseng or orzo (barley) have also become popular as non-caffeinated hot drinks.

One of my favorite things to get at a bar, especially in winter, is a fresh-squeezed spremuta, orange juice literally made on the spot. You can sometimes get it with Sicilian blood-oranges and it's just delicious.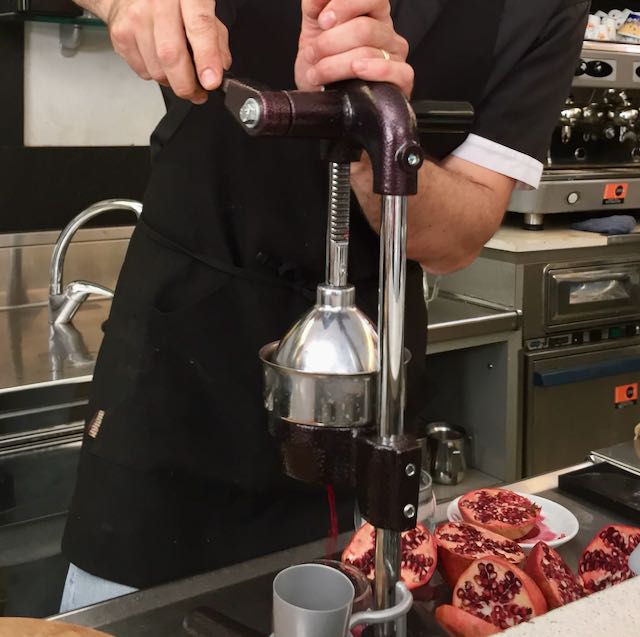 One of my favorite things to drink in Rome is fresh-squeezed pomegranate juice.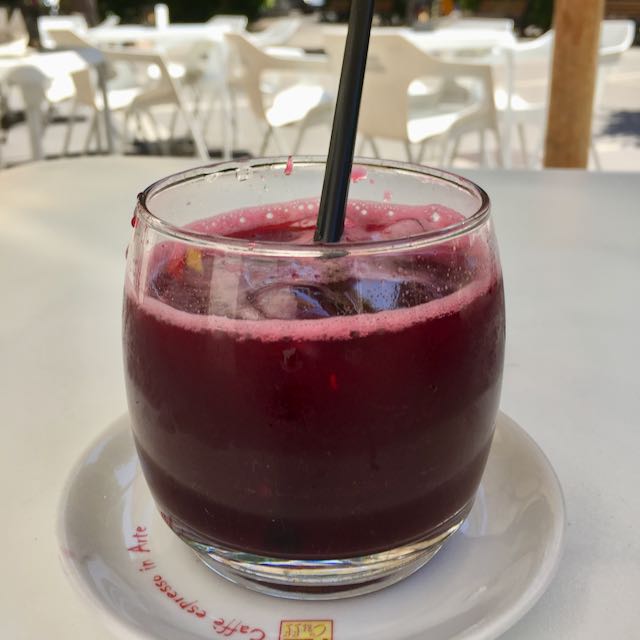 I love pomegranate juice and get it fresh-squeezed whenever I can find it at a bar.
For more about what Romans eat for breakfast, visit my page about Italian food customs here.
For more about coffee terms and misnomers, visit my page about Roman food myths here.
What cocktails do Romans drink?
Aperol Spritz? Negroni? Americano? Any of this ring a bell?
These are just some of the most common cocktails Romans drink. Along with prosecco of course.

Forget screwdrivers, gin-tonics, and martini shaken, not stirred.
Well, you don't have to forget them, but why not try an aperitivo, Italian style?

What is an "aperitivo"?
When we first started to run our B&B, in the early 2000s, many of our guests would ask where they could go out for a "drink before dinner."
I quickly came to realize that most adult Romans and Italians didn't drink much alcohol at all, except maybe some wine with lunch or dinner, and so it was not that easy to help our guests looking for a cool place to grab a drink.
I would have to send them to a café (called "bars" in Italy although they are more about serving ready-made food and drinks, all day long).
Or I'd send them to a fancy hotel bar where there was a better chance of finding a "barman" who knew how to make the kinds of cocktails foreign visitors to Rome were used to.
What aperitivo USED to mean in Rome
The word aperitivo comes from the Latin aperire, which means "to open" as in, to open your appetite. It's like the French word we sometimes use in English, "aperitif", again, meaning a drink before dinner.
Maybe 30 years ago or so, before the recent trend of "the aperitivo", Romans would drink simple things at a bar, like a plain Aperol, a Campari bitter, or a Crodino. Some of these drinks are non-alcoholic and the others have a bit of alcohol but not much.
It was just meant as a pre-dinner drink, literally. No snacks, no ice, no straws.

Another thing Romans might drink at a bar/cafè, really at any time of day, was (and frankly still is) a glass filled partly with white wine and the rest with water. 
Clearly, the aperitivo has evolved.
In recent years, due to rising demand from tourists and Romans alike, bars and wine bars in Rome have vastly improved their offerings.
Now you can't walk a block without finding even the simplest café offering "aperitivo", "wine-tasting", or my favorite, "tasting wine."

Many Romans I know tend to ask for a Prosecco (a kind of sparkling wine) as their aperitivo drink of choice.

Aperol Spritz is another popular drink. It's made with Aperol (a brightly orange-colored bitter apéritif made of gentian, rhubarb, and cinchona), prosecco, and soda water, and usually comes in a large glass with plenty of ice and a slice of orange.
In Rome, an aperitivo usually comes with at least some nuts or potato chips.
Sometimes, and depending on the bar and also on how much the drinks cost, the "free" snacks that come with the drink can be quite substantial and good quality.
You may also find you can get a drink with minimal snacks for free but with the option to order more food from a snack menu.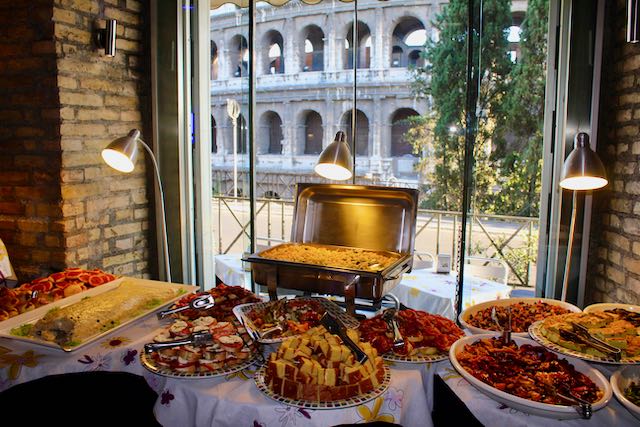 At this aperitivo snack bar near the Colosseum, there is so much food you might wind up skipping dinner. In this case, your aperitivo would be more appropriately called "apericena".
Sometimes that "extra food" comes in the form of a buffet.
Which leads us to the "apericena" - a kind of happy hour with enough food that in the end you don't eat dinner, just the happy hour snacks. (The word for dinner in Italian is cena.)

What to drink in Rome with dinner?
Romans typically order bottled water when dining out (They even drink it at home. More on this below.)

And if they order wine, it will depend on the type of restaurant and what they are eating.
Some restaurants offer only "red" and "white" wine, sometimes della casa, meaning, the house brand. And that will come by the glass, ¼ liter, ½ liter or liter.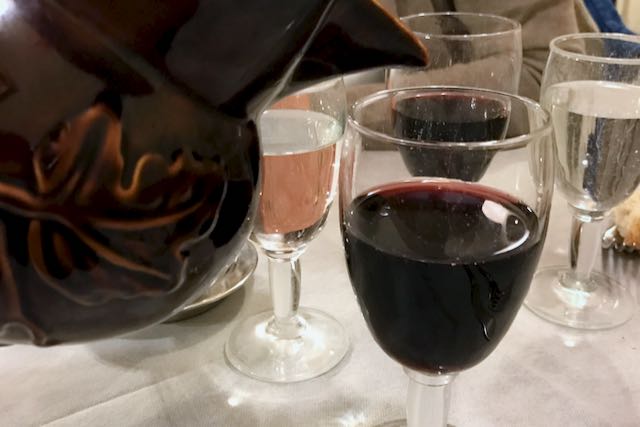 It's common to order wine by the half liter or liter when dining at a casual trattoria in Rome.
Looking for real, authentic Italian wine back home?
Look no further!
The Roscioli Italian Wine Club delivers worldwide only the best organic Italian wines in collections curated by the experts at Roscioli in Rome. 
Find out more from Lindsay Gabbard, co-founder of the Roscioli Italian Wine Club here: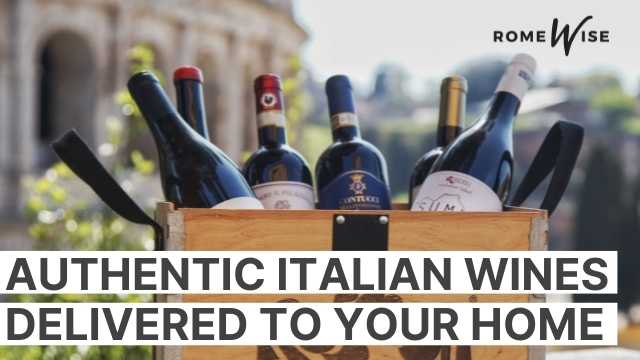 Subscribe today and save 25€ on your first payment with code ROMEWISE - click here:
Most Romans I know drink beer with pizza and Asian food.
I used to think, we are in Italy, I'm having wine. But now I have to say I agree with my Roman friends - beer goes better with pizza than wine does.

The one thing I've never seen is an Italian ordering a cocktail WITH dinner. Most Romans don't drink soda (Coke, Pepsi, etc) with dinner either.
Obviously, you should order what you want.
For my favorite enoteche, places that serve a good choice of wines, visit my page here.
What Italian wines should you try?
Wondering what wine to drink in Rome?
Of course you can choose from so many Italian wine regions (Tuscany, Piedmont, Sicily, Umbria, and more) but we also have wonderful wines produced right in this region (Lazio.) 
This private wine collection at the luxury hotel Ricci in Rome boasts some of the best Italian wines. Now, which one to try?
There is much more to this topic than I can cover on this page.
The bottom line is that if you want to try local wines, don't be shy about asking the waiter, or better yet, the sommelier, if available for help. 
Visit this page for a good beginners' guide to Italian wine.

For an excellent guide to wines that are native to Rome, from Ancient Rome to today, visit our friends at Rimessa Roscioli.
You may even wish to join their awesome wine club.
What beers should you try in Rome?
If you're looking for beer to drink in Rome, you can always count on the well-known Italian beer brands such as Moretti and Peroni.
In the past 10-15 years or so, there has been a huge increase in the interest in craft beers, known in Italian as birre artigianali.
Nowadays it's not uncommon to find a beer list on a restaurant menu, especially if you go to a more modern restaurant like a gourmet pizzeria or hamburger joint.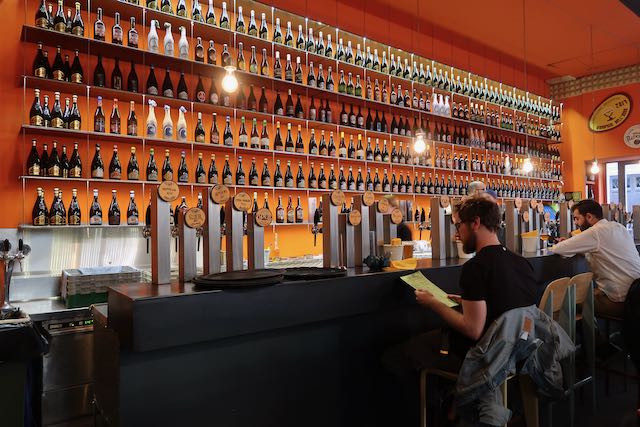 Craft beer has been on the rise as a typical drink in Rome, and you can find some dedicated beer halls such as Open Baladin.
You may want to check out some craft-beer locations in Rome like Open Baladin in Campo dei Fiori or Birreria Peroni in the Trevi Fountain neighborhood.

What to drink in Rome after dinner?
It's typical after a meal, especially dinner, to drink a digestivo, or digestif.
This is a liqueur that is meant to do what it sounds like - help your tummy digest.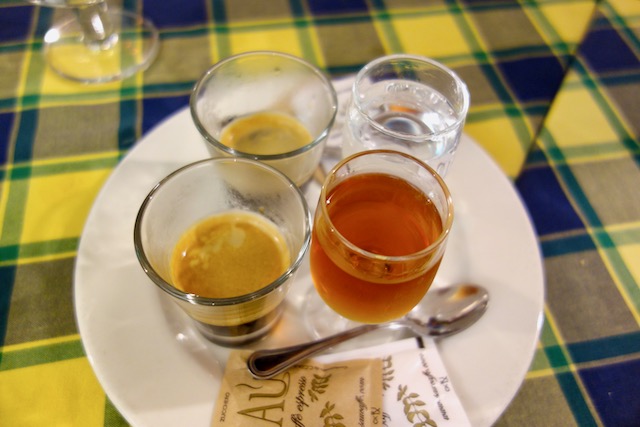 After a meal, Romans may drink a digestif, such as grappa or amaro, both pictured here, and/or espresso, also pictured here.
I used to love limoncello (a very intense, sweet lemon-based liqueur). Now I find it too sweet, although if I am on the Amalfi coast, where this drink originated, I will have some there because it is a whole different thing.
Eventually I realized I liked amaro better than limoncello. Amaro means literally "bitter." If you've ever had Jägermeister, then you have had a bitter digestif. Amaro comes in different brands and flavors. Some people prefer it over ice and some don't. 
I've also come to enjoy grappa. Grappa is traditionally produced in Northern Italy, and is made by distilling the pomace (a blend of grape seeds, stalks, and stems) that are left over when wine is made. Grappa is typically 35 to 60 percent alcohol. It can taste something like grain alcohol, but here again, there are a large variety of grappas.
The main distinction between types of grappa is between barrel-aged (golden color) or steel- or glass-aged (clear).
Another typical after-dinner drink in Rome is Sambuca. It tastes like licorice. You can get it ice cold with tre mosche, meaning 3 flies, which are 3 coffee beans, or you can get caffè con Sambuca.
There is one more thing Romans tend to drink after lunch or dinner - a strong shot of espresso, which in itself acts as a digestif.
Romans never drink cappuccino after a meal, but if you want to, go right ahead!
Water in Rome - bottled water, drinking fountains and tap water
It's funny to even have a topic about water you can drink in Rome. But there are two important things to know about this:
Drinking water out of the fountains in Rome
Did you know you can get clean, free water all over Rome?
If you've seen the small-ish fountains around Rome, with water coming out, you can indeed drink that water. It's fresh, clean, cold, and free!
Some of the nasoni in Rome look like what they are called - a big nose.
Other nasoni in Rome might have wolf- or dragon-head nozzles.
Those fountains are called nasoni, which means literally, "big nose."
They come in different shapes and sizes but when you find them (and they are all over Rome, not hard to find), try the water. You'll thank me!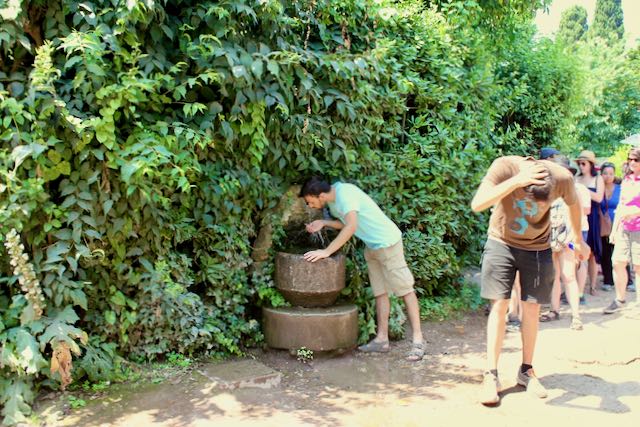 Rome's drinking fountains can be found all over Rome including at the sites. This one on the Palatine Hill offers respite on a hot summer's day.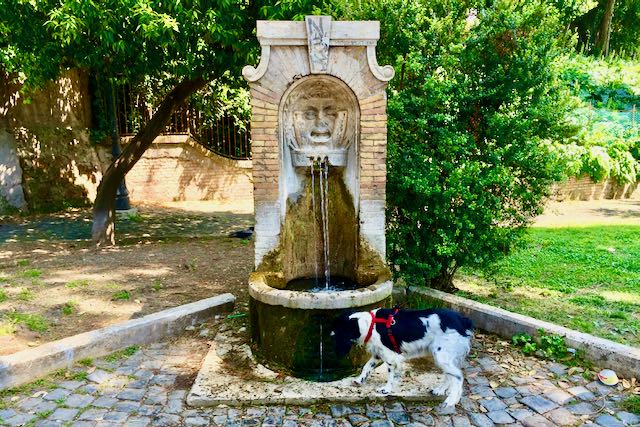 Many of Rome's drinking fountains also have a place for animals to drink. They get thirsty too!
Why so many Romans drink bottled water
Most Romans take their bottled water very seriously and can have a half-hour heated discussion over which bottled water tastes less minerally, and aids your digestion the best.
Seriously.
San Pellegrino is often available but Romans consider this water to be for tourists and almost never order it if they have the more local brands. Romans typically prefer either flat water or mildly effervescent water like Nepi or Egeria.
(One sign of a true Roman trattoria is that they will have Nepi, Egeria, or a similar type of lightly fizzy water. Likewise, a sign that a restaurant caters primarily to tourists and not to locals is when they only offer San Pellegrino as their fizzy water.)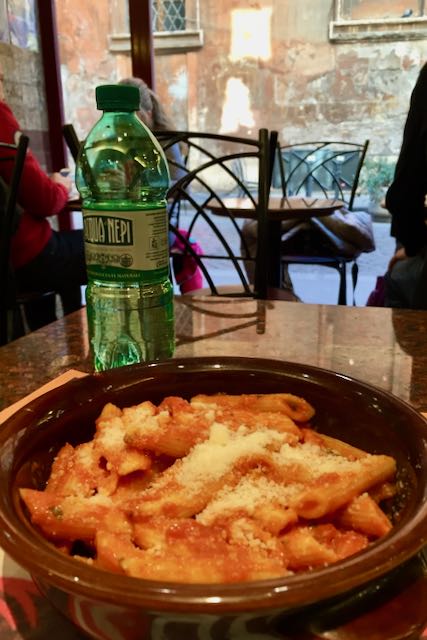 Even with a simple bar lunch, Romans love their Nepi, a local brand of naturally effervescent spring water.
We ordered prosecco but we also fizzy water. San Pellegrino was the only kind they had, which indicates a restaurant catering more to tourists than locals.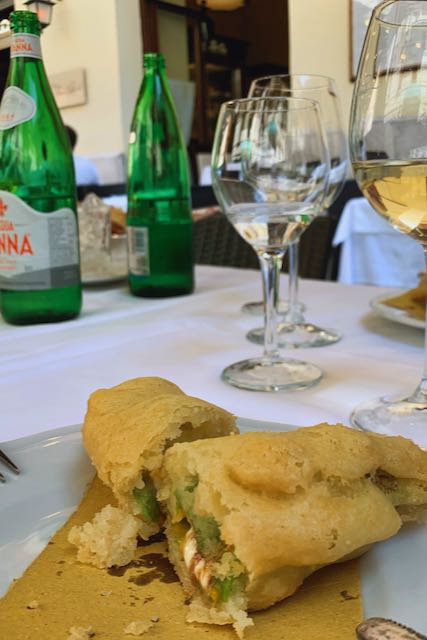 Acqua Panna is a Tuscan brand of water and what you will likely be served if you ask for still water in Rome. Alessandro can't stand it and I have come to agree with him.
And while tap water in Rome is safe to drink, it tends to be heavy on the calcium and other minerals.
Most Romans I know simply abhor the taste of tap water. 

Where to drink in Rome
Want to know the best places to get a glass of wine in Rome? A nice cocktail? A great coffee?
I do plenty of investigating about these topics, and yes, it is my pleasure. Literally! 
Favorite places to drink in Rome - cafés, wine bars, rooftops
Where to drink in Rome by neighborhood
For the best places to drink in Rome by neighborhood, visit my dedicated pages here:
For the best places to get coffee in each neighborhood, visit my dedicated pages here:
For more about Rome neighborhoods, visit my page here.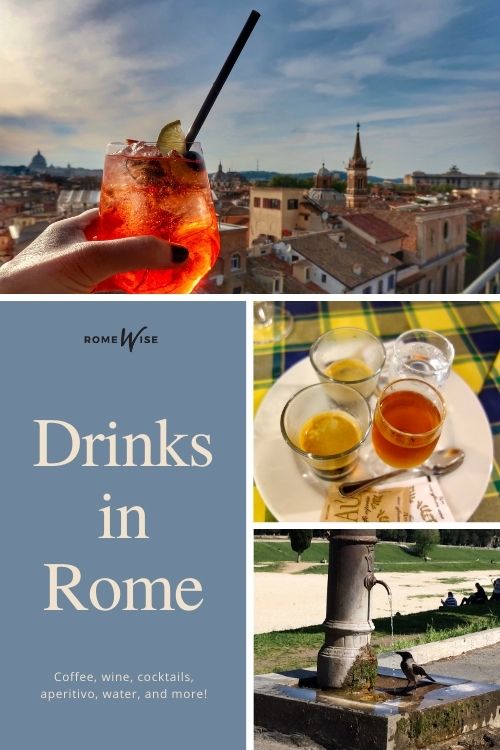 ---
---
Get your free Rome trip planner!
We are committed to respecting your data. Click for our Privacy Policy .
---
Comments? Questions? Suggestions?
Please come over to the private Romewise Facebook group and join in the conversation.

You will often find me there, happy to answer your questions / comments!
You will also meet other Rome lovers and experts, too.
What are you waiting for?