Rome Cafes
There are Rome cafes on just about every corner. These are actually called "bars." A bar in Rome is where you can get a sandwich, breakfast, coffee, fruit salad, etc. Usually, you stand. (It costs more to sit.)
Bar Del Gambero is located near the Spanish Steps, onto a small street from which it takes its name. Is a no-frills kind of place; it's filled with locals and classic menu items.
My favorite way to have a coffee is to just go in, have my coffee and then move on. That is indeed how most Romans have their coffee (although if they are with someone, they will turn a quick coffee into a longer chat, but even then, usually standing at the bar.)
But if you want to sit and linger and watch the world go by...see below for some great cafes in Rome. 
Rome cafes - coffee culture and where to find it
In just about any Italian city, you can find a bar (café) within a block or two of wherever you are. The bar in Italy is a quintessential part of Italian life, and stepping up to the bar for my mid-morning or post-lunch coffee is one of the routines I love most about living in Rome.
Alas, not all bars are created equal. And not all coffee is either. It's not necessarily the case that just because this is Italy, all the coffee will be good. Like wine, I believe life is too short to have bad coffee.
On this page, you'll find:
All about coffee culture in Rome
Best Rome cafés for lingering
The famous Rome Cafés
Sitting vs. standing and why you need to know the difference
Rome cafes for lingering
There are lots of great Rome cafés for sitting and soaking up the atmosphere. These are where I go when I want this type of experience (other than in my 'hood, Porta Metronia, where I go to my local bar, Kiss Bar which has a lovely ambiance, and tables on the square. It's a very relaxed and relaxing place to just sit and hang out and watch the people and their kids and dogs go by.)
Caffe Greco
The sober yet chic entrance of Caffè Greco calls to those looking for a morning espresso to jumpstart a day touring the Centro Storico.
Caffe Greco is a Rome institution. They have been here for 250 years. And indeed, when you step inside, you do feel as if you are stepping back to another age.
Over the decades, painters, artists, writers (Keats and Shelley), have all spent time in this caffe.
It's not inexpensive to sit and soak up this lush and very Roman scenery (this tea was 10€), but you can stay as long as you like, and enjoy watching the Roman men have meetings and talk with their hands, or the waiters in their long-tails elegantly carrying trays of espresso to patrons. via Condotti 86, just off the bottom of the Spanish Steps (and thus a perfect stop when you need a break from shopping!)
Details: 

Caffè Greco is the perfect slice of Rome posh and the ideal way to spend a tea break in the city center.
---
Caffe Novecento
This charming 19thCentury decor cafe is the perfect place to enjoy a coffee break, a coffee-centric lunch, or a tea break. Their homemade pastries and cakes are among the best in this area.
Any time I am strolling behind Piazza Navona, usually shopping on via del Governo Vecchio, I like to stop here, even if only for a cup of coffee. But if I can manage a mid-afternoon snack, they have the most gorgeous array of pastries, including the types of pear/chocolate cakes, or apple cakes with cream sauce, that you normally don't find in Rome. They also make a lovely iced tea, brewed on the spot. It is not cheap to sit here and have a pastry and coffee, but it makes for a wonderful treat.
Details: 

---
Caffe Doria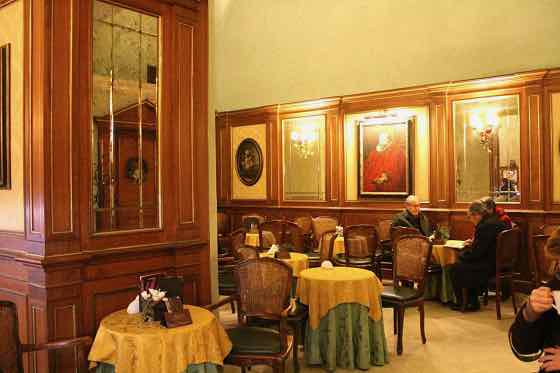 This is an OLD photo of my beloved Caffè Doria before they renovated. It's still a nice spot to stop for a coffee but it's gotten a bit more stuffy now.
This unassuming little café between the Pantheon and via del Corso is a quiet, peaceful retreat. It seems to be from another era and indeed it is. For me, Caffe Doria is a great spot in colder months, because it's so cozy. This is not a Rome café with tables outside, so people-watching is limited. But there is a different kind of treat: From the café, you can enter the Palazzo Doria Pamphilj and view some of the amazing artworks of their family collection there. 
Details: 

Phone: +39 06 6793 805
Opening hours: Monday CLOSED | Tuesday-Sunday: 08:00-21:00
---
Ciampini
Perched on a posh corner of baroque Piazza San Lorenzo in Lucina, Ciampini's retro sign and bright white awning aim you to walk in. Serving coffee and food since 1931, this historic café is a must for coffee lovers.
I love Ciampini in piazza San Lorenzo in Lucina. It is a classic Rome see-and-be-seen hangout, but it's still a basic old-fashioned Rome café. (In the photo above, Ciampini is the one on the left.)
They serve coffee, food, aperitifs and most importantly, some of Rome's best gelato!
Details: 

---
---
The perfect 3-day itinerary in Rome
Trying to figure out how to organize your visit to Rome? I've got the perfect 3-day itinerary for first-time visitors (or those who have not been here in a while.) It works for a 2.5 day visit as well.
In my 3-day itinerary, you'll see all the major must-see Rome attractions like the Vatican, Colosseum, Trevi Fountain, Pantheon, Piazza Navona, Spanish Steps, Castel Sant'Angelo, and much more.
And if you have more time, or want suggestions for extra/other things to do, you'll find that there too.
Visit my page with the best 3-day itinerary in Rome for first-timers.
---
Er Baretto - L'arte del Caffe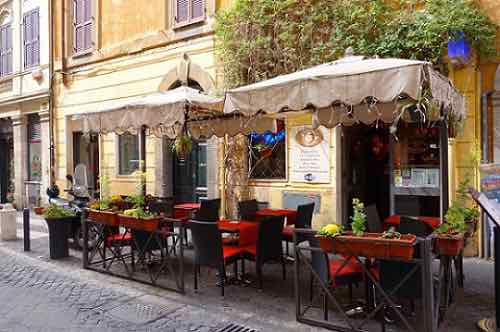 In Rome, getting coffee typically involves standing at the counter and knocking back an espresso without even taking off your jacket. Here at Er Baretto, I suggest lingering a little longer. Good, fresh pastry, cream rolls, and flaky croissants are daily served and it's also one of the few places in the Monti district that has tables out.
If you happen to be enjoying the Monti neighbourhood, in particular, via del Boschetto, don't miss a coffee stop at this cafe. It is the local hangout spot in via del Boschetto, perfectly placed right in the middle, making it the go-to coffee bar for all the local merchants up and down the street.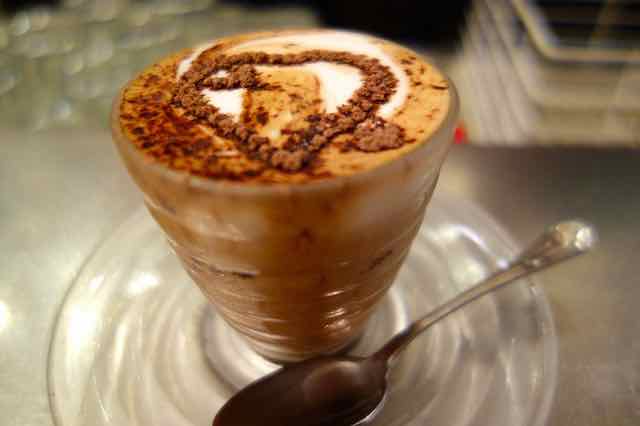 At Er Baretto there is a wide variety of beans to choose from from Peru, Moka do Brasil or the premium Lavazza are all available for both locals and tourists to use.
But that is not the only reason to go there of course. The coffee is excellent! They have won many awards for their coffee, so for me, it's a perfect break spot, but I also really look forward to having their coffee. It's never bitter, and they always seem to take great care in making each one just right. 
Er Baretto is Roman, meaning "the little bar." 
Details: 

---
No matter what season you visit Rome, here are 4 things never to leave at home:
Disclosure: If you make a purchase through a link on this page, I may receive a small commission - at no extra cost to you. Thank you for supporting my site!

A particular Rome Cafe - (better to stand here)
Cafe Sant'Eustachio - in a class by themselves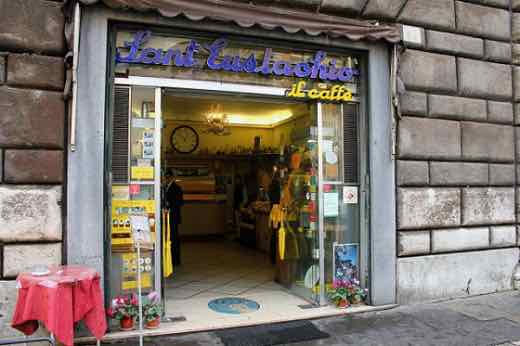 Located in the middle of the homonymous piazza, the Sant'Eustachio Cafe and roastery has been here since the '30s. Still run by the same family, who will gladly relay the history of coffee to those interested.
Finally, and probably most famously, there is Cafe Sant'Eustachio, also near the Pantheon. 

They are famous because they got written up in the New York Times, but also because they have this mystique about their coffee: you cannot watch it being made. In the photo below, the coffee machine has a partition on one side and a kind of dark wing on the other.
It comes with the sugar already in it (unless you tell them otherwise), and the coffee itself is all foamed and creamy on the top. I personally think the trick is a touch of baking soda but this is just a guess on my part.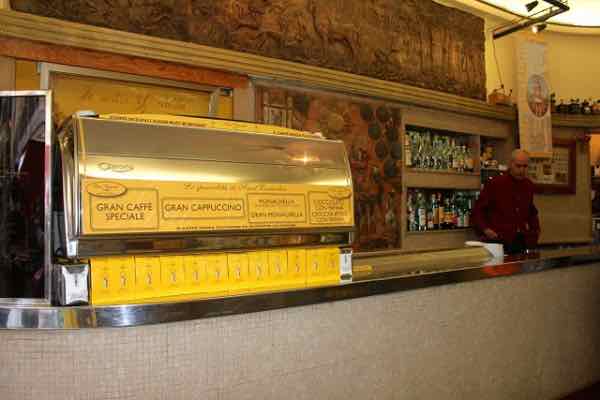 At Sant'Eustachio's old-fashioned machines from all eras line the counter, while the smell of freshly-roasted coffee wafts through the door and out into the street.
Anyway, things you need to know about Cafe Sant'Eustachio:
Don't order cappuccino here if you want to see why their coffee is special, you might as well get cappuccino anywhere.
Remember they put the sugar in for you, so if you don't want it, or want it less sugary, you have to tell them.
Like in most Rome cafes, you have to pay first and then take your receipt to the counter.
Sitting outside is only for table service and will cost you a lot more. (I don't think there is anything that special about sitting at this particular café. Go for the coffee, not the linger.)
My personal opinion about the coffee is that it's good, but not that amazing. But their granita di caffe is fabulous, so try that in summer. And get a small one because the large one will keep you awake through the week.
This is an excellent spot for buying those chocolate covered espresso beans. Yum!
Details: 
There's a wide variety of beans to choose from: Africa, Moka do Brasil or the premium Peruvian blend are available both grounded and whole.
For more places to get great coffee near the Pantheon, visit my dedicated page here.
---
Standing vs sitting

It's important to note the difference in price you will pay when you stand up in a Rome cafe or sit down at a table. Bar prices are usually around 80 cents for an espresso and around 1 Euro for a cappuccino. Once you sit down, you will pay for table service. In theory, and by law, every bar needs to have these prices posted clearly.
I can never find them but I don't look that hard. It has nothing to do with your being a tourist. It's just that once you sit, you need to pay for the service. Hence, you don't need to tip.
Expect about a 200-300% markup from bar prices for the privilege of sitting down, depending on where. If you're traveling on a budget, remember to have your breakfast standing up to ensure you don't pay more unnecessarily.
As a caveat, this is not the case for Rome cafes in local neighborhoods, especially when they know you. 
Coffee is one of my favorite gifts in Rome to get for friends and family. So, if you are thinking about souvenirs and gifts, you might consider coffee as well.

---
Get your free Rome trip planner!
We are committed to respecting your data. Click for our Privacy Policy.
---
Comments? Questions? Suggestions?
Please come over to the private Romewise Facebook group and join in the conversation.

You will often find me there, happy to answer your questions / comments!
You will also meet other Rome lovers and experts, too.
What are you waiting for?
---
You may also be interested in these pages:
---