Shopping Near Spanish Steps
Want to shop where the Romans shop? The area of shopping near Spanish steps is the place to be.
Shopping Near Spanish Steps - Everything You Need to Know
The area around the Spanish Steps, known as the "Tridente" (trident, because of the three streets that branch out from Piazza del Popolo) is not only a great spot to not only do some shopping for yourself, but also to "do as the Romans do", and get in some great people watching while you are at it.
On this page, you'll find:
Shopping around the Spanish Steps - the Main Streets
There are a few main streets for shopping near the Spanish Steps, where the high-end brands are concentrated, but each has its own character.
Via Condotti
Via Condotti is the street that continues from the bottom of the Scalinata di Trinità dei Monti, or Spanish Steps.
If you stand in the middle of via Condotti, you will have the Spanish Steps and the church at the top right in your center view. 
Via Condotti may be compared to the most elegant shopping streets in other big cities, such as the Champs-Elysée in Paris, Bond Street in London, or Fifth Avenue in New York.
It is arguably the most prestigious shopping street in Rome.
This is where the top brands, called griffes in Italian lingo, may be found: Hermès, Bulgari, Gucci, Prada, La Perla, Jimmy Choo, and many more.
It's not my favorite street for shopping: it's wide, paved, and usually very crowded and doesn't give me a sense of charming Rome.
But it is really lovely at Christmastime, with holiday lights and shop windows glowing, and all the elegantly dressed Italians strolling arm in arm, window shopping and doing their holiday thing.
Via Borgognona and Via delle Carrozze
The two streets on either side of via Condotti, via Borgognona to the left if you are standing in the Piazza di Spagna, and via delle Carrozze to the right, are also full of very high-end brands, such as Ermenegildo Zegna, Bruno Cucinelli, Emilio Pucci, Roberto Cavalli, Malo, and more.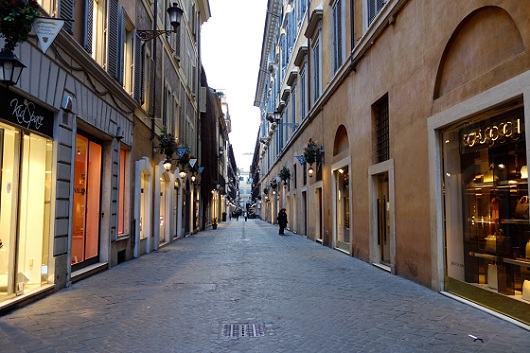 Via Borgognona, a quieter yet still upscale shopping street near the Spanish Steps
These streets are much quieter than via Condotti, and are just as wide, so it's really a pleasure to walk down them even just window shopping.
Be prepared to stand there with your mouth wide open when you see the prices of the clothes in the window (Yes, the jacket in the Bruno Cucinelli window really does cost over 2,000 Euros.)
Brunello Cucinelli, one of the few Italian luxury brands that's still 100% made in Italy
Prefer to browse second-hand or thrift stores?
Check out my list of the best vintage shops in Rome here!

Via Frattina
One of my fave streets for shopping in the Spanish Steps area is Via Frattina.
It's to the left of via Borgognona if you are standing in Piazza di Spagna.
I love this street for the mix of shops on it.
You'll find a bit of everything from luxury designer shops to super cheap shoe shops to bars and cafés.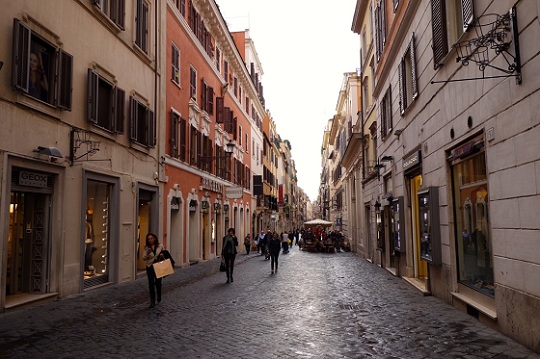 Via Frattina, a nice mix of cheap and expensive shops, something for everyone!
Some great places to stop on via Frattina, starting from the top (at piazza Mignanelli):
The first bar/café on your right (and so far the only bar on this street), Bar Frattina, has very good coffee, and superb, and I do mean superb, rich, dark chocolate gelato. The walnut gelato is fabulous also. It's actually a little neighbourhood bar, often full of locals. Get your receipt (scontrino) first, and then go to the counter to order. Avoid sitting outside where you will pay a lot more for whatever you get.
No matter what season you visit Rome, here are 4 things never to leave at home:
Disclosure: If you make a purchase through a link on this page, I may receive a small commission - at no extra cost to you. Thank you for supporting my site!

Fausto Santini

 is one of the great Roman fashion houses and they make gorgeous bags and shoes. I have some of each and can attest to their quality. The shoes fit like gloves and the bags are comfortable to wear on your shoulder and cleverly made so they are not just beautiful but also practical too. I always get compliments every time I carry one of their bags. 
Fausto Santini - a true Roman fashion icon; you've never had shoes and bags like this!
SHOPPING OUTLET SECRET!
Check out the very under-advertised Fausto Santini outlet on via Cavour 103 (near Santa Maria Maggiore),  where you will find a wonderful selection of last-season's items for quite a savings. 
The outlet is run by Fausto Santini's father, Giacomo Santini.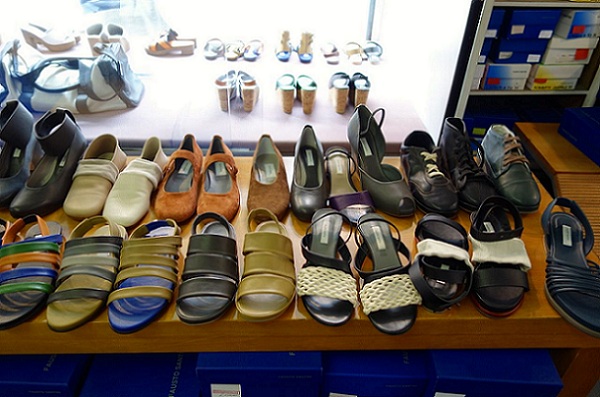 via della Croce
This street is to the right of via delle Carrozze if you are standing in Piazza di Spagna.
It's a pretty eclectic street with a mix of old-fashioned and very new shops.
Some interesting shops include:
Venchi

chocolates - Gelato! Chocolates! Bonbons! Oh my!
Vertecchi paper shop - a classic and everyone's go-to shop for elegant writing supplies, wrapping supplies, artist's supplies and especially Christmas decorations.
via dei due Macelli
This street leads from via del Tritone in towards the Spanish Steps.
It's a pretty long street and there is not a great selection of shops.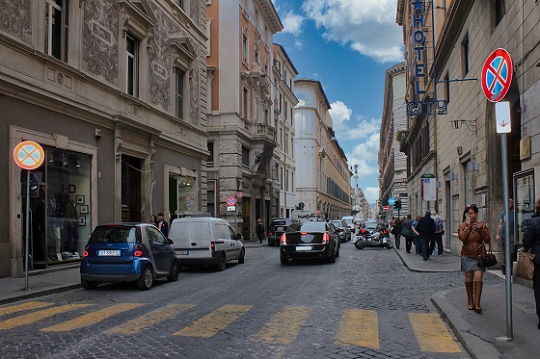 However, one of my go-to clothes/shoes shops in Rome is here: Victory. It's kind of like a Top Shop or Intermix, where there are many different brands to mix and match, from medium to high end.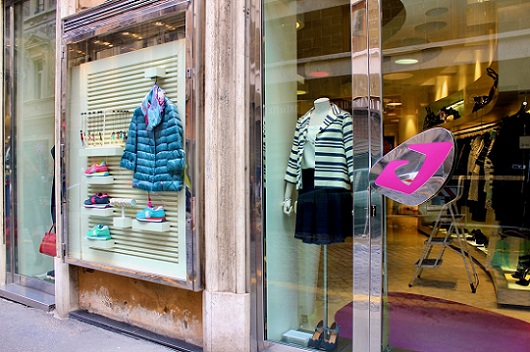 All the clothes are arranged by color, which makes it a bit odd for browsing but the saleswomen are very helpful in giving you suggestions for what you might be looking for.
They have fantastic shoes and other accessories as well.
And, there is a men's Victory store on the opposite side of the street. Via due Macelli 103.

---
The perfect 3-day itinerary in Rome
Trying to figure out how to organize your visit to Rome? I've got the perfect 3-day itinerary for first-time visitors (or those who have not been here in a while.) It works for a 2.5 day visit as well.
In my 3-day itinerary, you'll see all the major must-see Rome attractions like the Vatican, Colosseum, Trevi Fountain, Pantheon, Piazza Navona, Spanish Steps, Castel Sant'Angelo, and much more.
And if you have more time, or want suggestions for extra/other things to do, you'll find that there too.
Visit my page with the best 3-day itinerary in Rome for first-timers.
---
Rinascente
Rinascente is Italy's premier department store and in October 2017, they opened their flagship store right in the center of Rome, in between the Trevi Fountain and the Spanish Steps.
Rinascente is really a dream to shop in.
No, it's not like poking around small streets and in and out of cute one-off boutiques.
But that's the the experience to look for here, either.
You can start by visiting housewares in the basement, and check out the 2,000 aqueduct they found while digging.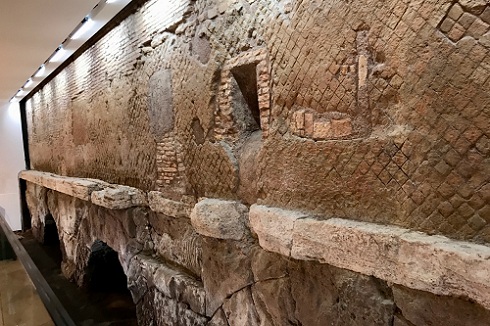 Nothing like having an aqueduct from Ancient Rome in the housewares section of your favorite department store!
There is also a tax-free office here.
On the other floors you will find all the usual department-store sections - fragrance, fashion for men, women, children, shoes, jewellery, cosmetics, even a hair salon.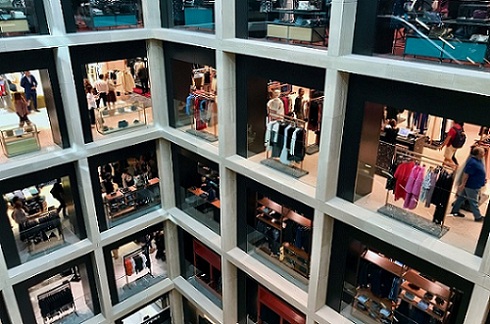 Rinascente department store in Rome's center
On the 6th floor, you'll find a food market along with a variety of restaurants including Temakinho (Brazilian sushi), Sorbillo pizza, Vivi Bistrot (health food), Madeiterranean (contemporary), and more.
And on the roof, there are 2 levels of open-air rooftop bar, where you can eat and drink just about any time of day.
There are entrances on via due Macelli and on via del Tritone. Open daily 10 am - 9 pm.
via del Corso
Via del Corso was once the via Flaminia, the main street in ancient Rome.
In fact, all the ancient stuff is still under there. (They just don't have the funds to excavate it all.)
Via del Corso runs all the way from Piazza del Popolo to Piazza Venezia.
It's a very long street with shop after shop after shop.
You will find Sephora, Nike, Disney, The Gap, Footlocker...ok there are also some more local brands but none that are special.
Regardless of its (to me) lack of charm, it is always packed with people, especially Italians, strolling and window-shopping, especially on holidays when everything is closed.
via Margutta
Have you seen the movie Roman Holiday, with Audrey Hepburn and Gregory Peck?
Then you know the main reason I love this street: via Margutta is where Gregory Peck's character had his apartment in that movie. Swoon!
Via Margutta in summer, when it's not only one of the quietest shopping streets near the Spanish Steps, but one of the prettiest
Either way, don't miss taking a lovely stroll down this very quiet and sweet street, one of my favourite in Rome.
It's more of an artists' street, with art galleries, antique shops and other strange and wonderful boutiques.
It's less about shopping near Spanish Steps than it is enjoying a quiet, hidden part of Rome.
In warmer weather, the street is covered in wisteria and other flowering vines.
Via Margutta is an oasis of calm in the hustle and bustle of Rome's shopping zone.
via Vittoria
Via Vittoria is one street over from via della Croce.
Despite its proximity to the Spanish Steps, it is always a quiet street but no less of a shopping street than others in this area.
Via Vittoria has wonderful boutiques in various price ranges.
Piazza San Lorenzo in Lucina
Piazza san Lorenzo in Lucina is not so much a quiet street as a little plaza.
Despite its location at the foot of via Frattina, crossing over the via del Corso, I think of it as relatively quiet for this area.
There are 3 cafés (my fave is Ciampini); a sweet little church (the actual san Lorenzo in Lucina) where local residents attend, and sometimes get married; and a pretty wide, car-free plaza where sometimes local kids play ball.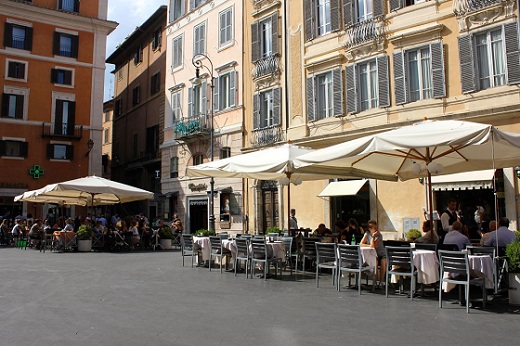 Piazza San Lorenzo in Lucina. Ciampini, my favorite, is the one further back in this photo.
If you want swanky shopping near Spanish Steps, don't miss this piazza.
The Louis Vuitton flagship store is here, housed in an old theater and taking up two stories. It's gorgeous to behold even from the outside.
The interior of the Louis Vuitton shop in Rome. Don't be afraid to go in and just look around. They encourage it and nobody minds. Enjoy!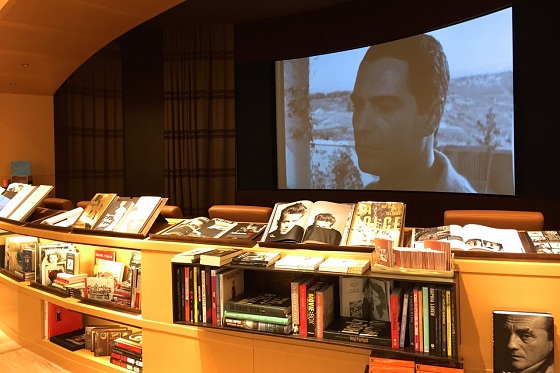 Head up the stairs of the Louis Vuitton shop, take a comfy reclining seat in the cinema room, and catch some vintage 60's Italian movie stars in action!
This plaza is the beginning of the Campo Marzo area, which leads to the Pantheon.
Click here to read more about shopping near the Rome Pantheon.
Shopping Near Spanish Steps - How to get here
Metro to Spagna
If you are taking the metro, get the red line A to Spagna.
When you come out of the metro stop, you will be standing  at the base of the Spanish Steps in Piazza di Spagna, with streets branching out in front of you and to the left and right as well.
You are in shopping central!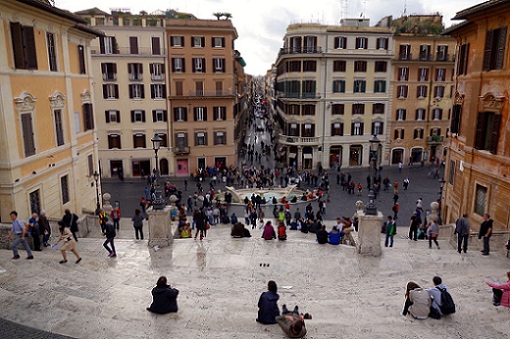 The bottom of the Spanish Steps and the beginning of Shopping Central!
METRO TO FLAMINIA, PIAZZA DEL POPOLO
You may also get out of the metro at the Flaminia stop, which will put you closer to Piazza del Popolo, and you can work your way towards the Spanish Steps from there, coming up via del Babuino, which happens to be "twinned" with New York's Madison Avenue, and is about as swanky.

METRO TO BARBERINI - START YOUR SHOPPING WITH A VIEW FROM THE TOP!
If you get out of the metro at Barberini, you can walk from Piazza Barberini to the right, along via Sistina, to the top of the Spanish Steps, where the Trinità dei Monti church is.
Via Sistina is not the best street for shopping near Spanish Steps but there are a few shops along the way. The main goal for coming in this way is the view from the top.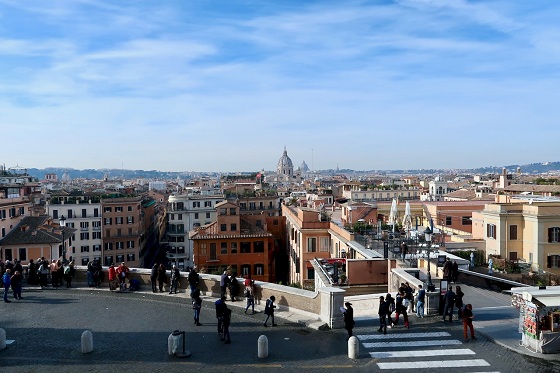 Shopping Hours
As I wrote on my Rome Shopping Guide page, traditional shop hours are usually from about 9:30 or 10 am until 7:30 or 8pm, with a 2-3 hour "lunch" break in between.
Also, traditionally, shops are closed Saturday afternoons, all day Sunday, and on Monday mornings.
However, the area around the Spanish Steps is the most concentrated, and the most well-trafficked shopping neighbourhood in all of Rome, and many shops do not follow these traditional Italian shopping hours (some do, however, so don't be too shocked if you walk around on a Monday morning and many shops are not open.)
Click here to visit my interactive Google map showing all the places listed on this page. It will open in a new window.
---
---
Get your free Rome trip planner!
We are committed to respecting your data. Click for our Privacy Policy.
---
Comments? Questions? Suggestions?
Please come over to the private Romewise Facebook group and join in the conversation.

You will often find me there, happy to answer your questions / comments!
You will also meet other Rome lovers and experts, too.
What are you waiting for?