One Day in Rome
Unique Itineraries for Everyone!
Even if you only have one day in Rome, you would be surprised at how much you can get out of this day!
One Day in Rome - suggested itineraries
For years running our boutique hotel in Rome, I helped thousands of Rome visitors get the most out of their stay, even if was just one day long.
There is no one solution for everyone.
On this page, I've outlined some options for one day in Rome itineraries for the unique traveler in you. 
You have one day in Rome and ...
One Day in Rome - seeing the highlights
Seeing the highlights in one day in Rome means seeing the main attractions, even if briefly. These include (but are not limited to):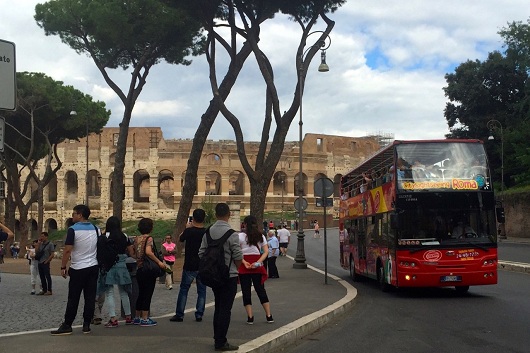 You can see the Rome highlights in one day with the hop-on / hop-off bus, on a tour, or on your own.
Visit my dedicated page here for all the details.
---
One Day in Rome - Visiting the Vatican Museums and the Coliseum
Do you want to see the Colosseum AND the Vatican, including the Sistine Chapel all in one day in Rome?
It can be done!

Of course I'd recommend more time in Rome but I realise sometimes people only have one day. (You may have to skip the Roman Forum/Palatine Hill (included with your Colosseum ticket and part of a typical Ancient Rome visit) unless you are super ambitious and/or have a ton of energy.)
Find out the different ways to visit Rome's biggest sites in a single day, whether on your own, on a tour, or as a shore excursion.
Visit my dedicated page to find out how you can see the Vatican and Colosseum in a single day.
---
One Day in Rome - at a Leisurely Pace
If you have one day in Rome, and want to sight-see but at a slower pace, I'll give walking options, and some less strict suggestions about where to go.
This is for the independent traveller, who does not want to be rushed, or have a guide, or have a must-see list for their one day in Rome. This kind of visit might include lots of sitting and people-watching or coffee/gelato tasting so I'll give plenty of options for those too.
I would suggest starting at Piazza Barberini, since it's a convenient metro stop, and very central.
From there, take via Sistina to the the top of the Spanish Steps, for a great, first-impression rooftop view of Rome. 
Option 1 - Borghese Park
From here, keep walking along the wall along the top of the Spanish Steps. Now you can see that gorgeous view, but without the crowds. You mostly have it to yourself. As you walk along this road, you will come to a street that ramps up (not the first one, the second one.) Take the street and you will wind up on the Pincio, a lovely spot for beautiful views of Saint Peters Dome, Piazza el Popolo (below you), and general rooftop views of Rome.
Depending on the weather, you may want to wander back into the park, which is actually pretty large. There are lakes, cafés, fountains, museums and gardens and it can be a lovely way to spend some time in a one-day in Rome visit, without the rush of monument sight-seeing.
Come down from the Pincio into Piazza Del Popolo. Hang out at Canova or Rosati café (they are the only two cafés on piazza del Popolo), and do some people-watching.
Sitting at a café in a main square comes with a price. When you sit at a bar or café in Rome, you will pay more for what you order. Don't forget, this means you do not need to tip.
From here, you might stroll down via di Ripetta towards the mausoleum of Augusto. Make your way along via Monte D'Oro towards Piazza San Lorenzo in Lucina.
Great lunch spot: Arancio D'Oro, run by the younger brother of, and around the corner from, the better-known but more upscale Settimio All'Arancio. Here you will find other Romans eating typical Roman food for lunch, at every reasonable prices. Via di Monte D'Oro, 17
Option 2: Meandering around the Spanish steps
From the top of the Spanish Steps, walk down them on either side and you will wind up in the Shopping Zone. Spend some time wandering the streets both across and down, especially if you are a shopper or even window-shopper. Here there is something for everyone. Click here to read more about Shopping at the Spanish Steps.
The rest of your leisurely visit in Rome center
Eventually make your way towards piazza San Lorenzo in Lucina. (See just above for a nice lunch stop nearby.)
Piazza San Lorenzo in Lucina is another lovely spot for sitting and people watching. At Bar Vitti, you can get granita, which is a kind of iced coffee. At Ciampini, try their exceptional gelato.
From here, walk down the small back streets until you come to via della Scrofa. Take this towards Piazza Navona.
Once you visit Piazza Navona, either head towards the Campo Dei Fiori, or towards the Pantheon.
Last stop will be the Trevi Fountain, and then back to Piazza Barberini to get the metro to wherever you need to go.
---
Maybe you've been to Rome before, or maybe you just realise that with only one day here, it's not feasible to do much sight-seeing so you might as well go shopping!
Either way, Rome is a shoppers' paradise and you can spend the whole day visiting various shopping neighbourhoods.
The below is an ambitious itinerary covering most of the main shopping areas of Rome.
If you wind up spending a lot of time in any one area, obviously you won't hit all these neighbourhoods I mention. But just in case...
Visit my page here to see how to take a Rome shopping tour, whether self-guided or with your own personal shopper!
---
One Day in Rome - Soaking up the atmosphere
I once went to Paris with a sick friend. We decided to just spend the time hanging around and soaking up the atmosphere. We didn't visit a single monument or museum. It was a different and wonderful way to experience the city. I will have a great memory of that trip always, particularly because of my friend. We ate, drank and were merry.
This suggestion is a tribute to him. I think it's how he might have spent the time if he only had one day in Rome:
No matter what season you visit Rome, here are 4 things never to leave at home:
Disclosure: If you make a purchase through a link on this page, I may receive a small commission - at no extra cost to you. Thank you for supporting my site!

Breakfast
First things first: a yummy breakfast (and a newspaper for the maximum café-sitting experience.) That means great cappuccino and a really superb pastry. So you need a pasticceria.
A bar has basic pastries that are normally frozen and heated in a convection oven. They are fine, even delicious. But a pasticceria is a place that specialises in pastries. Now we're talking.
There are lots of amazing pasticcerie (pastry shops) in Rome. Most of them are places to get your pastries to go. But, it would be nice to sit and enjoy this lovely Roman breakfast. 
So let's start in Piazza San Lorenzo in Lucina. As I've said on other pages, this is one of my favourite piazza's for sitting, people-watching and soaking up some of that Roman atmosphere (and sunshine!) Try Bar Vitti. They have tables outside, and with umbrellas in summer and heat lamps in winter, and a vast array of delectable pastries.
The electric bus and panoramic views of Rome
After a leisurely morning of pastries and people-watching, head down the via di Campo Marzio, and take a right on via dei Prefetti. Go to the first bus stop there and wait to hop on the electric city bus, 116 (this is a normal city bus, not a tour bus. You need a ticket before you board, so before starting your day, get one at a newspaper kiosk or tabacchi (tobacco vendor, where bus/metro tickets are sold in Rome.)
Take the 116 through the city center, near Piazza Navona, into Campo dei Fiori, onto the picturesque via Giulia, and along the Tiber river. When you get to the very end of the line, you will be across the river. Get off the bus, and with your ticket still valid for one transfer, get onto the 115 bus, and let it take you all the way to the top of the Janiculum hill (Gianicolo). Get off at Piazzale Garibaldo and spend some time looking around, and enjoying the views. Your view from the left is a panoramic view of Rome. From the right, you will be looking over Vatican City and Saint Peter's Basilica.
While facing the view of Rome, walk towards your right, and take the left-most street, Passegiata di Gianicolo. Follow this all the way to the huge fountain Fontanta Dell'Acqua Paola (or, if you want to know the Roman dialect for it, Er Fontanone, which means Big Fountain.) 
Continue your descent along via Garibaldi, coming to the Mausoleum for the War Dead, or Ossarium.
Just after the mausoleum, you will come to a hairpin turn to your right, but on your left, there is a church, San Pietro in Montorio. It's a beautiful church with very special frescoes inside, but it is almost always impossible to go inside this church, as it's privately owned and usually open only for weddings. I have gone in during a random wedding (shhhh!) so if you find the doors open, turn off your cell phone, and respectfully pop in, staying in the back. 
Right next to this church is the wonderful Tempietto del Bramante, which is in fact, housed in the private courtyard of the above-mentioned church. So again, you cannot go inside, but it is worth a peek through the gate.
Continue descending via Garibaldi. At one point there is a kind of dangerous street intersection, so be careful! Just after this intersection is a staircase going down. This will take you through the back way into the heart of the charming and quirky Trastevere neighbourhood.
Trastevere - lunch and strolling
Once in Trastevere, you can find a nice spot for lunch, stroll through the cute streets, hang out at a wine bar or do some shopping. For a bit of culture, stop into the church of Santa Maria in Trastevere, one of the oldest churches in Rome, and a spectacular example of Byzantine mosaics.
Last view and site for the day - Campidoglio and the Roman Forum
From Trastevere, make your way back across the river, crossing the Tiberina Island just for fun. This will put you into the heart of the Jewish Ghetto, but also close to the Capitoline Hill. You could spend a little more time doing more neighbourhood exploration in the Ghetto, or, go up the hill of via del Teatro Marcello to get a glimpse of one of Rome's most important sites, The Roman Forum. You can see this from the top of the Campidoglio Hill.
Time For a Wine Bar
If I was spending this one day in Rome with my friend, as we did in Paris, we'd be just about ready for a late afternoon/early evening wine bar to sit, relax and review our day. A perfect end to our very laid back day in Rome. What more could you want in one day in Rome?
---
One Day in Rome - Something New
You have been to Rome before. You've seen the major sites.
Now, you have just one day in Rome, and want to see something new. In this case, I'll give you a list. While not an itinerary per se, it's a good list to give you ideas of some things to do in Rome that most people don't do on their first visit, but that are absolutely worth seeing. I'd go so far as to say that some of them should be included in a must-see list...but of course many people just don't have the time. So now's your chance:
One day in Rome - some museums you may not have seen
---
Get your free Rome trip planner!
We are committed to respecting your data. Click for our Privacy Policy.
---
Comments? Questions? Suggestions?
Please come over to the private Romewise Facebook group and join in the conversation.

You will often find me there, happy to answer your questions / comments!
You will also meet other Rome lovers and experts, too.
What are you waiting for?