6 of the Best Rome Food Markets
Wondering where to find the best Rome food markets? Probably the most famous, and the most interesting are at Campo dei Fiori, Trionfale and Esquilino.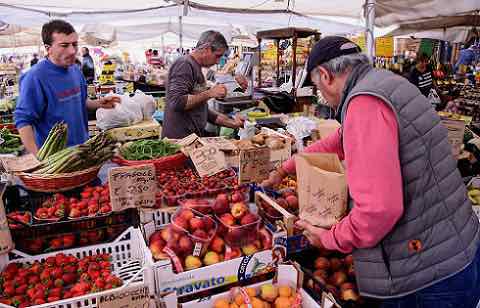 Rome food markets are where you can expect to see a real slice of Roman life.
They're colorful, characteristic and historical. The oldest dates back to 1869 and the latest addition is just three years old. 

Rome Food Markets - What to expect
In a country like Italy, where quality - especially when you speak about food - is still the name of game, fruit and vegetable markets will probably never go out of fashion.
This is where you'll find the best raw materials at the lowest prices. This is where you find colors, local spirit, yelling and shouting. This is where you'll meet the real Romans as they go about their daily life.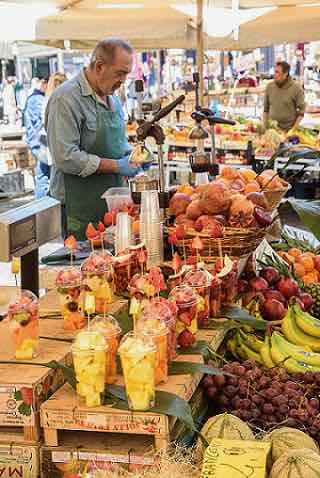 At food markets in Rome, low prices and high quality are the common denominators. This is where you'll meet the real Rome.
Rome still has about 130 so-called mercati rionali, which are neighborhood markets, scattered around the city.
Many of Rome's food markets used to be completely outdoors and uncovered.
In recent years several of these open markets have been covered due to a recent law regarding hygiene regulations. And more might soon follow.
For now, whether at a covered market or an outdoor one, you can still experience the unique atmosphere of various Rome food markets ranging from multiethnic to historic to chic. 

Romewise went shopping to taste six of the Italian capital's best and most famous food markets. 

On this page, you'll find:
---
Mercato Trionfale - the big one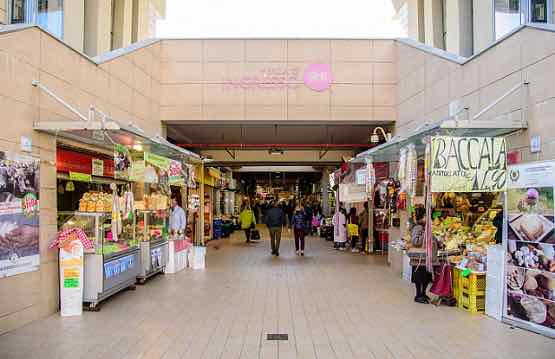 Possibly the largest of the Rome food markets, the Mercato Trionfale is a fascinating place to soak up a lot of local color.
One of the best known fruit and vegetable Rome markets is Mercato Trionfale, located not too far from the Vatican Museums where tourists gawk at Michelangelo's ceiling in the Sistine Chapel.
This market - which was covered in 2009 - really seems to be a living museum for Italy's other art – food.
Stand owners shout out offers to passing shoppers and Romans gather at the wine stands awaiting a refill of the giant wine bottles that they'd dragged from home.
The fish stalls offer the day's catch just pulled from the Mediterranean Sea, the bread is super fresh, and the butchers' stands display rows of Parma hams on the counters.
Homemade pasta, mounds of colorful spices, quality eggs and endless varieties of olives are available.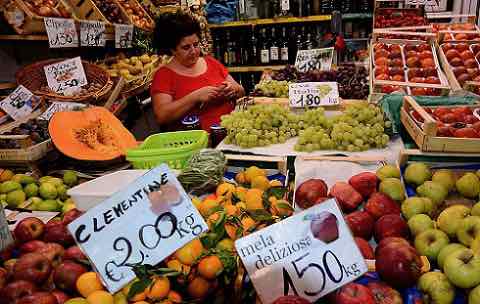 One of my favorite things about Rome food markets is the array and variety of color, especially at the fruit stalls.
Merchants and clients joke and gossip while conducting business. This is definitely not your ordinary sterile supermarket. The market's history dates back to 1928, and with its about 175 stalls it's probably the biggest of the Rome markets.

Details:
---
Nuovo Mercato Esquilino - the multiethnic 
Rome's most multiethnic market, the Nuovo Mercato Esquilino, dates back to the 1930's and is located close to Piazza Vittorio.
The Esquilino neighbourhood has quite a high concentration of multiethnic communities, in particular of Asian and African ethnicity. So no wonder that the market's offerings are reflected in the ethnicity of the neighbourhood.
Stalls sell Indian spices, Arab specialties, traditional African cooking ingredients, and even South American gourmet food, sold by South Americans who can be heard chatting in Spanish with their clients.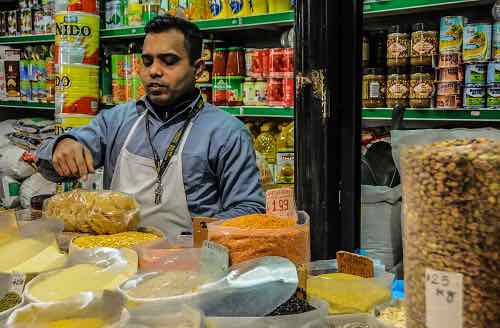 Dating back to at least the early '30s (when it was an open-air market located onto Piazza Vittorio Emanuele), Mercato Esquilino is still the go-to for locals in search of unusual spices or hard-to-find traditional products.
In 2001 the market was moved to the nearby Via Principe Amedeo where it's now covered by a roof.
Fortunately, the market has retained much of its multiethnic charm.
In fact, the new, long, slightly dark and labyrinth-like corridors of the Nuovo Mercato Esquilino recall, in quite a fascinating way, an Arab souk.
One of my favorite things about this market is that I can find so many of the spices and herbs (cilantro!) I find hard to find elsewhere in Rome. 
And if are squeamish about seeing animal's heads (which I am), be ready to close your eyes here and there.

This recently renovated historic market in a touristy area just near Termini Central Station boasts high ceilings made of steel and glass that let the sunlight filter down to its floors.
Details:

Address: Via Principe Amedeo, 184
Opening hours: Monday, Wednesday & Thursday: 05:00-15:00 | Tuesday, Friday and Saturday: 05:00-17:00 | Sundays CLOSED
---
The perfect 3-day itinerary in Rome
Trying to figure out how to organize your visit to Rome? I've got the perfect 3-day itinerary for first-time visitors (or those who have not been here in a while.) It works for a 2.5 day visit as well.
In my 3-day itinerary, you'll see all the major must-see Rome attractions like the Vatican, Colosseum, Trevi Fountain, Pantheon, Piazza Navona, Spanish Steps, Castel Sant'Angelo, and much more.
And if you have more time, or want suggestions for extra/other things to do, you'll find that there too.
Visit my page with the best 3-day itinerary in Rome for first-timers.
---
---
Mercato Lunedì -  the authentic
Rome's Monteverde neighborhood starts where the more well-known quarter of Trastevere ends. 
The top attraction for foodies is without doubt the Mercato Lunedì.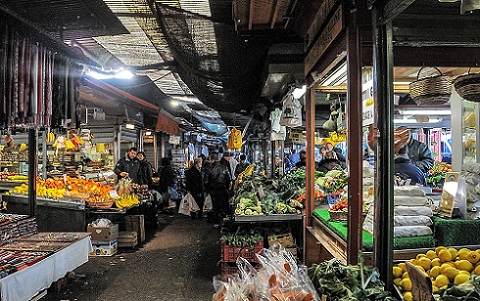 In one of the more local Rome food markets in Monteverde, you will get a real sense of Roman food culture.
It's an institution with stands that were opened shortly after the Second World War. This is an authentic Roman market frequented by locals, with barey a tourist in sight.
As I meander inside the market, the first thing I see is a fish stall where the shimmering silver and gold fish are displayed like museum pieces.
They seem almost too beautiful to eat. Long eels are twisted in buckets like a sort of sea sausage. You can buy salmon, mussels, lobsters, prawns, sea bass, cut fish, tuna, and much more.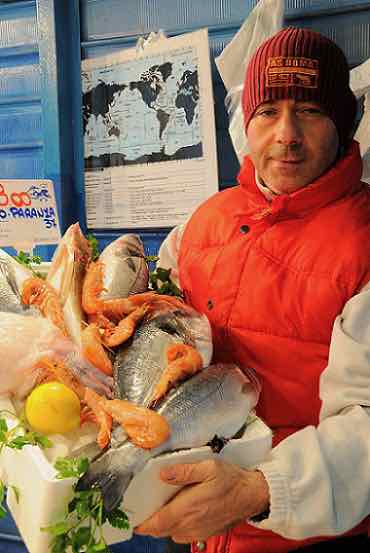 A short walk from San Giovanni Basilica, there is the Mercato di Piazza Epiro, with serious charm. You will usually see a wide variety of seafood, some caught that morning, and sometimes still alive.
The stand's owner senses my curiosity and begins to tell me about his offerings.
"All the fish you see here is freshly caught. They mostly come from the Tyrrhenian Sea and the waters north of Sicily", he says proudly, holding up a crate of seafood as I snap a photo.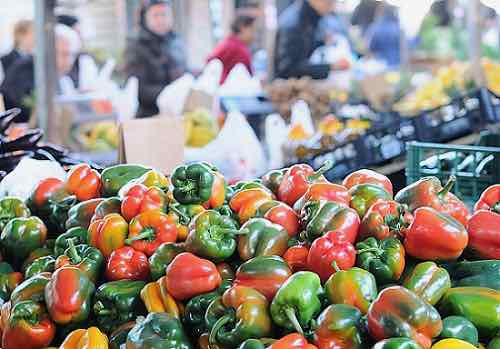 Its brightly colored stands are mirroring the colors of the fruits and vegetables sold, and it's a popular place to linger not only for that. Its cheese, meat, and street food stand made it the most favored place to both locals and tourists.
I continue my journey through the two rows of stands made from cobbled together tin and wood where sellers of fruits, vegetables, meats and more have worked for decades.
Rays of sunlight peak through the cracks in the tin roof. The light shines on piles of eggplants, mountains of red and green peppers, dangling sausages and hams hanging in rows, bundles of asparagus, the bakers' freshly baked bread and the characteristic Roman squash which has a particular sweet flavor.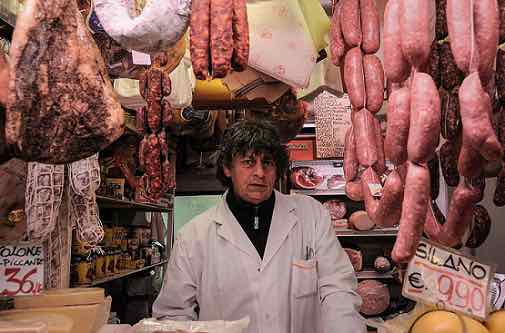 This food market truly gives you that feeling of visiting authentic Rome.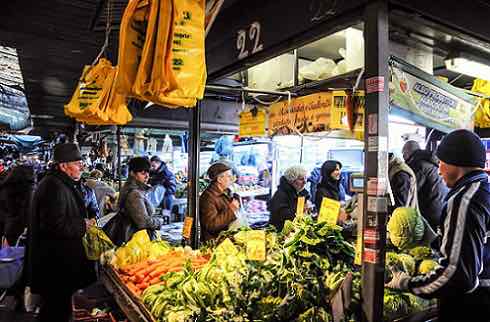 San Giovanni di Dio Market, It is one of the historic markets of Rome. Located in the posh neighborhood of Monteverde, it's very popular for the high quality of its products.
Details:

---
Campo dei Fiori – the historical
Campo dei Fiori, in the very heart of Rome, is one of the city's most famous piazzas.
Once there was a field of flowers – that's the piazza's name in Italian – and it was only in 1456 that Pope Callisto III had the piazza paved with stones.
The Campo dei Fiori area is steeped with history in part due to the piazza's central monument, the statue of the philosopher Giordano Bruno. On February 17th 1600, he was burned at the stake after having been condemned of heresy during the Catholic Inquisition.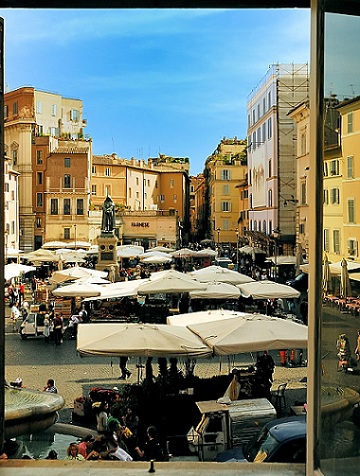 Without a doubt, the most famous of the Rome food markets is at Campo dei Fiori, which has a long history.
The statue was erected in 1888 at the very spot where were Bruno was burned. Today, Campo dei Fiori's location in the middle of a motley crew of somewhat crooked buildings is a stage for Romans and tourists alike.

The principal performer is Rome's oldest fruit and vegetable market which was founded in 1869 and is a true magnet for tourists.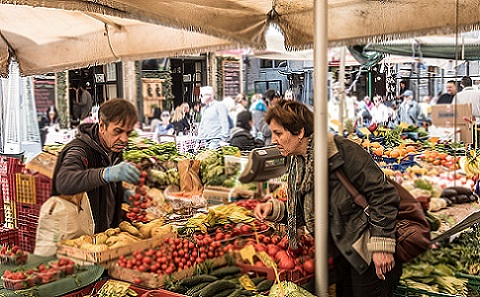 Campo De Fiori Market is the heart and soul of Rome. Its name comes from the Middle Age, where the area was still a meadow full of flowers.
The market has managed to maintain its authenticity despite time and the beginning of an invasion of football shirts and other tourist knick-knacks.
Experiencing Campo dei Fiori's market and daily metamorphosis - from the morning throughout the day until evening - should continue to be part of every traveler's visit to Rome. Actually, visiting the market in the morning and drinking a Prosecco at the open-air tables at the piazza is really a must for every Rome traveler.   

Details:

---
Campagna Amica Farmer's Market – the chic and ecological 
Rome's food market scene doesn't offer just tradition and history. You'll also find innovation. The new farmer's market trend testifies to Rome's ability to reinvent itself.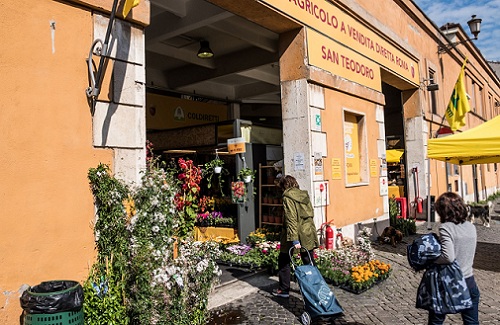 One of my favorite of the Rome food markets is this farmer's market near the Circus Maximus.
In 2009 the Campagna Amica farmer's markets opened close to Circo Massimo and quickly became very popular among the Romans. 
In fact, one of the most chic things an environmental and quality-conscious Roman can do is to be seen with one of the yellow biodegradable bags containing fresh fruits and vegetables from the Farmer's Market.
The principle of the farmer's markets is quite simple. The farmer or producer sells products directly to the consumer skipping the involvement of any middlemen. This means that the price of goods is often significantly lower compared to supermarket prices. In addition, the face-to-face contact between producer and consumer means that the consumer can easily learn about the products' origins and growing conditions.
Farm-fresh fruits and vegetables, many organically grown, aren't the only offering.
The farmer's market is lively. You feel as if your purchase is not only helping the farmer but the environment. On the opening days of Saturday and Sunday, Romans who buy mostly organic products frequent the market.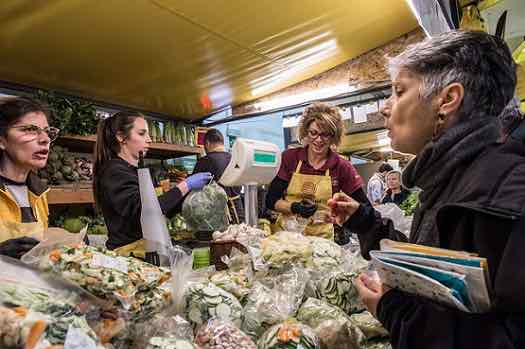 Mingle with the locals and meet the farmers while you nibble on sweet, ripe fruit, stroll through colorful booths, and experience Rome's farmer's lifestyle.
They can taste many of the products before they decide to buy: wines from local producers, beer from microbreweries, bruschette with truffle pate, a huge variety of local cheeses, salamis, freshly baked bread, olive oil and much more.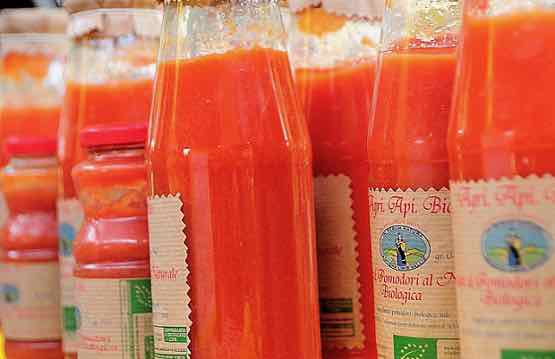 At week-end Rome's farmers market "Campagna Amica" you can sample fresh-from-the-farm produce from regional farmers and tasty treats from local artisans.
One particular spot becomes very popular around lunchtime. 

In a corner of the market, you'll find a small, simple kitchen where a few different dishes are prepared. I queue up and order a wonderful pasta all'amatriciana and a glass of local red wine poured right to the edge.
I sit down next to a Roman family. The family's teenage son tucking into his first forkful bursts out, "Che buooooonnno ….! (How goooooddd…)". And he's right. The pasta is flavorful and the wine pairs perfectly with the dish. Together they constitute an almost too obvious metaphor for all the taste and pleasure that can be found at these colorful Rome food markets. 

Details:

---
---
Il Mercato di Testaccio – lots of street-food eateries 
The Testaccio neighborhood can be found right after Trastevere when moving from Rome's center towards the suburbs.
Testaccio once had a historic fruit and vegetable market, located on the neighborhood's central Piazza Testaccio. It was opened in the 1950s and due to its very intense and typical Roman atmosphere, for a number of years it was quite an attraction for tourists and Romans alike.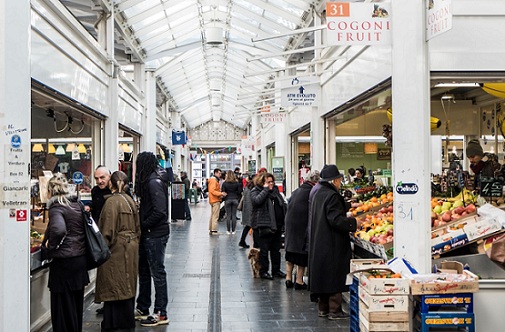 The Testaccio market is one of the best Rome food markets for tasting street food.
Disclosure: If you make a purchase through a link on this page, I may receive a small commission - at no extra cost to you. Thank you for supporting my site!
A few years ago, in a move that sent shockwaves through Testaccio, the market was shut down because it did not comply with modern hygiene rules.
Today, a few years after this closure, the old market has now been reborn with a more modern touch, this time with a large number of informal-style eateries, commonly referred to as street-food.
Today, you will find more than 20 different food stands where freshly prepared street food of almost any kind can be enjoyed. Some examples are the Food Box (stand 66) where you can get small delicious lunch portions which chef Marco Morello has composed with inspiration from Italy's many regional kitchens.
You'll also find Le Mani in Pasta (stand 58), where you'll find freshly made pasta dishes.
Also Mordi e vai (which means "Take a bite and then run off") is great and so is Zoé - a Greek word that means "essence of life" - which serves a variety of veg dishes - sandwiches, vegetable smoothies, large salad mixes, gourmet-paninos etc.
And then, at Chicchi e Lettere you'll find the great Italian coffee made on freshly roasted coffee beans. The best time to visit Testaccio's market is Saturday morning. It's perfect for a quick lunch.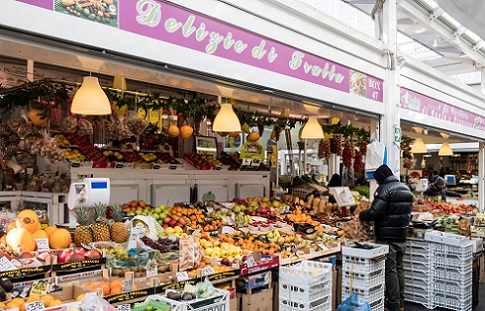 Testaccio Market. A mix of traditions and inspirations where you can sample fresh, and genuine products off of its colorful stands.
Details:

Opening hours: Monday-Saturday: 07:00-15:30 | Sunday CLOSED
A few more local Rome food markets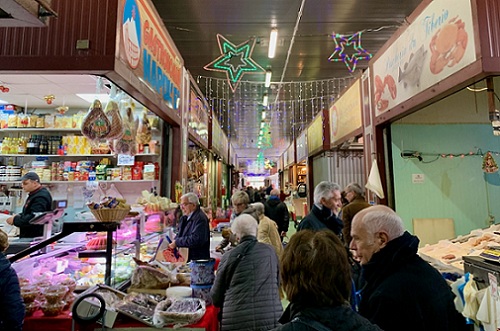 At Piazza Epiro market you can mingle among the vendors while cherishing the freshest vegetables and fruit. The place where you see the passion for excellence, feel it, taste it, touch it. And in one way or another, you bring it to your home.
While the above markets are some of the biggest, most well-known, and interesting food markets in Rome, here are just a few more, in case you find yourself in this particular neighborhood and want to sample some local color: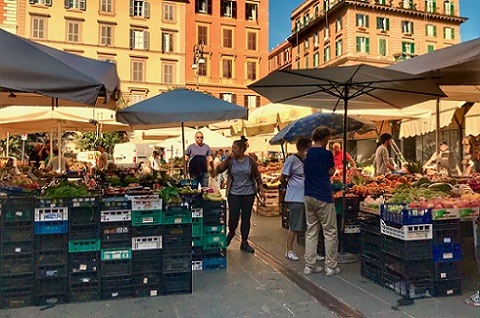 One of the last Rome food markets that's still uncovered is in San Cosimato in Trastevere. It's small but it's charming and full of local color.
Of the above neighborhood Rome food markets, only the one in San Cosimato in Trastevere is outdoor. The others are covered.
There are dozens of small, often open-air Rome food markets around the city in each neighborhood. Sometimes they consist of just 3-4 stands.
If you are staying in a neighborhood not listed here, just ask your hotel concierge or apartment owner or ask at the local bar where to find the food market closest to you.
Rome Food Markets - a map
Click here to visit a map of all the Rome food markets listed on this page. 
It will open on a new page.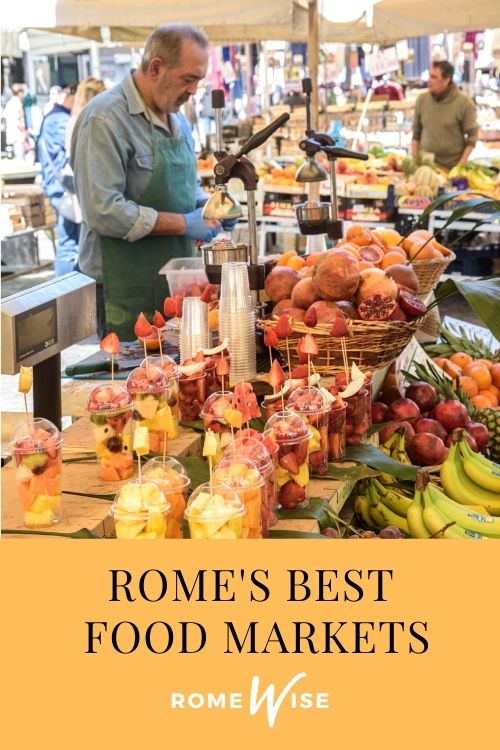 ---
Get your free Rome trip planner!
We are committed to respecting your data. Click for our Privacy Policy.
---
Comments? Questions? Suggestions?
Please come over to the private Romewise Facebook group and join in the conversation.

You will often find me there, happy to answer your questions / comments!
You will also meet other Rome lovers and experts, too.
What are you waiting for?