Rome in Autumn - one of the most beautiful times of year
Rome in autumn may be our best-kept secret - except it's hardly a secret.
I know visitors love coming in the fall because of the beautiful weather, the fall harvest, and the thought that it might not be so crowded after the summer crowds leave.
Which is why the autumn months are the busiest months to visit Rome, much to many people's surprise!
Visiting Rome in autumn and what to expect
People are almost always shocked when I tell them that fall is the busiest time of year in Rome.
I remember being shocked myself the first time I tried to visit Rome in mid-September, only to find almost no hotel availability.
I could not for the life of me figure out what was going on. Shouldn't this be a good time to visit Rome? Aren't all the summer tourists gone by now?
Find out why fall is high season in Rome.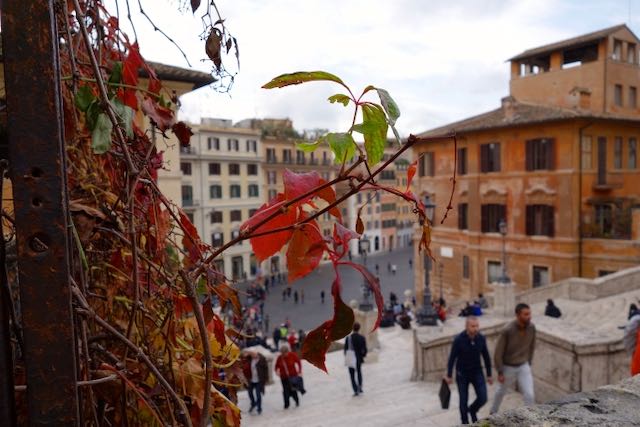 One of the best things about visiting Rome in fall is the mild weather - not too hot and not too cold. Perfect for sight-seeing!
On this page, you'll find:
Is autumn a good time to visit Rome?
Yes, fall is a wonderful time to visit Rome.
The best part about visiting Rome in autumn is the weather.
For most of the fall months, you'll find fairly warm, comfortable days and cool evenings, which makes it perfect sight-seeing weather, day and night.
There always seem to be a lot of events and museum exhibits in fall.
And if you combine a visit to Rome with a visit to the countryside, Tuscany or otherwise, you can enjoy the fall harvest and fall foliage.
This is perfect wine-tasting weather!

IS fall SHOULDER SEASON OR HIGH SEASON IN ROME?
Many people seem to think fall should be a shoulder season, i.e. it should be quieter in Rome than in summer. But the opposite is true.
Summer is not really high season.
Yes, it's a busy time of year in Rome because many people have to take their holidays in summer, and many of those people do visit Rome.
But people who can choose when to visit Rome, ie. who are not tied to a school-year, choose to visit in autumn, mostly due to the nice weather, but also, I think, because they hope it will be less-crowded. Which is what makes autumn peak season in Rome.
This does not mean it's a bad time to visit Rome. But you should brace yourself for crowds, especially in September and October.
By late November and early December, you will find that quieter Rome you were probably hoping for, but not until then.
What's the weather like in Rome in autumn?
The fall months stretch from late September to late December, which means that the weather can vary a lot in Rome in autumn.
In the first half of autumn in Rome, you'll enjoy longer days, little rain, and cool but pleasant evenings.
In the second half of autumn, from around the end of October/beginning of November, you will start to feel more of a chill in the air even during the day. 

By the end of November, it starts to feel kind of close to winter and you'll need to bundle or at least layer more, even during the day.

November and December are also a bit rainier than early fall, although it rarely gets cold enough for it to snow.
Visit my dedicated pages for all the autumn months in Rome
What to pack and what to wear in Rome in autumn?
No matter when you visit Rome, there are five things you should always bring:

---
---
If you're visiting Rome in the fall, you'll be happy to have a rain hat with you.
---
---
Even if it's a bit warm in the beginning of fall, I'd suggest close-toed shoes. Even better if they are waterproof, just in case.
No matter what, they must be comfortable for all the walking you will do.

---
---
Romans wear scarves year-round.
In autumn, you will be glad you have a scarf for chilly days and evenings.
I suggest a wool scarf for warmth.
---
---
A pickpocket-proof backpack is the ideal way to sight-see.
It leaves your hands free for picture-taking, holding onto rails, and riding a bike or scooter if you decide to rent one.
---
I know this is not a thing to pack per se, but it's such an important part of travel these days.
If you think you are already covered by your credit card's insurance, you should double check the fine print. It's not likely to cover what you really need when travelling.
Disclosure: If you make a purchase through a link on this page, I may receive a small commission - at no extra cost to you. Thank you for supporting my site!
Besides the above items, when you visit Rome in autumn, what you pack may be slightly different at the beginning of fall (late September) than towards the end (early December). 
A few easy rules of thumb:
Bring clothes for layering as the evenings can be chilly but the days can get warm, even hot sometimes, even in December.
Bring breathable comfortable clothes. Cotton/khaki pants, skirts, dresses, long-sleeved cotton crews, cardigans, and a denim or medium-weight jacket are all a good idea.
Bring two pairs of super comfortable shoes. Make sure one pair is close-toed. Even better if one pair is waterproof, especially towards the end of fall.
Allow some space in your luggage for

shopping acquisitions

!
Come prepared for rain. A travel umbrella, waterproof jacket or shell, and waterproof shoes are ideal. And of course a rain hat as I said above.
For more details about what to pack for Rome visit my page here.

---
The perfect 3-day itinerary in Rome
Trying to figure out how to organize your visit to Rome? I've got the perfect 3-day itinerary for first-time visitors (or those who have not been here in a while.) It works for a 2.5 day visit as well.
In my 3-day itinerary, you'll see all the major must-see Rome attractions like the Vatican, Colosseum, Trevi Fountain, Pantheon, Piazza Navona, Spanish Steps, Castel Sant'Angelo, and much more.
And if you have more time, or want suggestions for extra/other things to do, you'll find that there too.
Visit my page with the best 3-day itinerary in Rome for first-timers.
---
---
When are you coming to Rome?

Be sure to grab one of our monthly eBook guides to the Eternal City:
---
What are some events/holidays to look out for in Rome in autumn?
While we don't really celebrate Halloween or Thanksgiving in Rome, here are some yearly autumn events in Rome to watch out for:

Most other holiday events including Christmas and Hannukah occur towards the end of December which is winter.
What are the best things to do in Rome in autumn?
Fall is a great time to visit all the Rome sites, thanks to mild weather. There are usually plenty of temporary exhibits on as well.
Some good ideas for things to do in Rome in autumn include:
Throughout September and October, most sites that offer night visits still offer them. In particular, the Colosseum, Vatican Museums, and Viaggio nei Fori are excellent things to do at night during these months.
In recent years, the Roseto Rose Garden has reopened for 2 weeks in October when the roses bloom again (normally it's open only in spring.)
Halloween is not really much of a thing in Rome but you may want to participate in a Ghost Tour.

Thanksgiving is also not really a thing in Italy but there is a large Canadian and American expat community in Rome and so you will find 

places to eat Thanksgiving lunch or dinner in Rome

 for both Canadian Thanksgiving (October) and American Thanksgiving (November.)
What foods are in season in Rome in the fall?
Since fall goes from September 20th - December 20 (more or less), the foods in season in Rome change.
In September we have figs, grapes, and still plenty of tomatoes and other lingering summer fruits and vegetables.
We also start seeing persimmons, pomegranates, squash, and pumpkins.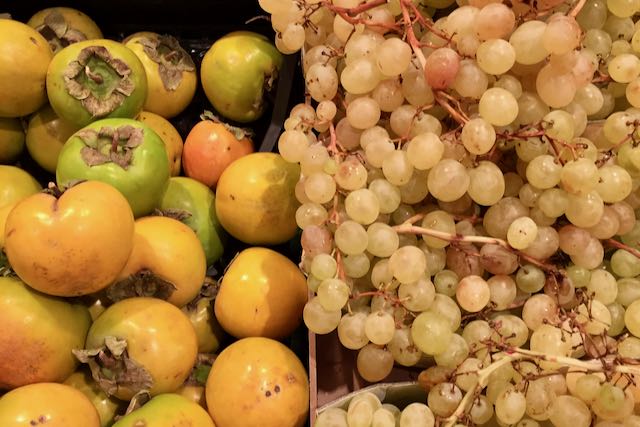 By late fall, you will start to see artichokes (which don't really come into season until December), and leafy greens like kale and cabbage.
You will also find chicory, both cooked and as salad, called puntarelle. And of course, you will see plenty of citrus fruit.
---
I hope you've enjoyed this page all about visiting Rome in autumn. You can pin it here!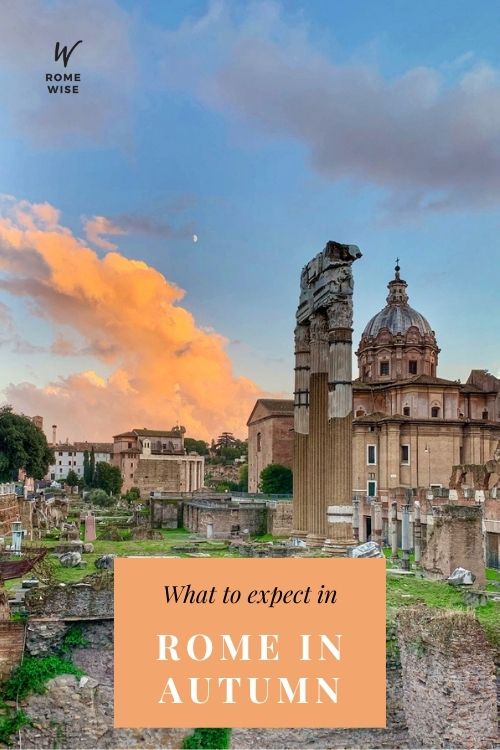 ---
Get your free Rome trip planner!
We are committed to respecting your data. Click for our Privacy Policy.
---
Comments? Questions? Suggestions?
Please come over to the private Romewise Facebook group and join in the conversation.

You will often find me there, happy to answer your questions / comments!
You will also meet other Rome lovers and experts, too.
What are you waiting for?