Thanksgiving in Rome
Wondering where to spend Thanksgiving in Rome?
Yeah, that doesn't sound like a typical thing to do in Rome. I know.

Thanksgiving is a typical American and Canadian tradition. So where can you eat a traditional Thanksgiving meal in Rome?
Who celebrates Thanksgiving in Rome?
Thanksgiving is a distinctly American and Canadian holiday, and while it's not celebrated in Rome, you may want to sit down to an authentic Thanksgiving feast if you happen to be in Rome on this holiday.
Canadian Thanksgiving is celebrated on the 2nd Monday in October, while American Thanksgiving is celebrated on the 4th Thursday in November.
Both holidays revolve around commemorating the fall harvest (among other things).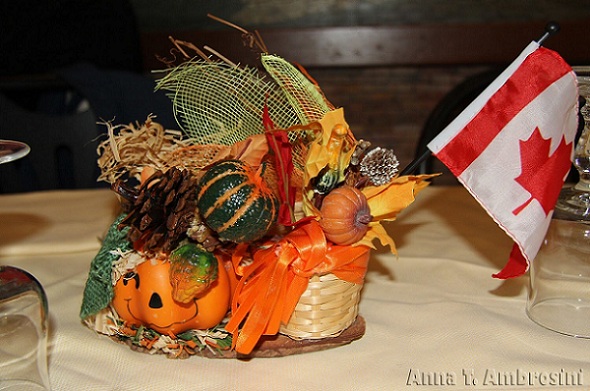 Happy Thanksgiving from our Canadian friends at the Canadian Club of Rome! Photo credit - Anna Ambrosini
In both countries, it's typical to have a big turkey, some variation of regular or sweet potatoes, corn, cranberries, gravy, and pumpkin pie.
Many of these foods are considered native to these countries and until recently, it has been difficult for expats and visitors in Rome to find some of these.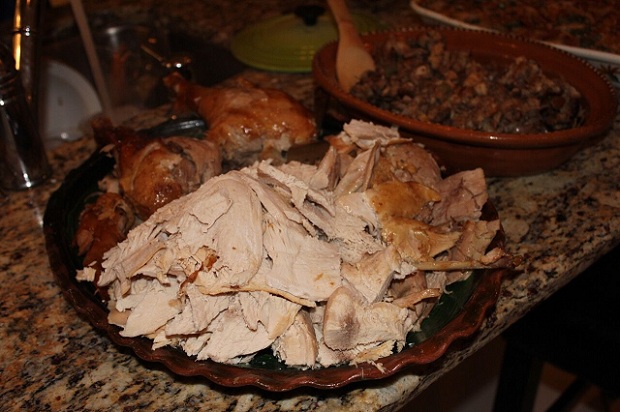 Roast turkey served on a platter for a traditional Thanksgiving meal.
Whole, large turkeys are not as commonly found at the butcher here as they are in North America.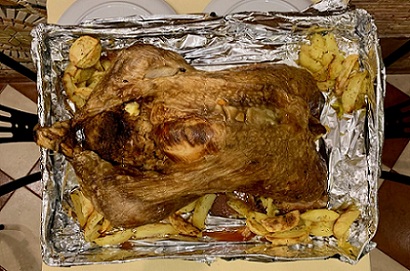 This enormous turkey fed 24 of us at a Canadian Club Thanksgiving meal at Alle Fratte di Trastevere. Whole turkeys this size are not that easy to come by in Rome, and even less easy to fit into typical ovens here!
And even when you find them, good luck fitting them in the small ovens we use here in Rome!

Why is it hard to find Thanksgiving foods in Rome?
Because in Rome, and in general around Italy, we tend to eat local, seasonal foods.
This is starting to change and we are finding more and more things at both fresh food markets and supermarkets that we never used to find here.
Thanksgiving in Rome – Where to Eat a Traditional Meal

Whether you are an expat living in Rome, or visiting Rome in October (Canadian) or November (American), you may want to head someplace where you can get that traditional Thanksgiving dinner "with all the fixins" as we say in the south (where I'm from.)
Here are some places where you can find a traditional Thanksgiving meal in Rome.
Booking ahead is strongly recommended, since these are special meals and the restaurants in question may need to know how many diners to expect before stocking up on Thanksgiving-related foods.

Disclosure: If you make a purchase through a link on this page, I may receive a small commission - at no extra cost to you. Thank you for supporting my site!

---
Alle Fratte in Trastevere
I recently enjoyed a super authentic Thanksgiving lunch with my friends in the Canadian Club of Rome (I'm American but I love my Canadian friends!)
This family-style traditional Roman restaurant in Trastevere is run by an Italian, Francesco and his New-Yorker wife, Silvana. They have run this place for over 25 years and are well known as a wonderful place to eat in Trastevere.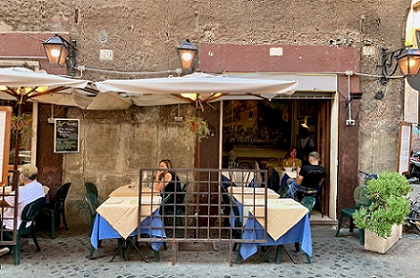 Alle Fratte di Trastevere is a lovely place to eat in Trastevere any time, Thanksgiving or not.
Silvana had the idea to offer a traditional Thanksgiving meal on Thanksgiving, and she's been doing so for a few years. This year, she made us such a fantastic meal, I almost felt I was back in the US (almost!)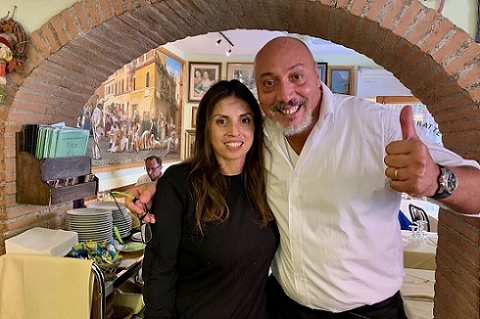 The owners of Alle Fratte di Trastevere, Francesco and his New York-born wife Silvana. They are the perfect hosts, Thanksgiving and otherwise!
If you want roast turkey with truly American-style stuffing, gravy, yams, cornbread and seriously the most amazing pumpkin pie I've ever had, book now for Thanksgiving. 

This truly was a traditional Thanksgiving meal - juicy roast turkey with crispy skin, creamy mashed potatoes, baked yams, real cranberry sauce, cornbread, and a super tasty gravy. Photo credit - Anna Ambrosini
They will be open for lunch and dinner. Make sure to tell them you want a Thanksgiving meal, as space may be limited.

This pumpkin pie we ate at Alle Fratte di Trastevere was one of the most delicious I've ever had!
Details: Via delle Fratte di Trastevere, 49/50. Tel: +39 06 583 5775
Open daily for lunch and dinner. Closed on Wednesdays.
---
Rome Cavalieri Waldorf Astoria
The Rome Cavalieri Waldorf Astoria is offering a wonderful Thanksgiving meal in its renowned Uliveto restaurant, available on Thursday November 24 2022 - evening only.

Enjoy a delicious, luxurious Thanksgiving lunch / dinner with all the trimmings at the Rome Cavalieri Waldorf Astoria, Rome's top luxury hotel.
They are offering a fixed price menu including an appetizer buffet, soups, pasta, traditional and vegetarian mains, finished with a dessert buffet.
Adults 95 euro, children 40 euro (not including drinks) - click here to see the menu and more details.
Booking necessary

Hard Rock Cafe
Where else to have a traditional American meal of any sort (Nachos! Burgers! Brownie sundaes!) than the one and only Hard Rock Café.
Visit the Hard Rock Cafe in Rome for a traditional American meal
For Thanksgiving, Hard Rock Café serves all the traditional foods, turkey and all, from Thanksgiving Thursday through to the following Sunday.

In 2022 you can enjoy a full turkey meal from Thursday November 24 to Sunday November 27 (evenings only), with live music during the main Thanksgiving event on the Thursday.
Booking highly recommended - see more details and book here.

Details: Via Vittorio Veneto, 62A/B. Tel: +39 06 4203 0501
Open daily for lunch and dinner.
---
Bakery House
Bakery House has locations around Rome, and even in Turin and Verona, and they generally host a traditional American-style Thanksgiving dinner.
Dishes include cream of pumpkin soup, stuffed turkey, green bean casserole, glazed carrots and traditional desserts like pumpkin pie.
Join them on Thursday November 24 evening at one of their Rome locations - see the menu and pricing here.

Reservations required.

Details: Three locations in Rome. Find out more on their website.
hummustown
Hummustown is a cooperative run by its members, originally conceived of as a way to help Syrian refugees integrate into their new home, and now supports other vulnerable communities.
They normally offer delicious Syrian and other middle-eastern specialties but for 2022 they are doing a traditional Thanksgiving lunch!

On Thursday November 24 you can enjoy roast turkey, stuffing, cranberry sauce, mashed potato and gravy as well as pumpkin pie and pecan pie, either from their kiosk or as a takeaway.
Booking in advance is essential - find out more details here.

---
Highlander Pub
If you're looking for a casual, fun, pub atmosphere with karaoke, beer-pong, American pro-football, and hearty Thanksgiving eats, head to the Highlander Pub, smack in the heart of Rome, just steps from the Spanish steps and Pantheon.
You will find yourself in a convivial atmosphere with fellow revelers. 
In previous years they have served an all-you-can-eat dinner buffet along with NFL games.
And they are once again doing so in 2022, on Thursday November 24 - reservations required.

Visit their website for more details and photos.
Details: Vicolo di S. Biagio, 9. Tel: +39 06 6880 5368
Open daily 9am  - 2am.
---
Making a dinner for Thanksgiving in Rome

If you are an expat in Rome, or are here staying at an apartment or Air B&B, and want to make your own Thanksgiving dinner, here are a few tips:
Make sure to order a turkey in advance.
Castroni is one of the best places you can go for some American products like cranberry jelly, canned pumpkin, and marshmallows.
Visit the markets of Piazza Vittorio or Trionfale for sweet potatoes and other produce.
Visit Katie Parla's page with lots more detailed advice for eating in on Thanksgiving in Rome.
Italian Food Customs
If you want to know more about Italian Food Customs, like what Italians eat for breakfast, why we have pasta first and salad afterwards, tipping habits, what to drink with pizza, and more, visit this page.
Want to save this to Pinterest? Pin it here!
---
Get your free Rome trip planner!
We are committed to respecting your data. Click for our Privacy Policy.
---
Comments? Questions? Suggestions?
Please come over to the private Romewise Facebook group and join in the conversation.

You will often find me there, happy to answer your questions / comments!
You will also meet other Rome lovers and experts, too.
What are you waiting for?