Rome New Years Day
Updating for 2022

Wondering what you can do in Rome New Years Day?
Some things are closed, but there is actually a lot that is open, and there are tons of things you can do. Get the scoop here!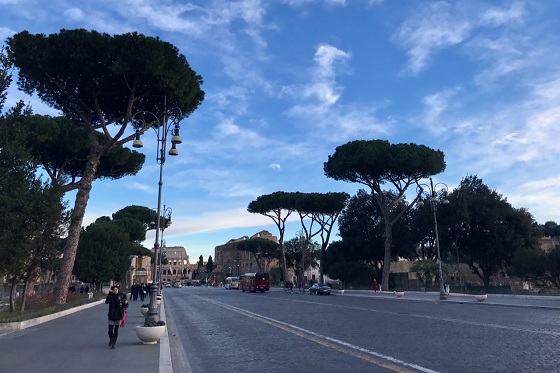 Taking a walk along the via dei Fori Imperiali is one nice thing you can do in Rome on New Years Day.
---
---
Rome New Years Day - Everything You Need to Know
If you will be in Rome for New Years, here's what you need to know:
Rome New Years Day - what's it like?
If you spent New Year's Eve in Rome, you might be wondering what you can do on New Year's Day (after you've had a nice sleep-in, presumably!)
Don't be surprised to find Rome VERY crowded on New Years Day and for the rest of the first week of January.
The reason for the huge crowds is that the holiday season in Italy lasts from December 8 (Immaculate Conception, or Immacolata), through January 6 (Epiphany, or Epifania. Italians also refer to January 6 as the Befana, the name of a nice but not-pretty witch that flies around and brings gifts for kids.)
Weather in Rome New Years Day
January is winter, so plan for cold.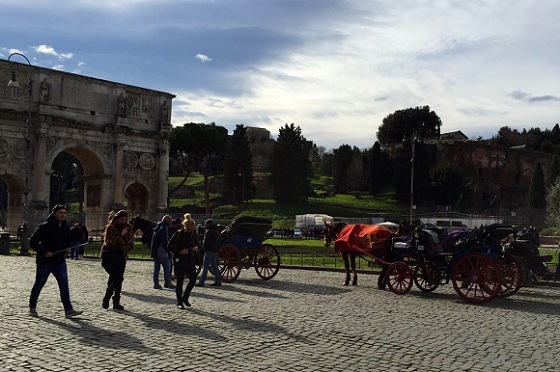 Hopefully the sun will be out on New Years Day, and you can enjoy something outdoors (see below for lots of ideas for things you can do!)
Just make sure to dress warmly and in layers. Start with a silk/cashmere/light wool undergarment like a tank top, camisole, henley or t-shirt. For my suggestions for what to pack for Rome in winter, visit this page.

How to get around in Rome New Years Day
Public Transportation in Rome New Years DAY
On New Years Day, Rome's public transportation begins running at 8am.

For more about public transportation in Rome New Years Day, visit the ATAC website (much of this page is available also in English but holiday schedules are in Italian only.)
Taxis in Rome New Years Day
Taxis will be running normally. We don't really have Uber in Rome, only Uber Black. Find out about taking Uber and taxis in Rome.
What to do in Rome New Years Day
Hopefully you've had a fun-filled Rome New Years Eve, and probably got to bed late. So sleep in and enjoy a nice breakfast in your hotel or apartment.
Now, what to do with the rest of the day?
First of all, don't worry about finding someplace to eat. Some restaurants are closed for the day or just for lunch, but many are open.
What's closed on New Years Day in Rome
January 1 is a national holiday. Most shops will be closed (with the exception of shops in Termini station, and some tourist shops around the center.) The Vatican Museums (including the Sistine Chapel) are always closed on New Year's Day.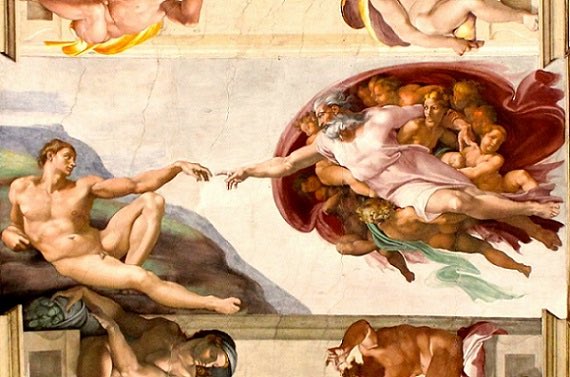 The Vatican Museums (where the Sistine Chapel is) are always closed on New Year's Day.
Most city and state museums and archeological sites (including the Colosseum) are closed on January 1.

Vatican happenings on New Years Day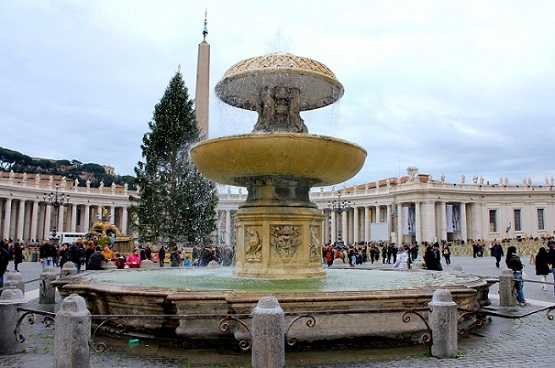 Saint Peter's Square is one of the prettiest places to be during New Years in Rome
January 1 is a Catholic holiday, called Solemnity of Mary, the Holy Mother of God. On January 1, 2021 Pope Francis will be presiding at Holy Mass inside St Peter's Basilica at 10:00am. Due to Covid-19 restrictions, tickets to this event will be strictly limited however.
---
The perfect 3-day itinerary in Rome
Trying to figure out how to organize your visit to Rome? I've got the perfect 3-day itinerary for first-time visitors (or those who have not been here in a while.) It works for a 2.5 day visit as well.
In my 3-day itinerary, you'll see all the major must-see Rome attractions like the Vatican, Colosseum, Trevi Fountain, Pantheon, Piazza Navona, Spanish Steps, Castel Sant'Angelo, and much more.
And if you have more time, or want suggestions for extra/other things to do, you'll find that there too.
Visit my page with the best 3-day itinerary in Rome for first-timers.
---
Churches open New Years Day in Rome
The basilica of Saint Peter's (above) will be open after the mass is finished, from around noon to about 6:30pm.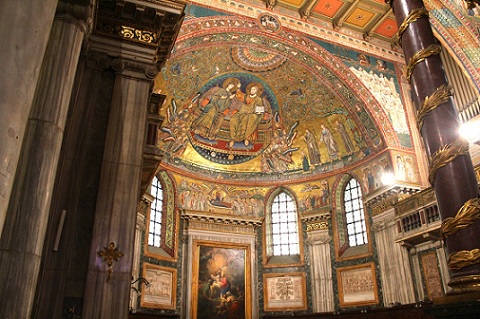 The apse of the papal basilica Santa Maria Maggiore. Most churches in Rome are open New Years Day.
Many other churches in Rome will also be open. 
Whether you want to attend church services, sight-see, or just get out of the cold, visiting churches in Rome is a great way to spend New Years Day.
Museums, Sites and Exhibits Open New Years Day in Rome
Due to the ongoing Coronavirus restrictions in place, all museums and cultural sites remain closed to all visitors. For complete information about what is open, check Rome's tourist information site (the site is available in English, but this page is in Italian only).
 The exhibition "The Torlonia Marbles-Collecting Masterpieces" opened to the public on 14 October 2020.
Ninety-six marbles from the Torlonia collection will be on view to the public at a major show in Rome.
Capitoline Museums, New venue at Palazzo Caffarelli.
Open daily, from 9.30 to 19.30, now through 29 June 2021. 
Tickets from €15,00.
---
Enjoy beautiful exhibitions on Palazzo delle Esposizioni, on via Nazionale. Now through January 17, 2021. 
Click the picture to visit the museum's official site.

Tue, Wed, Thu, Sun: 10am - 8pm; Fri-Sat: 10am - 10:30 pm; Closed Mondays. 8€ 
---
Banksy - A Visual protest - Over 100 works, in a rigorous exhibition itinerary, tell the world of Banksy. Inside the sixteenth-century architecture of the Chiostro del Bramante, in Rome, there is space for the "unknown" artist who has conquered the world thanks to works steeped in irony, denunciation, politics, intelligence, protest.
At the beautiful Chiostro del Bramante, now through April 11 2021.
The Chiostro del Bramante is behind Piazza Navona, on Via Arco della Pace, 5. T. +39 06 915 19 41
Click the picture to visit the museum's official site.
Open Mon - Fri 10am - 8pm; Sat - Sun 10am - 9pm.
13€ includes audioguide. No advance booking required.
---
In December 2020, catch the opera in Rome, including Verdi's La traviata 
Some shows are in Rome's beautiful Teatro dell'Opera (Opera House), and others are at their other official venues around Rome.
---
Raphael beyond the exhibition
The exhibit has left but you can visit it virtually.
Click the picture to visit the museum's official site.
---
OUTDOORS 

Things to do in Rome new years Day 2020

UPDATES FOR 2019/2020


Below includes the schedule for Rome New Years Eve activities sponsored by the City of Rome.

These events were updated on this page Tuesday November 12 2019. All information is accurate and up to date as of this time. Program is subject to change without notice.

New Years Rome 2020 (La Festa di Roma), is a 24-hour free event held in spots around the city. Events begin 9pm December 31 2019, and finish at 9pm January 1 2020. This year, the theme is "nature", it is an ode to splendor and grandeur of Planet Earth.

The official website for Rome New Years Eve by Turismo Roma, is available online here (Italian and English). 

Since this page is about Rome New Years Day, we'll leave out the New Years Eve activities, and just cover the city-sponsored events on January 1 2019.

Updating for 2020

From 7am-2pm, you and your children can participate in a city-organized program of music, games, dance, exhibitions, tales and stories, and activities to promote reading, at the Giardino degli Aranci and the Biblioteca Centrale Ragazzi. (Website in Italian only. Many of the activities will likely be in Italian only as well.)
Giardino degli aranci on Aventine hill
There will be moon-themed events around the Lungotevere (see the map on the city of Rome's New Year's page).

At 3:30pm, head to Piazza del Popolo to catch the marching band parade with marching bands from many US high schools. Click the link to see the route through Rome's center.
From then until 9pm January 1, 2019, you can attend many moon-themed exhibits put on by Rome's libraries. All this takes place in the area near the Lungotevere/Aventine Hill/Circus Maximus. Visit the site for more details (you can use Google translate since it's all in Italian).
Head to the Tiber River and Watch a Roman Spectacle!
At noon every New Years Day in Rome, you can watch some (crazy) men jumping or even diving into the frigid, and rather shallow, Tiber river.
This Roman tradition began in 1946, when a Belgian Olympic diver, Rick De Sonay, dove from the Cavour bridge into the Tiber. He'd hoped to gain attention by doing it at midnight, and land work as a stuntman. The first time he did it, he came up out of the water with the hand-signal "OK", meaning he was OK. 
"Mr. OK" was born, and the legend grew. Mr. De Sonay did this every year until he died at age 89 in 1988. Since then, others have taken over. It's now done at noon on New Year's Day, right after the canon is shot on the Gianicolo Hill.
Walking Tours you can take in Rome New Years Day
If you're in Rome New Years Eve and not sure what to do New Years Day, don't let the fact that a lot of the main sites and attractions are closed stop you! Here are some fun walking tours you can take:
Rome Christmas Time Walking Tour - Enjoy a stroll through Rome's piazzas and lit up streets, and take in all the beautiful holiday decorations. From 40€.
For more options for Rome New Years Day walking tours, try these:
Culinary/Food Tours You Can Take in Rome New Years Day
I think one of the most fun things you can do in Rome is take a culinary or food tour. So much about enjoying your visit to Rome has to do with enjoying the local cuisine!
Why not take a food/culinary tour on New Years Day? Shake out some of those late-night cobwebs!
Bike/Segway/Vespa Tours You Can Take in Rome New Years Day
Maybe you are feeling a bit exhausted from New Years Eve festivities. Maybe you don't feel like walking around in the cold. Maybe you want to see a lot more than you would on foot.
There are lots of great options for taking a mobile tour with a Segway, Vespa or bicycle:
Looking for tours for the disabled? Visit my page here to contact local tour companies specializing accessible travel and tours.
Evening Concerts in Rome New Years DAY
The New Year's Day concert in Rome is at Rome's Auditorium, with the Gerardo Di Lella Grand Orchestra. 7pm.

Tickets 18-65€.
---
Enjoy a New Years Day concert by composer Nicola Piovani at Rome's Auditorium. 6pm.
Tickets from 20€.
---
Updating for 2020
Listen to a heart-warming tribute to Italian singing great Luci Battisti, in the Semplice Lucio concert at a cozy theater near the Vatican. 6pm.
Tickets 22€
---
As an American, I am used to big New Year's Day sales. It's January 1! Let's watch football and/or go to the mall! A very American thing to do.
The shopping scene is different in Italy.
You may be surprised to find that most shops are closed on New Year's Day in Rome.
There are some exceptions to this:
Where You Can Shop in Rome New Years Day
Bottom line - January 1 is not a great day to shop in Rome. But if you need to, you'll find something.

Winter Sales in Rome
Another thing about Italy's shopping traditions is that we have sales twice a year - once in winter and once in summer.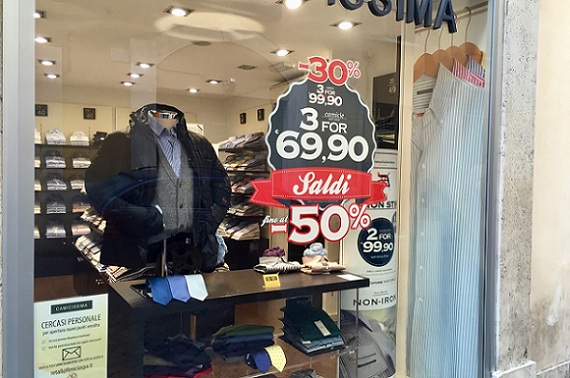 Winter sales in Rome and other parts of Italy begin sometime the first week of January, but not January 1.
The winter sales have different start dates around Italy, but they generally start somewhere around the first weekend of January. But not on New Years Day.
In Rome, winter sales almost always start on the first Saturday in January after the 1st.
Where to Eat Brunch/Lunch in Rome New Years Day
Admittedly, it can be difficult to find places to eat in Rome on Christmas Eve, but the opposite is true for New Years. Many places in Rome offer a big New Years dinner (cenone), and most Rome restaurants are open on January 1 too.
Brunch is less of a thing here than it is in some Anglo-Saxon countries. Often, when Italian restaurants serve brunch, it is still LUNCH. So don't try too hard to find a great brunch in Rome New Years Day. Plan on an early lunch if you like.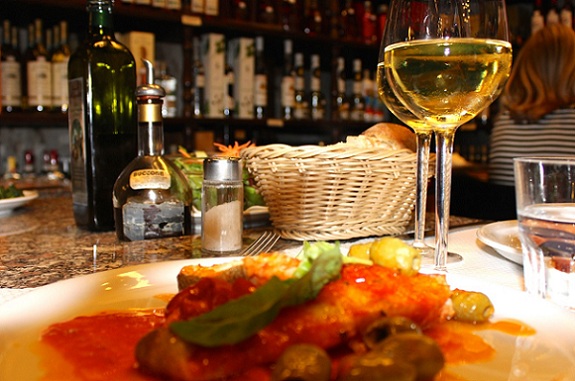 You will not have any trouble finding someplace to eat lunch in Rome New Years Day.
Bottom line, find a place you want to eat, and book it for your New Years Day lunch.

Happy New Year!!
---
Want to save this to Pinterest? Pin it here!
---
Get your  free Rome trip planner!
We are committed to respecting your data. Click for our Privacy Policy .
---
Looking for Facebook comments?
I removed them to make this page load faster and thereby improve your page experience.
I am happy to answer your questions / comments!
Please come over to the Romewise Facebook page , or, if you want to send me a message, visit my Contact Me page .