Pantheon tickets - are they required?
Wondering if pantheon tickets are required for entry? Yes! They are! Sometimes.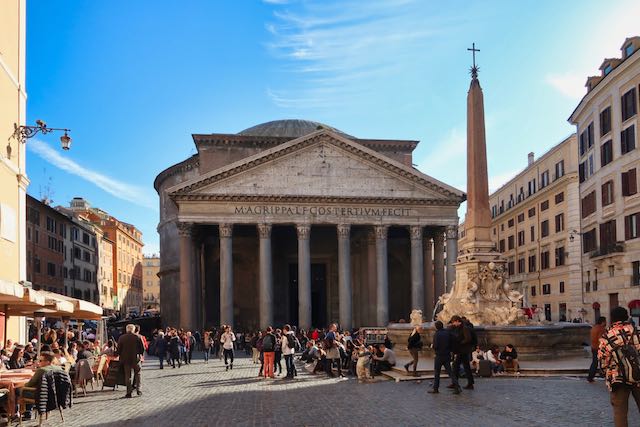 Visiting the Pantheon in Rome should be at the top of your list of must-sees. Does the Pantheon require tickets? Find out here!
Here's everything you need to know about how, where, and when to get tickets to visit the Pantheon in Rome.
Pantheon tickets - everything you need to know
On this page, you'll find all the updated news about how to visit the Pantheon, along with other practical information, such as:
What is the cost to enter the Pantheon in Rome?

The Pantheon is one of the most stunning ancient Roman monuments in Rome. A visit here should be high on your list of must-sees.
And it's so easy to visit.

It's central and near many other must-see sites in Rome. It's open daily throughout the day. It doesn't take that long to visit.
And best of all, it's free!
Wasn't there going to be an admission charge for the pantheon?

Over the past few years, we wondered if they would implement an entry fee for the pantheon. There was even a semi-official announcement about pantheon tickets but then nothing happened. 
Locals and tourists alike speculated about how much it would cost and how they would manage the sale of the tickets.
Many people were against the idea.
The Pantheon is, after all, a church.
But it's also a monument visited by millions of people each year. And it requires upkeep.
In Rome, churches are free to visit. Even Saint Peter's Basilica is free (although you can pay a small fee to skip the line when it's busy in Rome.)
In Florence and many other art cities across Italy, you will often find you have to pay to visit a church as a tourist.
So, it did make some sense that they would charge a fee for the pantheon. But then nothing happened.
One day I spoke to one of the policemen there about this and he gave me something of an explanation.
It seems that the property outside of the Pantheon, including the portico, belongs to the state of Italy. But the inside belongs to the Vatican. And since they couldn't agree on the fee or logistics for pantheon tickets, they dropped the subject.
Is this true? Maybe. It makes sense to me. Will this situation last forever? We just never know.
For now, the Pantheon remains free to visit.
---
The perfect 3-day itinerary in Rome
Trying to figure out how to organize your visit to Rome? I've got the perfect 3-day itinerary for first-time visitors (or those who have not been here in a while.) It works for a 2.5 day visit as well.
In my 3-day itinerary, you'll see all the major must-see Rome attractions like the Vatican, Colosseum, Trevi Fountain, Pantheon, Piazza Navona, Spanish Steps, Castel Sant'Angelo, and much more.
And if you have more time, or want suggestions for extra/other things to do, you'll find that there too.
Visit my page with the best 3-day itinerary in Rome for first-timers.
---
Does the Pantheon require tickets?

So if there is no admission fee to enter the Pantheon, in theory you don't need tickets, right?
Well actually, not quite.
On Saturdays, Sundays, and holidays, you must pre-book your visit to the Pantheon at least one day in advance. 
Entry is still free and there is no fee to book.
But you will not get in without booking.
How to book Your Pantheon tickets

This is the official website of the Pantheon as a church.
You can find sort of up to date info about hours and liturgical events.
This is the official website of the Pantheon as a state-run monument. This is where you can book your free Pantheon tickets.
What happens if you can't get pantheon tickets or show up on a weekend and didn't realize you have to book in advance?
You can try to book a tour with a tour company.
Availability may be limited, and naturally this means paying to visit what is normally a free site, but it can be a way in and you would get a tour to boot.

---
Disclosure: If you make a purchase through a link on this page, I may receive a small commission - at no extra cost to you. Thank you for supporting my site!

Pantheon tour options
You can easily visit the Pantheon on your own.
There are little stations along the route where you can put in a coin and listen to a bit about what you are looking at.
Or, bring a good guidebook with you.
Or, read all about the Pantheon here.
Or just go inside and admire the beauty.
However, like any ancient monument with so much history, it is certainly worth taking a tour and having someone explain things as you go.

There are three types of tours you can take at the Pantheon:
Click here to see Pantheon tours.

How to visit the Pantheon

On weekends and holidays, you need Pantheon tickets to get in.
You may see a line to enter the Pantheon.
These lines are due to crowd control.
But since entrance is free, the lines usually moved quite quickly. The longest I ever had to wait was about 15 minutes.
You will enter on one side and then walk around the sides of the pantheon. The center is off limits (which means you get to really see and admire the beautiful floor!)

Once inside, you do not have to go at a specific pace. You are welcome to stand and look around and take photos.
You will leave through the same door where you came in (which is, in fact, the only door to the Pantheon.)
What are the Pantheon opening hours?

The Pantheon is open daily 9 am - 7 pm. Last entry is at 6:30 pm.
These hours may change even temporarily, if there is a special event or liturgical event.
Here is the official Pantheon website where you can double check for any schedule changes.
The Pantheon is closed Christmas Day and New Year's Day. It may also close on August 15.
Can you get pantheon tickets for the Pentecost mass?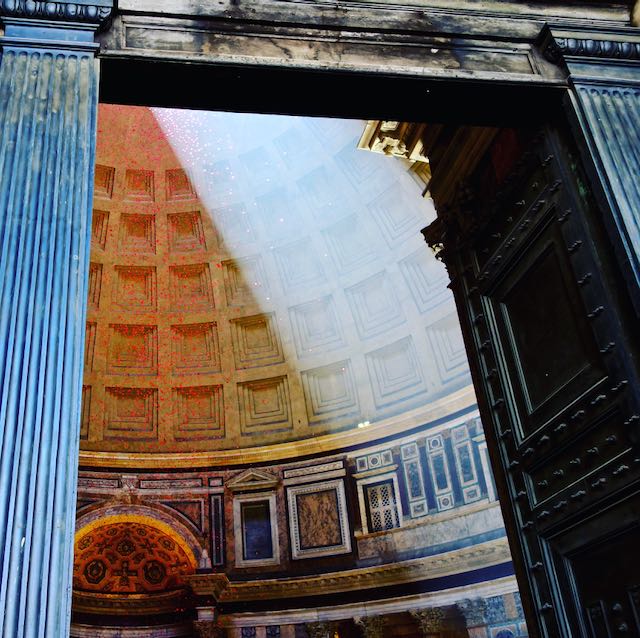 One of the most beautiful ways to see the Pantheon is on Pentecost Sunday when firemen drop thousands of rose petals through the oculus. It's not possible to get Pantheon tickets for this event.
The Pantheon is open for Mass on Pentecost Sunday, and there is a Mass held that morning.
On this day, after Mass, Rome's firefighters drop thousands of rose-petals through the oculus.
This is a very special event, and in recent years has become extremely popular.
You can try getting in to attend Mass by showing up at 7 am to wait in line.
Currently there are no Pantheon tickets that get you in to this event.
---
Where is the Pantheon located?

The Pantheon is in the Campo Marzio rione (neighborhood) in Rome's historic center.
You might even say it's the very center of Rome (more or less, and depending how you look at it.)
On foot, it's about 5 minutes from Piazza Navona, and 15 minutes from Trevi Fountain or the Spanish Steps.
The closest Metro stop is Spagna at the Spanish Steps. It's a 15-minute walk from there. Many buses stop nearby, either at Corso Vittorio Emanuelle II (get off at Argentina) or on Corso Rinascimento (get off at Senato.)
You can visit this Google map here (the link opens in a new window).
How long does it take to visit?

The entire visit, including any standing in line you may have to do, should take under an hour. (A simple non-stop leisurely stroll around the inside of the pantheon takes approximately ten minutes.)
Make sure to give yourself plenty of time to enjoy the square, the fountain, and the view of the pantheon from the front and sides. 
Is there a dress code to enter the Pantheon?

The Pantheon is a church and so, as with churches around Rome and Italy, you should dress appropriately to enter. This means having covered knees, shoulders, and midriffs.
There is no problem entering a church, even Saint Peter's Basilica, in casual attire, as long as it's modest. You are welcome to wear jeans, sandals, t-shirts, etc.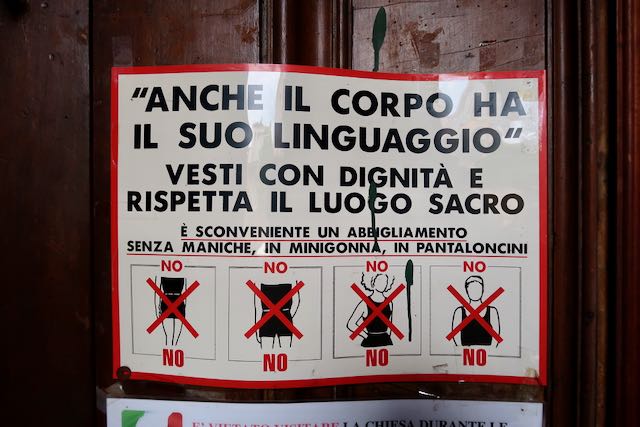 Rules for dressing properly when entering a church in Italy.
The question may be, will you be allowed to enter the Pantheon if you are not appropriately dressed? The answer is, "maybe."

Over the years, and especially recently, I have seen many a visitor with bare shoulders or short-shorts turned away and not allowed to enter the Pantheon. This rule is especially enforced at the Vatican.
No matter what season you visit Rome, here are 4 things never to leave at home:
Disclosure: If you make a purchase through a link on this page, I may receive a small commission - at no extra cost to you. Thank you for supporting my site!

At the Pantheon, as with many other churches around Rome, you may or may not find the rule enforced. 

To be on the safe side, when sight-seeing in Rome, consider the fact that you may want to visit a church and thus, would want to be properly dressed.
In summer, this can be daunting, which is why I suggest always walking around with a scarf. In summer, other good options include knee-length skirts/dresses/capri pants/shorts, or hiking pants with removable legs that convert to shorts.
Click here to visit my page about what to pack for Rome.
---
Want to save this page about Pantheon tickets to Pinterest? Pin it here!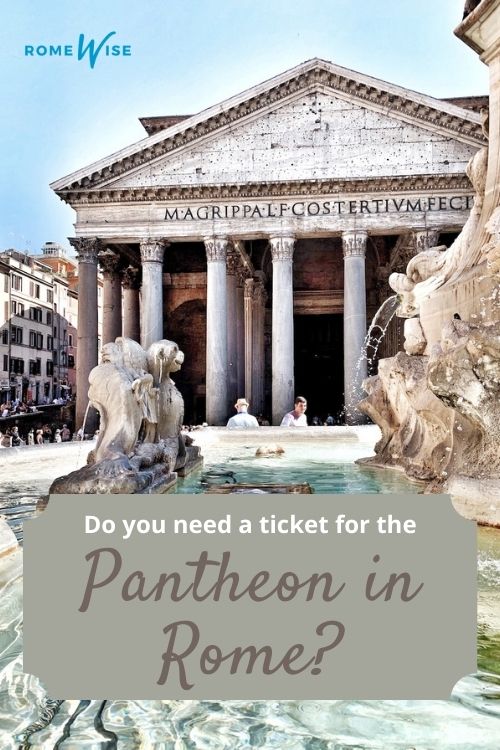 ---
---
Get your free Rome trip planner!
We are committed to respecting your data. Click for our Privacy Policy .
---
Comments? Questions? Suggestions?
Please come over to the private Romewise Facebook group and join in the conversation.

You will often find me there, happy to answer your questions / comments!
You will also meet other Rome lovers and experts, too.
What are you waiting for?