Best gelato near Rome Pantheon - it's not who you think!
There's plenty of delicious gelato near Rome pantheon.
But not all gelato is created equal! 
The gelato at Guenther's Punto Gelato on Piazza Sant'Eustachio is out of this world and worth making a detour for!
Gelato in the Pantheon area of Rome
In Rome, there's good gelato and amazing gelato.
For me, the best gelato in the pantheon neighborhood is Guenther, but I am listing the others so you can do some taste-testing and judge for yourself.
On this page, you'll find:
And I've mapped them out for you!
The best gelato near Rome Pantheon
I have a feeling you might have been expecting some other names here, but if you're thinking of who I think you're thinking of, they are on this page, but not, in my opinion, the best.
Guenther - Punto Gelato
You want real artisanal gelato near Rome Pantheon? With superb cream flavors and seasonal fruit flavors? Then Guenther Punto Gelateria is the place.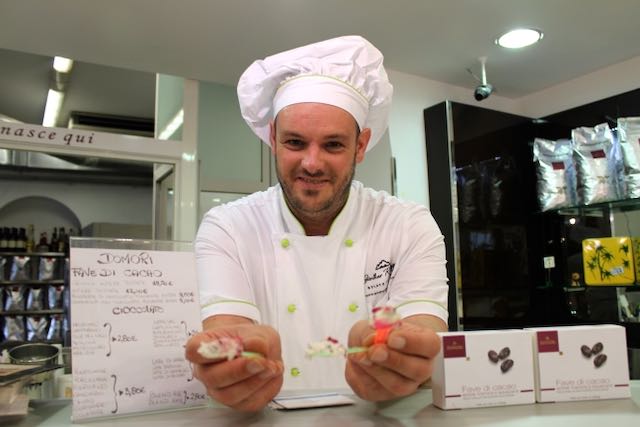 Guenther himself is sometimes on site. Here, I was at a tasting event and was handed some tastes by the master himself.
Why is the gelato is Guenther so delicious and so special?
As stated on their website (in Italian only), they only use fresh, natural, quality ingredients, such as bio milk and water from Guenther's native region of Alto Adige. And the laboratory is on site.
Punto Gelato is in Piazza Sant'Eustachio along with two other of my favorite things to eat and drink there*, making it a perfect one-stop piazza for a quick lunch or snack break!
*Don't miss Caffè Sant'Eustachio and ZaZa pizza.
Every single flavor at Guenther gelato is a feast for the senses. I recommend several visits to try them all.
How to get there: Facing the Pantheon up close to it, walk to your right until you come to a news kiosk. Take a left and at the end of this short street, turn to your right and you will be in Piazza Sant'Eustachio.

ICE cRome Gelato
This superb gelateria may seem better classified as being near Piazza Navona, but since the Pantheon and Piazza Navona are only a few minutes apart, I include them on this page about Gelato near Rome Pantheon.
Truly some of the best gelato near Rome Pantheon even if it's slightly closer to Piazza Navona.
I discovered this gelateria when I was chatting with the master gelato maker at my favorite gelateria in Rome, Neve di Latte, Simone Romano. I asked him where he recommended I get gelato in the center, and he told me a student of his had opened ICE cRome. I tried it and was hooked!
How to get there: Facing the Pantheon, take any street to the right and walk about 3-5 minutes until you arrive at Piazza Navona. On the end of the Piazza where you see Palazzo Braschi and the Brazilian embassy, pass through the Piazza to via del Governo Vecchio.

Old-fashioned Gelato Near Rome Pantheon
Two gelaterias on opposite sides of the pantheon are favorites with locals. Both are good although neither one really wows me.
There is a third and very "local" gelato spot just a few minutes further away, and I do LOVE that gelato. They are on my list of Top 10 Gelato in Rome.
Gelateria Fiocco di Neve
Gelateria Fiocco di Neve is an old-time gelato shop right on the via del Pantheon. It's actually a mix of a bar/café/gelateria.
They are the only ones on this list to provide a little bench outside, where you can enjoy your gelato sitting down.
Having a sit and a chat outside Fiocco di Neve gelateria, a local favorite
I think the gelato is good, creamy and flavourful. Their dark chocolate lives up to its promise and the pistachio has a rich nutty taste. 
Fiocco di Neve is most famous for their affogato di zabaione, which, sorry I didn't try, as is not my favorite (I find it too alcohol-y and too eggy tasting.)
How to get there: With your back to the Pantheon, walk up the street on the right hand side, via del Pantheon. Fiocco di Neve is at the end on the right.
Cremeria Monteforte
Cremeria Monteforte is another of the old-fashioned cremerie (another word for gelateria) near the Pantheon.
Actually it's literally next to the Pantheon. Locals swear by it.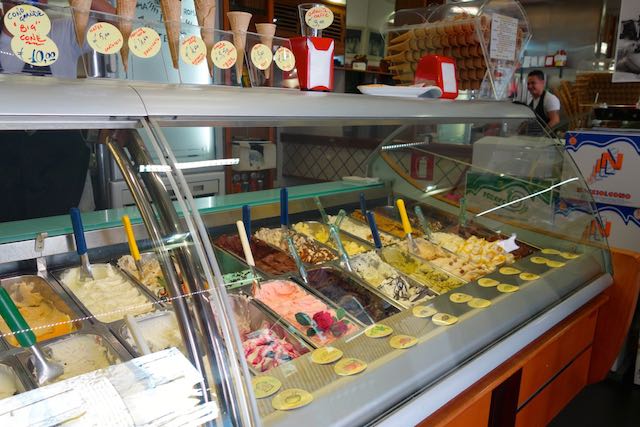 The gelato here is good and an old-fashioned local favorite.
I think it's ok but it's never where I think to go when I want gelato in this neighbourhood.
Their dark chocolate is rich but there is some depth missing. Their pistachio has a bit of a watery texture, not creamy enough. Not very high praise I know. 
How to get there: Facing the Pantheon, it's literally on the right-hand side of it.
Ciampini
Ciampini ticks all the boxes. Excellent gelato. Where the locals go. Near the Pantheon.
Ciampini gelato lab is just where the magic happens.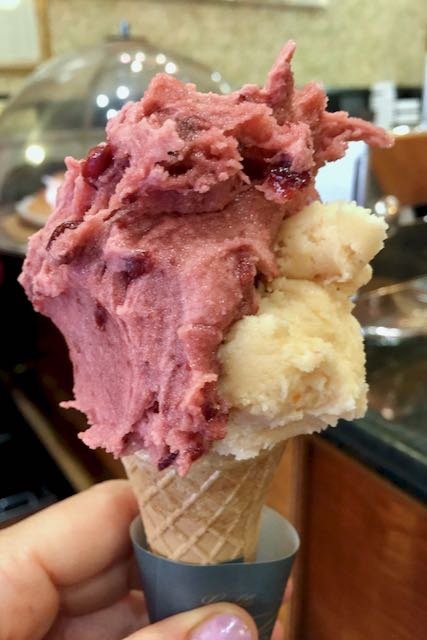 I love the simple un-fussy flavors at old-fashioned Gelateria Ciampini.
I consider Ciampini to be gelato near Rome Pantheon even if they are also on my page about where to get gelato near the Spanish Steps (it's probably equidistant for the two sites.)
Like Giolitti (see below), sitting down to eat your gelato will cost you a pretty penny. Get it to go if you want to pay the "normal" price.
How to get there: With your back to the Pantheon, walk fairly straight ahead for about 7-8 minutes and you will come to Piazza San Lorenzo in Lucina. You will have a couple of small corners to turn but continue walking always in the same direction. See my map for more details.
Ciampini:

Ciampini LAB:

Touristy gelato near Rome Pantheon
I'm sorry to have to put it this way but it's just how I see these gelaterie. That doesn't mean they are not good. 
Giolitti and Gelateria della Palma have been on the Rome scene a long time and are of course in every guide book.
They are not my favorite gelato near Rome Pantheon, but they offer good gelato and a nice experience.
Giolitti
Giolitti - This gelateria is very popular, and a fixture on the Rome gelato scene.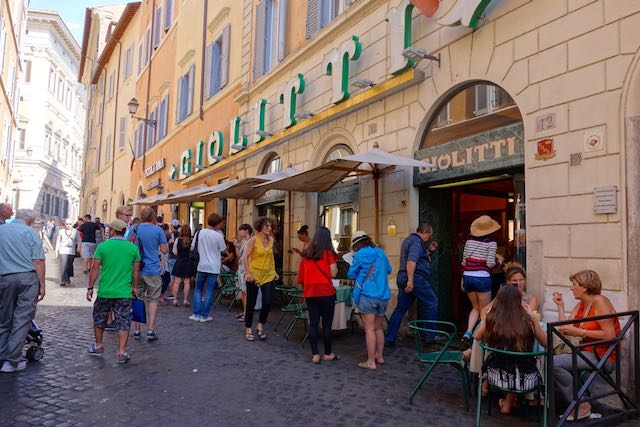 Giolitti - one of the most famous places for gelato near Rome Pantheon
They do make excellent fruit flavors. It's not my fave but it's a classic so you may want to do a little taste-testing. 
You should know, you have to pay first, then go ask for your gelato. And the lines at both the cash register and the gelato counter are, in my opinion, not worth the wait.
There is a big price difference if you get your gelato to stand/to go vs. sitting down and having waiter service.
And sitting outside automatically means waiter service. Check the prices before you order!
How to get there: With your back to the Pantheon, walk away from it up either street, until you come to piazza della Maddalena. Keep walking straight, along via della Maddalena. At the end of this street, make a right onto via Uffici del Vicario. You will easily spot Giolitti as it has a large sign, tables out front, and big crowds.
Gelateria della Palma
Gelateria della Palma - I include this one because it's so visually fun. The whole place looks like something out of Willie Wonka and the Chocolate Factory. The gelato is rich and good, and it's a treat to see the variety of chocolate flavors they came up with. They are also known as the Gelato of 150 Flavors, or gelato dei 150 gusti.
I don't love their mousse gelato which I find too sweet and fluffy. But that's me.
How to get there: With your back to the Pantheon, walk away from it up either street, until you come to Piazza della Maddalena. Keep walking straight, along via della Maddalena. Della Palma is about half-way up this street on the left. Hard to miss as it has bright palm trees painted on all its windows.
Venchi chocolates and Gelato
It doesn't get much closer to the Pantheon than this.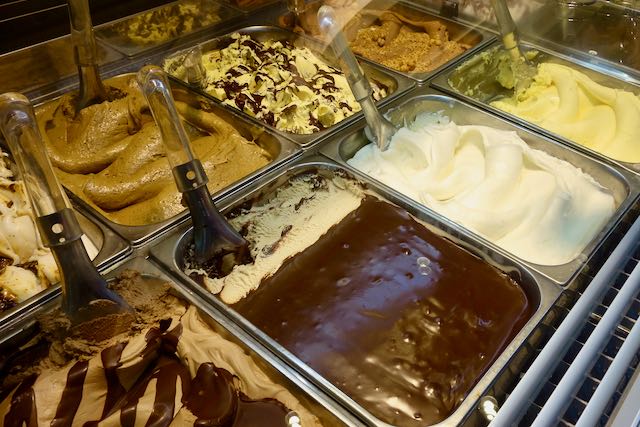 I do consider Venchi to be quite good gelato near Rome Pantheon even if it's a bit gimmicky and touristy.
Just across from one of the best cafés near the Pantheon, Tazza D'Oro, you can't help but pop into Venchi. First, the aroma.
Second, the chocolate fountains!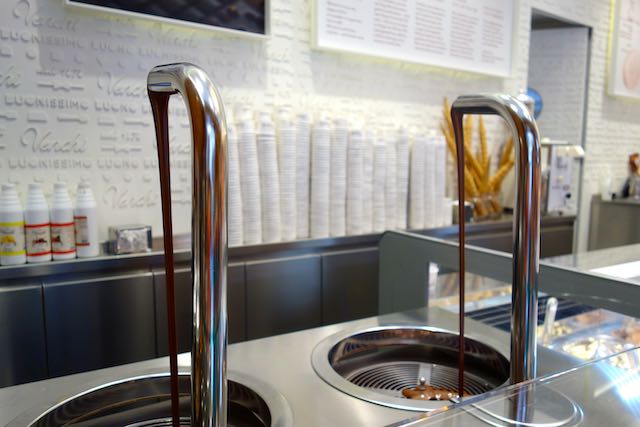 How can you resist getting some of this chocolate on your gelato?
Address: Via degli Orfani, 87
Opening hours: Monday-Thursday: 10:00-00:00 | Friday-Saturday: 10:00-01:00 | Sundays: 10:00-00:00
How to get there: With your back to the pantheon, look to your right and diagonally ahead. You can't miss seeing Tazza D'Oro on the corner. Go there and walk a few steps and you'll see Venchi on your left.
Two more touristy spots for gelato near Rome Pantheon
Once again, I am not against a gelateria just because it's popular with tourists. I've been a tourist too!
However, I just don't find these locations to have the best gelato near Rome Pantheon.
Grom is a relative newcomer, a small Italian chain with an outpost in New York City. I have only ever seen long lines of tourists there...that does not make it bad. What I don't like about Grom is simply...the gelato. I find it completely mediocre and uninteresting. And believe me, in the interest of giving you good info, I have tried it plenty. Maybe I'll have to try it again...but I also feel life is too short to waste on bad gelato!
I used to just love San Crispino gelato. But I am over it. The gelato is good. Some of the flavors are excellent, such as their meringues, and the banana. But they are just a bit too pricey for what you get (a very small amount, and scraped flat), and it's no longer a warm and friendly experience in there. You cannot taste any gelato before ordering it, as you once could, and they now won't let you get two flavors in the small size. With so much other fantastic gelato in Rome, I just don't bother here any more.
---
The perfect 3-day itinerary in Rome
Trying to figure out how to organize your visit to Rome? I've got the perfect 3-day itinerary for first-time visitors (or those who have not been here in a while.) It works for a 2.5 day visit as well.
In my 3-day itinerary, you'll see all the major must-see Rome attractions like the Vatican, Colosseum, Trevi Fountain, Pantheon, Piazza Navona, Spanish Steps, Castel Sant'Angelo, and much more.
And if you have more time, or want suggestions for extra/other things to do, you'll find that there too.
Visit my page with the best 3-day itinerary in Rome for first-timers.
---
Not gelato - but a real Roman treat!
Pascucci
Well this entry is not exactly about gelato near Rome Pantheon, but it's absolutely worth including on this page.
Pascucci is the place to go for a frullato, which is essentially a fruit shake, made with real fruit and either juice, milk, or yogurt. Something like a smoothie.
Blending the perfect frullato at Pascucci
Mango-papaya frullato at Pascucci
It's an old-fashioned treat for Romans. And Pascucci is the old-fashioned place to get one.
They've renovated to meet newer building standards so you may not realize it, but Pascucci is a very old-time Roman place (since 1936), and having a frullato there is a real Roman thing to do.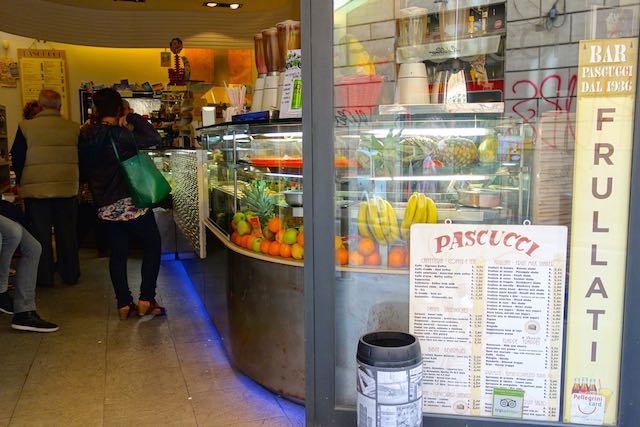 Pascucci - a real old-fashioned place to get an old-fashioned Roman frullato
How to get there: Facing the Pantheon, take the street to your right all the way past the Pantheon. Keep going straight, and the street becomes via di Torre Argentina. Go almost all the way to the end of this street. Pascucci is a small shop on the left side.
Gelato near Rome Pantheon - a map
Click here to visit my interactive Google map showing all the places for gelato near Rome Pantheon listed on this page.
It will open in a new window.
---
Get your free Rome trip planner!
We are committed to respecting your data. Click for our Privacy Policy .
---
Comments? Questions? Suggestions?
Please come over to the private Romewise Facebook group and join in the conversation.

You will often find me there, happy to answer your questions / comments!
You will also meet other Rome lovers and experts, too.
What are you waiting for?