Valentines Day in Rome 2023 - Romantic, fun, and unusual things to do
Valentines Day in Rome - what could be more romantic?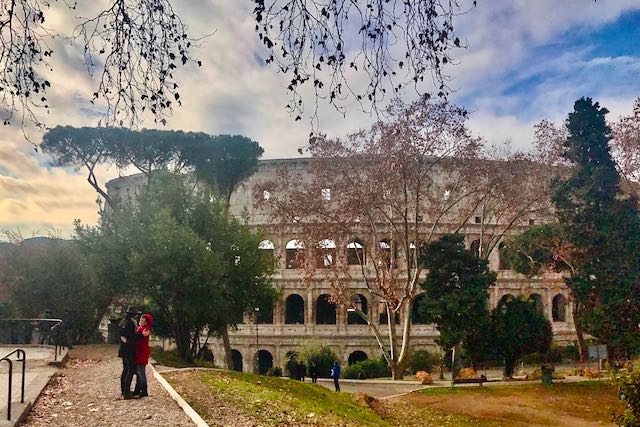 Enjoying a quiet moment in one of the Eternal City's most iconic spots - what could be more romantic?
From stunning piazzas to beautiful views to intimate restaurants, you are spoiled for choice.
Valentines Day in Rome - things to do in 2023
With Valentine's Day around the corner, you may be looking for a romantic getaway, and Rome is the perfect destination.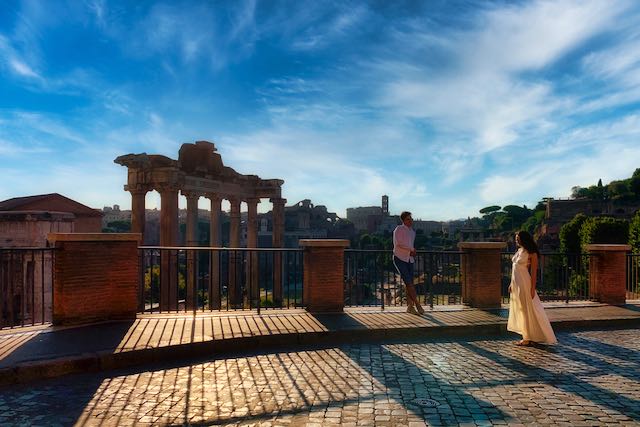 Rome can be a very romantic place to spend Valentine's Day.
Whether you're looking for intimate restaurants for a quiet dinner, a special place to take in a sunset view, or the best ideas for where to propose, I've got you covered!
If you're thinking of spending Valentines Day in Rome, read on to find out some of the best things to do this February 14, 2023:

What's the weather like in Rome in February?

If you're thinking of spending Valentines Day in Rome, don't let the weather stop you.
In February you can count on chilly days. You will likely encounter some fog and/or rain.
On the rare occasion it has snowed in Rome, it's happened more often in February than any other month, but still, snow is rare. 

Average temps in mid-February are 14 Celsius/57 Fahrenheit during the day and 3 Celsius/38 Fahrenheit at night.
You should come prepared for winter with proper layering and scarf, hat, gloves and waterproof comfortable shoes.
Find out more on my dedicated page about what to pack for Rome in February.
---
---
Romantic places to stay in Rome
If I were planning a romantic getaway over Valentines Day in Rome, I'd want to stay right in the historic center to get the most out of my visit.
This means staying near the Pantheon, Spanish Steps, Piazza Navona, Piazza del Popolo, or Campo dei Fiori.
Monti is another lovely neighborhood that's central and a bit more hip and lively.
If you prefer to be just a bit away from all that but still in a romantic setting, then Trastevere or Parioli near the Villa Borghese would be my next choice.
Visit my complete Rome neighborhood guide here.
Choosing where to stay can make or break your Rome getaway.
Click here to visit my dedicated page all about romantic hotels/B&Bs where you can spend a romantic Valentines Day in Rome.

Romantic apartment rentals
An alternative to romantic hotels in Rome can be staying in an exquisite private home in Rome.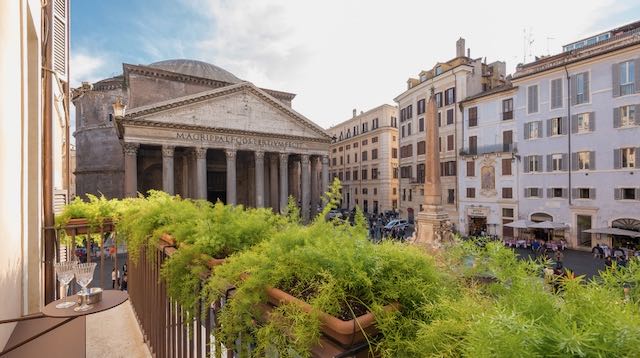 Pensieri Stupendi private apartment overlooking the Pantheon. Photo credit - The Plum Guide
Visit The Plum Guide to find the most select romantic private homes in Rome.

Where are the best spots in Rome to propose?
Thinking about places to propose while spending Valentines Day in Rome?
Iconic spots like the Trevi Fountain or in front of the Pantheon come to mind.

But when Rome is crowded, and yes, it can be crowded in February, certainly on February 14, you may want to have a few tricks up your sleeve to find that perfect romantic location to get engaged.
Here are just a few ideas:
Some spots you can make romantic if you go before 8 am

None of these spots will feel romantic when you are surrounded by tourists, musicians, artists, vendors, etc.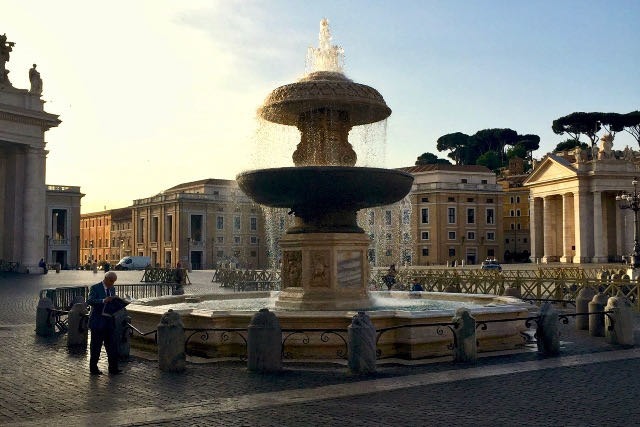 Saint Peter's Square at 7 AM - almost nobody here.
These include:

Where piazzas and fountains are concerned, these can be crowded late into the night, so if you want to have a quiet moment, you will have to go very early indeed.
Places to avoid if you want to get engaged in Rome
If you're looking for the best spots to get engaged while spending Valentines Day in Rome, these places might sound romantic but chances are you could be disappointed.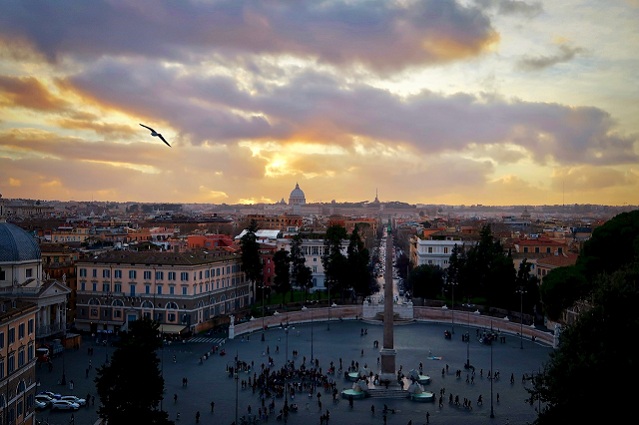 Looking for the perfect place to propose in Rome? - Avoid the top of the Spanish Steps and head to the terrace of the Pincio for a more romantic setting.
 For each of them, I'll give you an idea for what to try instead.
Romantic Rome restaurants
Some of Rome's best restaurants offer special menus for Valentines Day in Rome.
Visit my dedicated page here to see all my recommendations for romantic places to eat in Rome.
And if one of these restaurants is offering a special Valentines Day in Rome dinner, you'll find a link to their event and/or menu.

You may also want to check out these restaurants that offer fantastic views of Rome.
Romantic things to do in Rome
I met my husband Alessandro in Rome, and had a romantic time "dating" him, and eventually marrying him here . . . and now of course we sometimes look for romantic things to do in Rome together.
So I have some first-hand knowledge on the subject!
Here's a short list of some of my favorite romantic things to do in Rome:
---
Disclosure : If you make a purchase or a booking through a link on this page, I may receive a small commission - at no extra cost to you. Thank you for supporting my site!

Unusual things to see and do on valentines day in rome
If you're looking for something a bit off the beaten track, here are some of the more unusual things to do on Valentines Day in Rome:
Visit my dedicated page all about unusual things to see in Rome for even more ideas.
Keep reading for more things to do on Valentines Day in Rome, including current museums exhibitions and concerts:
Current events and exhibitions in Rome's museums
Whether you're visiting Rome on February 14, on that weekend, or any time in February, here are the current events and exhibitions at Rome's museums - UPDATING FOR 2023

Concerts and shows in Rome in February
Taking in a concert, opera, ballet, or other show can be a romantic way to spend Valentines Day in Rome.
Valentine's Day Concerts in Rome
---
The Great Opera and Ballet St Valentine's Special Edition
Combining the great Italian opera arias with ballet dancers, this special event takes place in the evocative Caravita Church, between the Trevi Fountain and Pantheon.
Tuesday February 14, 2023 at 8:30 PM
---
Opera Concert with traditional Italian dinner
Combine a delicious dinner with operatic performance in a historic church setting in the heart of Rome.
February 14 2023 at 7:30 PM, as well as other dates.
---
---
The perfect 3-day itinerary in Rome
Trying to figure out how to organize your visit to Rome? I've got the perfect 3-day itinerary for first-time visitors (or those who have not been here in a while.) It works for a 2.5 day visit as well.
In my 3-day itinerary, you'll see all the major must-see Rome attractions like the Vatican, Colosseum, Trevi Fountain, Pantheon, Piazza Navona, Spanish Steps, Castel Sant'Angelo, and much more.
And if you have more time, or want suggestions for extra/other things to do, you'll find that there too.
Visit my page with the best 3-day itinerary in Rome for first-timers.
---
---
Want to save this page about spending Valentine's Day in Rome to Pinterest? Pin it here!
---
Get your free Rome trip planner!
We are committed to respecting your data. Click for our Privacy Policy .
---
Comments? Questions? Suggestions?
Please come over to the private Romewise Facebook group and join in the conversation.

You will often find me there, happy to answer your questions / comments!
You will also meet other Rome lovers and experts, too.
What are you waiting for?