Rome in March
Coming to Rome in March? Plan for it to be a little chilly and rainy...March is still mostly a winter month! But it's also the calm before the storm...the crowds are not quite here yet but they are on the way.
---
---
Rome in March - At a Glance
Here's what you need to know:
Weather in Rome Italy in March

I've lived in Rome since 2001. It never fails. Every single year, on March 1, I somehow expect it to be spring, because "March is a spring month." The reality is that it's never spring in the beginning of March.
Neither technically (Spring begins on March 22), nor meteorologically. I am always chagrined to find the beginning of March full of blustery cold days, with plenty of rain and chill, and sometime sleet.
Via Margutta in mid-March, lots of bare branches, and grey skies
And I think this is one reason the beginning of March is still low season. It is, after all, still winter. And school vacations are not in swing yet.
Search for Hotel Deals in Rome

But there is inevitably one day in March, it changes from year to year, sometime late in the first half, when I start seeing all the tour buses all around Rome. And school groups. And then I know. Spring is almost here, and high season is just around the corner.
By the end of March in Rome, wisteria starts appearing everywhere, like here on the Appia Antica
As for rain, well yes, March can be a rainier month than others, because it's spring/pre-spring. But it's hit or miss, and sometimes you just have glorious blue-sky days in March in Rome.
What to Pack for Rome in March

These are my personal recommendations for your visit to Rome in March, which I own or use:
Affiliate Disclosure:
Below you see photos of products I've researched and in some cases, own. If you click the picture, it will take you to Amazon.com, and if you purchase anything there, I will earn a small commission. Please rest assured, the prices are the same whether you click from here or buy directly. I invite you to visit my page about Affiliate and Advertising Disclosure.
Thanks for supporting my site!
What to Wear in Rome in March
March is one of those months that can have wildly varying weather days, and even a lot of variation during any given day. So layering is a good idea. One of your layers should be a waterproof jacket.
And don't forget the scarf! Men and women, yes, a scarf. Trust me.
How people dress in Rome in March - jackets, layers and scarves!
Jeans or other heavy cotton pants are great since it's still quite cool in March. It's also a good idea to have some light cotton short-sleeved shirts, like t-shirts and polos, so that when you are layering, you could get down to bare arms if it's really nice and warm out.
As always, be comfortable: wear comfortable walking shoes, good socks, breathable fabrics, and enough layers to keep you warm.
---
March in Rome - What to Expect

Is it crowded in March in Rome?

The first half of March will still be wintery cold, certainly at night. And March is a rainy month, so be prepared. But in those first two weeks, it's also still fairly quiet in Rome. Not a lot is happening just yet.
If you come the second two weeks, be prepared for crowds, in particular school groups.
What's Happening in Rome in March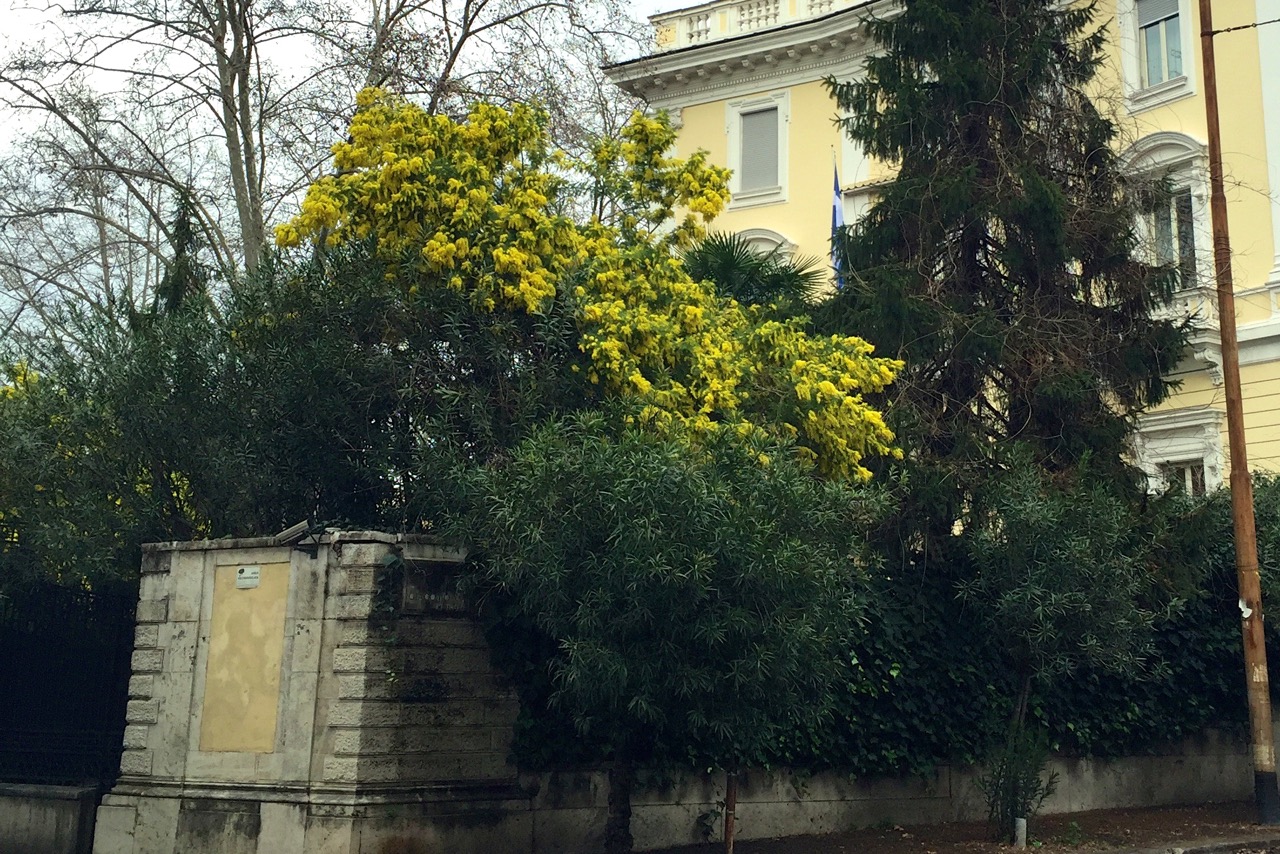 These mimosa trees flower in late winter, and are full of blooms in time for International Women's Day, March 8
March 8 is International Women's Day, a major international holiday around the world (for some reason that escapes me, it's barely heard of in the US.)
Although it's not a bank holiday, it's still widely recognized.
The thing you should know about International Women's Day in Rome is that the tradition is to give some mimosa flowers to the women in your life. So in early March, you will see a lot of these flowers for sale in Rome.
---
Sunday March 27 is the beginning of Daylight Savings Time. We LOSE one hour.
In 2016, it's also Easter Sunday, so be aware of this if you have any Easter Sunday morning plans, like attending church, or the Vatican!
---
Foods in Season in Rome in March

It is still artichoke season (globe artichokes), but you will also still see plenty of winter greens too: puntarelle, broccoletti, broccolo romanesco, and chicory. Asparagus and strawberries are also starting to show up.
There is also a very particular green to get in early spring: agretti. Agretti look like grass, taste like spinach and are a very seasonal, very Roman green. 
Agretti al limone (simply boiled and served with lemon and olive oil), at Settimio al Pellegrino in Rome
For a really detailed and complete listing of fruits and vegetables in season in Rome in March, visit my friends' fabulous website Casa Mia.
---
Rome in March - things to do

March is still cool and that means it's great sight-seeing weather. So one of the best things you can do in Rome in March is be a tourist, and enjoy the city and sites on foot!
Free Things to do in Rome in March

Every first Sunday of the month, state-run museums, archeological sites in Italy are free. For a complete listing (in Italian only) of all the sites and museums that are free on March 6, 2016, visit the website of the Beniculturali.
And, as a bonus, on March 8 the same museums and archaeological sites are free for women (only), in honor of International Women's Day.
For some of these sites, like the Galleria Borghese and Domus Aurea, you should book in advance. Click here to find out how to avoid the lines at the Colosseum.
Just about every other month of the year, I'd tell you that you can visit the Vatican museums on the last Sunday of the month, for free.
In March 2016, the last Sunday of the month is Easter, and the Vatican museums are closed.
So there is no free Sunday in March at the Vatican Museums this year.
---
Vatican Events in March in Rome

St Peters Square during Easter
In 2016, Easter is March 27, which makes March an Easter-themed month. Here is the schedule of Vatican events in Rome in March 2016:
Wednesday March 1: Ash Wednesday, Santa Sabina, 5pm
Friday March 4: Celebration of the Penitence, St. Peter's Basilica 5pm
Sunday, March 20: Palm Sunday mass, St. Peter's Square 9:30am
Thursday, March 24: Maundy Thursday, Chrism Mass, St. Peter's Basilica 9:30am
Friday, March 25: Good Friday, Mass, St. Peter's Basilica 5pm
Friday, March 25: Good Friday, via Crucis, Colosseum 9:15pm  (no tickets required)
Saturday, March 26: Holy Saturday, Easter Vigil, St. Peter's Basilica 8:30pm
Sunday, March 27: Easter, Mass, St. Peter's Square 10:15am
Sunday, March 27: Urbi et Orbi, St. Peter's Square, noon (no tickets required)
Monday, March 28: Easter Monday, Regina Coeli, St. Peter's Square, noon
With the exception of the via Crucis on Good Friday, and Pope Francis' Urbi et Orbi speech on Easter Sunday, all other liturgical celebrations require tickets.
---
Exhibits and Shows in March in Rome

Following are some of the main art and culture exhibits in Rome in March. Clicking on any of the pictures will take you to the website of the venue.
You might also like:
---
---
Return to the top of Rome in March.
Rome Guide

›
Weather in Rome Italy
› Rome in March