Best Pasta in Trastevere Rome
Looking for the best pasta in Trastevere Rome?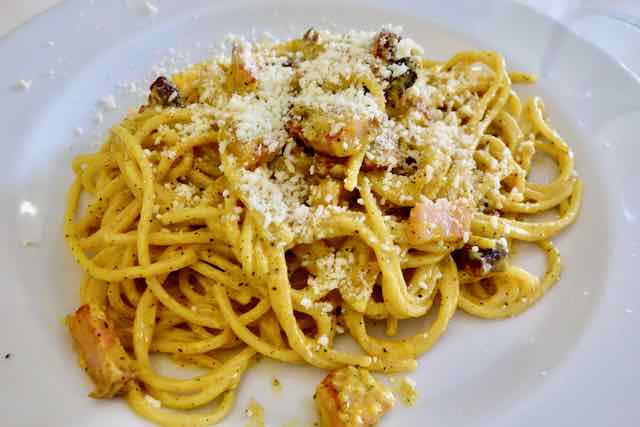 The classic Roman dish of spaghetti alla carbonara at Da Carlone is an excellent choice for pasta in Trastevere.
In a neighborhood like Trastevere that is chock-a-block with restaurants, you will never be lacking in someplace to eat.

But because Trastevere is a popular tourist destination, there are plenty of  proverbial "tourist traps."
Also, Trastevere is home to a few university campuses, and so there is a large offering of inexpensive places to eat and especially to drink, sometimes resulting in quantity over quality.
Best Pasta in Trastevere Rome - My Favorites
If you're wondering why a couple of famous Trastevere restaurants are not on this page, there is a reason.
I cannot recommend them because their food is just not that high quality, but more importantly, their management engage in bad behavior where tourists are concerned.
On this page, I am not going to mention the tourist traps or bad places to eat.
For me the worst part of a "tourist trap" is actually less about the food (which may or may not be mediocre), but more about how tourists are treated vs. how locals are treated - different pricing, making you rush to eat, sticking service charges on the bill, etc.
Those are the restaurants I skip and never recommend.
So, on this page, I want to tell you where Alessandro and I, and also my Roman friends, go to eat some of the best pasta in Trastevere Rome.
This is based on my more than 20 years living in Rome, and tips from Alessandro and also from Roman friends who live in Trastevere.
---
Obviously any "best of" list is going to be subjective.
On this page you'll find my picks for:
Best Pasta in Trastevere Rome - Cucina Romana/Roman Cuisine
I find most people want traditional Roman cuisine when they look for Trastevere restaurants/trattorias, which for most people means pasta!

At a typical Roman trattoria, the classic pasta dishes we are looking for are carbonara, cacio e pepe, amatriciana, and gricia.
Not sure what these are? Visit my page about Cucina Romana.
Here are some of the places for the best pasta in Trastevere Rome where you can enjoy traditional Roman pasta:
Da Teo
When I asked my Trastevere pal Max where to go for some authentic cucina Romana in Trastevere, he sent me to Da Teo, and I've been going regularly ever since.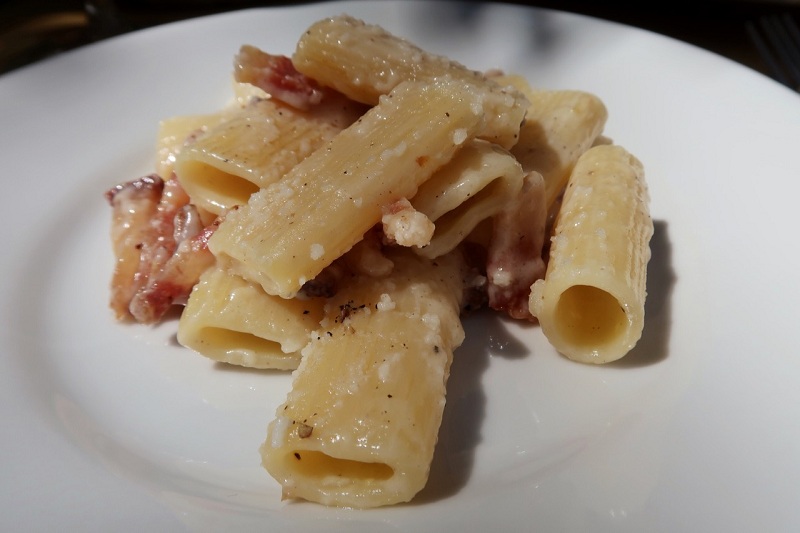 At Da Teo you will find some of the best pasta in Trastevere Rome, like this Rigatoni alla Gricia. (This is a half portion - I love sharing!)
This family-run spot is tucked away on a little piazza, and serves up some of the best traditional Roman cuisine in the area.
They have a lot of regulars, and it's always packed, so book ahead, including for lunch.

Details: 

La Tavernaccia Da Bruno
Tavernaccia da Bruno is on the outer edges of Trastevere proper, but it is worth making the effort to get there.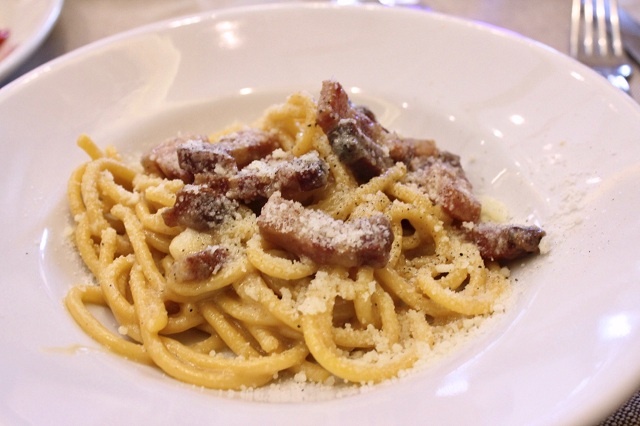 Best pasta in Trastevere Rome - the spaghetti alla gricia at Tavernaccia da Bruno is one of my all-time favorites in Rome.
This is the place for hearty, perfectly prepared, simple Roman pasta.
They get it right every time.
Details: 

La Gattabuia

My Trastevere pal Max turned me on to this Roman trattoria hidden, literally underground, in one of the quietest corners of Trastevere. 

Best pasta in Trastevere Rome - La Gattabuia is a guarantee when you want to try traditional Roman dishes like bucatini all'amatriciana.
La Gattabuia is a bit off the beaten path, but it's worth seeking out if you are looking for simple, delicious cucina Romana.
Details: 

Eggs Trastevere

Eggs does not actually fall into the category of "traditional Roman Trattoria", but their specialty is . . . well, eggs.
And that is one of the primary ingredients in carbonara.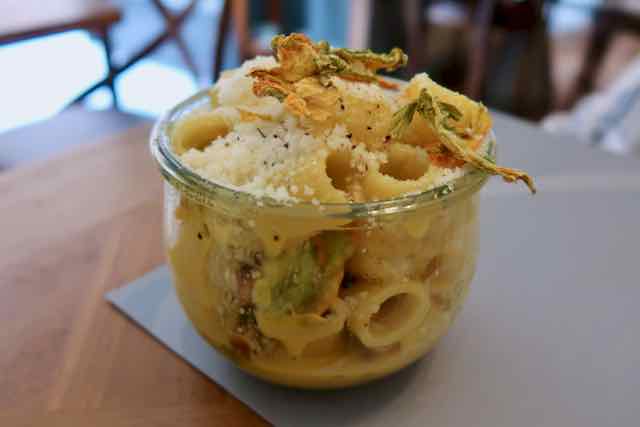 Best pasta in Trastevere Rome - for a variety of types of carbonara not to mention other egg-related dishes, head over to the eponymous Eggs.
So if you're a carbonara fan, or even a fan of scrambled eggs, head over to Eggs.
Besides traditional carbonara, the menu includes a selection of variations on that dish, including a vegetarian option.

Details: 

---
The perfect 3-day itinerary in Rome
Trying to figure out how to organize your visit to Rome? I've got the perfect 3-day itinerary for first-time visitors (or those who have not been here in a while.) It works for a 2.5 day visit as well.
In my 3-day itinerary, you'll see all the major must-see Rome attractions like the Vatican, Colosseum, Trevi Fountain, Pantheon, Piazza Navona, Spanish Steps, Castel Sant'Angelo, and much more.
And if you have more time, or want suggestions for extra/other things to do, you'll find that there too.
Visit my page with the best 3-day itinerary in Rome for first-timers.
---
Proloco Trastevere

The term "pro loco" indicates that this restaurant is all about promoting local regional foods and sourcing their ingredients locally.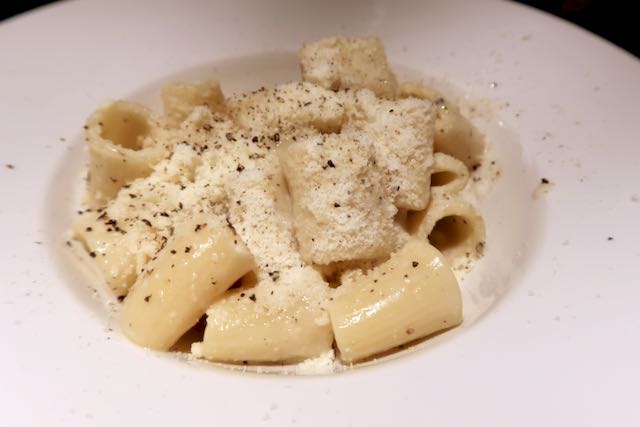 This cacio e pepe at Proloco Trastevere is sublime.
At Proloco Trastevere, you will find plenty of local Roman and Lazio specialties, including the traditional Roman pastas.

You can also get delicious cold cut plates as well as pizza and other dishes.
Details: 

Ristorante La Scala
I love this fairly no-frills restaurant smack in the busy part of Trastevere, because they always keep it real.
It may feel touristy, since it's right in the middle of the tourist path through Trastevere, but if you are looking for simple Roman fare, you will find it here.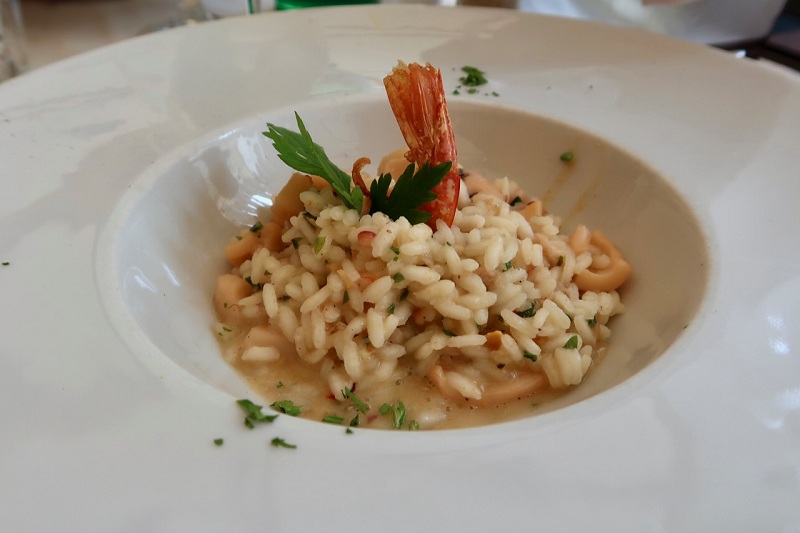 Ristorante La Scala in Trastevere is one of the few places I've been able to find good risotto alla pescatora. True, risotto is not pasta, but it's a delicious carby dish and it works!
And when they make things like risotto alla pescatora (hard to find made really well in Rome), I get it here.
Details: 

Da Carlone
Da Carlone is one of the more old-fashioned Trastevere restaurants.
The ambiance is warm and convivial, the service is brisk but friendly, and the portions are pretty huge.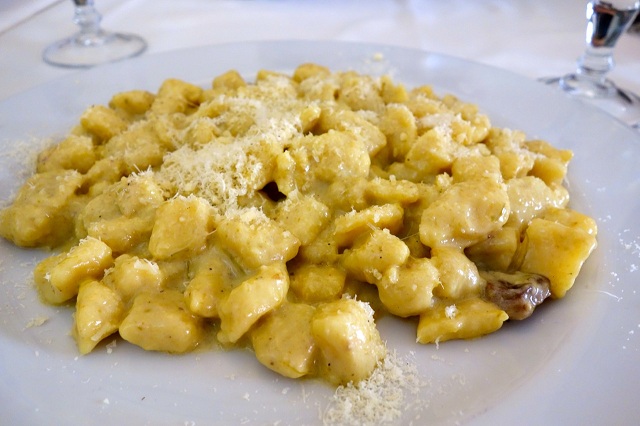 At Da Carlone in Trastevere, on Thursdays, you can find the classic Roman Thursday dish, gnocchi. In spring we had it with asparagus and mushrooms.
Here you will definitely find some of the best fried artichokes, carbonara (old-style, no crispy guanciale here!), gnocchi on Thursdays, etc.
They have a fairly cozy outdoor seating area as well.
Details: 

i Vascellari
This simple no-frills traditional Roman restaurant is a perfect place to enjoy a casual, relaxing lunch or dinner.
There's nothing fancy or innovative here, just your typical Roman dishes made well.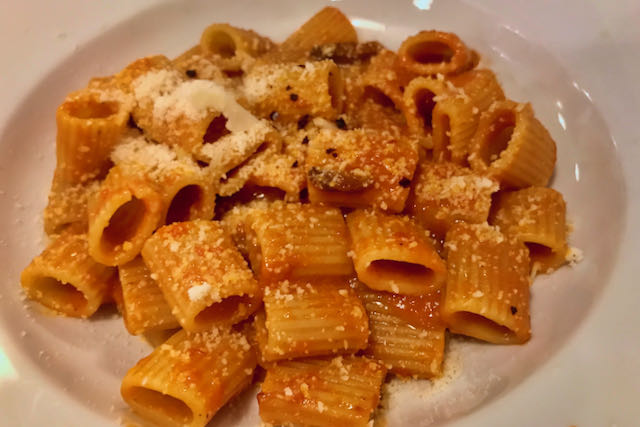 Best pasta in Trastevere Rome - these mezzemaniche amatriciana are made just right at the low-key Ristorante i Vascellari.
You can count on perfectly made Roman dishes like fried artichokes, amatriciana, and saltimboca alla romana.
I love their homey, spartan indoor ambiance.
Details: 

Checco er Carattiere

Checco er Carattiere was the first Trastevere restaurant Alessandro recommended to me.
He remembers going here with his family when he was a kid.
Checco er Carrettiere is one of the most traditional of the old-fashioned Trastevere Restaurants. I think the garlic hanging from the rafters is an excellent touch (ok it's a little hokey but it's still cute).
---
A caveat - The pasta prices are crazy expensive (18€ for cacio e pepe). However, the portions are also unusually huge. So, I suggest sharing, and the portion size and pricing will get to normal. 
One more caveat - a good friend who is a foodie and a local has told me she has had different treatment when there when she goes with Italians as opposed to being there with tourists. So don't worry too much about any brisk treatment by your server. Take it with a grain of salt. And enjoy the food.

Checco is a Trastevere tradition, going back to the early 1900's.

The original restaurant used to be the "it" place for movie producers and journalists to eat in Trastevere back in the day of La Dolce Vita (50's and 60's).
It is still today run by the descendants of Checco, the original Carrettiere (which is argot for "tradesman".)
When you walk in, you feel the history of the place, and know you've arrived someplace special. (I really love all the garlic hanging from the rafters!)
You'll find delicious traditional Roman pastas (carbonara, amatriciana, etc.); typical Roman meat dishes like veal piccata or osso buco; and classic Roman desserts like tiramisu and panna cotta.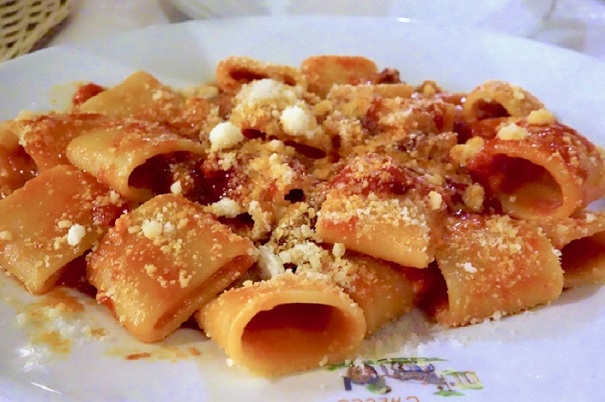 Checco er Carattiere is one of the best Trastevere restaurants for enjoying traditional Roman cuisine. But portions are large and the pasta dishes expensive, so I suggest sharing.
Details: 

---
Roma Sparita
One important caveat - I've read some mixed reviews about their treatment of tourists, and the possibility they charge an arbitrary "service charge" only to tourists.
This is a HUGE no-no in my book.
Since it did not happen to me or anyone I know, and since those reviews were published some time ago, I am hoping they do not do this, or don't do it any more if they did do it. I am including them on this page because I remember the food being good, and, it's a beautiful setting to dine in, especially when you can eat outside, right in front of the church of Santa Cecilia.
So use your judgement, and pay attention to the final bill.
We used to go to Roma Sparita a lot.
I have not been in recent years only because there are just so many places in Rome I want to try, and some others have become faves, so I kind of lost track of this one.
This restaurant has always been famous for their cacio e pepe, in particular because it comes in a cute and delicious parmesan bowl.
At one point Anthony Bourdain talked them up.
So it became a little overly-popular and even harder to get into.
You definitely need to reserve.
The food is pretty traditional.
As an example, my English friend was aghast when they told her she could not order a side of potatoes because they were not traditional Cucina Romana. 
Details: 

Disclosure: If you make a purchase through a link on this page, I may receive a small commission - at no extra cost to you. Thank you for supporting my site!

Da Augusto
This may be one of the simplest of the Roman trattorias in Trastevere.
There is not much of a menu, but what they do serve is basic, tasty Roman food.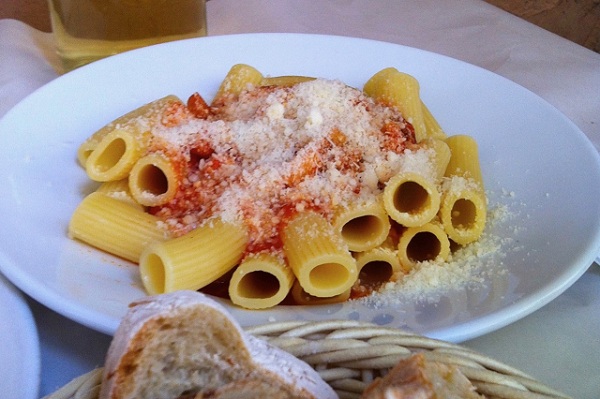 Best pasta in Trastevere Rome - Da Augusto is the place to come when you are looking for a casual, simple meal of traditional Roman pasta, like these rigatoni all'Amatriciana.
They have tables outside, although it can be a bit cramped.
But it's worth it to come enjoy a pleasant, no-frills meal in the heart of Trastevere . . . and one that won't break the bank!

Details: 

---
Best Pasta in Trastevere Rome - Seafood
Whether you're looking for seafood-based pasta or some in the group want seafood while others don't, here are a couple of excellent options where you will be guaranteed some of the best seafood pasta along with, of course, excellent seafood.
Osteria der Belli
Another Trasteverina friend, Maria Pasquale, told me about Osteria der Belli and now it is my go-to restaurant in Trastevere when I want seafood.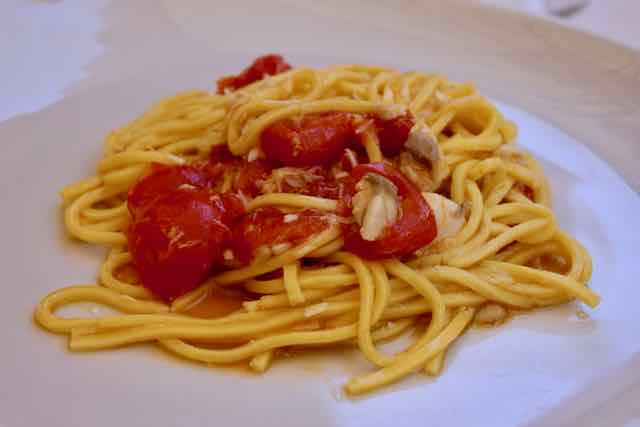 Best pasta in Trastevere Rome - tonnarelli with fresh tomato and sea bass at Osteria der Belli.
I love everything here from their simple grilled calamari to their fresh seafood appetizers.
You can count on delicious pasta, made simply and with the freshest ingredients. I love their tonnarelli with cherry tomatoes and sea bass.
Details: 

LE MANI IN PASTA

Le Mani in Pasta is known for their seafood.
But the name means "hands in the pasta", presumably denoting the homemade kind.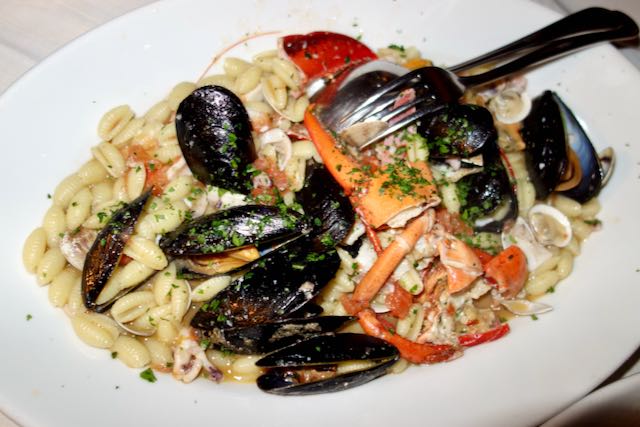 Best pasta in Trastevere Rome - I love these little "gnochetti sardi" with clams and mussels at Le Mani in Pasta
In any case, that is my favorite thing about coming here - the pasta, which is really excellent. Their seafood is also good but I always go for the pasta (usually with seafood.)
Because it's been written about a lot, you will likely find yourself eating with a lot of other tourists, but don't let that put you off.
(If you want to eat without being surrounded by tourists, you will need to book for 9pm or later.)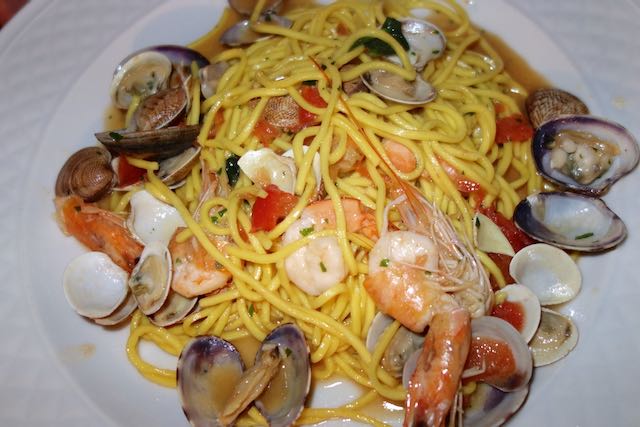 Best pasta in Trastevere Rome - This classic seafood dish of Tagliolini allo scoglio - fresh pasta with shellfish, is one of my favorites at Le Mani in Pasta.
Details: 

Best pasta in Trastevere Rome - Fusion/Upscale
In recent years, Rome has seen a huge growth in more innovative chefs and restaurants.
At the restaurants below, come prepared and ready to explore and try new things.
These restaurants could be considered elegant, upscale, and romantic.
They are all chef-driven and each has unique and recognizable style of cuisine.
I've tried them all and recommend them highly when you want something special, and don't mind splurging a bit.
Fernanda
Chef Davide Del Duca of Osteria Fernanda is a true genius at innovation.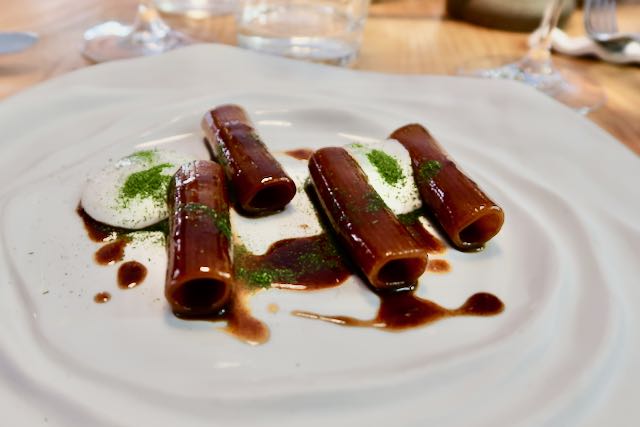 Best pasta in Trastevere Rome - If you're looking for something truly innovative, try this root pasta my vegetarian friend ordered. Sublime and delicious.
Once mostly famous for his trademark amatriciana, chef Del Duca offers some wonderful, unusual dishes at his restaurants on the edges of Trastevere.

Best pasta in Trastevere Rome - this spaghetti with herbs, prawn tartare, and crushed pistachios was divine.
Details: 

Glass Hostaria
Glass is one of the best restaurants in Trastevere, period. I ate here before Chef Christina Bowerman got her well-deserved Michelin star and ever since then have been completely hooked. 
Photo credit - Glass Hostaria
At Glass, you'll find some of the best pasta in Trastevere if you're looking for something unusual and innovative.

Details: 

Antico arco
Antico Arco is an excellent location for a special/romantic occasion. The decor is warm and welcoming, and the food is definitely up a notch from your basic Roman trattoria.

Photo credit - Antico Arco
While you will find some traditional pastas on the menu, such as carbonara or cacio e pepe, there is usually some innovation to the dish.

I recommend also trying some of their more unusual creations, such as homemade tagliolini with cantarelli mushrooms, prawns and lemon thyme.
Details: 

Trastevere Restaurants - A Map
Here's a map of all the places for best pasta in Trastevere Rome I listed on this page. (It will open in a new page.)
---
Want to save this page about where to get the best pasta in Trastevere Rome to Pinterest? Pin it here!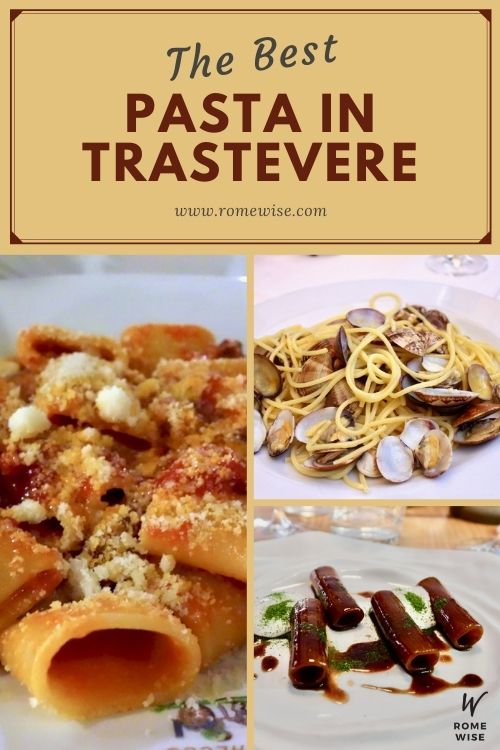 ---
Get your free Rome trip planner!
We are committed to respecting your data. Click for our Privacy Policy.
---