Best Pizza in Trastevere - know where to go!
Looking for the best pizza in Trastevere?
Find out the one thing that makes pizza great, and then you'll know where to go when you are in this charming neighborhood across the Tiber.
I am a big fan of pizza romana (thin-crust) and one of the best places to find it in Trastevere is at Dar Poeta.
Best pizza in Trastevere - everything you need to know
There are plenty of places to grab some pizza by the slice all over Rome, and certainly in Trastevere. And there are quite a few options for round pizza, the kind we eat with a knife and fork (yep!)
Let's explore where to go in Trastevere for the best pizza, whether by the slice or round.
On this page, you'll find:
How to define what is the best pizza
First of all, let's talk about how to define "best", because this is subjective of course.
In Rome, when we talk about the best pizza, the main thing we look for is the lightness of the crust. And by lightness, I mean "digestiveness" (is that a word?)
Romans often refer to food, especially to pizza, as being easy to digest versus not easy to digest. (Trust me, you can have hours-long discussions on food digestion with a Roman.)
When the pizza does not sit like a dough ball in your stomach after you eat it - that's good pizza. So always look for pizza that has been described as "digestible" or has had the dough rise at least 48 hours if not 72 hours.

Here are some of the best Trastevere restaurants where you can get superb pizza:

Best Pizza in Trastevere - by the slice
LA RENELLA
La Renella is a bakery making fresh hot pizza by the slice. You can even go towards the back to inspect what's coming out of the oven next.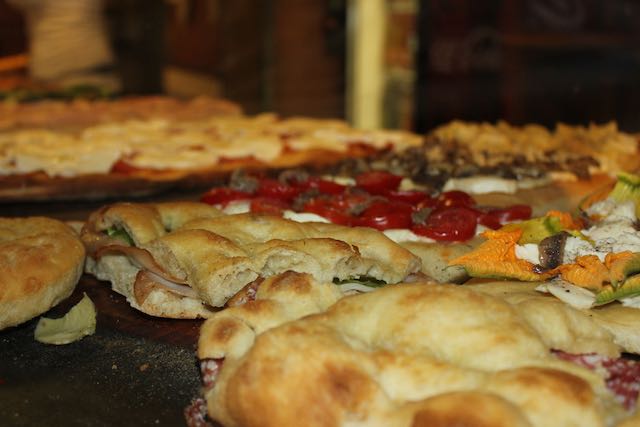 You can easily see just by looking at this pizza how light that crust is. And it is simply delicious, to boot!
You will find some other items things here, like sandwiches and sweet baked goods, but the real star is the pizza.
There is everything from the simplest of snacks - plain pizza (focaccia)  or pizza with just slathering of tomato sauce, to topped pizza to stuffed pizza. It is all superb and extremely digestible (trust me!)
Point to the ones you want, and they will weigh them, heat them (if you want), and serve them to you on a tray that you can take to the counter to eat. Of course you can also get it to go.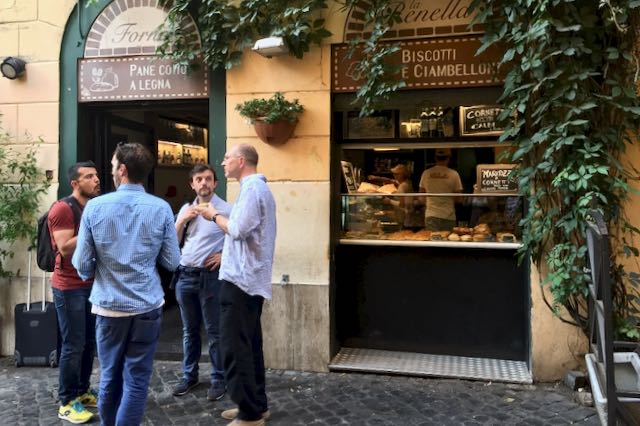 La Renella is a local favorite. Don't miss their pizza by the slice, but you may also want to try some of their other baked goodies as well.
Details: 

Casa Manco

One of Rome's worst-kept secrets for best pizza al taglio (pizza by the slice) in Rome is Casa Manco. Originally in Testaccio market, they now have another outpost in Trastevere.
Here you will find a pizza dough made with a blend of four flours, and that has been left to rise 100 hours. Yes, 100 hours. That is some seriously digestible pizza dough.
But in the case of Casa Manco, you are also going to want to judge this pizza by the toppings, which are always fresh and always seasonal.
This really is some of the best pizza in Trastevere.
Details: 

Disclosure: If you make a purchase through a link on this page, I may receive a small commission - at no extra cost to you. Thank you for supporting my site!
Trapizzino
Trapizzino does not fall into any particular category on this page but it's closest to pizza by the slice even if it is not that at all.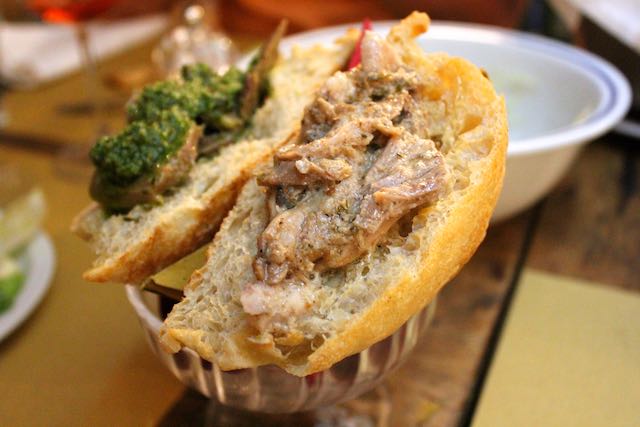 Let's call Trapizzino some of the best pizza in Trastevere that's in its own category. It's not pizza per se but it will satisfy any pizza craving you might have!
This delectable invention by Stefano Callegari, pizzaiolo extraordinaire, is basically pizza dough formed into a stuffable pocket.

It's then filled with scrumptious, juicy ingredients such as meatballs in tomato sauce, burrata and anchovies, chicken cacciatora, eggplant parmigiana, and more. The fillings are always "saucy" so they can seep into the dough.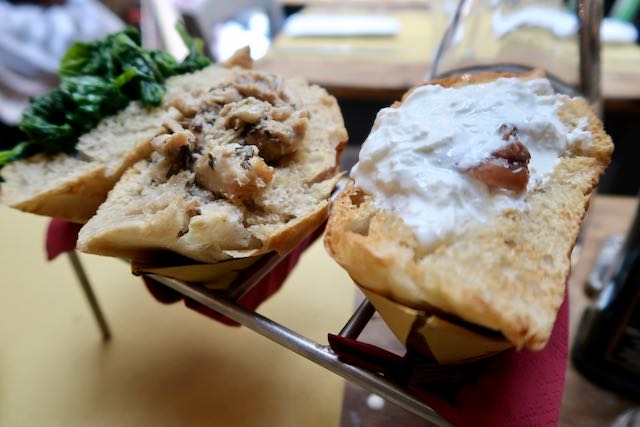 These Trapizzino are stuffed with, from front to back - burrata and anchovy, chicken cacciatora, and a mix of vegetables.
The outside of the pocket is crispy, not quite like regular pizza is crispy, but crispy and crunchy, while the inside dough is soft and light, and full of whatever stuffing has soaked into it. It is heaven in a pocket.

Details: 

Disclosure: If you make a purchase through a link on this page, I may receive a small commission - at no extra cost to you. Thank you for supporting my site!

Supplì Roma

If you are looking for super simple, super local pizza and /or supplì (fried riceballs we often eat with pizza in Rome), don't blink or you will miss one of the best spots for this kind of pizza in Trastevere.
It's a tiny hole in the wall, and easy to walk right past, but you are also likely to find a line out the door so that is your clue.
Whether you go for the delectable supplì or the piping hot pizza that keeps coming out of the ovens, your taste buds will thank you.
Details: 

Phone: +39 065 897 110
Opening hours: Monday-Saturday: 10:00-22:00 | Sundays: CLOSED
Best Pizza in Trastevere - Pizza Romana (thin crust)
Dar Poeta

Dar Poeta is one of the Trastevere restaurants on many guidebooks' and blog lists. There is a reason. And there is a reason you will almost always see a huge crowd standing outside waiting their turn.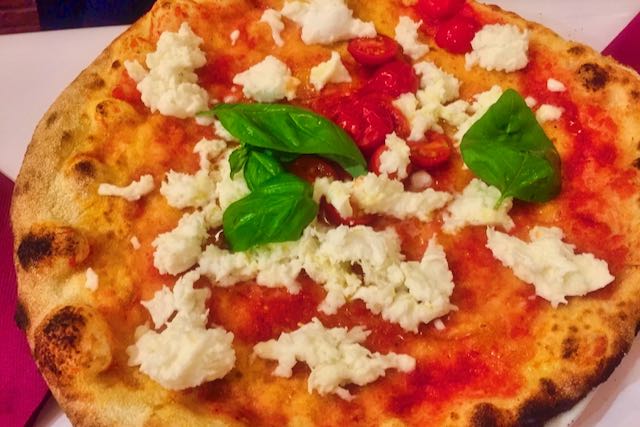 One of the places for the best pizza in Trastevere, if you are looking for Roman-style thin-crust pizza, is Dar Poeta.
The place is not that special in terms of ambiance or decor. In fact, it's hectic and crowded.
You will not spend time lingering over a leisurely dinner here.
But you will enjoy a perfect thin, crispy, slightly burnt-on-the-bottom Roman pizza.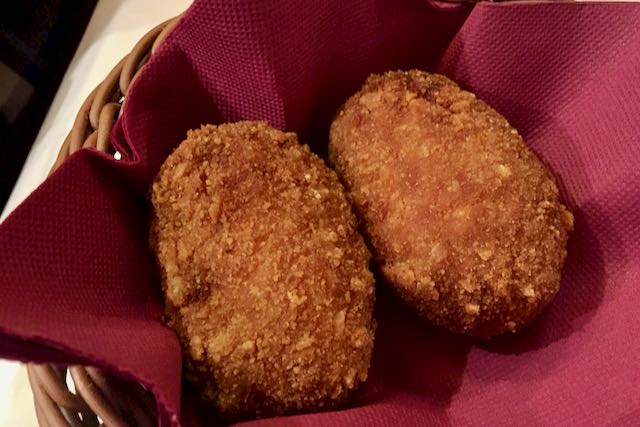 Not only does dar Poeta serve up some of the best pizza in Trastevere, but you can also enjoy some excellent supplì.
Details: 

L'Elementare

L'Elementare is named for that simplest of pizzas, Roman-style. It refers to the "elemental" basics for Roman pizza, old-school.
The pizza at pizzeria L'Elementare is perfect - old-school, super-duper thin, crackly crunchy crust with just the basic ingredients on top - elementary!
The creation of renowned pizzaiolo Mirko Rizzo, L'Elementare is one of the spots for best pizza in Trastevere if you are looking that the thinnest, crunchiest of crusts.

His pizzas use high quality, unrefined flours from Le Marche, very little yeast, and they rise for 24 hours.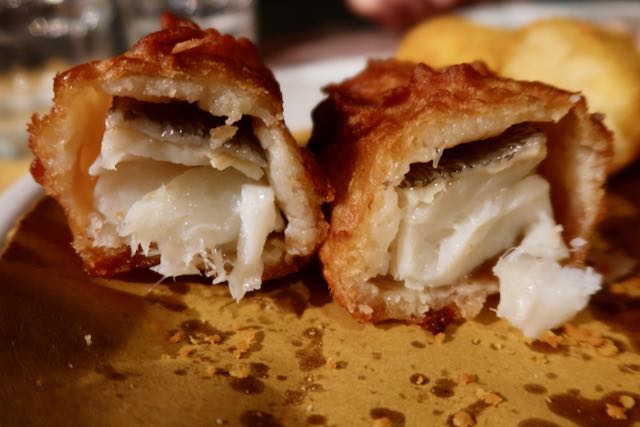 One of my favorite fried appetizers pre-pizza is baccalà (fried cod.) At L'elementare, I've had some of the freshest, juiciest, most delicious baccalà in Rome.
You can't go wrong getting any pizza here but you should absolutely not skip the fried appetizers, especially the "supplì" made of cacio e pepe spaghetti!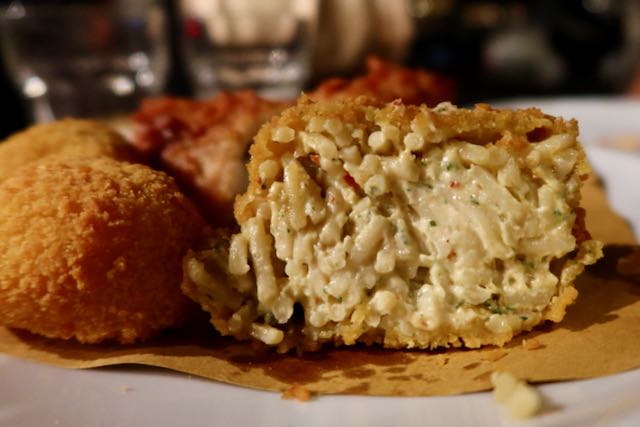 I would go to L'Elementare just to have this unusual supplì made of spaghetti cacio e pepe. Deliciousness!
Details: 

---
The perfect 3-day itinerary in Rome
Trying to figure out how to organize your visit to Rome? I've got the perfect 3-day itinerary for first-time visitors (or those who have not been here in a while.) It works for a 2.5 day visit as well.
In my 3-day itinerary, you'll see all the major must-see Rome attractions like the Vatican, Colosseum, Trevi Fountain, Pantheon, Piazza Navona, Spanish Steps, Castel Sant'Angelo, and much more.
And if you have more time, or want suggestions for extra/other things to do, you'll find that there too.
Visit my page with the best 3-day itinerary in Rome for first-timers.
---
Ai Marmi

Pizzeria Ai Marmi (actually called "L'Obitorio") is THE quintessential pizzeria in Trastevere.
You cannot reserve here. Just show up and wait like everyone else.
The turnover is fairly quick, which also means you will eat fairly quickly yourself. It's all part of the experience.
Just come for the excellent, thin Roman-style pizza, the delicious supplì (rice balls), and crispy fried baccalà (salt cod in batter).
Details: 

Ivo a Trastevere
One of the most quintessential pizzerias in Trastevere is an oldie but a goodie, Ivo.
Sadly, Ivo himself passed away just a few years ago, but the quality remains the same.
Ivo has been a Trastevere institution since the 60's when Ivo and his wife first opened their locale, which was actually a pasticceria at first.
Ivo is an excellent choice for that super-thin crispy Roman-style crust. It's also a winner when others in your party want something besides pizza. Here you will find a few classic Roman dishes as well.
And last but not least, go for the fritti, the fried appetizers, all homemade.
Details: 

Phone: +39 065 817 082
Opening hours: Mondays: 18:00-00:30 | Tuesdays: CLOSED | Wednesday-Saturday 18:00-00:30 | Sundays: 12:00-15:00, 18:00-00:30
Best Pizza in Trastevere - Napoletana (thick crust)
PROLOCO TRASTEVERE
Proloco Trastevere is more than a pizzeria, it's a wonderful experience for savoring quality products from Lazio (the region of Italy that Rome is in.)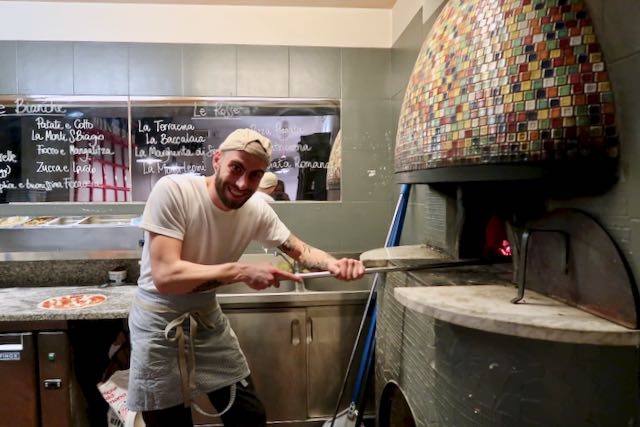 Making the delicious pizza at Proloco Trastevere.
Besides pizza, you can also have cold cuts, pasta, Roman meaty dishes, and plenty of veggies.
(Although when you get that cold cut dish, you will also get some pizza bianca to go with. It's perfectly burnt, salty, and drizzled with olive oil. Delicious all by itself!)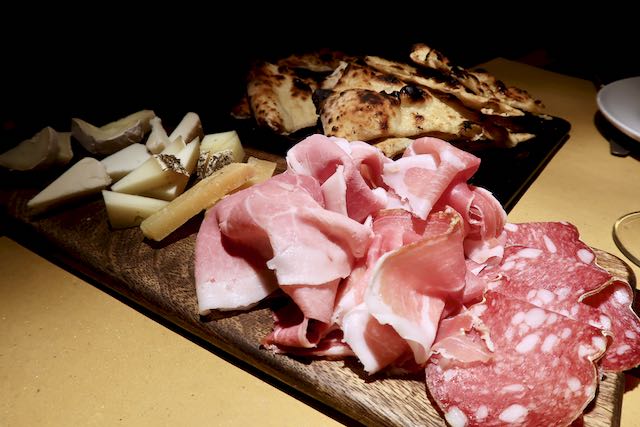 "Proloco" means the ingredients are local, and so when you visit Proloco Trastevere, you can find all kinds of locally sourced items on the menu, like this "tagliere" with cold-cuts and cheeses from Lazio.
But if you do go for the pizza, beware. It's seriously addictive.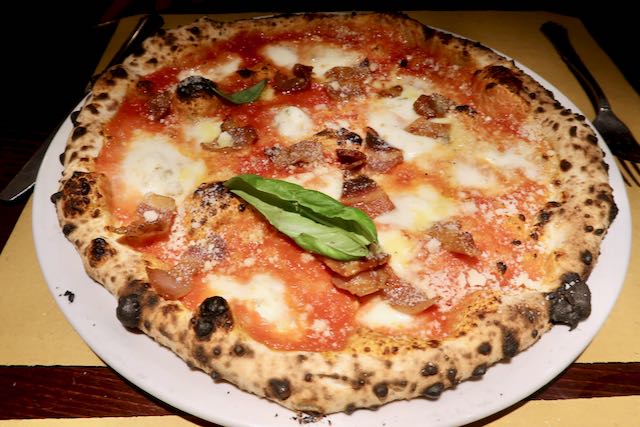 Proloco Trastevere has lots of delicious things to eat but if you are looking for some of the best pizza in Trastevere, and you love pizza napoletana, you can plunk yourself down right here.
Details: 

Seu Pizza Illuminati
Seu Pizza Illuminati is one of the hottest new (ish) pizza places in Trastevere if not all of Rome.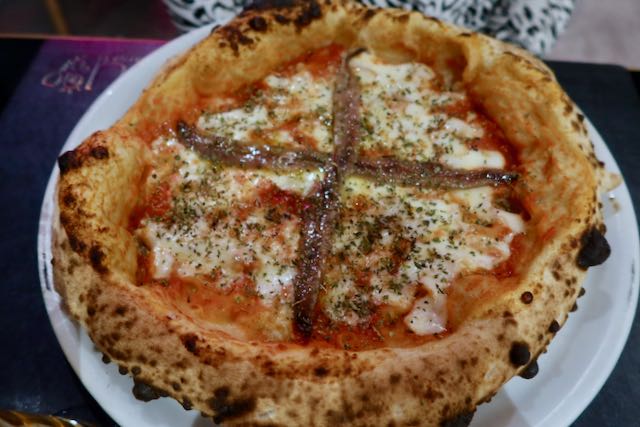 This pizza "napoli" at Seu Illuminati is called that not for the height of the crust but for the anchovies. In this case, the anchovies are laid on top at the end and not cooked in as they are in most Roman pizzas.
While not in Trastevere proper, I am including them here because they are pretty close to Trastevere, and because it's such a popular spot.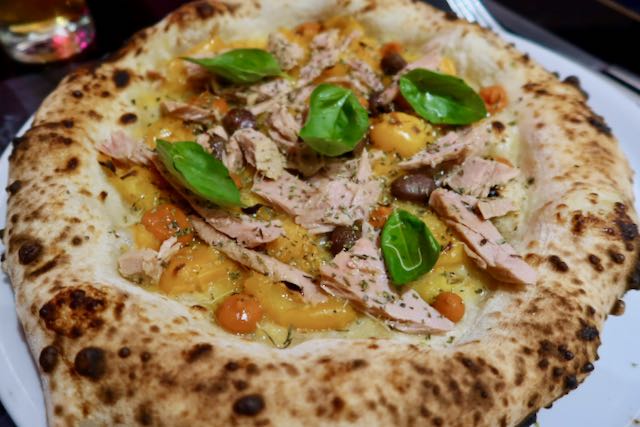 This is pizza "puttanesca" at Seu Illuminati - a decidedly modern and fresh way to prepare these ingredients in this classic dish (normally made as a pasta dish.)
To be honest, this is not my favorite place for pizza in Rome or in Trastevere (nor is it Alessandro's, but he only likes Roman-style i.e. thin crust pizza.)
But as I say, many of my friends love it.
Also, beware that they do this thing where you have to book a time frame with an ending time. That is very un-Roman and a practice that keeps me away.
Details: 

Best Pizza in Trastevere - A Map
Here's a map of all the places for best pizza in Trastevere I listed on this page. (It will open in a new page.)
---
Want to save this page about the best pizza in Trastevere to Pinterest? Pin it here!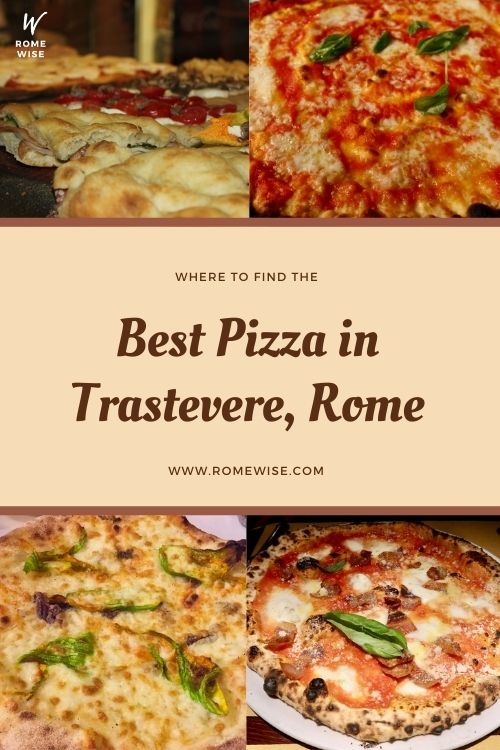 ---
Get your free Rome trip planner!
We are committed to respecting your data. Click for our Privacy Policy.
---