Coronavirus Rome Italy - Travel questions answered

Updated May 10, 2021

Looking for the latest news about the Coronavirus Rome? What's the situation here? What's it like in Rome right now? What restrictions are in place? What's open? What's closed? Can you plan your trip to Italy?
Read on to find out the answers to these questions and more.
---
---
Coronavirus Rome - Answers to your questions
Over the past year, I've been getting lots of questions about Coronavirus in Rome. And since all this began, the questions have changed. Now I think most people want to know simply when they can visit.
But there are other questions, too, so I hope to answer them all here:
Please note I am not a medical professional or a public health official.
I have no authority to tell you what you should or shouldn't do about travel to Rome, Italy, or anywhere, now or in the future.
But part of what you'll find on this page is my perspective on how things are for those of us who live and work in Rome while we're dealing with the impact of Coronavirus in Rome.
I'll also give you some links to authoritative sources you SHOULD rely on if you are trying to decide whether to travel to Rome, to Italy, and most importantly, when.
Coronavirus Rome Italy
What's the Coronavirus situation in Rome right now?

Due to an improvement nationwide in case numbers and hospitalizations, many regions across Italy were allowed to change to a yellow zone as of April 26, including Lazio where Rome is.
"Yellow" means being able to sit outdoors to dine in bars and restaurants for both lunch and dinner, and all sorts of places like cinemas, concert halls, theaters, cultural sites and museums can all open again, along with other relaxations of some rules.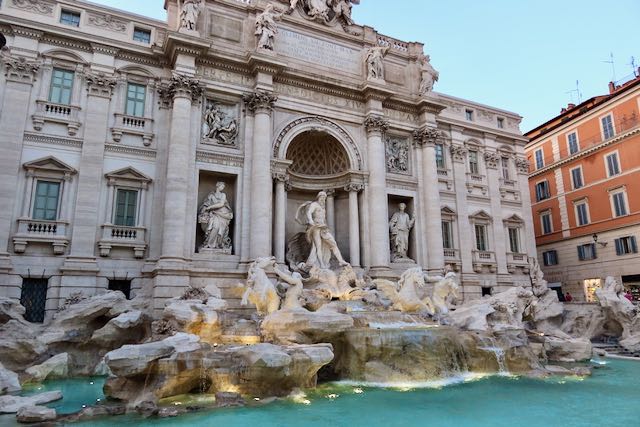 Coronavirus Rome - We who live here have adjusted to a quieter city
Current coronavirus rome Restrictions - Rule and Protocols

We must maintain social distancing

.



Across Italy masks must be worn indoors and outdoors

. This includes, but is not limited to, when inside museums, sites, shops, businesses, and any place you will be around people you do not live with.

The only exceptions to wearing a mask

outside your own homes are if you are exercising/playing sport, eating, drinking, are under the age of 6, or are completely alone such as in the mountains. 

For all businesses that are open, there are

strict protocols regarding wearing masks

, maintaining social distance, using hand sanitizer, and proper sanitization, disposal, and use of any utensils/equipment. In many cases, the number of people allowed inside is limited and may result in queues.



There is a national curfew in place from 10pm-5am

, where people are only allowed to leave their homes for reasons of work, health or situations of need.

The government has split Italy into red, orange and yellow zones

, based on multiple risk factors which are reviewed weekly. Further rules apply depending on which zone you are in - Rome is in Lazio, which is a yellow zone.

Fines (from 400-1,000€) are being enforced for transgressors.

---
Shop Rome-inspired reusable fabric face masks

These reusable cloth face masks made of 100% Polyester provide a physical barrier around the face. They, however, are not medical-grade, thus, not meant for medical use. Great for everyday use for overall protection.
Produced in, and shipped from the USA
Shipping availability

: Worldwide 

Features: 

Adjustable nylon spandex ear loops, Silicone adjustment beads, Two layers of cloth 
If you have any questions about our products, please get in touch.
---
What's closed and what's open in Rome right now?
WHAT'S OPEN IN ROME AS OF may 10, 2021

Lazio's status is currently 

yellow.
Bars, restaurants and cafés

 can now offer dine-in services again, but only for outdoor seating, you cannot consume food or drink sat inside or at the counter. They have to be closed by 10pm when curfew starts.

All 

shops are open, 

although large shopping centers remain closed at weekends.

Schools for children of all ages are open, however teaching is split between in-person and distance/remote learning methods. 
Cinemas, theaters, concert halls and live music venues can open in the yellow zone, as long as they conform to specific rules relating to seating, audience numbers, distancing and more.
All sporting activity, including team sports, is now allowed in the yellow zone, although gyms and swimming pools will not be opening until later in May.
Hairdressers/beauty/nail salons and barbers are open.
Museums and cultural sites are allowed to reopen,

as long as they control the number of visitors and ensure social distancing rules are being followed.



WHAT'S Closed IN ROME AS OF may 10, 2021

There is still a national curfew from 10pm-5am. Between these hours you must only leave the place you are staying for an important reason such as work or a health-related emergency. 
If you need to go out from your home in a red zone or during curfew, at all times you must

carry a "

autodichiarazione

" self-certification form - print copies

here

. Failure to carry the form, or being out without a valid reason can mean a fine of up to 3000 euro. Valid reasons include work, health, and exercise (only when exercising alone, outdoors and wearing a mask).

Indoor and outdoor nightclubs and discos remain closed. 
Gyms, pools, spas and wellness centres are closed for now, although outdoor swimming pools should be able to reopen on May 15, and gyms on June 1.
No other types of businesses are required to be closed at this time (outside of the restricted operating times noted above) due to government regulations.
However, individual businesses have not been able to reopen, or chosen to remain closed because of the impact of Coronavirus in Rome and Italy, so always check in advance if you're planning on visiting a particular shop, restaurant or hotel on a future visit to Italy.

Museums in Rome - reopening news and regulations
Museums and cultural sites are now allowed to open again if they are in a yellow zone region, which Lazio is as of April 26!
The new rules dictate that tickets must be bought with an advance booking at weekends and opening hours are not yet back to 'normal' so always check the individual procedure for any site you wish to visit to avoid being disappointed.
The sites that are now open are:
National Museums of Rome 
Ostia Antica 
Outdoor spaces and churches have always remained open and available to visitors, including:

Vatican - Saint Peter's Basilica and Vatican Museums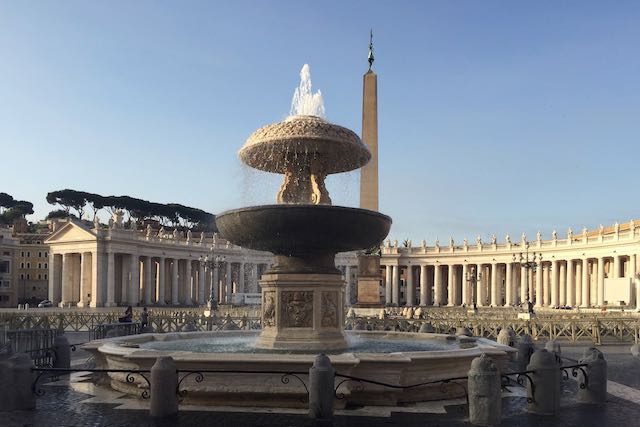 The Vatican Museums, Sistine Chapel, Vatican Gardens, Saint Peter's Dome, and St Peter's Tomb are now open for visits.
For updates on reopening and advice about booking admission, check out the Vatican Museums website here.
Both St Peter's Basilica and St Peter's Square remain open.
We visited the museums, the basilica, the dome, and the square soon after the restrictions were lifted in 2020 and it was a very special day, with few people around. Watch my video to experience this for yourself:
If you are planning to visit the Vatican Museums on a trip later this year, be aware that advance booking will be mandatory. Entrances will be staggered and timed to avoid too many visitors being present at any one time, so you MUST be punctual. Wearing a mask inside at all times will be mandatory.
Tickets for tours to the Vatican Gardens and Saint Peter's Tomb are available for future dates, but places are even more limited than before, so please do book these well in advance if you are planning to include them on a future visit to Rome.
Churches have always been allowed to stay open, on the provision that social distancing can be maintained and large groups of people do not gather together, so St Peter's Basilica is open. There is no advance booking required for visiting St Peter's Basilica.

As normal, you will have to go through airport-style security with temperature checks to enter the basilica, and while inside, masks are obligatory at all times.
Don't forget to cover your knees and shoulders as per the normal requirements. 
Colosseum/Palatine Hill/Roman Forum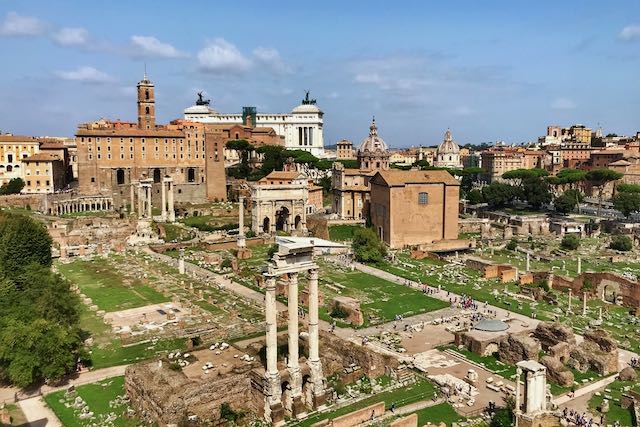 The archeological park that includes the Colosseum, Roman Forum, and Palatine Hill is open again as of April 26, with the same rules for booking and entry as were put in place when it first reopened in 2020.
We visited in March prior to the last lockdown and subsequent reopening. This will give you an idea what it's like to visit the Colosseum right now:
If you would like to plan ahead for a future trip, you can find all the rules and advice, along with an app on the Colosseum's official website here.

Coronavirus Rome Italy - Campidoglio and the office of the Mayor of Rome on March 8 2020, when sites and museums were closed across Italy.
Is it safe to be in Rome right now?

We feel safe going around Rome. 
We always wear masks when outside in keeping with the latest government decree from April 2021.
We keep more than the 1-meter (3-feet) distance from others, as decreed.
We ALWAYS wear masks inside any shop, site, or establishment except to eat or drink.
We are following the rules and common-sense health and hygiene practices as we always have done.
Cases in Lazio have been on a decline recently, mirroring a national trend, leading to a change in restrictions. As of the time of writing, there have been a total of just under 332,000 confirmed cases of the Coronavirus in the Lazio region (where Rome is) since tracking began in early March 2020.

There are just over 37,000 active cases in the Lazio region currently.
You can follow this here: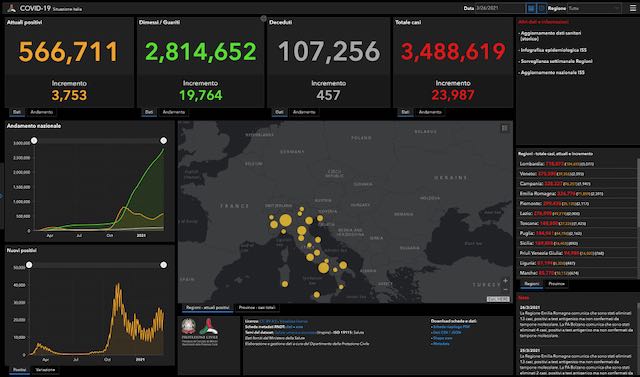 Coronavirus Rome and Italy - This data map by Italy's Civil Protection Bureau shows the number of Coronavirus cases around Italy. They update it regularly. This is a screenshot, so click it to visit the live site with updates.
Can you travel to Italy right now?
As of right now, the current Coronavirus Rome travel permissions are set out below.
It appears that these will change as of May 15 as part of a new government decree, but this decree has not yet been issued so we don't have 100% confirmation of the new rules, and which countries they will apply to.
within italy
Within Italy, travel between different yellow regions is now permitted

, for any reason.

If you wish to travel to a region that is an orange or red zone there is talk of a 'green pass' to evidence if you have been vaccinated, have recently recovered from Covid-19, or have proof of a recent negative test. However, if you need to travel because of a reason of extreme need, work or if you are returning to your main home, you can continue to self-certify.
eu and schengen countries
Visitors from EU and Schengen countries can come to Italy for any reason. 

All visitors must provide proof of a negative test result, from a molecular or antigenic test done within the 48 hours before they enter Italy. This test requirement applies to Italian residents returning home as well as foreign visitors.
You can no longer take a test on arrival in Italy.
Once you arrive in Italy, you must quarantine for 5 days and then take another molecular or antigenic test. If negative, your quarantine will not be extended further.

Please check the 

Italian Ministry of Health's website

 (page is in English and Italian) for the detailed rules for people traveling to and from Italy.



There is also an interactive online survey from the Italian Ministry of Foreign Affairs for people both wishing to go abroad from Italy, as well as entering the country, to give travel advice based on individual circumstances. Find the survey here for more details (available in both English and Italian).
non-eu countries
The current EU travel advice, last updated in October 2020, states that visitors to the EU from some specific countries are allowed to enter EU countries, including Australia, Japan and New Zealand, for any reason. However,

visitors from any countries of origin that are deemed to have high infection rates are not allowed to travel to the EU

(unless for an existing reason of proven work needs, health reasons or a different urgent reason).

This currently includes the USA

. 



Everyone who enters Italy from a non-EU country, regardless of whether the country is on the 'safe' list or not, has to quarantine for 14 days

. This applies to Italian and non-Italian citizens, regardless of what country you are entering Italy from.



There is no option to offer proof of a negative test to avoid the quarantine.
On arrival in Italy you will need to give the details of the location you will be quarantining at, and arrange private transport to reach this location, as well as notifying the local health service.

While the current situation is developing all the time, there is an excellent website published by the EU that has details on travel rules between countries - click 

here 

to visit.
united kingdom

There is also now an option to seek an exemption from quarantine from the Italian Ministry of Health in specific circumstances - see all the details here. 
Can you plan a trip to Italy?
Many of you are asking WHEN you can come visit Rome and Italy.
I wish you could come right now.
The days are warm and spring-like, with sunny days and milder evenings, plus the spring flowers are blooming, it's a fantastic time of year to be in Rome.
We need you here and miss you so much.

As to when you will be allowed to come . . . First please read all the Coronavirus Rome rules above about who can and cannot enter Italy right now, and the rules that apply for anyone who can enter.
It also looks very likely that people from the U.S who have been fully vaccinated will be able to travel to the EU this summer, but no official dates or processes have been agreed as yet.
Vaccinations have begun in Italy but things are not anywhere back to normal here yet.
Italy has administered just over 24,000,000 vaccinations to date - you can follow the Italian Ministry of Health's tracker here for more details.

For details on worldwide vaccinations and progress, click here for the latest updates worldwide, which can be filtered to show different regions and countries.
Once travel is allowed, the country where you live may have different rules about what you are allowed to do.

It may depend on the airlines, and it will surely depend on your personal situation.
You can also check the website of your country's embassy for up-to-date information and notifications.
advance bookings

As the future starts seeming more hopeful, it's only natural that you may wish to start making travel plans to come to Rome, or re-book trips that had to be cancelled in the last year because of Coronavirus in Rome.
However, if you are thinking about making firm plans and want to start booking tickets for tours or entrance to sites such as the Colosseum or the Vatican Museums, it is unlikely this will be possible yet.
Museums and cultural sites are now re-opening on a limited basis, but the organisations who manage the sites aren't releasing tickets/booking slots far in advance like they used to, because there's too much uncertainty currently about what they will and won't be allowed to do.
If bookings are open for a particular tour or planned visit, I would advise you not to book anything unless it's fully refundable or can be amended without a penalty in case it cannot go ahead for any reason.
As you might imagine, I follow all the Covid-related updates closely. The situation here will develop a lot over the coming months, with plenty of changes likely to happen, so please keep following me, here and on social media, as I update you with the current regulations, so as to help you make a decision about whether to start planning a trip.
If you are thinking about coming to Rome at some point later this year, just know how much we want you to come back to visit us, when it is right for you to do so.
Check flights now:
Coronavirus Rome - useful links and resources
---
Get your free Rome trip-planner!
Simply sign-up today using the adjacent form
We are committed to respecting your data. Click here for our Privacy Policy
---
---