Can you travel to Rome right now?
Published July 26, 2021 - Updated every Monday
Are you wondering, "can you travel to Rome?"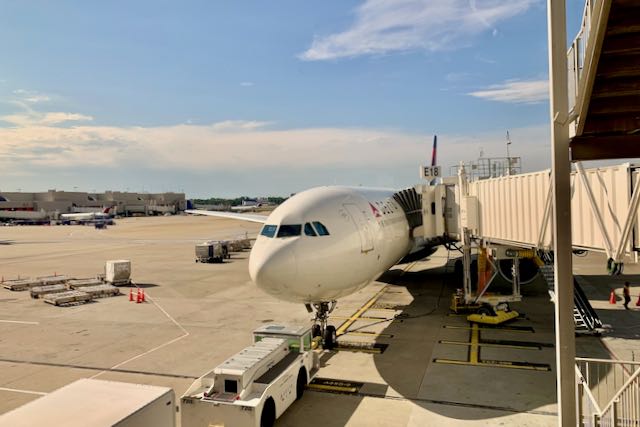 Italy is opening up and it's now possible to travel to Rome, but with some restrictions and some important regulations to follow.
As restrictions begin to loosen and there is news of Italy and the other EU countries "opening for tourism" in summer 2021, you may be wondering whether this means you can come to Italy and if so, how.

---
---
Can you travel to Rome? - Your questions answered
I've had so many people asking me "Can you travel to Rome now?" that I decided to make this page to answer this and the many questions related to this topic.
DISCLAIMER:
I am not a medical professional or government official. I have no authority to tell you if you can or should travel to Rome, Italy, or elsewhere.
Much of the information on this page comes from, and links to various trusted sources, such as the American CDC, WHO, the Italian Ministry of Health, various embassy websites, and airline websites.
I also share my own experiences traveling from Rome to the USA and back to Rome more than once in recent months.
Can you travel to Rome - table of contents
On this page you will find answers to:

Is it safe to visit Rome right now?

Can you travel to Rome and feel safe?
Some foreign governments still have advisories against visiting Italy specifically because of Covid-19.
Aside from your own government's advice, the decision will be based on your personal feelings about being safe visiting Italy right now.
Vaccinations are being administered on an constant basis. You can follow Italy's vaccination progress here - just over 65,300,000 vaccinations have been administered to date.
The rate of vaccination differs from region to region, but compared to other EU countries, Italy is rolling out their vaccines quickly overall. Just over half of all Italians have been fully vaccinated against Covid-19 at the time of this writing.
Lazio, where Rome is, has done an excellent job and there are more people across all age groups vaccinated in Lazio than in other regions. 
While there has been a widespread relaxation of the restrictions taking place as a result, recently the new case numbers have started to slowly rise again. You can follow the data here. Right now the whole of Italy is still classed as a 'white' zone with minimal restrictions in place.

For more about how safe a city Rome is to visit in general, and how to stay safe in Rome, visit my page about this here.
New Green Pass Requirements
It was announced last week that as of August 6, everyone in Italy will need to show their Green Pass to gain access to the following locations:
Museums & art galleries
Theatres
Cinemas
Swimming pools & wellness centers
Gyms
Outdoor events (such as music concerts or sporting events)
To dine at an indoor restaurant
The Green Pass is a way of proving that you have either been vaccinated, recently recovered from Covid-19 or have taken a negative test within the previous 48 hours.
If you take a test while in Italy, you will receive a code that will allow the results of that test to be validated, either in the app or printed out, regardless of whether you're an EU resident or not.
Right now, you can only use the Green Pass if you have been vaccinated in the EU, have proof of recovery from an EU doctor or have taken a test in the EU. It is not yet clear how or if proof from outside the EU, e.g. a US CDC vaccination card, will be accepted.
Right now we know that it will NOT be needed for the following:
On public transport (buses, trains etc)
To attend religious services or ceremonies
To dine outdoors
To eat or drink standing at the bar indoors
So you can have a quick coffee at the counter of a bar, but cannot sit down indoors for a meal without the Green Pass.
This is a very new development, with lots of questions still unanswered, such as how businesses will be checking the Green Pass, what non-EU vaccinations will be accepted, and if its use will be extended to other areas.
Keep checking this page and my social media channels where I will providing more information once we receive it.
Masks and social distancing requirements

As of June 28, properly worn face masks are still required everywhere indoors except in the privacy of one's home/hotel room/Airbnb.
You will need to wear a mask in the following places:
When inside shops, offices, hairdressers, museums, and any enclosed space or business.
When traveling on public transport.
When in gatherings outdoors where social distancing is difficult, for example at markets, in queues or at outdoor concerts.
It is no longer mandatory to wear a mask outdoors in other circumstances however!
To visit a site, museum, shop, ride on public transport or in a taxi or be in any other public space, social distancing rules and mask-wearing are enforced, and will continue to be for some time.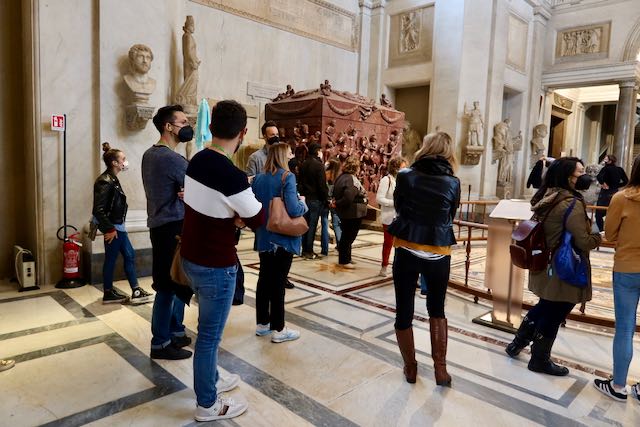 Recently, we saw a group of Italians taking a tour inside the Vatican Museums. Proper mask-wearing and social distancing are still mandatory, especially when visiting sites and monuments.
Your vaccination status is not a factor.
The same rules apply to everyone regardless of whether you have been fully vaccinated or not.

Please visit my page all about the Coronavirus situation in Rome for more details about current restrictions, which I also update every Monday.
Disclosure: If you make a purchase through a link on this page, I may receive a small commission - at no extra cost to you. Thank you for supporting my site!

Can you travel to Rome? Yes, but who can enter Italy?

First, there are several factors that determine if you can legally travel to Rome right now:
Whether you are from a country whose citizens are allowed INTO Italy.

Whether your home government allows you to travel abroad.

Tests you must take before you travel and again once you arrive.

Your vaccination status (for certain countries only)
In addition, there are factors you may want to consider before deciding if you really want to travel to Rome, Italy, and/or the rest of the EU right now. These include:

If your home government recommends you not visit Italy.

Whether you are comfortable with the rules and regulations needed for travelling to Italy.

Whether you are ok with the rules and regulations you will find once you arrive in Italy.

Whether you are ready to visit Rome knowing that things may not be the way you were expecting or have experienced in the past.
---
Find out which passport holders are allowed to enter Italy for tourism right now.
Many EU member countries have announced they are open for tourism in summer 2021, but there are different rules in place across EU and Schengen countries. 
Since May 2021 the Italian government has been moving forward to clarify the rules by which non-Italians may enter Italy for leisure purposes (i.e., without having to state a specific reason for entering the country.)
Because these rules change quickly, you may want to keep checking this page and the official links provided here. I will be updating this page every Monday with the latest news about this topic.
---
Right now, citizens of these countries may enter Italy for any reason, i.e., for leisure/tourism:

EU Member States and Schengen Associated Countries
Australia
Canada
Israel
Japan
New Zealand
Rwanda
Republic of Korea
Thailand
Singapore
United Kingdom
Unites States of America
There are different entry requirements and rules for visitors from these countries, see more below.
Can you travel to Rome right now from Your country? What does your government's Travel advice say?
While Italy is allowing visitors to arrive from these countries, one factor you also need to consider is what your own government says about travel to Italy.
For example, citizens of Australia and New Zealand (among other countries) are not permitted to travel internationally right now.
The US State Department travel advisory for Italy was revised to Level 3, Reconsider Travel, as of June 8. 
The UK travel advice for Italy states that all but essential travel to the whole of Italy should be avoided based on the current assessment of COVID-19 risks.

This does not mean you are forbidden to leave the US or the UK to visit Italy, only that they advise you not to do so at this time.
Which country's citizens are currently not allowed to enter the EU?

In addition to countries whose governments are restricting or advising against travel, Italy and the EU are also forbidding visitors from some countries from entering at this time. 
Visitors from the following countries are not permitted to enter Italy (unless you are an Italian resident returning home):
India
Bangladesh
Sri Lanka
Brazil
You may also not enter Italy if you have visited or transited through the above countries in the 14 days prior to your desired arrival into Italy.
Please visit the Italian Health Ministry's website to see the latest news about which citizens may/may not enter Italy.
Travel from the UK to italy - current quarantine requirement
While travel between the UK and Italy has not been forbidden as per the countries noted above, as of June 21 there is a quarantine requirement in place for anyone entering Italy from the UK.
This requirement applies to both Italian residents and non-residents, if they have been in the UK in the 14 days prior to entering Italy.
You will need to provide proof of a negative test result from within 48 hours of traveling to Italy and quarantine for 5 days. A further test will need to be taken at the end of the 5 day period, which has to come back negative before you can leave quarantine.
Being fully vaccinated does not exempt you from this new quarantine requirement.
Please visit the Italian Health Ministry's website to find out more.
Can you travel to Rome without having to quarantine?

People visiting Italy from the countries of the European Union and Schengen Area, as well as Israel, the United States, Canada and Japan  do not have to quarantine on arrival, as long as they meet one of the following conditions:
You have a certificate of full vaccination, completed at least 14 days before traveling to Italy,
OR a certificate of recovery from Covid-19 dated no more than 6 months prior to traveling to Italy,
OR proof of a negative test result from a molecular or antigenic test taken in the 48 hours before traveling to Italy.
The certificates or test results need to be in English, Italian, Spanish or French, and can be in either digital or printed format via the new Green Pass system - see more about this below.
If you are vaccinated but are traveling with minors who are not, they will need to have proof of a negative test result, unless they are under 6 years old.
If you arrive in Italy without proof of one of these 3 conditions, you will have to quarantine for 10 days, and take a test at the end of the 10-day period which must come back negative before you can leave quarantine.
People visiting from Australia, New Zealand, Rwanda, Republic of Korea, Singapore or Thailand must quarantine for 10 days on arrival.
People visiting Italy from any other country are only allowed to travel for essential reasons such as work or an emergency and must also quarantine for 10 days on arrival.
What are Covid-tested flights?

How can you travel to Rome without having to quarantine?
Many airlines are operating flights between Italy and other countries around the world, but the Italian government agreed on a specific procedure with certain countries and airlines for Covid-tested flights. (Note, they are not called "Covid-free" flights.)
With the options for travel to Italy becoming more flexible, the Covid-tested flights are no longer necessary. The flights themselves are still running as scheduled, but the multiple-test process is no longer in place.
If you had booked on to a Covid-tested flight and are unsure of what you will need to do now, check with your flight provider to see what their advice is. 
As more countries go on to Italy's 'green' list for travel, it's possible other Covid-tested flight routes may be put into place, so always check before booking flights from any country to ensure you are clear on what you need to do.
What is the difference between a PCR and antigen test?

According to WHO, a PCR test (also sometimes called a molecular test) looks for genetic material of the virus. It is a test in which the specimen goes to a lab for analysis to determine if any COVID RNA is present. Usually, you will get the results of a PCR test within 24 hours.
An antigen test (also sometimes called a rapid test) is when they try to identify one of the outer proteins of the viral shell. The results of a rapid antigen tests are usually available within about 5 minutes.
A rapid antigen test is considered slightly less accurate than a PCR test. 
In both cases, the specimen is collected with a nasal swab, although on occasion an oral swab may also be taken. This will depend on where you have the test done.
Neither the PCR test nor the antigen test require a blood sample.
Currently there are no situations in which a blood test is required for you to travel to Rome.
How much do the tests cost?

The costs of these tests vary, depending on where you have them done.
A PCR test in Italy costs around 50-60€. In some cases, you may request the results in English for an additional small fee (around 10€.) If you are flying directly out of Rome to your home country and not through another EU country, you likely only need the PCR test results in Italian.
In the US, I have had free PCR tests at Walgreens (Florida) and CVS (Georgia), while I've seen comments online from others taking these tests at CVS and other labs with costs ranging from $100-200.
Can you travel to Rome - If you are vaccinated, do you still need a PCR or antigen test?

If traveling from the US, Japan, Canada, EU or Schengen countries - no. As long as you are fully vaccinated, and have had the final vaccine dose at least 14 days before entering Italy, you will not need to also provide proof of a negative PCR or antigen test result.
If traveling from any other country - yes. Vaccination status does not exclude the need for a negative test result for travel from any countries not noted above.
Where can you get a PCR or antigen test in Rome?

At most pharmacies around Rome, you will see outdoor tents where you can get Covid tests done. In most cases, the tests performed here are rapid antigen tests or blood tests.
PCR tests are done at specific labs. There are many around Rome. You will need to book in advance. Sometimes you can book online and sometimes you have to call. Labs include Synlab, Artemisia, and Bios but there are others too.
Here is an official link with a list of every lab in Lazio that does PCR testing.
How can you get a rapid PCR test for travel?

Most PCR test results are available "within 48-72 hours", but in reality, you should receive them within 24 hours.
I do not know of any lab in Italy or elsewhere that can get results faster than that.
What is a Green Pass?

The European Union has been working on a comprehensive policy that will allow for smooth travel between the member countries. They are calling it the "EU Digital COVID certificate", although the general term "Green Pass" has been used, as well.
Italy also announced its own national version of this pass, which is now live - find out more on the Italian government's dedicated website here.
This is a way of proving you have been fully vaccinated, have recently made a full recovery from Covid, or have had a recent negative test result. It's officially live as of July 1 - for more information, click here.
Can you travel from Rome to other parts of Italy?

Italy has been assigning color codes to the various regions, based on infection rates. 
Right now, all of the regions of Italy are in the white zone, which means minimal restrictions are in place.

As long as the regions are in either a white or yellow zone, you may move freely between them with no barriers to travel.
If a region of Italy goes to orange or red zone again, then travel to/from that region would be restricted to essential purposes only, but the case numbers do not indicate that these zones would be implemented soon.
Can you travel from Rome to other EU countries?

Right now, EU countries have varying rules and restrictions depending on their individual rates of infections and hospitalizations.
Check with this website to see if you can freely travel from Rome, Italy to the country of your choice.
What happens when you fly back home?

When you fly back home, you may have to take a PCR or antigen test prior to leaving Italy.
This will depend on the airline, your home country's requirements, and whether or not your flight stops first in another European city. 
To leave Italy to fly DIRECTLY to the USA for example (without stopping in another European airport), you ONLY need a rapid antigen test, taken no more than 48 hours prior to your flight. 
It's easy to get this test at almost any pharmacy in Rome, and you will have (verbal) results in minutes, whereas they will usually take an hour or so to get you written results, which is what you need.
You can also opt to get this test at the airport, in which case, add at least an hour to your time in the airport. In either case, you will need to pay the 20-22 Euros for this test.
To leave Italy to fly to the USA, but passing through another European or UK airport, you will LIKELY need a PCR (molecular) test.
You should check with the airline you book with. PCR tests in Rome are 50-60 Euros and you will be responsible for this cost. This test needs to be taken within 72 hours of your flight. You will usually get your results within 24 hours and can access them online.
Different airlines and different airports have different rules so no matter what, you should stay up to date with the regulations as outlined by your airline and home country. Keep checking up until the dates close to your travel date.
What is it like in the airports and on the planes?

For now, mask wearing is strictly enforced.
Check out my recent video of my experience on a Covid-tested flight to see what it was like:

You no longer will need to have a rapid antigen test on arrival at the airport in Italy, so once you disembark, you can proceed to Passport Control and after that, to Baggage Claim.

Your luggage may arrive before you do and if so, you will find it either going around on the carousel or off to the side of the carousel with some other luggage.
Time from landing to exiting the airport is around 45 minutes - 1 hour.
Can Italians travel from Italy abroad?

The Italian government's stance on travel abroad is currently that caution should be used when planning any trip. They have not restricted their citizen's ability to travel however, where there are restrictions, they come from the foreign government's rules.
Italy to the US:
At the moment, Italians are not able to enter the United States without a valid reason, i.e., they cannot come for tourism/leisure purposes.
If you are an American citizen returning to the USA with an Italian family member, I would suggest you carry proof of why this person is travelling with you. When Alessandro and I flew from Rome to Atlanta recently, we carried a photocopy of our marriage certificate with us. In Italy, they didn't need it but said it was a good idea to have it for when we landed in the US. At border control in the USA, we didn't need to show it, but you never know. I suggest you bring such a document just in case.
Italy to the UK:
The UK currently has a three-tier system for people entering the UK, with all countries divided into green, amber and red tiers.
Italy is on their amber list right now, which means anyone entering the UK from Italy has to quarantine for 10 days on arrival, and pre-book 2 PCR tests before traveling.
---
Get your  free Rome trip planner!
We are committed to respecting your data. Click for our Privacy Policy .
---
Looking for Facebook comments?
I removed them to make this page load faster and thereby improve your page experience.
I am happy to answer your questions / comments!
Please come over to the Romewise Facebook page , or, if you want to send me a message, visit my Contact Me page .