Best Light Shows in Rome
The latest light shows in Rome have made it better than ever to experience the city and its amazing art and architecture. The shows are all so well done, you feel transported in time. Find out how to visit Rome like never before!
One of the best and most popular light shows in Rome is "Viaggio nei Fori", the light show at the Forum of Augustus
Light Shows in Rome - a new way to see the Eternal City!
The latest in virtual reality technology has made is easier than ever to step back in time, and immerse yourself in Rome's history, whether from Michelangelo's time 500 years ago to the days of the empire 2000 years ago.
It seems new sound and light shows in Rome are being added all the time.
Check out these shows for a full immersion experience in Rome (for a map of all of them, jump to the bottom of the page.)
On this page you'll find virtual reality or light shows at:
Due to the visual nature of the subject of this page, I've embedded several videos so you can see a preview for yourself.
Please note that when you play these videos, they play sound out loud as well.
Virtual Reality Light Shows in Rome
The below sites in Rome are already fantastic and worth visiting on their own.
But you can also visit them with virtual reality goggles, and truly immerse yourself in the past. They are amazing experiences in the literal sense of the word. I found myself reaching out with my hands trying to touch what I was seeing.
Some should be booked in advance, in particular the Domus Aurea and the Baths of Caracalla:
Domus Aurea
The Domus Aurea ("Golden House") was Emperor Nero's enormous construction that covered over 3 of Rome's 7 hills.
It was an ambitious, palatial structure, or rather series of structures, that Nero had built just for himself.
After Nero died, subsequent emperors tried to cover up his works, to make the people forget him and his crazy and evil ways.
They issued a damnatio memoriae, which means, "let's condemn his memory".
The octagonal room inside Nero's Domus Aurea - with virtual reality goggles, you will see it as it was 2,000 years ago!
One result of this, is that the Colosseum was built by emperor Vespasian, right over Nero's man made lake.
Another result is that, by filling in and covering up all Nero's structures, they were preserved, to be found again during the Renaissance. Now you can visit part of these excavations, and with virtual reality goggles, you can get a feel for what Nero's enormous palace might have been. It is literally breathtaking!
Weekends only. English, Italian, French and Spanish. Reservations are essential. 
Click here to visit CoopCulture to book directly, or here to book a more comprehensive tour that includes a visit to the Colosseum and Roman Forum as well.
Not eligible for the Roma Pass or the Free Sunday (first Sunday of each month.)
Caracalla Baths

The Caracalla Baths are in my opinion one of the best ways to experience the grandeur of Ancient Rome in Rome without visiting the Colosseum.
It's also an excellent way to escape the crowds in Rome.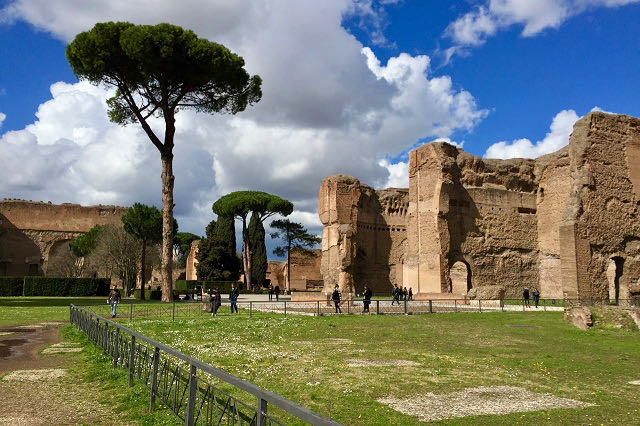 The Baths of Caracalla are some of the best ruins to visit if you want to see Ancient Rome without the crowds
The baths were commissioned by the Emperor Caracalla in the early 3rd century.
They were enormous, and although much of the structure was pilfered and/or used to decorate and build other things in Rome and afar, you can still get an excellent idea of the quality of the architecture and engineering of which the Romans were capable. 
Reconstruction of the Caracalla Baths. Photo - CoopCulture
Now, you can also book a visit with virtual reality goggles and compare the current structure to what might have been, nearly 2000 years ago.
Click here to book via CoopCulture directly.
Eligible for the Roma Pass and the Free Sunday ONLY for entry.
The virtual reality goggles must be booked and paid for separately.

---
---
The perfect 3-day itinerary in Rome
Trying to figure out how to organize your visit to Rome? I've got the perfect 3-day itinerary for first-time visitors (or those who have not been here in a while.) It works for a 2.5 day visit as well.
In my 3-day itinerary, you'll see all the major must-see Rome attractions like the Vatican, Colosseum, Trevi Fountain, Pantheon, Piazza Navona, Spanish Steps, Castel Sant'Angelo, and much more.
And if you have more time, or want suggestions for extra/other things to do, you'll find that there too.
Visit my page with the best 3-day itinerary in Rome for first-timers.
---
Colosseum
Did you know you can take a virtual reality tour of Rome's most famous monument?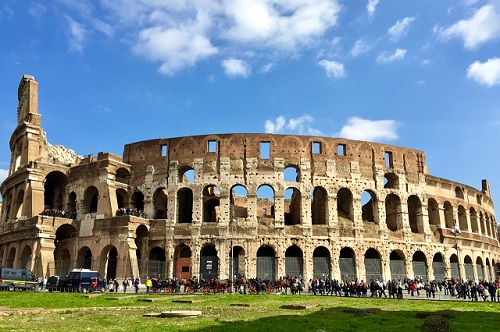 The Colosseum is one of the top must-sees in Rome. You can also visit it with virtual reality goggles and see it as it once was.
Using special goggles, you will be transported to ancient Rome, where you can envision the Colosseum, but also Circus Maximus and other structures, as they were 2000 years ago.
Coopculture does not sell the Virtual Reality tour, but you can book it here.

And while not exactly a light show, another way to experience the Colosseum in a very special way is to visit it at night. (When you visit at night, your ticket does NOT include access to the Roman Forum / Palatine Hill.)
Circus Maximus
The Circus Maximus was the largest stadium ever built. Today it's a huge grassy field.
But there are some ruins at one end and you can visit them.
You can also opt to include in your visit the Virtual Reality googles in the "Circus Maximus Experience", which will bring back the grandeur and the glory of this enormous space from Ancient Rome.
People enjoying the virtual reality goggles at the Circus Maximus.
Click here to visit the official website and buy your tickets.
Sound and Light Shows in Rome
There are other sound and light shows in Rome that don't involve virtual reality, but they are fantastic all the same.
Each of the below shows will take you back in time, and even if "just" a light show, they are so well done, you still feel transported.
Viaggio nei Fori - Augustus' Forum
In 2014, the light show Viaggio Nei Fori was launched to celebrate the 2000th anniversary of the birth of Rome's first emperor, Octavian Augustus.
It was a first for Rome, an amazing light and sound show, projected onto the ruins of Augustus' forum, to recreate what it was like during his reign.
We saw it that first year and were completely blown away.
It's a 40 minute show but goes by in a flash, it's so entertaining. (No pun intended!)
The light show of Viaggio Nei Fori, projected onto the ruins of Augustus' forum, is a fantastic way to immerse yourself in ancient Rome
There are bleachers set up along the wall facing this forum, and you sit the whole time, taking in the show, with headphones set to the language of your choice (Italian, English, French, Russian, Spanish and Japanese, German and Chinese.)
The shows run nightly from April - late October/early November.
Visit the website for details.
Eligible for discounts with the Roma Pass. You can attend both this show and the show of the Forum of Caesar on the same night.

Viaggio nei Fori

 - Julius Caesar's Forum

In 2015, another light show was introduced, to complement Augustus' show (above) - A trip through Julius Caesar's forum.

We did this one as soon as we could, and were just amazed at how well it was put together.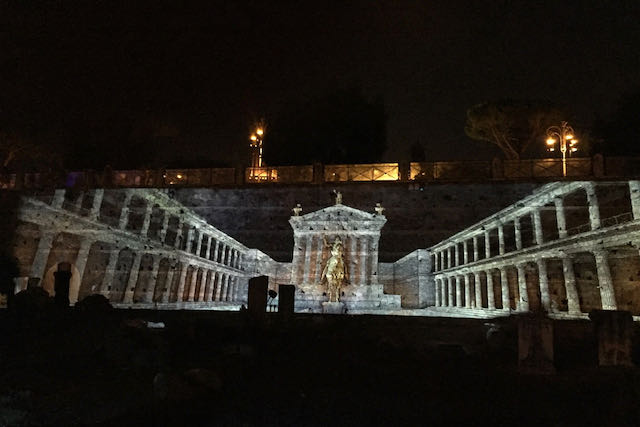 The light show that reconstructs Julius Caesar's forum is projected onto a huge wall, where you really get a sense of the size of what it once was
With this show, you walk a little bit, from Trajan's Forum, underneath the via dei Fori Imperiali, and through the ruins of Julius Caesar's forum.
It's not a huge amount of walking but it's a little different from Augustus' show, where you are seated the entire time.
Here too, they use fantastic lighting techniques to bring this archeological area to life.
The shows run nightly from April - late October/early November. 
Visit the website for details. 
Click here for tickets on your mobile device.
Eligible for discounts with the Roma Pass.
You can attend both this show and the show of the Forum of Augustus on the same night.

No matter what season you visit Rome, here are 4 things never to leave at home:
Disclosure: If you make a purchase through a link on this page, I may receive a small commission - at no extra cost to you. Thank you for supporting my site!

Palazzo Valentini
As you can imagine, underneath the Rome you are visiting today, there are more and more layers of ruins, so many of which still need to be excavated.
One relatively recent find was this Roman domus (home) beneath the 16th century nobleman's home, Palazzo Valentini, right next to Trajan's Forum.
The ruins are extraordinary, and often exquisitely detailed. 
A 1.5 hour visit underground will leave you with a profound appreciation for what life might have been like for the Romans who were here 2000 years ago.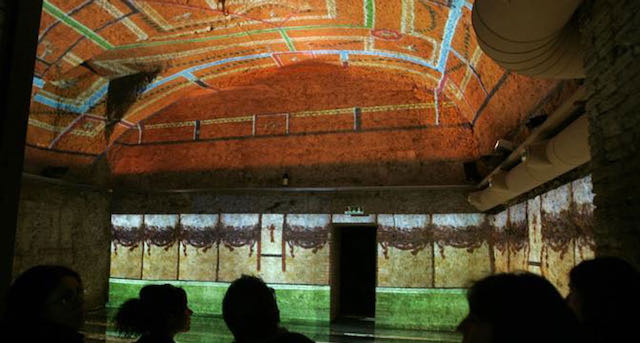 A visit to the Domus Romana at Palazzo Valentini is a pretty full immersion experience. It can be dizzying but is still fantastic. Photo - Palazzo Valentini
The show includes a short video explaining the excavations, then a tour through the ruins, that includes light and laser shows, and 3-D projections. It actually left me feeling a little disoriented, because you are sometimes in the dark, and all of a sudden, the floor lights up under you. But it is fantastic and I highly recommend it to anyone.
Not eligible for the Roma Pass.

Welcome to Rome
This new "immersive experience through the history of ancient Rome" is a great way to experience Ancient Rome.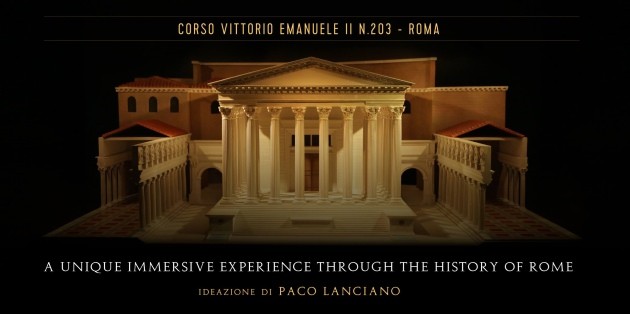 Even if it's not quite virtual reality, nor does it really count as one of the light shows in Rome, it's still what I'd call an "augmented" reality show, and it's really well done. 
Website, schedules and tickets here. 
Monday/Thursday - 09:00 | 19:00; Friday - Sunday - 10:00 | 21:00. Shows every 30 minutes.
Not eligible for the Roma Pass.
Time Elevator
The Time Elevator may well be one of the first and oldest light shows in Rome.
It's not as sophisticated as the other light shows in Rome, but it's often suggested for families travelling with kids.
A recreation of the ancient Rome Colosseum. Photo - Time Elevator
The show is in what they call a "multi-sensory cinema", and involves some 3-D movies, but also moving seats and special effects that are intended to make the viewer "feel" part of the story.
Click here to visit their website and purchase tickets.
Visiting Rome Virtually From Your Armchair
Not planning to come to Rome?
Want to relive things you saw in Rome?
These websites use enhanced reality to reconstruct Ancient Rome.
While not light shows in Rome per se, they are wonderful tools for understanding what Ancient Rome must have been like.
Enjoy!
Altair4 is the company that produced the virtual reality light shows you can see today in Rome. They also make a lot of fabulous reconstruction videos of historic places, not only Rome. I find their videos fascinating, and so well done.
---
Map of the 10 Best Light Shows in Rome
Click here to visit my interactive Google map showing all the light shows in Rome listed on this page. It will open in a new window.
---
Want to share this page on Pinterest? Pin it here!
---
Get your free Rome trip planner!
We are committed to respecting your data. Click for our Privacy Policy.
---
Comments? Questions? Suggestions?
Please come over to the private Romewise Facebook group and join in the conversation.

You will often find me there, happy to answer your questions / comments!
You will also meet other Rome lovers and experts, too.
What are you waiting for?