Packing for Rome in November

Packing for Rome in November? Wondering what to bring and what to wear when you visit Rome in November? 
Find out what kind of weather to expect, how to dress, and what not to leave at home!

Packing for Rome in November - what to bring and how to dress
Packing for Rome in November is all about being flexible in your dress.
Whether you are visiting Rome in early November, mid-November or the end of November, the most important thing is to be comfortable.

On this page you'll find:
Dressing for the rain in Rome
Rain in Rome in November is not uncommon.
Some years it doesn't rain too much but overall it tends to be a rainier month so you should be prepared for this.
A rain-hat can be the perfect packable accessory - it doesn't take up much room but is so useful when you need it, plus it can easily be carried in a day-bag or backpack. I also suggest a quality travel umbrella along with some sort of waterproof jacket or poncho. More below.
Get the Rome in November e-book today, and take it with you, even offline!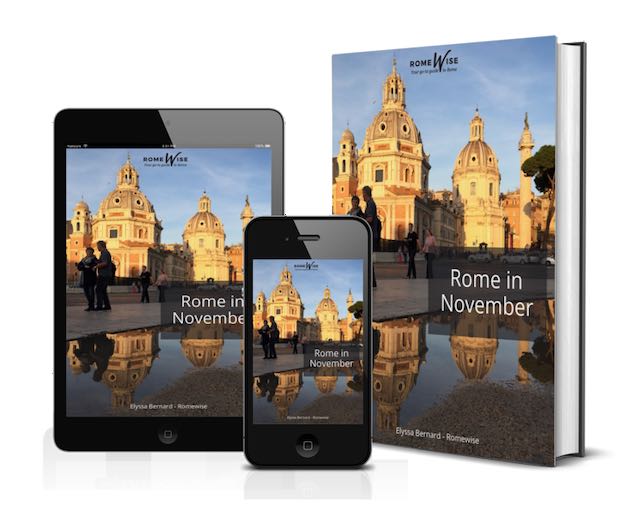 Packing for Rome in November - essentials
After nearly 20 years of living here and experiencing the weather in Rome in November, I know just how to dress comfortably for walking around the city a lot throughout the month, just as you will be doing when you visit.
These are my personal recommendations for packing for Rome in November:

Affiliate Disclosure:
Below you see photos of products I've researched and in some cases, own. If you click the picture, it will take you to Amazon.com, and if you purchase anything there, I will earn a small commission. Please rest assured, the prices are the same whether you click from here or buy directly. I invite you to visit my page about Affiliate and Advertising Disclosure.
Thanks for supporting my site!
---
The perfect 3-day itinerary in Rome
Trying to figure out how to organize your visit to Rome? I've got the perfect 3-day itinerary for first-time visitors (or those who have not been here in a while.) It works for a 2.5 day visit as well.
In my 3-day itinerary, you'll see all the major must-see Rome attractions like the Vatican, Colosseum, Trevi Fountain, Pantheon, Piazza Navona, Spanish Steps, Castel Sant'Angelo, and much more.
And if you have more time, or want suggestions for extra/other things to do, you'll find that there too.
Visit my page with the best 3-day itinerary in Rome for first-timers.
---
What to wear in Rome in early, mid, and late November
November is a funny month and can be strangely warm at the beginning and downright wintery-cold at the end.
Packing for Rome in November? It's definitely autumn. Plan to layer and always be comfortable!
Whether you're packing for Rome in November in the beginning, middle or end of it, you'll want to bring some good basics for layering such as a cotton t-shirt or henley, jeans/cotton pants, a cardigan or pullover, and a rain-jacket with removable lining.
To be more specific:
Packing for Rome in early November
In early November, about the first 10 days or so, the weather in Rome can be warmer than you might expect, something like an Indian summer, with temps during the day in the high teens/low 20s Celsuis / high 60s/low 70s Fahrenheit.
Here at Campo dei Fiori on November 2, you can see that some find it warm enough to wear t-shirts with bare arms. It's not hot but it can be comfortably warm during the middle of the day.
---
---
You should layer and plan on wearing a short-sleeved shirt under your cardigan/jacket, as it can be quite warm in the middle of the day, especially if you are walking around a lot or eating lunch outside.

It's not really shorts/tank tops weather, so I suggest sticking to jeans/cotton pants.
BEST TIME TO VISIT ROME?
One of my (not really) best-kept secrets is that November is one of the best times to visit Rome.
The fall high-season is pretty much over, but the weather is still pretty nice, especially at the beginning and in the middle of November.
Packing for Rome in Mid-November
If you're planning to visit Rome in mid-November, you can count on the weather being fairly fall-like. The days are continuing to shorten and the nights start getting pretty cold, heading into the single digits Celsius / 30's and 40's Fahrenheit.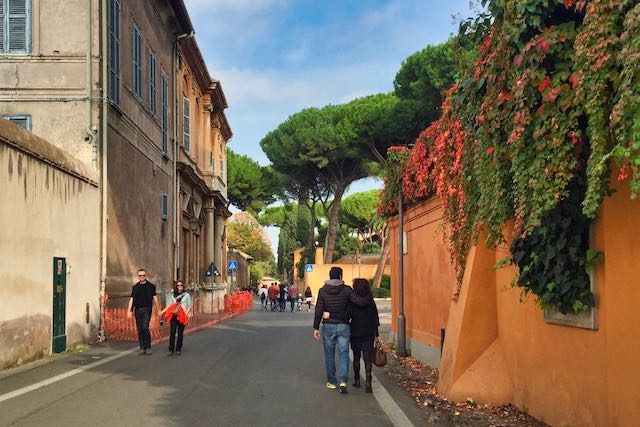 Here on the Aventine Hill on November 15, you can see that some people are wearing jackets, and others have taken them off. In mid-November, you should be prepared for comfortable daytime temps and chilly evenings.
You could bring a short-sleeved top like a t-shirt but you'll definitely want to wear a pullover or cardigan AND wear/bring a light jacket as you walk around Rome during the day.

At night, you may want to wear a sweater/jumper plus a jacket. And don't forget that scarf!
Packing for Rome in late November
By the end of November, late fall has set in and we are nearing winter. Even if the climate in Rome is generally mild, it can be pretty chilly by late November/early December.
Here at the Colosseum ticket office on November 30, you can see that most people are wearing warm jackets, with some hats and scarves in sight even in the middle of the day. It's not winter yet, but late November in Rome feels close.
If you're packing to visit Rome in late November, you may want to bring a hat (besides a rain hat) and gloves. These don't take up too much room and you'll be glad you have them, especially at night when temps drop into the low digits.

On the other hand, if you don't bring a hat and gloves (and of course a scarf), there are many places to buy them here in Rome.
General Rome packing tips for any time of year

So what else do you need to consider when packing for Rome in November?
These are just a few of my personal recommendations for what is essential to pack for Rome, any time of year:
---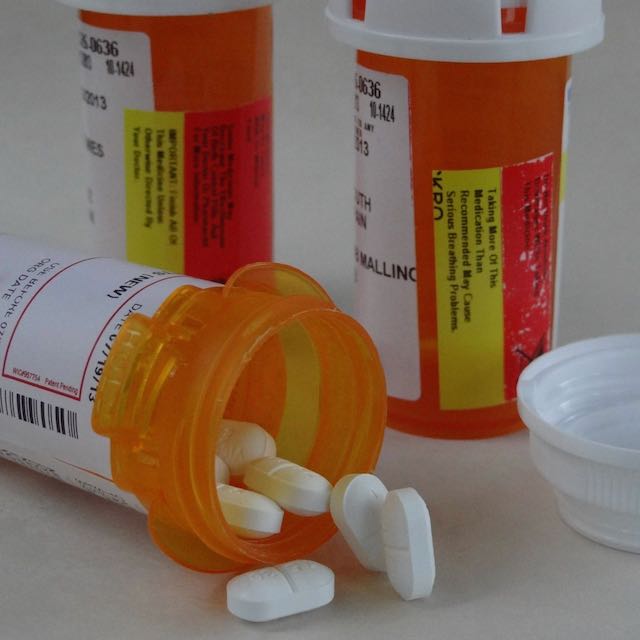 ---
Any medications you take, along with a list of these medications - I would recommend keeping these with you in your carry-on, rather than packing them in your checked luggage.
---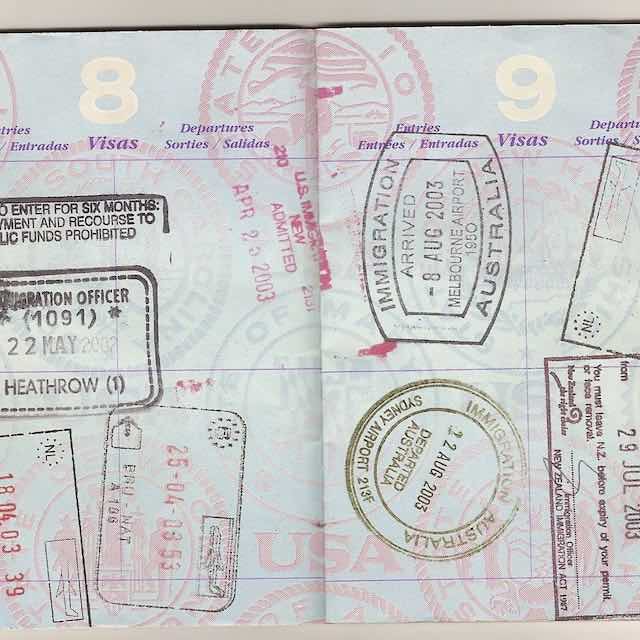 ---
Photocopies of your passport.
---
Plug converters for your dual-voltage appliances. Voltage in Italy is 220, and in the US and some other countries, it's 110. Most electronic devices (cameras, cell phones, laptops, electric shavers) default to dual voltage, but you will need a plug adapter as the plug shapes are different here. This universal adapter covers you in multiple locations if you travel to different parts of the world.

---
Carrying a well-stocked first-aid kit will ensure peace of mind when traveling. I always like having one with me when I travel, it's very handy for when you need something quickly.
---
Travel insurance isn't something to pack but it is something not to forget!
I can't tell you the times our B&B guests had lost luggage that never arrived, had flights cancelled or delayed, or had documents/wallets pickpocketed. Double check what your credit card covers - chances are you are not covered for what you need when these things happen!
I've got lots more suggestions for what to bring when you visit Rome.
See my page about What to Pack for Rome where you can download a handy packing list, and visit my Amazon page for all my shopping recommendations!

What to wear in Rome in November

So how should you dress when you visit Rome in November?
You will probably be walking a lot, so you need comfortable shoes.
Rule 1: Be Comfortable!
My number one rule for sightseeing in Rome, at any time of year: be comfortable.
This is most important for your shoes. It is crucial to wear good walking shoes, and good quality socks.
I would recommend only bringing shoes you have already broken in, and don't worry about looking like a tourist - that's exactly what you are!
Rule 2: Dress in Layers
The next rule, which is especially relevant for November is: dress in layers.
Since, as I mentioned, the weather in Rome in November can be unpredictable, be prepared for the temperature to change significantly throughout the day, and for it to sometimes rain unexpectedly.
This means wearing layers that you can remove/put on easily such as cardigans/pullovers/jumpers and waterproof jackets.

This also means it's a good idea to wear a backpack as you go around Rome, so you can have a place to put your layers if you take them off.
Bottom line, to sightsee comfortably in Rome in November:
Wear good walking shoes
Dress in jeans or heavy cotton pants
Wear a light cotton shirt
Wear or carry a sweater/jacket 
Last but not least, don't forget the Italian MUST WEAR - a scarf. Always a scarf.
If you are planning to go to an event, for example a wedding, opera or dinner at a special restaurant, then you may wish to bring something elegant to wear.
Otherwise, it is fine to wear more casual clothes to eat out at many restaurants in Rome so you do not need to pack much if any evening-wear.
Find more information on what to expect when traveling to Rome in November here or watch my YouTube video:
---
Visit our dedicated pages about what to pack for Rome for every month:

---
---
Get your free Rome trip planner!
We are committed to respecting your data. Click for our Privacy Policy .
---
Comments? Questions? Suggestions?
Please come over to the private Romewise Facebook group and join in the conversation.

You will often find me there, happy to answer your questions / comments!
You will also meet other Rome lovers and experts, too.
What are you waiting for?