Drinks Near Spanish Steps
Wine bars, cocktails, views and more!
Where to have drinks near Spanish Steps?
This area has a huge range of choices, from serious wine bars to posh cocktail bars to jazz clubs and more.
Spanish steps in Rome - ready for a drink?
---
---
Drinks Near Spanish Steps - wine bars and wine tasting
If you are looking for an enoteca near Spanish Steps, you might want a true-blue wine bar, the kind where you can sample different regional wines, even by the glass.
Typically, a good enoteca will offer something to eat, whether simple appetizers, to a full-course meal.
There are not actually that many dedicated winebars near the Spanish Steps (the best winebars are scattered about different neighborhoods in Rome. Click here to read more about them.)
But there are a few true enotecas in this area, plus enough other interesting places to have a drink, that I've made a great list for you.
VYTA - A true Enoteca featuring local wines
The first time I went into Vyta for a shopping break, my friend and I sat at the bar and asked for a glass of Sangiovese. No, they didn't have that. OK; how about a Morellino di Scansano. Nope. So...what do they have? Well, all wines from the Lazio region of Italy. Rome is in the region of Lazio, called Latium in Latin. So the name is a play on that.
Vyta Enoteca - specializing in Lazio wines (this photo is from when they used the name Palatium, which changed in 2015)
We enjoyed some interesting tastes of some rather obscure, local wines, and some snacks that were out on the bar. So if you want a lovely wine-bar break, and to try some really local wines, this is the place. They also have a full menu if you want to eat here.
Address and phone: Via Frattina, 94; tel: 06 6920 2132; reservations accepted but not necessary
Hours: Mon - Sat 11am - 11pm. Closed Sunday
Enoteca Buccone
Enoteca Buccone can definitely be classified as a true enoteca.
At first glance it seems they are a wine emporium, or wine shop. They have floor to ceiling displays of hundreds of wines but also balsamic vinegars, olive oils, liqueurs, chocolates and more specialty gourmet foods.
Just some of the many wines and other gourmet delicacies for sale at Buccone Enoteca. See the tables in the back there? You can enjoy some wine-tasting, or even a simple lunch or dinner!
But you can also do some wine-tasting in the back, and, during meal hours, even enjoy a very fine, if simple, home cooked meal. A great place for casual drinks near Spanish Steps, especially if you want that local feel.
Address and Phone: Via di Ripetta, 19; Tel: 06 361 2154
Shop Hours: Mon - Thu 9am - 8:30pm; Fri - Sat 9am - 11:30pm; Sunday 11am - 7pm.
Eating hours: Lunch served Mon - Sat; Dinner served Fri - Sat only.
Drinks Near Spanish Steps - best places for wine and cocktails
Looking for a bar for drinks near Spanish Steps that gives you more options? Lots of cocktails, food, music? Try these:
Hotel Locarno
Hotel Locarno is a great spot to come for a drink outside. They do have a very cozy art-deco style inside bar as well, but the outside patio is the main attraction here (obviously in warmer weather.) 
If you come early, say 5-7pm, it will be peaceful and you can snag the table you want. From around 7pm onwards, it becomes a major hip hangout spot for Romans out on the town, and it can get crowded and loud. Nothing special about the food, wine list or drinks, but the atmosphere is great when you go at the right time.
Finally, if you want a spectacular view with your drinks, try the rooftop bar in warm weather!
Address and Phone: Via della Penna 22; Tel: 06 3610841
Hours: Open daily from 7am until 1am
La Baja Riverboat
This is a fun and unusual option for brunch, lunch, dinner, and drinks near Spanish Steps.
Baja riverboat - an unsusual and fun option for drinks on the Tiber
One of their bartenders told me he had trained at the Hotel de Russie (see below), and, they also have a good selection of wines. So whether you come for the ambiance and location, or for the wine/cocktails, this is a great option for drinks near Spanish Steps.
Enjoy cocktails, wine, dinner and more outside on the deck of this run riverboat docked on the Tiber
Address and Phone: Lungotevere Arnaldo da Brescia; Tel: 333 341 9780
Hours: Open daily from 12-4pm, 7pm -midnight (or so); Sunday (Italian style) brunch available
Gregory's Jazz Club
Gregory's Jazz club is definitely not a typical enoteca. In fact, they have a much bigger selection of whiskeys than wines. But if you want to go someplace really cozy for a drink (or even dinner), and listen to some great jazz, this is the spot. Check the jazz schedule on their site.
Address and phone: Via Gregoriana, 54; Tel: 06 679 6386
Hours: Tue - Sun 7pm - 3:30am. Closed Sunday.
Drinks Near Spanish Steps - posh spots for ambiance and views
As you can imagine, if you want to go for drinks near Spanish Steps and soak up a lot of atmosphere, especially with a view, you can expect it to cost you. So the below options are for when it's really about the experience, and less about the wine per se.
Il Palazzetto - Best spot near Spanish Steps for drinks with a view
Il Palazzetto, run by the very special and upscale Hotel Hassler just in front of it, sits in one of the most prime locations in Rome, just overlooking the Spanish Steps.
With its spacious elegant terrace, and views like this, it's an excellent place to enjoy a glass of wine and snack at the end of a long shopping day. (Very limited snack options, it's more about the view here. And expect to pay for it.)
Il Palazzetto winebar at the top of the Spanish Steps. Come for the views!
Address and phone: Piazza Trinità dei Monti; Tel: 06 6993 41000
Hours: Afternoon - Evening but hours may vary. Closed winter.
The Stravinskij Bar at Hotel de Russie - the secret garden
The most wonderful thing about Hotel de Russie's Stravinskij bar is the garden outside. The inside bar is really nice as well, with its soft lighting and soft wide armchairs in various shades of purple or grey.
Hotel de Russie's Stravinskij bar - very cozy place for a drink or shopping break
But the outside is special. It's a private courtyard, so it's very quiet, and there is never any chance of people coming to play music and/or ask you for money as they do with outdoor seating on public streets and plazas around Rome.
I took this in February - even in cool weather, you can enjoy this quiet patio and understated posh atmosphere. that's what heat lamps are for! But it's even more wonderful in nice weather!
Also, the Hotel de Russie has its own beautifully kept garden, which seems to spill down from the Borghese park above. It doesn't really, but the backdrop of the garden is the park itself so you really feel as if you are in an oasis, some secret spot that only you and the few others there have found out about.
I consider the Stravinskij bar one of my top favorite places to have drinks near Spanish Steps. They have a pretty good wine list, even for wines by the glass. But it's their cocktails that really stand out. And frankly, their bartenders are considered some of the best in the city. This is one of the best places in Rome for a real, American-style martini (or Bloody Mary, complete with horseradish!)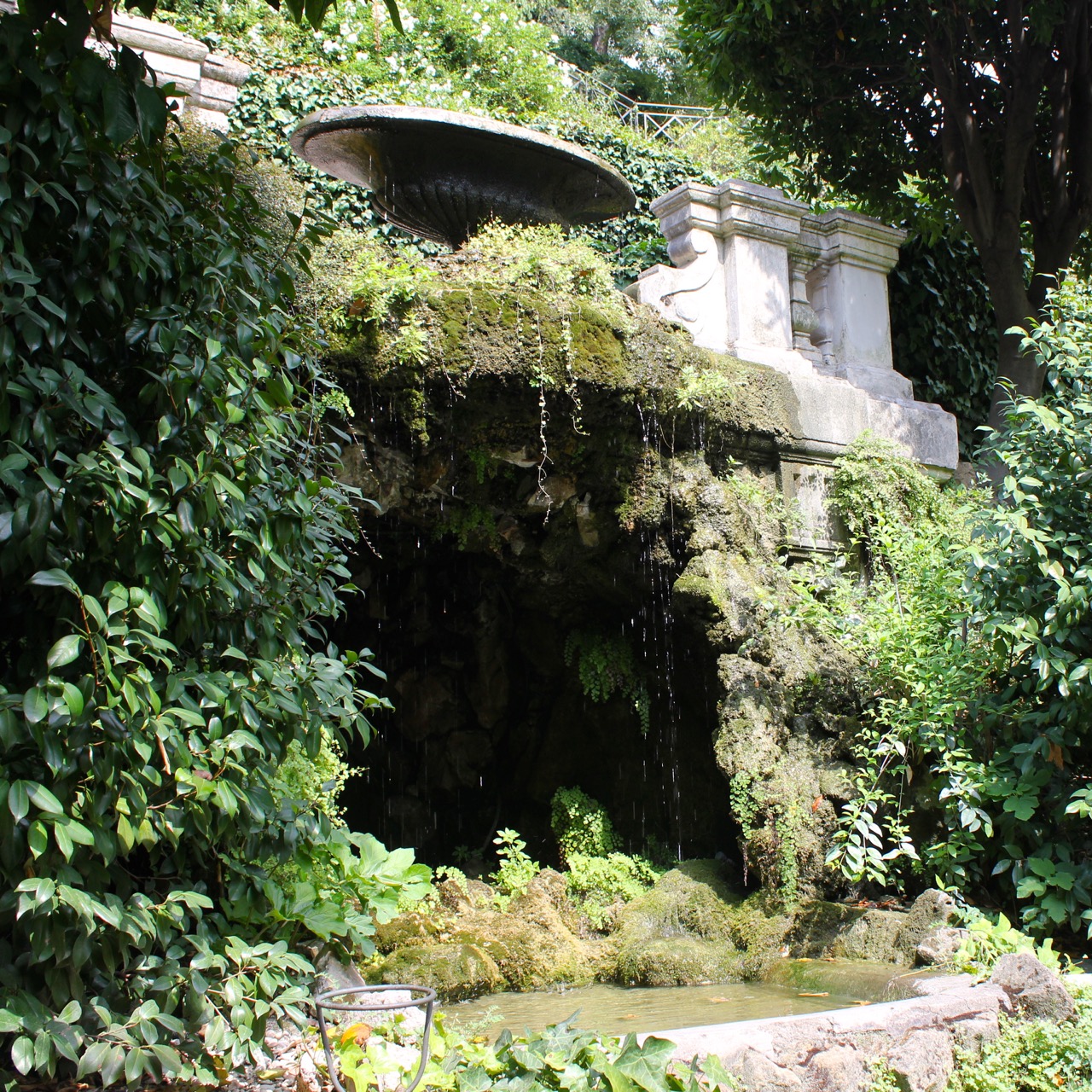 Take a few minutes to walk around the gardens, they are enchanting!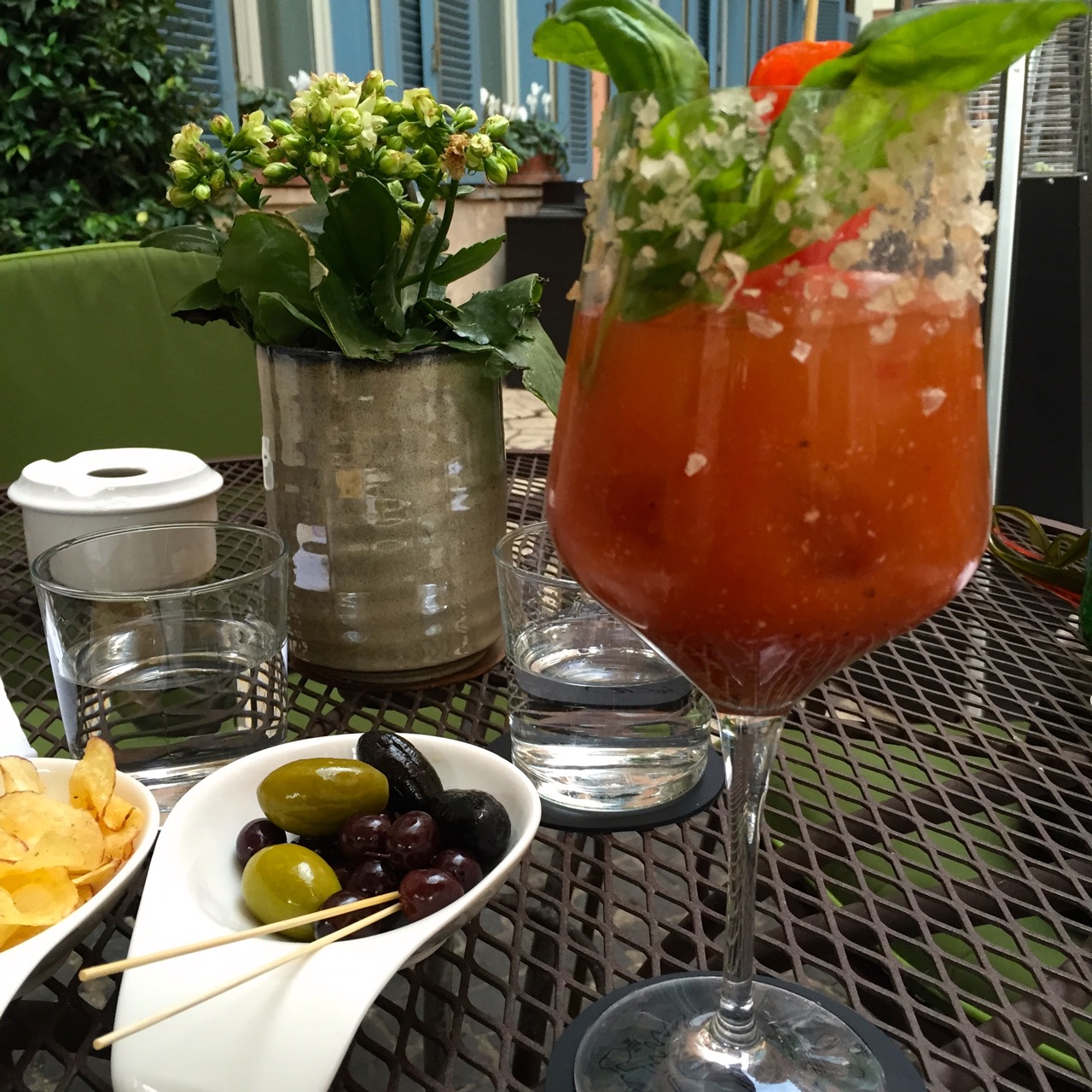 This Bloody Mary was amazing ... 22€, but amazing!
Address and Phone: Via del Babuino, 9 (inside Hotel de Russie, in the back); tel: 06 328881
Hours: Open daily from 9am - 1am, including August
Drinks Near Spanish Steps - a map
Here's a map of all the places I mention on this page. You can pick one or more categories to view, and see where they all are and how to get there.