Gelato Near Spanish Steps
Wondering where to find the best gelato near Spanish Steps in Rome?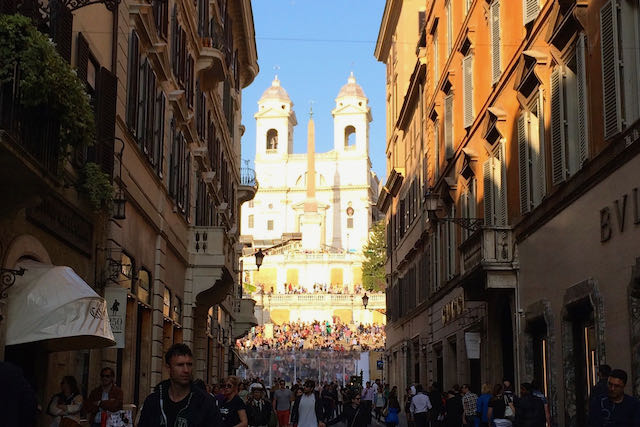 It's hard to beat Piazza di Spagna for stunning palazzos and architectural views. But through its opulent winding streets, you may also find great gelato shops.
There is some seriously good stuff to be had. It may not be obvious because most people think of the Spanish Steps as Rome's Shopping Zone.
But what better area to stop and have a gelato break? When you've shopped till you drop, sometimes you just need a really good sugar rush.
Best Gelato near Spanish Steps - the real thing
The best gelato near Spanish Steps is spread out among four superb gelaterie (gelato shops.)
None are right at the Spanish Steps but all are worth the short walk from there.
These constitute some of the best gelato in Rome: authentic gelato, made with real, natural ingredients.
You could do what I do, and taste test them all.
If you walk between them all, you might work off at least one scoop. Maybe a half a scoop.
On this page you'll find:
No sitting or eating on the Spanish Steps
I know this seems like a paradox, but you cannot actually eat your gelato ON the Spanish Steps.
They passed a city ordinance that prohibits eating and drinking on the Spanish Steps themselves, and it's pretty well-enforced.  And lately, there is another law that says you cannot sit on the Spanish Steps, either.
In any case, all the best gelato near Spanish Steps can be found a bit of a walk from there, so you would finish your gelato by the time you got to the steps anyway. Or at least, I would.

---
Where to find the best gelato near Spanish Steps
Gelateria dei Gracchi
One of the best gelato shops in Rome is Gelateria dei Gracchi, on via dei Gracchi, in the Prati area near the Vatican.
Anytime I find myself in that area, I stop at this gelateria, even if I am not hungry because hey, who needs to be hungry to have amazing gelato?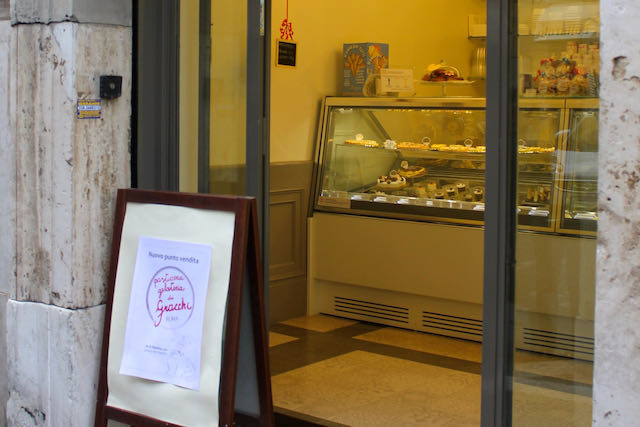 A small outpost of the famed Gelateria dei Gracchi, on via di Ripetta near Piazza del Popolo
Luckily for me (and you), they have opened another branch right on via di Ripetta, a stone's throw from Piazza del Popolo, which is part of the Spanish Steps area.
This shop is a bit smaller than the original, and has fewer flavors but they always seem to have the ones I really want: Sicilian almond, dark chocolate, pistacchio di bronte, and creamy hazelnut.
Details:
Ciampini
The Ciampini family run several old-fashioned Roman cafés, and this one in particular has artisanal gelato.
It's not on many of the foodie blogs, but this is where Romans in the know go for their gelato in the city center. It's also not that obvious to spot.
Entry to Ciampini Gelateria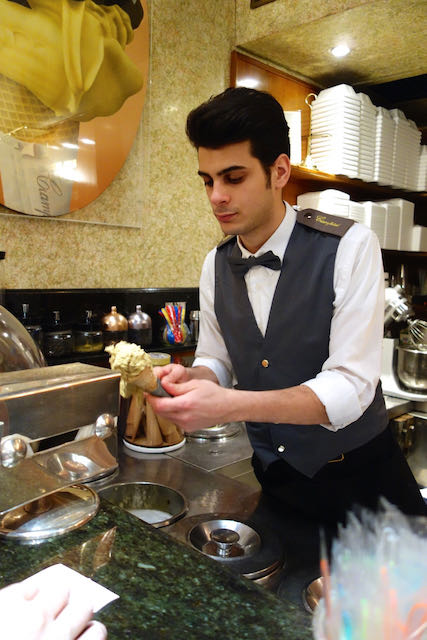 Serving the gelato at Ciampini
You have to walk around the back, and enter the barely noticeable Gelateria. Then, you cannot even see the gelato, because it's kept covered in steel bins. There are not a lot of flavor options, just plain simple natural flavors, and only with what is in season (in summer, try the peach, wow.)
Details: 

Address: San Lorenzo in Lucina 29
Phone: +39 066 876 606
Opening hours: Monday-Saturday: 08:30-22:30 | Sundays: 09:00-22:30
How to get there: From the bottom of the Spanish Steps, go a little to your left and walk down Via Frattina. Take it all the way to the end, and cross over Via del Corso onto Piazza di San Lorenzo in Lucina. Ciampini is at the far right, but the gelateria is around the corner from the main entrance, on via del Leoncino.
Fatamorgana
Fatamorgana is probably the best gelato near Spanish Steps.
They are already one of the very best in Rome.
The owner and founder Maria Agnese Spagnuolo was passionate from the get-go about making all-natural gelato, sometimes with interesting and unusual combinations.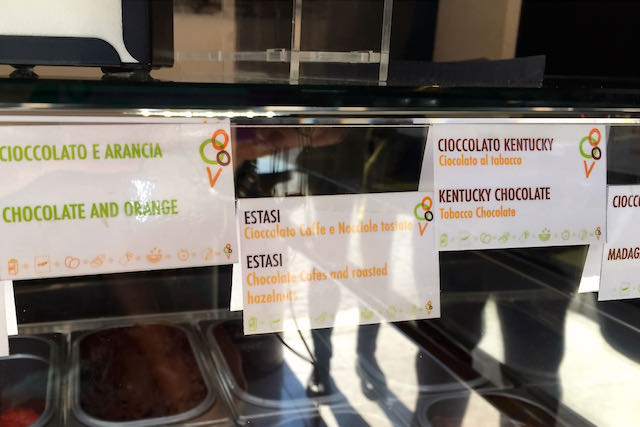 Fatamorgana is one of the innovators in creative gelato flavor combinations
Although the standard cream, nut and chocolate flavors are always superb, it's also worth trying out some of her innovative creations such as banana with sesame cream brittle, blueberry cheesecake, or this fabulous combo of seadas (Sardinian cheese and honey dessert) and baklava (Greek honey-nut pastry):
Details:
Quetzalcoatl Chocolatier
Quetzalcoatl Chocolatier in the heart of the shopping zone at the Spanish Steps
Who would have thought this unassuming French chocolatier would have such delectable gelato along with their artisanal chocolates?
The owner of Quetzalcoatl is a lovely, friendly Frenchwoman. She and her son are professional "Maître Chocolatiers", which means masters in the art of chocolate making.
The son also has a specialty in gelato making, and has a gelato laboratory (not on site), where he makes all the gelato. They added gelato to the shop in September 2014.
Disclosure: If you make a purchase through a link on this page, I may receive a small commission - at no extra cost to you. Thank you for supporting my site!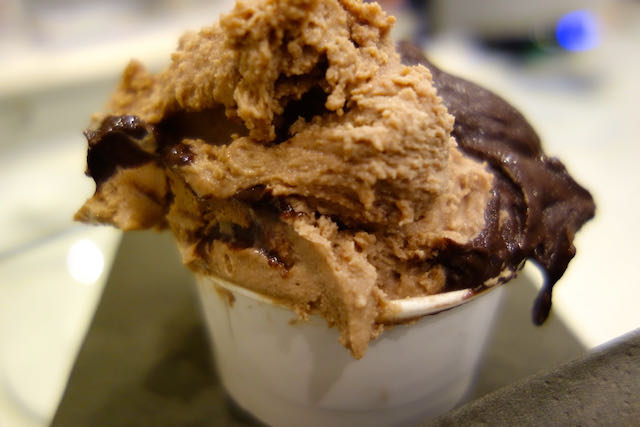 Hazelnut with gianduja and raisins, and dark, dark chocolate gelato at Quetzalcoatl. I ate every last drop.
Like so many serious gelaterie, they keep theirs covered so it maintains the right temperature and consistency.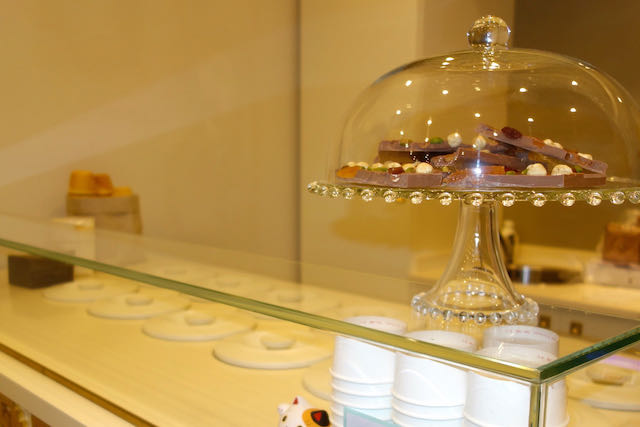 The discreetly covered gelato bins at Qutzalcoatl hide a world of yumminess in there!
So it's not obvious ... which is why you have me to run around and find this stuff out, and tell you about it!
Just go.
Have an eclair too while you're at it!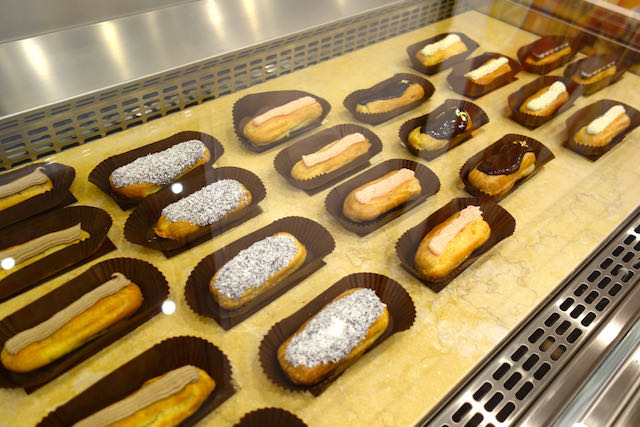 French eclairs at Quetzalcoatl Chocolatiers in Rome
Details:
Want to learn to make gelato in Rome?
Gelato Near Spanish Steps - another good option
Bar Frattina
If you want some gelato near Spanish Steps, and don't feel like exploring the ones above, I can highly recommend a spot that's smack in the thick of things.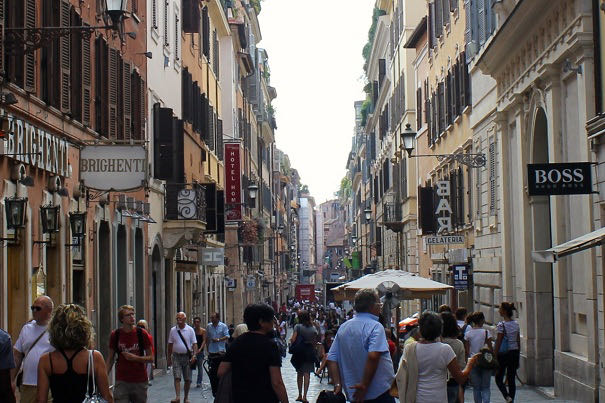 Bar Frattina on Via Frattina, just near the Spanish Steps, also has very nice gelato
Right at the beginning of via Frattina, there is a bar called Bar Frattina.
This is where I used to always go for gelato before I knew about the other spots.
But it's still yummy. Very creamy and rich. I think their dark chocolate and their walnut flavors are the best but hey, go try it for yourself.
Details: 

Address: Via Frattina, 142
Opening hours: Monday-Sunday: 07:00-22:00
How to get there: From the bottom of the Spanish Steps, walk a little to the left and take Via Frattina about half a block down. The bar is on your right.
Map of best gelato near the Spanish Steps
Click here to visit my interactive Google map showing all the places for gelato near Spanish Steps listed on this page. It will open in a new window.
One more gelateria you should know about...
There is a place for gelato near Spanish Steps on the corner of via della Vite and via Propaganda.
They become famous around the world in 2013.
Why?
Because they charged 4 British tourists a total of 64 Euros for 4 gelatos.
That's 16 Euros per person. For a cone.
There was a huge uproar. The international press went crazy. The mayor apologized.
But, the manager of gelateria in question maintained they had done nothing wrong. And he was correct. Those were the prices on their printed menu.
So just telling you in case you veer off my suggestions on this page...
Caveat emptor.
---
Want to save this page to Pinterest? Pin it here!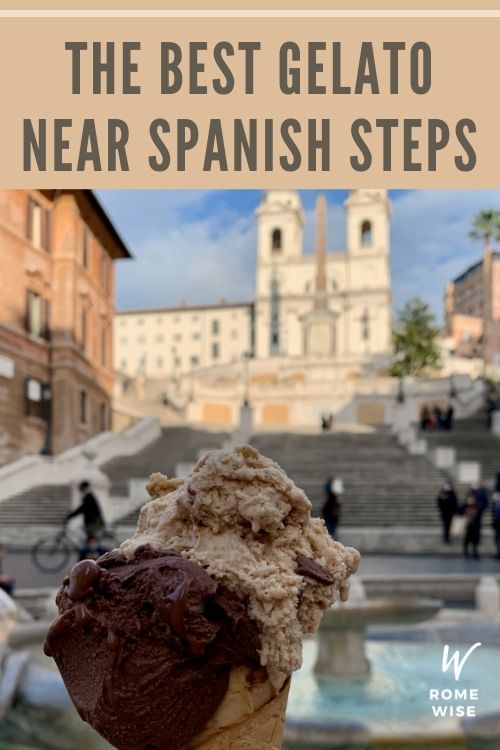 ---
Get your free Rome trip planner!
We are committed to respecting your data. Click for our Privacy Policy .
---
Comments? Questions? Suggestions?
Please come over to the private Romewise Facebook group and join in the conversation.

You will often find me there, happy to answer your questions / comments!
You will also meet other Rome lovers and experts, too.
What are you waiting for?