Rome Food Myths
This page is about Rome food myths -- and what Roman food is NOT and why it may be different from what you expect.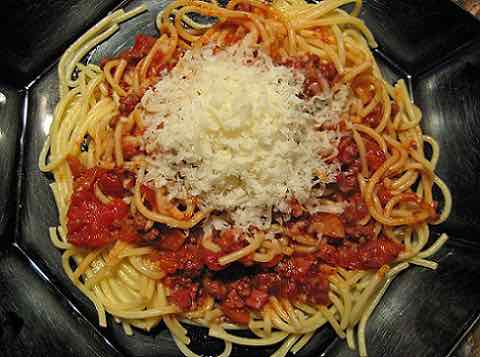 Spaghetti Bolognese - not an Italian dish! Photo By Manfred&Barbara Aulbach at Wikimedia Commons
There are some foods you just won't find in Rome, so this is about not wasting time and energy looking for them!

Italian food culture and Rome Food Myths
We Americans tend to love to try new things and experiment.
In cities, we might eat standing up, outside, at a food cart selling Morrocan or Vietnamese or Cuban food. We like to share dishes and to mix different sauces with different meats, pastas and fish dishes. 
Italians take their food culture much more seriously.
Cuisine in Italy is regional and based on long tradition – we're talking centuries – and extremely slow to change. 
You know how they say that Inuits have many different words for the different kinds of snow (wet, powdery, etc.) because it makes a difference to them?
Well, that's how it is for Italians and pasta.
There is of course "fresh pasta" and "dry pasta" and for each of those types there are many shapes -- short and long, flat and round, butterfly shaped, shell shaped, squiggles and tubes … and each kind has a sauce that it's best served with.
There are even days of the week when one eats certain foods, by tradition. In Rome, one eats gnocchi on Thursdays, cod in tomato sauce on Fridays, and tripe on Saturdays. Not that you must, but that is when you will find it on the menu of very traditional Roman restaurants.
---
Check out my YouTube video of my local cheese vendor whipping up a steaming plate of rigatoni alla gricia on the fly. Scrumptious!
---
Foods you definitely will not find in Rome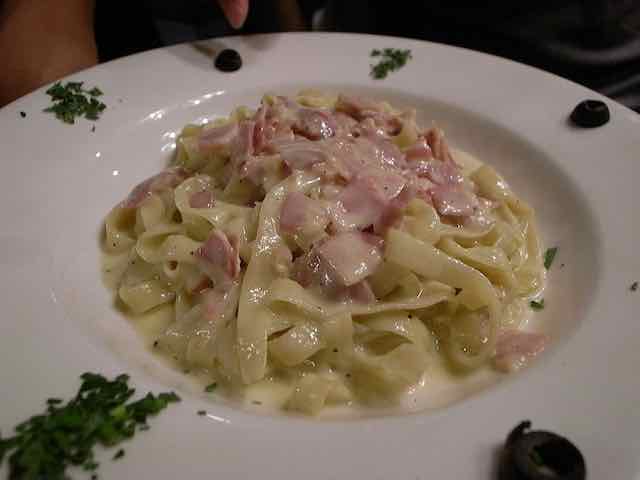 Fettucine carbonara - lots of cream, and ham. Definitely not Roman in so many ways. Photo by Sun Taro - Wikimedia Commons
Cream in carbonara – I hear visitors to Rome saying things like, oh I don't want to eat carbonara, it's too heavy. This is another of many Rome food myths.  Spaghetti alla carbonara was invented in Rome (long stories about this; but suffice to say it originates from Rome.) The basic recipe is spaghetti (or rigatoni, yum), with guanciale (pork jowl), egg and pecorino cheese. So if you think you don't want to try carbonara in Rome because it will be too "heavy", i.e. creamy, think again. It is heaven on a plate and not to be missed.
Italian soda – Friends visiting recently were asking me to help them find this. I'd never seen it in Rome and asked in a few bars, but nobody had ever heard of it. Indeed, it is not Italian. It is Italian American. In Rome, you can get basic soft drinks, and they do love their "limon soda", a lemon soda like Fanta, but there are not Italian sodas in Rome. 
Italian dressing – Italians dress their salad with olive oil and salt. That's it. They hardly ever add vinegar, and when they do, it will be with a bit of white or red wine vinegar. Balsamic vinegar is for cooking with, or as a special condiment over foods like ice cream (when the balsamic vinegar is the real thing, yes!)
Gelato deserves its own page.
Don't look for gelato that's piled high in swirling mountains! Want to know how to spot authentic gelato? Visit this page.
To find out where to get the best gelato in Rome, visit this page.
Rome Food Myths - Definitely Not Roman Food
Below are foods that are part of Rome food myths.
They are not Roman, or even Italian. 
Due to tourist demand, some of these (such as spaghetti and meatballs) are starting to appear on menus. So instead of saying that you definitely won't find these in Rome, I am just saying, be aware that if you eat this, it is not traditional Rome cuisine at all.   
Caesar salad – This was invented in Tijuana by a man named Cesar. It is starting to sneak onto some restaurant menus here, but it is not an Italian dish.
Spaghetti with meatballs – This is a biggie among Rome food myths. Spaghetti is a "primo" or first course. Meatballs is a "secondo", or second course. And never the twain shall meet. At least not in Rome.
Fettucine Alfredo – Ask any Roman if they've every heard of pasta Alfredo, and they will look at you sideways. Seriously. The funny thing is, this dish is in fact from Rome. The restaurant Alfredo is in Rome, and the guy who invented it back in the 1920's was Roman. And at Disney's Epcot center in Orlando, Florida, the restaurant outpost that represents Italian cuisine in the Italy pavilion there is "Alfredo's". But Romans don't know what it is and have never heard of the restaurant or the pasta. And you won't find it on any menu in Rome except at that specific restaurant.
Veal or chicken parmesan – more Rome Food Myths. Parmesan ("parmigiana") is specifically made with eggplant. That's it. And it's never inside a sandwich.
Pepperoni pizza – The word "peperoni" means bell peppers. If you want something that resembles pepperoni (little spicy salami), then ask for "salame picante." But you should know that you will get very large, super thin slices of salame, that are not all that easy to cut or bite into.
Spaghetti Bolognese – Among the most common Rome food myths I hear, people ask often where they may find spaghetti Bolognese. This is another dish that is not Roman, and not Italian, but Italian-American. There is a gorgeous pasta dish from the Emilia Romagna region, which is called "tagliatelle al ragù", which is probably where "spaghetti Bolognese" evolved from. Tagliatelle is a long, flat, fresh (egg-based) pasta. Ragù is a meat-based sauce with carrots, onion and very little if any tomato. The ragù must be served with a flat pasta (it's also fine with fettucine or pappardelle), because it adheres best to the pasta this way. Next time you try spaghetti Bolognese at home, note that the sauce does not adhere well to the round spaghetti pasta. For Italians, matching the right topping with the right pasta is very important and to be taken seriously. 
Shrimp Scampi - In Italian, the word scampi means a kind of shrimp. In English, we've taken this word to another meaning, i.e. a preparation of shrimp, usually involving wine, garlic and olive oil or butter, with or without pasta. But you won't find any dish called "shrimp scampi" in Rome.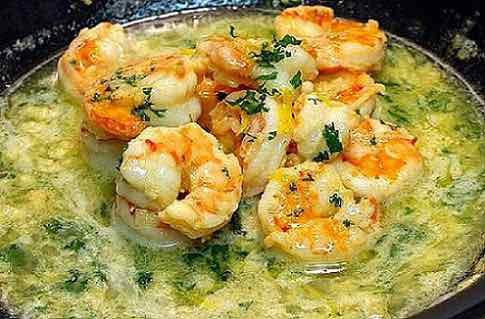 Shrimp scampi may be yummy but it's not Italian - wikimedia commons
Why not learn first hand all about Rome Food Culture?
Sign up for a Food Tour in Rome, and see and taste for yourself what are and are not Rome Food Myths!
---
---
Disclosure: If you make a purchase through a link on this page, I may receive a small commission - at no extra cost to you. Thank you for supporting my site!

Things Italians do not do (but you can if you want. Go ahead, nobody minds.)

I have seen a lot of advice to visitors to Italy that seems to berate them for believing in the Rome food myths I am talking about here. As the daughter of a cultural anthropologist, I have a different take on this. Culture is always evolving and there may not be a "right" way to do things. If enough people want to make changes, they happen.
Take spaghetti and meatballs. This is not an Italian dish. It's an Italian-American dish. It probably evolved over decades, when Italian immigrants brought their recipes to America in the 20's. Over time, and without the rest of Italian culture behind them to influence them and their friends and offspring, spaghetti and meatballs evolved. And today it's a bastion of Italian-American cooking. My Italian-American brother-in-law makes a killer spaghetti and meatballs. What's wrong with that? 
So, note that the below Rome food myths are traditions you won't find in Rome. You may like them, though, because you practice them at home. And if you want to do it here, you should do it. Just know they are not Italian food traditions.
No olive oil to dip bread into – For Italians, olive oil is for cooking with, for topping a bruschetta, or for dressing a soup or salad. It's not for dipping bread into. I know this is common practice in Italian restaurants elsewhere in the world. Just not in Italy. But if you want it to do this, just ask. Enjoy.
No cappuccino after a meal – It's kind of a Rome food myth that you "cannot have a cappuccino after 11am." In Italian food culture, a coffee after a meal is seen as a kind of digestive. A big hot foamy cup of milk is not very digestive; it's filling. And not something Italians ever have after any meal. But if you want one, just ask. Nobody minds.
Salad is not eaten at the beginning of the meal – In Italy, a salad is considered a "secondo," meaning, a dish you have after your primo (pasta, rice or soup.) I am referring to big green leafy salads. For Italians, the order of food is almost as important as the quality and the ingredients of the food. I have had this discussion with Italian friends, and they do agree that having a salad at the beginning of the meal can make sense: it fills you up a little, and also is easier to digest on an empty stomach (and believe me, Italians love to discuss digestion.) However, tradition states that the green salad is a secondo. And that is that. 
Parmesan cheese does not go on every pasta – Again, this is about the right foods going with the right things. The traditional Roman pastas are made with pecorino cheese, not parmesan (there is a notable difference.) So if you want extra cheese on these pastas, ask for extra cheese, and they will bring you pecorino. There are a few Italian seafood dishes made with pecorino, but if it doesn't already come with cheese, I'd recommend not putting it on a seafood dish. (Now, parmesan cheese on top of pasta with truffles or funghi porcini, that is another story. Knock yourself out!)
---
The perfect 3-day itinerary in Rome
Trying to figure out how to organize your visit to Rome? I've got the perfect 3-day itinerary for first-time visitors (or those who have not been here in a while.) It works for a 2.5 day visit as well.
In my 3-day itinerary, you'll see all the major must-see Rome attractions like the Vatican, Colosseum, Trevi Fountain, Pantheon, Piazza Navona, Spanish Steps, Castel Sant'Angelo, and much more.
And if you have more time, or want suggestions for extra/other things to do, you'll find that there too.
Visit my page with the best 3-day itinerary in Rome for first-timers.
---
Rome Food Myths – don't expect...

Free refills
Butter in Roman cooking
The check to arrive before you ask for it. And even, then, you may have to ask several times.
Garlic powder
Risotto/rice and pasta as side dishes, or served under or as a complement to a big piece of meat or fish. These are courses in and of themselves, to be savored and enjoyed and digested alone.
Things definitely to never do when dining with Italians

There are a lot of superstitions in Italy, and things one "must do" or "must not do". Sometimes this is for "health" reasons, and other times, it's to avoid bad luck. Here are things never to do when you are out drinking and eating with Italians:
Passing the salt - You may not hand someone the salt shaker. If someone asks you to pass the salt, place it near them, and let them pick it up from the table. 
Making a toast - When toasting, you must always use a glass that has something in it, and it must be alcohol, never water. It is imperative when toasting that you a) look the person in the eye, and b) never cross arms with others over the table. This is very serious.
Pouring a drink - Do not pick up a bottle of water or wine, and pour it backwards into someone's glass. I do know the origins of this one: the Borgia's used to put poison in their rings, and pour drinks backwards, slyly pouring the poison into the glass at the same time. Easy way to kill off your enemies. 
Food names and pronunciations:

These are not Rome food myths per se, but just in case you'd like to know, here are the correct usage and pronunciation of some words I hear misused quite a lot.
Biscotti and panini – These are plurals. One biscotto is a biscuit or cookie. Two or more are biscotti. One panino is a sandwich. Two or more are panini.
Bruschetta – In Italian, "che" is pronounced "ke", so this word is pronounced "broo-sketttttttuh". Why did I put so many "t's"? Because when you see a double consonant in Italian, you should linger on it. 
Click here to read about coffee misconceptions.
---
Want to save this to Pinterest? Pin it here!
---
Get your free Rome trip planner!
We are committed to respecting your data. Click for our Privacy Policy.
---
Comments? Questions? Suggestions?
Please come over to the private Romewise Facebook group and join in the conversation.

You will often find me there, happy to answer your questions / comments!
You will also meet other Rome lovers and experts, too.
What are you waiting for?